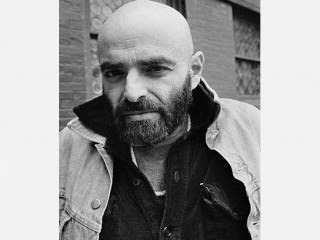 Shel Silverstein biography
Date of birth : 1932-11-23
Date of death : 1999-05-10
Birthplace : Chicago, Illinois, USA
Nationality : American
Category : Arts and Entertainment
Last modified : 2010-10-01
Credited as : Writer, wrote poetry for children, "Missing Piece"
Shel Silverstein
Michigan Young Readers' Award for Where the Sidewalk Ends, 1981; George C. Stone Center for Children's Books Award (twice), 1984.
Although
Shel Silverstein
(1930-1999) did not intend to become a children's writer, he is best known for his poetry for children. The Giving Tree, Where the Sidewalk Ends, and A Light in the Attic are some of his most notable works.
Shel Silverstein was born in 1930 in Chicago, Illinois. He started drawing and writing in his early teens because, according to him, he was not popular with the girls and was not good at sports. He did not have a lot of influences when he started to write and draw. But as he told Jean F. Mercier of Publishers Weekly, "I was also lucky that I didn't have anyone to copy, be impressed by. I had developed my own style." Indeed, that style is what has made him what some call a "literary cult figure."
Silverstein served with the U.S. armed forces in the 1950s, spending time in Korea and Japan. While in the service he drew cartoons for the Pacific Stars and Stripes. In 1952, he began his career as a writer and cartoonist for Playboy magazine. He was introduced to the distinguished book editor at Harper and Brothers, Ursula Nordstrom, who convinced him he could write for children.
A Unique Style
Silverstein's poetry for children is often silly, humorous, and a little strange. The accompanying black-and-white illustrations, amusing and sometimes rather morbid, are an integral part of the poetry, often needed in order to interpret the poem itself. Silverstein has been compared to poets such as Edward Lear, A. A. Milne, and Dr. Seuss. Many of his poems are adapted from his song lyrics, and the influence of his song-writing background is apparent in the poems' meters and rhythms. Eric A. Kimmel, in Twentieth-Century Children's Writers, characterized Silverstein this way: "His poems read like those a fourth grader would write in the back of his notebook when the teacher's eye was turned." Kimmel goes on to say: "that may be precisely their appeal."
To say there is more than one interpretation of Silverstein's work is an understatement. Some believe it is simply amusing and fun; others contend that the silliness hides deeper symbolism. That symbolism has been classified by some as educational; by others as harmful to children. Regardless of the mixed critical reaction, Silverstein's books seem to be everywhere: libraries, classrooms, children's bookshelves, and they are being widely used in elementary schools to teach poetry.
Silverstein's first book for children, Uncle Shelby's ABZ Book: A Primer for Tender Minds, was published in 1961. This was followed by Uncle Shelby's Story of Lafcadio, the Lion Who Shot Back in 1963, about a lion who had kept a gun from an earlier encounter with a hunter and with practice became a good marksman. Zena Sutherland, in Bulletin of the Center for Children's Books, called the book "daft" and described it as "a nonsense story about utter success."
The Giving Tree
One of Silverstein's most successful early books was The Giving Tree (1964). At first, publishers rejected the story. They thought that it fell between child and adult literature and would not sell. The story begins simply: "Once there was a tree ..." and tells the story of a tree who gives everything to the boy she loves (the tree is characterized as female in the story). As a child the boy plays in the tree, gathers its leaves, swings on its branches, and eats its apples. Later he carves his and a girl's initials in its trunk, and as a young man he takes the tree's branches to build a house. As an old man, he needs a boat to take him away from it all, so the tree tells him to cut it down and make a boat, which the old man does. The tree, now just a stump, tells the man when he returns, now very old, to "Sit down and rest," and the tree is happy. But, as is common in Silverstein's work, it is not a happy ending. The tree has given up everything to the boy, who is now a bitter old man.
The story has been interpreted in many ways. Silverstein states in Something About the Author that it simply represents "a relationship between two people: one gives and the other takes." Barbara A. Schram classified it as "dangerous" due to its sexism and called it a "glorification of female selflessness and male selfishness," while William Cole called its message "a backup of 'more blessed to give than to receive.'" Christian ministers read it in terms of Christian self-sacrifice, and Alice Digilio assumed the tree represented the selfless love of parents and the boy the ingratitude of children (Children's Literature Review). Despite some negative reviews and some concerns that the book may be too advanced for children, it put Silverstein on the best-seller list for the first time.
Where the Sidewalk Ends Brought Continued Popularity
Silverstein published three other children's books in 1964, in addition to The Giving Tree. They include A Giraffe and a Half, Uncle Shelby's Zoo: Don't Bump the Glump, and Who Wants a Cheap Rhinoceros? It was not until ten years later that he wrote his next children's book, but it became an instant success. Where the Sidewalk Ends: The Poems and Drawings of Shel Silverstein (1974) is considered a classic by many. Kimmel in Twentieth-Century Children's Writers asserts that, "No discussion of children's poetry can ignore Where the Sidewalk Ends and A Light in the Attic. [1981]. For better or worse, the monumental success of these two books has transformed the way poetry is taught in American schools." Myra Cohn Livingston in the New York Times Book Review compared one of Silverstein's poems in Where the Sidewalk Ends, part of which reads, "But the taste of a thumb / Is the sweetest taste yet," to Heinrich Hoffmann's 1846 piece "Little Suck-a-Thumb," in which children hear about "the scissors-man," who cuts off the offending thumbs of those who exercise this horrible habit. Unlike Hoffmann, Silverstein placed himself in the child's place much of the time, and his poetry, according to some, makes children feel like they have found a grown-up who understands them.
Where the Sidewalk Ends won the Michigan Young Readers' Award in 1981. The book was immensely popular, despite some content that was deemed "indelicate." For example, the collection includes poems about belching, nose picking, and smelly, disgusting garbage. Some critics continued to point out that Silverstein was "by no stretch of the imagination, a great poet" (Kimmel in Twentieth-Century Children's Writers). Still, Bernice E. Cullinan credited Where the Sidewalk Ends with making more children into poetry-lovers than any other book. Kimmel agreed that Silverstein's greatest contribution was in "convincing millions of children that poetry is neither difficult nor threatening."
The "Missing Piece" Stories
Silverstein provided another challenge of interpretation to readers when he published the two books The Missing Piece (1976) and The Missing Piece Meets the Big O (1981). In the first, the "character" of the book is a circle with a wedge-shaped piece missing who is rolling along in search of its mate. When it does come across the missing piece, however, it is rolling too fast and goes right by it. Instead of ending the book there, Silverstein makes a point of telling the reader that the circle continues on, singing and still searching. Critics have approached the story from many angles, from accrediting it with a life-is-a-journey theme, to condemning it for suggesting that being alone is better than committing to another. In The Missing Piece Meets the Big O, the character is the wedge-shaped piece, first introduced in the previous book, who is looking for an object into which it can insert itself and thus gain a free ride in the world. Acting on the advice of the Big O, the wedge discovers that it can get around by itself after all and does not need someone to carry it. Most assume the message deals with the issue of independence, but not all agree whether such a message is more appropriate for children or divorced adults.
Another Best-Seller
In 1981, Silverstein published another collection of poems and drawings, A Light in the Attic. This book was chosen by School Library Journal as one of the best books of 1981. Leigh Dean in Children's Literature Review credited it with making Silverstein the guru of elementary school teachers' poetry units. It remained on the New York Times best-seller list for more than three years. Containing 136 poems and 175 pages, A Light in the Attic again incorporates sometimes bizarre drawings with light, humorous rhymes about the fears and fantasies of children.
Music and Film
Although Silverstein is best known for his children's poetry, he is also a folksong composer and has written dozens of songs. Some of these include "A Boy Named Sue," "One's on the Way," "Boa Constrictor," and "So Good to So Bad." Many artists have performed his work, including Johnny Cash, Lynn Anderson, and Jerry Lee Lewis. Silverstein also collaborated with the band Dr. Hook, producing a series of successful singles and albums. In 1980, he produced a folksong album titled The Great Conch Train Robbery. Albums of Silverstein's songs recorded by others include Freakin' at the Freaker's Ball (Columbia, 1972); Sloppy Seconds (Columbia, 1972); and Bobby Bare Sings Lullabys, Legends, and Lies: The Songs of Shel Silverstein (RCA Victor, 1972). In addition, Silverstein wrote the music for the films Ned Kelly (1970) and Who is Harry Kellerman and Why is He Saying Those Terrible Things About Me? (1971); and co-wrote the music for Theives (1977) and Postcards from the Edge (1990). A song from the latter film, "I'm Checkin' Out," written by Silverstein, received nominations for an Academy Award and a Golden Globe Award in 1991. Silverstein's other venture into the motion picture world came when he wrote the screenplay for Things Change, which was produced as a movie in 1988. Another achievement was the 1981 production of his one-act play "The Lady or the Tiger?" It was produced at the Ensemble Studio Theatre in New York City and starred Richard Dreyfus.
Something for Everyone
Silverstein continued to work as a roving reporter and cartoonist. He was divorced and had one daughter. Because he kept a low profile and avoided publicity in general, little more is known about his personal life. He was a "free spirit," as is evidenced by his statement to Jean F. Merier in Publishers Weekly: "I'm free to leave ... go wherever I please, do whatever I want; I believe everyone should live like that. Don't be dependent on anyone else---man, woman, child, or dog. I want to go everywhere, look at and listen to everything. You can go crazy with some of the wonderful stuff there is in life." As mentioned in Something About the Author, he did "hope that people, no matter what age, would find something to identify with in my books, pick one up and experience a personal sense of discovery." Silverstein died at his home in Key West, Florida on May 10, 1999.
Read more
Latest headlines