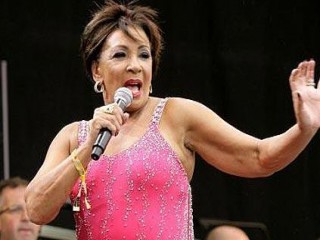 Shirley Bassey biography
Date of birth : 1937-01-08
Date of death : -
Birthplace : Tiger Bay, Cardiff, Wales,England
Nationality : English
Category : Arts and Entertainment
Last modified : 2011-10-25
Credited as : Singer, James Bond films,
Dame Shirley Veronica Bassey, is a Welsh singer who found fame in the late 1950s and has continued a successful career since then worldwide.
In the US, in particular, she is best known for recording the theme songs to the James Bond films Goldfinger (1964), Diamonds Are Forever (1971), and Moonraker (1979), and is a UNESCO Artist for Peace.
In the early and mid 1960s, Bassey had numerous hits on the UK charts, and five albums in the top 15. Her 1960 recording of "As Long As He Needs Me" from Lionel Bart's Oliver! reached #2, and had a chart run of 30 weeks.
On 13 November 1960, Bassey made her debut performance on American television, appearing on The Ed Sullivan Show. In 1962, Bassey's collaboration with Nelson Riddle and his orchestra produced the album Let's Face the Music (#12) and the single "What Now My Love" (#5).
Other top ten hits of the period included her second #1, the double A-side "Reach for the Stars"/"Climb Ev'ry Mountain" (1961), "I'll Get By" (also 1961), and a cover version of the Ben E. King hit "I (Who Have Nothing)" in 1963. During this period, Bassey appeared on the cover of Ebony magazine and sang at a Washington gala celebrating the end of President Kennedy's second year in office.
In 1965, Bassey enjoyed her first—and only—U.S. Top 40 Billboard Hot 100 hit with the title song of the James Bond film, Goldfinger. The single peaked at #8, while the original soundtrack of Goldfinger hit #1 in the U.S. that same year. Also in 1965, she sang the title track for the spoof James Bond film The Liquidator, and had a Top 20 live album recorded during a sell-out run at London's Pigalle.
From 1964 onwards the "Goldfinger" single had a lasting impact on her career: writing for the sleeve notes of Bassey's 25th Anniversary Album, Clayton (1978) notes that: "Acceptance in America was considerably helped by the enormous popularity of (Goldfinger)...But she had actually established herself there as early as 1961, in cabaret in New York. She was also a success in Las Vegas...'I suppose I should feel hurt that I've never been really big in America on record since Goldfinger...But, concertwise, I always sell out.'..." This was reflected in the fact that Bassey had only one solo LP to reach the Top 20 in a US chart (R&B, Live at Carnegie Hall), and she was technically a "one-hit wonder," making only one appearance in the Top 40 of the Billboard Hot 100, "Goldfinger".
But in the aftermath of "Goldfinger" her UK sales started to falter as well: only two of her singles would enter the UK top 40 until 1970. She had signed to United Artists, and her first album on that label, 1966's I've Got a Song for You, spent one week on the chart; from there until 1970, only two albums would chart, one of those a compilation. In 1967 came the release of one of her best-known singles "Big Spender", although it charted just outside the UK Top 20.
Bassey started living as a tax exile in 1968, and was not permitted to work in Britain for almost two years. Also in 1968, at the Sanremo Festival in Italy, she performed "La vita", an Italian song by Bruno Canfora and Antonio Amurri, with some lyrics re-written in English by Norman Newell for her performance. Her version of the song with chorus sung in Italian became a Top 40 hit on the Italian chart, and Bassey recorded several songs in Italian, some appearing on a 1968 Italian album titled La vita.
Bassey's UK comeback came in 1970, leading to one of the most successful periods of her career. In this year, she returned to the UK with a record breaking run of performances at the Talk of the Town nightclub. Also in that year, she released the album Something, which showcased a new Bassey style, a shift from traditional pop to more contemporary songs and arrangements (the single of the same name was more successful in the UK charts than the original Beatles recording - the only artist to have achieved this), though Bassey would never completely abandon what had been her forte, standards, show tunes, and torch songs. "Something" was also a Top 10 U.S. hit on the Adult Contemporary chart. Other singles of this period included top ten hits "For All We Know" (1971) and "Never Never Never" (1973) – the latter reaching the Top 10 in the U.S. Adult Contemporary Chart, the UK Top 10 and and number one in Australia and South Africa.
Between 1970 and 1979, Bassey had 18 hit albums in the UK Albums Chart. Her 1978 album The Magic Is You featured a portrait by the photographer, Francesco Scavullo. In 1973, her sold-out concerts at New York's Carnegie Hall were recorded and released as a two-LP set, Shirley Bassey: Live at Carnegie Hall.
This album and the majority of her recordings from this period have been re-mastered and released on CD by EMI and BGO Records. In 1971, she recorded the theme song for Diamonds Are Forever. The recording featured as part of Sydney, Australia's 2007 New Year's celebration.
Bassey appeared on the Morecambe and Wise Christmas Show, broadcast on Christmas Day in 1971. In 1976 Bassey starred in the six-episode The Shirley Bassey Show, the first of her television programs for the BBC, followed by a second series of six episodes in 1979. The final show of the first series was nominated for the Golden Rose of Montreux in 1977. The series featured guests including Neil Diamond, Michel Legrand, The Three Degrees and Dusty Springfield; filmed in various locations throughout the world as well as in the studio.
Throughout most of the 1980s, Bassey focused on charitable work and performing occasional concert tours throughout Europe, Australia, and the United States, having ended her contract with EMI-United Artists and taking what she referred to as 'semi-retirement'. In 1982 Bassey recorded an album entitled All by Myself and made a TV special for Thames Television called A Special Lady with guest Robert Goulet.
In 1983 she recorded a duet with Alain Delon, "Thought I'd Ring You", which became a hit single in Europe. Bassey was now recording far less often but released an album in 1984 of her most famous songs, I Am What I Am, performed with the London Symphony Orchestra conducted by Carl Davis.
In 1986, she released a single and video to support the London Tourist Board, There's No Place Like London co-written by Lynsey de Paul and Gerard Kenny. In 1987 she recorded an album of James Bond themes, The Bond Collection, but was apparently unhappy with the results, as she declined to release it. (Five years later it was released anyway, Bassey sued in court, and all unsold copies were withdrawn.) Also in 1987, Bassey provided vocals for Swiss artists Yello on "The Rhythm Divine", a song co-written by Scottish singer Billy Mackenzie.
In 1989 she released an album sung entirely in Spanish, La Mujer. In the latter mid-1980s Bassey had started working with a vocal coach, a former opera singer, and her 1991 album Keep the Music Playing displayed a grand, operatic pop style on several songs (perhaps also influenced by her album with the LSO seven years earlier).
In the 1998 film Little Voice, Bassey was one of three central figures along with Marilyn Monroe and Judy Garland, and Bassey's track "Goldfinger" featured in the movie. Jane Horrocks, the lead actress in the film, went on to impersonate Bassey both on record and television, as well as during a UK tour.
In 1998 Bassey was sued in a breach of contract case by her former personal assistant, who also accused Bassey of hitting her and making an ethnic slur. Bassey won the case. The episode was lampooned by Alexander Baron in his one-act play, The Trial of Shirley Bassey.
In 1999, she performed the official song for the Rugby World Cup, "World in Union", with Bryn Terfel at the opening ceremony at The Millennium Stadium, Cardiff, wearing a gown designed on the Welsh flag. Their single made the Top 40, and Bassey contributed two more songs to the official album Land of My Fathers, which reached #1 on the UK compilations chart, and went silver.
In 2001, Bassey was principal artiste at the Duke of Edinburgh's 80th Birthday celebration. On 3 June 2002 Shirley Bassey was one of a prestigious line up of artists including Elton John, Paul McCartney, Queen, The Corrs, Annie Lennox, Eric Clapton, Tony Bennett, Cliff Richard, Joe Cocker, Rod Stewart, Ricky Martin, Phil Collins and Tom Jones who performed at the Queen's 50th Jubilee Party at Buckingham Palace. Then, in 2003, Bassey celebrated 50 years in show business, releasing the CD Thank You for the Years, which was another Top 20 album. A gala charity auction of her stage costumes at Christie's, 'Dame Shirley Bassey: 50 Years of Glittering Gowns', raised £250,000 (US$500,000) for the Dame Shirley Bassey Scholarship at the Royal Welsh College of Music and Drama and the Noah's Ark Children's Hospital Appeal. Bassey topped the bill at the 2005 Royal Variety Performance, introducing her new song "The Living Tree".
Two popular Audiences with Shirley Bassey have aired on British TV, one in 1995 that attracted more than 10 million viewers in the UK, with the most recent in 2006. Bassey returned to perform in five arenas around the UK in June the same year, culminating at Wembley. She also performed a concert in front of 10,000 people at the Bryn Terfel Faenol Festival in North Wales broadcast by BBC Wales.
Marks & Spencer signed her for their Christmas 2006 'James Bond style' TV advertising campaign. Bassey is seen in a glamorous Ice Palace singing a cover version of Pink's song "Get the Party Started", wearing an M&S gown.
In 2009 Bassey recorded a new album, The Performance, with James Bond composer David Arnold as co-producer (with Mike Dixon). A number of artists wrote songs expressly for Bassey, including Manic Street Preachers, Gary Barlow, KT Tunstall, Pet Shop Boys, Nick Hodgson of the Kaiser Chiefs, John Barry and Don Black.
Bassey headlined at the BBC Electric Proms on 23 October 2009, in her only full live set of 2009.
In November 2009, she performed several of the new songs from The Performance on various TV shows: The Graham Norton Show, The Paul O'Grady Show and as the guest singer on Strictly Come Dancing.
Bassey performed at the Rainforest Foundation Fund 21st Birthday concert at Carnegie Hall, New York City on 13 May 2010.
On 30 March 2011, Bassey performed at a gala celebrating the 80th birthday of Mikhail Gorbachev. She also performed at the Classical Brit Awards in 2011, singing "Goldfinger" in tribute to John Barry.
Her first marriage was to Kenneth Hume (1961–65) but this ended in divorce. In September 1965 Bassey announced her intention to re-marry Hume, but less than a year later revealed that this would not take place.
Her second husband was Sergio Novak. Bassey and Novak were married from 1968 until they divorced in 1977; Novak served as Bassey's manager throughout this time. Bassey had two daughters, Sharon and Samantha. With Novak she also adopted her great-nephew, Mark.
In 1985, 21-year-old Samantha Novak was found dead in the River Avon in Bristol, England. Bassey has always maintained that the death of her daughter was not a suicide.
On 24 March 2010, Avon and Somerset Police confirmed they were undertaking fresh inquiries into the death of Novak, and specifically claims that the convicted killer Michael Moffat was involved in her death.
However, in October 2010 it was reported that the investigation came to an end, and concluded that there "is no evidence of any criminal act involved" in Novak's death.
Read more
Latest headlines