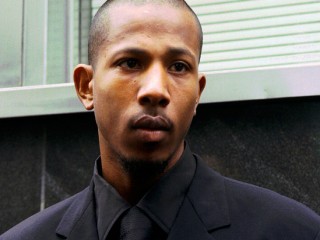 Shyne biography
Date of birth : 1978-11-08
Date of death : -
Birthplace : Belize City, Belize
Nationality : Belizean
Category : Arts and Entertainment
Last modified : 2012-02-06
Credited as : Rapper, Godfather Buried Alive album, Gangland Records,his own label
Moshe Levi Ben-David (born Jamal Michael Barrow), better known by his stage name Shyne, is a Ethiopian-Belizean rapper.
Rapper Shyne is known for his album Godfather Buried Alive, some of which he recorded while in prison. He is currently serving ten years in a federal prison in upstate New York for his role in a 1999 nightclub shooting in Manhattan.
Shyne, who was born Jamal Barrow in Belize, is the son of Dean Barrow and Frances Franklin; Dean Barrow was a former deputy prime minister of Belize. When Shyne was seven years old, his mother brought him to the United States and they settled in the Flatbush section of Brooklyn, New York. To support her young son, Franklin worked as a housekeeper, taking as many jobs as she could to pay the rent and buy groceries. Shyne was often left to his own devices and, like many urban youths, found his way into trouble. When he was 15, he was shot in the shoulder.
In response, Franklin moved the family to another part of Brooklyn and encouraged Shyne to do better in school and stay off the streets. He began writing poetry and even thought about going to college. One day, however, Don Pooh, the former manager of Foxy Brown, heard Shyne rapping in a barbershop. He told rapper and record label executive Sean "P. Diddy" Combs about his find, and in 1998 Shyne signed a deal with Combs's Bad Boy Records. He began work on his first album, telling stories of inner-city bloodshed and alienation, and seemed to be on an upward track. In 1999, however, Shyne was at a Manhattan nightclub with Combs and Combs's then-girlfriend, actress Jennifer Lopez. When a patron insulted Combs, shots were fired and three bystanders were hit, including a woman who was shot in the face. Lopez was cleared of involvement. Combs and his bodyguard, Anthony Jones, were charged with crimes including illegal possession of a gun and bribery. Shyne was arrested for attempted murder and other related charges.
In 2000, while his trial was underway, Shyne's debut album, Shyne, was released; by January of 2003, it had sold 866,000 copies. However, Shyne's joy over the new release was cut short. In 2001 he was convicted of assault, weapons possession, and other charges, and sentenced to ten years in prison with no eligibility for parole until 2009. The charges of attempted murder and intentional assault were dropped, but it looked like Shyne's budding career would be derailed by the crime and its aftermath. He admitted at the trial that he had pulled a gun and fired it during the incident and, according to an article in Jet, held his lawyer's hand, apologized for the crime, and said, "I beg the court for mercy not to waste my life."
Throughout his trial, and even after being incarcerated, Shyne continued to record tracks, and eventually collected them into an album. In 2004 he signed a $3 million joint venture deal with Universal Music's Island Def Jam Records. As part of the deal, he received his own label, Gangland Records.
His second album, Godfather Buried Alive, was released in August of 2004, and by January of 2005, had sold more 500,000 copies. In the America's Intelligence Wire, Rami Mallis and Matthew Bailey wrote that the album "is a breath of fresh air in the stale, over-commercialized R&B-based world of mainstream hip-hop," and commented that Shyne "is a rapper with an interesting and enticing background and story to tell, and he tells it in a gritty, raw style." They compared Shyne's vocal style to that of Notorious B.I.G., and his attitude to that of Tupac Shakur. They also noted, "The album gives a dramatic illustration of life in the dog-eat-dog world of many New York rappers." However, they also wrote that the album suffered from inconsistent production, which makes it seem "disjointed," and that it showed a lack of narrative structure. In the St. Louis Post-Dispatch, Kevin C. Johnson wrote, "A good portion of the CD was recorded behind bars and unashamedly sounds like it," and noted that one song, "For the Record," "is clearly phoned in." Despite these flaws, Johnson wrote, "Shyne remains raw and uncompromising on his sophomore effort."
Shyne received a great deal of publicity after the release of Godfather Buried Alive. He was interviewed over the phone by the New York Times, and appeared on the cover of Vibe, wearing his green prison uniform. In December of 2004 Shyne began work on a documentary about his life for the MTV network. In the film, former rapper Mark Wahlberg talked with Shyne and other inmates at the Clinton Correctional Facility. The film was scheduled for release in the summer of 2005. According to Jim Farber in the New York Daily News, Shyne's status as a convicted felon "gives him a terrific marketing hook." Shyne's resentment of Combs, who was also arrested for the 1999 shooting but acquitted of similar charges, also created attention in the hip-hop world. However, Shyne told Farber, "If it was so simple, every tough guy would sell records. It's about the music."
Shyne, who relied heavily on the telephone to get his music out of the prison, was soon under investigation by prison officials. New York law bans prisoners from using cell phones, having calls transferred to another party, conducting business over the phone, or calling reporters not on a designated media list. Prison officials contended that Shyne did all of these things, and that he listed phony names on his designated contact list. If the investigation proved these things to be true, New York law would allow victims of the shooting to sue Shyne for monetary compensation. In August of 2004, Shyne's phone privileges, as well as his ability to give face-to-face interviews in prison, were taken away.
In 2005 Shyne began negotiating an exit from Island Def Jam Records after clashing with Island Def Jam's Antonio "L.A." Reid. Shyne took issue with Reid over the amount of marketing and promotion that Island Def Jam did for his album Godfather Buried Alive. Shyne believed that Reid, who had previously worked with pop and R&B artists, was not committed to promoting hip-hop singers. The issue was complicated by New York State's "Son of Sam" law, which bars convicted felons from profiting from their crimes, and which thus barred Universal from paying Shyne. According to an article in the New York Post, Shyne wrote a letter to Reid in January of 2005, saying, "Unfortunately this partnership is not working," and asking, "Show that you are concerned about this [hip-hop] culture and more important, the prophet that sits in a cage, Shyne!" Russell Simmons, founder of Def Jam, asked Reid, "Will the new transition team at Def Jam see Shyne for the potential he has to become a Spiritual Prophet as he defines himself, or will he be reduced to the thug that the street is racing to define him as?" Rapper Jay-Z, who had recently been named president of Def Jam, visited Shyne in prison to try and smooth over the rift, but without success.
Speaking of his life in prison, Shyne told Farber that he keeps a low profile. "I carry myself as a regular guy. I run three miles a day. I remain occupied in the law library. I have a system that keeps me consumed." According to Jeff Leeds in the Seattle Times, Shyne also keeps busy on Friday nights and Saturdays by observing the Jewish Sabbath in homage to his great-grandmother, who was an Ethiopian Jew. He told Leeds, "No one would want to be here. I wouldn't wish this on my worst enemy. I have to make the best of it. I am here, and I have adjusted. I've found a way to stay on top of everything."
On October 6, 2009, Shyne was released from New York State custody. However upon his release, Shyne was immediately apprehended into Federal custody. It became public knowledge a few hours following his apparent release that he had been detained by U.S. Immigration and Customs Enforcement at a then "undisclosed detention facility in Western New York State". At least one source revealed that the facility in question was the Buffalo Federal Detention Facility in Batavia.According to his attorney, Oscar Michelen, Federal officials were reviewing the rapper's immigration status and making a determination on whether or not he would be deported to his native Belize. He went on to clarify that Shyne was in possession of a "green card" but had never been naturalized. There was some speculation that Shyne might have been released on bail in the US while his case was being resolved. However there was no real indication that a bail was ever set or notification of any change in his official status.
By October 22, 2009 most publications were indicating that a final decision had been reached and, barring a last minute pardon from Governor Paterson, Shyne would be deported back to Belize. Shyne was deported back to Belize on Wednesday October 28, 2009 though he continued to fight for residency in the United States.
In February 2010, the rapper was refused entry into the United Kingdom due to his criminal past. He had commenced his journey in Cancun, Mexico, but was deported upon arrival in the UK after immigration officials refused to allow him to enter the country. On February 16, 2010, Shyne signed a seven figure deal with Def Jam Records. Gangland & Messiah, are scheduled to be released in the fall of 2011, and they will be his first studio albums since his release from prison in late 2009. Shyne made a surprise guest appearance in the Matisyahu / HaDag Nachash concert in Jerusalem's Kikar Safra on June 23, 2011. He rapped into Matisyahu's set for "King Without a Crown".
In July 2011 Shyne was confirmed to have signed a deal with Cash Money Records. Shyne appears on the track Outro from Lil Wayne's ninth studio album Tha Carter IV, along with Bun B, Nas, and Busta Rhymes.
Shyne recently released a new song entitled "Solar Energy". The rap was written with Arava Power Company's president, Yosef Abramowitz, in honor of the inauguration of Ketura Sun, the first solar field in Israel. Shyne premiered the song on June 5, 2011, at the Ketura Sun launch.
Albums:
-Shyne (2000)
-Godfather Buried Alive (2004)
-Gangland (2012)
-Messiah (2012)
Read more
Latest headlines