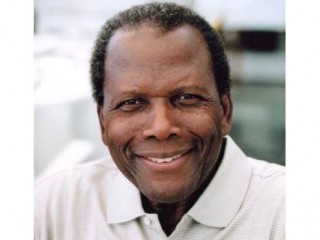 Sidney Poitier biography
Date of birth : 1927-02-20
Date of death : -
Birthplace : Miami, Florida, U.S.
Nationality : American
Category : Arts and Entertainment
Last modified : 2010-06-14
Credited as : Actor and film Director-Producer, Buck and the Preacher (1972),
Sidney Poitier
born February 20, 1927 in Miami, Florida was an American actor, Film Director and Film Producer.
A Leading Man.
Sidney Poitier's career distinguished him like few others in his profession. His professional credentials cannot be assailed: as the winner of a Best Actor Academy Award for Lilies of the Field (1963) and the star of dozens of movies, Poitier had an enviable career in Hollywood. New York Times critic Brooks Atkinson described Poitier as, "a remarkable actor ... is as eloquent when he has nothing to say as when he has a pungent line to speak." Director Peter Bogdanovich asserted that, "Sidney's a genuine star, not a created one. He's got tremendous integrity." Perhaps more notably, Poitier gets credit from some for blazing trails for black and minority actors that would enter the profession after him. Acknowledging Poitier as a gifted actor and a great pioneer, Ossie Davis commended, "Put him on stage ...or let the camera light up, and he takes charge. Something comes alive in him. And in Hollywood, he hewed a path through the great stone mountain through which so many of us black performers have since passed." Before Poitier, few blacks received meaningful roles in major motion pictures. His appearances in 1967's In the Heat of the Night and Guess Who's Coming to Dinner? directly addressed bigotry and black-white relations. Despite these roles, some charged that Poitier's professional success had resulted from his willingness to subvert any "blackness" in his character to please a mass market. His childhood and early career exposed him to poverty, hardship, and outright racism, but he reacted to these adversities with dignity, hard work, and a passion for the civil rights movement. Dr. Martin Luther King called him, "a man who never lost his concern for the least of God's children." Many assert that Poitier's success produced ripples in the social fabric far beyond the movie theater.
Having never seen a script and barely able to read, Poitier was thrown out of his audition with the American Negro Theatre and told not to waste the interviewers' time. This rejection strengthened his resolve to act and he practiced reading and perfecting a North American accent. Poitier told American Life, "I decided I was going to become an actor not because I wanted to be an actor, but to prove to [myself] ...that I could do it." The Theatre was hesitant to keep Poitier after his second interview, but agreed to allow him to stay when he offered to perform janitorial services for free. The theater tolerated his presence only because of his offer of free labor. Poitier's education had not been extensive, and the written script itself provided a major obstacle. A few years previous, when living in Miami, Poitier mentioned in his autobiography This Life that he could "read well enough to be able to identify the street [signs] if not pronounce [them]." In the time since coming to New York, Poitier had worked for a time in a restaurant. In that time, a coworker had worked with him to teach him to read better, but still the young man struggled with the complex written stage directions and dialogue. Small wonder, then, that the Theater wasn't initially impressed with Poitier.
Received his Big Break.
Poitier's break came when he was Harry Belafonte's understudy in the production Days of Our Youth (1945) and read for the absent Belafonte before James Light, who invited Poitier to play a small part in his all-black cast of Lysistrata (1946) on Broadway. He forgot his lines, and critics savaged the play but thought that Poitier was terribly funny. After several Broadway appearances, including Anna Lucasta and You Can't Take it with You Poitier made his film debut, a documentary From Whom Cometh My Help (1949). The following year Poitier made his first major film, No Way Out (1950), in which he played a doctor falsely accused of killing his patient by the patient's racist's brother. His educated and dignified character foreshadowed the kind of character that Poitier was to portray throughout much of his career.
A Positive Black Role Model.
Early in his acting career, Poitier was profoundly conscious of the need for roles depicting blacks in a positive light and with dignity: Ebony quoted Poitier, "I used to go to pictures and when I saw a Negro on the screen I always left the theater embarrassed and uneasy." According to Samuel Kelley, in The Evolution of Character Portrayals in the Films of Sidney Poitier, Poitier saw himself as "a guardian of the black image," evidenced by the fact that, "many of his roles were characterized by their superior intellectual, social and moral character." Poitier's early films were social integrationist films; Kelley explained that: "Poitier's films have been noteworthy for their confrontation of the major social issues of this period, issues such as racial prejudice, assimilation, integration, and interracial marriage. For many filmgoers, black and white, the Poitier characters have personified a positive image of the successful middle-class black man in America." Despite being in need of the work in the mid 1950s, Poitier refused to accept roles which he thought portrayed blacks in a demeaning way; for example, he declined The Phenix City Story.
An Academy Award Winner.
Although Poitier is known for his sophisticated characters, he firmly established himself as a serious actor with The Blackboard Jungle (1955), in which he plays an insubordinate youth. Amid a new era of liberal consciousness in Hollywood, Poitier melted the color barrier with his Oscar-nominated performance in The Defiant Ones (1958). He played an escaped convict chained to Tony Curtis; initially, the fugitives hate each other, but as the film and their shared experiences develop they realize that the bond of humanity is as powerful as the chain that binds them. The following year Poitier returned to Broadway and starred in Lorraine Hansberry's play, A Raisin in the Sun; he received strong praise for his acting ability and versatility. In 1964, Poitier became the first black actor to receive the Academy Award for best actor for his portrayal of a laborer who helps a group of nuns build a chapel in the Southwest in Lilies of the Field. By the late 1960s, Poitier was one of America's leading box office attractions, and ranked top box office draw in 1968. The year 1967 witnessed three of his most successful and famous films: in To Sir, with Love he plays a dedicated teacher who reaches his bellicose students; in In the Heat of the Night he is a detective who solves a murder amid racial prejudice; and in Guess Who's Coming to Dinner? he portrays a renowned doctor about to marry a white woman. Poitier's business acumen earned him a considerable amount of money, partly because he agreed to accept a percentage of a films profits in lieu of a fee.
A Change of Direction.
Despite his enormous success, Poitier was unhappy with the absence of black actresses with whom his daughters could identify, so he wrote and starred in For Love of Ivy (1968). With a lack of good role offers, the growth of black exploitation films, and a desire to make films for a black audience Poitier began shifting his focus toward directing, first appearing in his own films and then moving behind the camera completely. Poitier's refined screen image did not gel with the black exploitation films and some critics accused him of playing "bleached-out roles" and failing to acknowledge black culture. Poitier sympathized with some of the criticism leveled at him, fully sensitive to the existence of "tokenism" and the persistent lack of good roles for any blacks but himself. He also knew that these roles, while professional and serious, did not accurately depict the black community. He explained to David Richards of The Washington Post: "For a long time, I got all the jobs ... And the roles I played were very unlike the average black person in America at the time. The guy always had a suit, a tie, a briefcase! He was a doctor, lawyer, police detective. Middle class. The characters weren't reflective of the diversity of black life. I don't know that I wouldn't have had resentments myself, had I been I an actor on the outside looking in." However, Poitier continued, "I was at peace with the fact that what I was doing was compatible with the social revolution across the country." Working as a director, Poitier was able to take greater control of the image of blacks on film.
Made Directorial Debut.
Poitier marked his directorial debut with Buck and the Preacher (1972); although it was a Western, Kelley asserted that, "...its depiction of black participation in the settling of the west was a cinematic milestone and not without significant political and social implications." The film broke even, but Poitier's second directorial effort, A Warm December (1973) was not a financial hit and his studio was unwilling to invest more money in Poitier's films. However, Poitier held First Artists Corporation to their contractual agreement and made the hugely popular Uptown Saturday Night (1974), which is a comedic parody of gangster movies with the black stars Bill Cosby, Harry Belafonte, Flip Wilson, and Richard Pryor. After directing and starring in A Piece of the Action (1977), Poitier took an 11-year absence from the screen, telling Herbert Nipson in Ebony, "I had done it all. I couldn't find scripts that interested me, that offered a challenge. I had other things I wanted to do." Poitier followed with his biggest directorial success, the comedy Stir Crazy (1980) with Richard Pryor and Gene Wilder.
Return to Acting.
After a considerable break, Poitier returned to acting with the action adventure films Shoot to Kill and Little Nikita in 1988. In 1992 he starred in the popular movie Sneakers. In the 1990s Poitier has portrayed several great black leaders. In 1991 he played Supreme Court Justice Thurgood Marshall in the miniseries Separate But Equal who battled segregation as a lawyer. In 1997, he portrayed Nelson Mandela opposite Michael Caine's F.W. de Klerk in the Showtime production Mandela and de Klerk.
More than an Actor.
The 1990s have seen Poitier's stature recognized beyond the screen. In 1994 Walt Disney named him to the board of directors; chairman and CEO Michael D. Eisner declared, "The world knows Sidney Poitier as a superb actor and a true artist. But Sidney's talent is more than screen deep." Poitier's international standing was compounded in 1995, when he was named the Bahamian ambassador to Japan. On and off screen Poitier has received numerous awards and honors, including the American Film Institute's Lifetime Achievement Award in 1992 and the Kennedy Center Honors in 1995. His memberships include the National Association for the Advancement of Colored People (lifetime member), Martin Luther King Jr, Center for Nonviolent Social Change. Although Poitier has acknowledged the advancement of racial parity in Hollywood, he has lamented the lack of black actresses. Poitier has been married twice: first to Juanita Hardy (a dancer) on 29 April 1950 with whom he had four daughters: Beverly, Pamela, Sherri, and Gina; and second to Joanna Shimkus (an actress) on 23 January 1976, with whom he had two daughters: Anika and Sydney.
AWARDS
Academy Award nomination for best actor, Academy of Motion Picture Arts and Sciences, and Silver Berlin Bear Award for best actor, Berlin International Film Festival, and Golden Globe nomination for actor in a leading role, all 1958, all for The Defiant Ones; Georgio Cini award, Venice Film Festival, 1958, for Something of Value; Golden Globe nomination for actor in a musical, 1959, for Porgy and Bess; Golden Globe Award nomination for best actor in a leading role, 1961, for A Raisin in the Sun, 1965, for A Patch of Blue, 1967, for In the Heat of the Night, and 1991, for Separate but Equal; Academy Award for best actor, and Golden Globe Award for actor in a leading role, both 1963; both for Lilies of the Field; San Sebastian Prize for best actor, San Sebastian International Film Festival, 1968, for For the Love of Ivy; Golden Globe Henrietta Award, 1968; named Knight Commander, Order of the British Empire, 1974; Cecil B. De Mille Award, Hollywood Foreign Press Association, 1981; Life Achievement Award, American Film Institute, 1992; Kennedy Center Honors Lifetime Achievement Award, 1995; Lifetime Achievement Award, Screen Actor's Guild, 1999; Grammy Award for best spoken-word album, 2001, for The Measure of a Man; National Association for the Advancement of Colored People (NAACP) Hall of Fame award, 2001; honorary award, Academy of Motion Picture Arts and Sciences, 2002; Trumpet Awards Living Legend honor, 2002.
CAREER
Actor, director, and author. American Negro Theatre, New York, NY, dishwasher and janitor, c. early 1940s; First Artists Productions (film production company), Hollywood, CA, cofounder, 1969--. Actor in stage productions, including Days of Our Youth; (Broadway debut) Lysistrata, 1946; Anna Lucasta (touring production), 1948; A Raisin in the Sun, 1959; Striver's Row; You Can't Take It with You; Rain; Freight; The Fisherman; Hidden Horizon; Sepia Cinderella; and Riders to the Sea. Actor in television productions, including "Parole Chief," Philco Television Playhouse, 1952; "A Man Is Ten Feet Tall," Philco Television Playhouse, 1955; "Fascinating Stranger," Kraft Television Theatre, 1955; The New Bill Cosby Show, 1972; Separate but Equal (movie), 1988; Children of the Dust (movie), 1995; To Sir with Love II (movie), 1996; Mandela and de Klerk (movie), 1997; David and Lisa (movie), 1998; Free of Eden (movie), 1999; The Simple Life of Noah Dearborn (movie), 1999; and The Last Brickmaker in America (movie), 2001. Actor in films, including as Signal Corps Doctor, From Whom Cometh My Help, 1949; Dr. Luther Brooks, No Way Out, 1950; Reverend Msimangu, Cry, the Beloved Country, 1952; Corporal Andrew Robertson, Red Ball Express, 1952; Inman Jackson, Go, Man, Go!, 1954; Gregory Miller, The Blackboard Jungle, 1955; Gates, Goodbye, My Lady, 1956; Tommy Tyler, Edge of the City, 1957; Kimani, Something of Value, 1957; Rau-ru, Band of Angels, 1958; Noah Cullen, The Defiant Ones, 1958; Obam, The Mark of the Hawk, 1958; Porgy, Porgy and Bess, 1959; Marcus, The Virgin Island, 1960; Towler, All the Young Men, 1960; Walter Lee Younger, A Raisin in the Sun, 1961; Eddie Cook, Paris Blues, 1961; Doctor, Pressure Point, 1962; Homer Smith, Lilies of the Field, 1963; Ali Mansuh, The Long Ships, 1964; Ben Munceford, The Bedford Incident, 1965; Simon of Cyrene, The Greatest Story Ever Told, 1965; Gordon Ralfe, A Patch of Blue, 1965; Alan Newell, The Slender Thread, 1965; Toller, Duel at Diablo, 1966; John Prentice, Guess Who's Coming to Dinner, 1967; Virgil Tibbs, In the Heat of the Night, 1967; Mark Thackeray, To Sir, with Love, 1967; Jack Parks, For Love of Ivy, 1968; Jason Higgs, The Lost Man, 1969; King: A Filmed Record . . . from Montgomery to Memphis, 1970; Virgil Tibbs, They Call Me Mister Tibbs, 1970; John Kane, Brother John, 1971; Virgil Tibbs, The Organization, 1971; Buck, Buck and the Preacher, 1972; Matt Younger, A Warm December, 1973; Steve Jackson, Uptown Saturday Night, 1974; Shack Twala, The Wilby Conspiracy, 1975; Clyde Williams, Let's Do It Again, 1976; Manny Durrell, A Piece of the Action, 1977; Warren Stantin, Shoot to Kill (also known as Deadly Pursuit), 1988; Roy Parmenter, Little Nikita, 1988; Donald Crease, Sneakers, 1992; and Carter Preston, The Jackal, 1997. Director of play Carry Me Back to Morningside Heights, 1968, and of films, including Buck and the Preacher, 1972; A Warm December, 1973; Uptown Saturday Night, 1974; Let's Do It Again, 1976; A Piece of the Action, 1977; Stir Crazy, 1980; Traces, 1981; Hanky Panky, 1982; Fast Forward, 1985; and Ghost Dad. Member, board of trustees, American Museum of the Moving Image, 1989; member of board of directors, Walt Disney Co., 1994. Appointed Bahamanian Ambassador to Japan, 1997. Military service: U.S. Army, 1942-45; served as physiotherapist.
Writings
* 1968: (Author of original story) For the Love of Ivy, Palomar Pictures International.
* 1980: This Life (autobiography), Knopf (New York, NY).
* 2000: The Measure of a Man: A Spiritual Autobiography, HarperCollins (San Francisco, CA).
Read more
Latest headlines