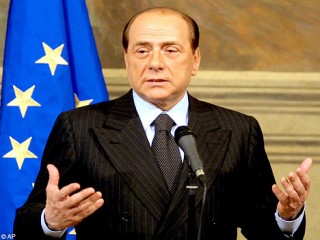 Silvio Berlusconi biography
Date of birth : 1936-09-29
Date of death : -
Birthplace : Milan, Italy
Nationality : Italian
Category : Politics
Last modified : 2010-07-22
Credited as : Politician, Prime Minister of Italy, World's political leader
Silvio Berlusconi
, born September 29, 1936 in Milan, Italy is an Italian politician, founder and former chairman of Fininvest and the current Prime Minister of Italy .

"There's nobody on the world stage who can possibly claim to be a match for me, nobody who has anything like my past, my history… When I meet a visiting premier or a head of state, it's up to them to try to prove that they're cleverer than I am." Silvio Berlusconi

The Italian Republic, a southern European peninsula, is bordered on the north by Switzerland and Austria, on the northeast by Slovenia, and on the northwest by France and Monaco. Included in the Italian Republic are the islands of Sicily and Sardinia, as well as smaller groups of islands in the Mediterranean Sea. Encompassing a land area of 301,277 sq km (116,323 sq mi), Italy had an estimated population of 57.7 million in 2002.
Although most of the population is Italian, there are significant minority groups, such as the South Tyrolians, the Slovenes, and Croatians. While Italian is the official language, French, German, and Slavic dialects can be heard in various regions of the country. Approximately 95% of the population are Roman Catholic. The remainder are Protestant, Muslim, and Jewish minorities.
Until 2002, the Italian lira was the official currency. On 1 January 1999, however, the euro was introduced by the European Union (EU) as common currency. The euro replaced local Italian currency for all transactions in 2002. Italy's per capita gross domestic product (GDP) was estimated at US$25,000 in 2002. Major exports include textiles, apparel, metals, transportation equipment, chemicals, and food products.
POLITICAL BACKGROUND
Italy achieved political unity as a nation in 1861 under the Royal House of Savoy. Following the defeat of dictator Benito Mussolini's regime during World War II, a republican form of government was adopted in 1946. There have been two republics in postwar Italy, beginning in June 1946 and April 1994, respectively. In 1993, Italy made major changes to its electoral system: three-fourths of the seats in parliament would be filled by simple majority vote, and the remainder would be allocated by proportional representation to those parties securing at least 4% of the vote. According to the constitution, power is shared between executive, legislative, and judicial branches. The popularly elected bicameral parliament consists of a 315-member Senate and a 630-member Chamber of Deputies, both elected to five-year terms. Parliament is subject to dissolution by the president or by a vote of no-confidence when a new government cannot be formed. Twenty-one national parties presently dominate Italian politics.
The prime minister is nominated by the president of the republic (currently Carlo Azeglio Ciampi) and forms a government and political agenda that must be approved by both chambers of parliament. The prime minister is the head of government and must retain the confidence of parliament, either through governing majorities or benign political consent. The prime minister's power has been limited in the past by divisions among the many political factions within parliament. Italy has had 59 governments since 1945. The current prime minister is Silvio Berlusconi, who arrived at the job on 10 June 2001 after being appointed by President Carlo Azeglio Ciampi.
PERSONAL BACKGROUND
Silvio Berlusconi was born on 29 September 1936 in Milan. His father was a bank clerk and his mother was a housewife. Although he studied law (writing a thesis in advertising) at the University of Milan, he drifted among various jobs until, at the age of 23, he began his career as a real estate developer. Berlusconi became the country's largest developer of residential and retail properties. In 1974, he bought a television station, Telemilano Cavo. This move rapidly evolved into ownership of additional stations, leading in 1984 to the formation of the Medialist Group, which includes Italy's top three commercial television networks. In the 1980s, Berlusconi expanded his development of commercial television to France, Germany, and Spain. In parallel with his interests in television, Berlusconi entered the publishing business, purchasing and becoming the nation's largest publisher of newspapers, books, and magazines. He also branched into banking, insurance, and financial services through his holding company, the Fininvest Group. In 1986, Berlusconi became chairman of the professional soccer team A.C. Milan, which subsequently won many national and international titles, including two World Club, three Champion's League, and five National League champion-ships.
Forbes magazine lists Silvio Berlusconi as the forty-fifth-richest man in the world in 2002, and the third-most-powerful billionaire, after Bill Gates and Warren Buffet. Twice married, he has five children, two of whom hold key positions in his various business holdings.
RISE TO POWER
In the course of his rising financial career, Berlusconi became associated with Italy's former Socialist premier Bettino Craxi. In response to Craxi's corruption trial in 1993, Berlusconi decided to enter politics himself. He resigned all his positions in Fininvest and in 1994 founded the Forza Italia (Go Italy) party. In a coalition with the Alleanza Nazionale (National Alliance) and the Lega Nord (Northern League) parties, Forza Italia won the 1994 general election and Berlusconi became prime minister.
Misfortune followed. He lost office after only 225 days with the loss of support from the Northern League. An attempt at reelection failed in 1996. Subsequent charges of corruption led to a 1998 conviction for illegal party financing and a sentence of two years and five months. An appeal led to his acquittal, and he was acquitted of additional charges of false accounting practices related to the purchase of A.C. Milan soccer player Gianluigi Lentini after a statute of limitations law came into effect. Berlusconi has also been convicted of bribing tax inspectors between 1989 and 1991; and in Spain he is under investigation for tax fraud related to his interests in Spanish television.
The most serious corruption charges against Berlusconi were ongoing in 2003. The 2003 case involves allegations that Berlusconi and co-defendant Cesare Previti, the former defense minister, bribed judges in connection with Berlusconi's attempt to buy SME, a state-owned food company, in 1985. The aim was to persuade the judges to rule that the sale of SME to Berlusconi's business competitor Carlo De Benedetti was null and void. Berlusconi wanted to acquire the company for himself and his partners, and offered a higher bid than that accepted by Romano Prodi, the former head of the state-controlled holding company that was selling SME. Berlusconi countered the bid De Benedetti offered, and Prodi accepted. In 2003, Prodi served as the president of the European Commission. Berlusconi had denied any wrong-doing in the bribery case, although Previti was convicted and sentenced to 11 years imprisonment in April 2003 in a separate case. Berlusconi supporters are calling for immunity from prosecution, as Berlusconi is the first sitting prime minister to appear at his own trial. Prior to 1993, Italy's politicians had immunity from prosecution; as of May 2003 two immunity proposals were being considered--one that would block trials against the country's top five officials, and one that would bring back immunity for the sitting members of parliament.
Despite all of the corruption charges and protests against him (hundreds of thousands of Italians marched against Berlusconi in 2002), Silvo Berlusconi remains a successful and effective politician. He was reelected member of the European Parliament in 1999, and between 1996 and 2001, remained leader of the opposition in parliament. On 13 May 2001, Berlusconi once again became prime minister as leader of the "Casa della Liberta" (House of Freedoms) coalition, winning the general election by some 18.5 million votes.
LEADERSHIP
Regarded by many as a "billionaire business mogul" and a political dilettante, Berlusconi has demonstrated a characteristic ability to learn quickly, but as often as not by his own mistakes. He filled his first cabinet with cohorts whose political inexperience matched his own. He alienated the judiciary and soon felt its wrath. The Italian political electoral system is characterized by instability, with voting determined by a complicated system of majority and proportional voting determining seats in parliament. As many as two dozen political parties are represented. Berlusconi's position as "victor" (as head of the center-right Forza Italia party) can be rightly regarded as suspect. Nevertheless, he is favored by the people, who see him as a forceful, self-made man capable of creating wealth for everyone. His opponents, however, consider his media-empire position as head of the country's broadcasting, publishing, and financial interests an astonishing and certainly politically unfair, conflict of interest. As for his promises to reform the old order, critics point to his assorted corruption scandals as evidence that he pays off the establishment rather than takes it on.
DOMESTIC POLICY
Berlusconi has long believed that his credentials as the richest man in Italy makes him fit to modernize the state's political system as well as the nation itself. This view is generally shared by the populace and forms the base of his appeal. As long as they continue to identify with him as a self-made man, his policies have a chance of succeeding. Deciding just what those policies are, however, is elusive. He has pledged to cut taxes and reduce the unemployment roles, reform public administration, tighten law and order, introduce large infra-structure projects, and increase state pensions. A reform of the pension system is needed, for Italy has one of the lowest birth rates and a rapidly aging population. Generous rules and allowance will stretch the system to its limits if no changes are undertaken in the next few years. In shaping his reforms, Berlusconi will have to deal with trade unionists, unreconstructed Communists, and old-fashioned Catholics who want Italians to have jobs for life, generous state pensions, and extensive public health service. And he must face off with old-order coalitions in parliament who still want to sell off state assets, liberalize the service sector, and loosen the job market.
FOREIGN POLICY
Like his predecessor Giuliano Amato, Berlusconi supports continued Italian integration into a united Europe, along with a continuation of pro-Western, pro-North Atlantic Treaty Organization (NATO), and pro-United Nations (UN) policies. Berlusconi is unapologetically conservative in his views on immigration, particularly illegal immigration in light of the reconstruction of Serbia and Montenegro (formerly Yugoslavia) and Albania.
Italy has more than 10,000 troops involved in peace-keeping abroad. The most significant presence is in Kosovo, where Italy is in charge of one of the five military sectors. It also has a large contingent in Bosnia and Herzegovina.
Italy continues to support institutional reforms of the European Union (EU) in order to bring about greater transparency and effectiveness. Berlusconi is regarded warily by many European leaders for his legal difficulties and for his right-leaning stand on immigration issues. Ultimately, his fitness to serve will be judged abroad on his ability to stabilize Italy politically.
Berlusconi stood behind U.S. president George W. Bush in his determination to forcibly disarm Saddam Hussein's regime in Iraq in early 2003, despite public opinion in Italy against the war. "We are in favor of peace," Berlusconi said in January 2003, "but we cannot share responsibility for giving in to those who threaten our security, our liberty, and our democracy." In January 2003, 75% of Italians were against the war, which began on 19 March. In siding with the United States, he joined with the United Kingdom (UK), Spain, and many Eastern European countries in opposing the anti-war stance taken by France, Germany, and Russia on the UN Security Council. This rift within Europe, with respect to the war, is expected to have lingering consequences in Europe's future.
AWARDS
Cavalliere del Lavoro, 1977; honorary degree in managerial engineering from Calabria University, 1991; named Man of the Year by the International Film and Programme Market of Television, Cable, and Satellite, 1991
Due to the European debt crisis, Berlusconi officially resigned as Prime Minister on 12 November 2011, and is now remaining as caretaker PM until a new government is formed.
Read more
Latest headlines