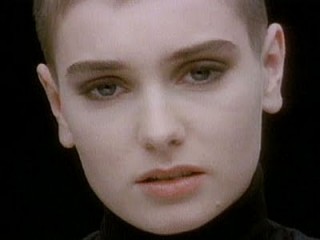 Sinéad O'Connor biography
Date of birth : 1966-12-08
Date of death : -
Birthplace : Dublin, Ireland
Nationality : Irish
Category : Arts and Entertainment
Last modified : 2010-05-19
Credited as : Alternative pop rock singer songwriter, Nothing Compares 2 U, Theology
Sinéad Marie Bernadette O'Connor
is an Irish singer-songwriter. She rose to fame in the late 1980s with her debut album
The Lion and the Cobra
and achieved worldwide success in 1990 with a cover of the song
"Nothing Compares 2 U".
Sinéad O'Connor
ranked among the most distinctive and controversial pop music stars of the 1990s, the first and in many ways the most influential of the numerous female performers whose music dominated airwaves throughout the decade. Brash and outspoken -- her shaven head, angry visage, and shapeless wardrobe a direct challenge to the popular culture's long-prevailing notions of femininity and sexuality -- O'Connor irrevocably altered the image of women in rock; railing against long-standing stereotypes simply by asserting herself not as a sex object but as a serious artist, she kick-started a revolt which led the way for performers ranging from Liz Phair to Courtney Love to Alanis Morissette.
O'Connor was born in Glenageary in County Dublin, Ireland, on December 8, 1966. Her childhood was often traumatic: her parents divorced when she was eight, and she later claimed that her mother, who was killed in a 1985 automobile accident, frequently abused her. After being expelled from Catholic school, O'Connor was arrested for shoplifting and was shuttled off to a reformatory; at the age of 15, while singing a cover of Barbra Streisand's "Evergreen" at a wedding, she was spotted by Paul Byrne, the drummer for the Irish band In Tua Nua (best known as protégés of U2). After co-writing the first In Tua Nua single, "Take My Hand," O'Connor left boarding school in order to focus on a career in music, and began performing in area coffeehouses; she later studied voice and piano at the Dublin College of Music, and supported herself delivering singing telegrams.
Upon signing a contract with Ensign Records in 1985, O'Connor relocated to London; the following year she made her recorded debut on the soundtrack of the film The Captive, appearing with U2 guitarist the Edge. After scrapping the initial tapes for her debut LP on the grounds that the production was too Celtic, she took the producer's seat herself and began re-recording the album, dubbed The Lion and the Cobra in reference to Psalm 91; the result was one of the most acclaimed debut records of 1987, with a pair of alternative radio hits in the singles "Mandinka" and "Troy." Almost from the outset of her career, however, O'Connor was a controversial media figure; in interviews following the LP's release, she defended the actions of the IRA, resulting in widespread criticism from many corners, and even burned bridges by attacking longtime supporters U2, whose music she declared "bombastic."
However, O'Connor remained a cult figure prior to the release of 1990's chart-topping I Do Not Want What I Haven't Got, a harrowing masterpiece sparked by the recent dissolution of her marriage to drummer John Reynolds. Boosted by the single and video "Nothing Compares 2 U," originally penned by Prince, the album established her as a major star, but again controversy followed as tabloids took aim at her romance with black singer Hugh Harris while continuing to attack her outspoken politics. On American shores, O'Connor also became the target of derision for refusing to perform in New Jersey if "The Star Spangled Banner" was played prior to her appearance, a move which brought public criticism from no less than Frank Sinatra, who threatened to "kick her ass"; she also made headlines for pulling out of an appearance on the NBC program Saturday Night Live in response to the misogynist persona of guest host Andrew Dice Clay, and even withdrew her name from competition in the annual Grammy Awards despite four nominations.
O'Connor also continued to confound expectations with her third album, 1992's Am I Not Your Girl?, a collection of pop standards and torch songs that failed to live up to either the commercial or critical success of I Do Not Want What I Haven't Got. However, any discussion of the record's creative merits quickly became moot in the wake of her most controversial and damaging action yet: after finally appearing on Saturday Night Live, O'Connor ended her performance by ripping up a photo of Pope John Paul II, resulting in a wave of condemnation unlike any she'd previously encountered. Two weeks after the SNL performance, she appeared at a Bob Dylan tribute concert at New York's Madison Square Garden, and was promptly booed off the stage.
Now a virtual pariah, O'Connor's retirement from the music business was subsequently reported, although it was later claimed that she had merely returned to Dublin with the intent of studying opera. She kept a low profile for the next several years, starring as Ophelia in a theatrical production of Hamlet and later touring with Peter Gabriel's WOMAD festival. She also reportedly suffered a nervous breakdown and even made a half-hearted attempt at suicide. In 1994, however, O'Connor returned to pop music with the LP Universal Mother, which, despite good reviews, failed to relaunch her to superstar status; the following year she announced that she would no longer speak to the press. The Gospel Oak EP followed in 1997, and in mid-2000 O'Connor issued Faith and Courage, her first full-length effort in six years. Sean-Nós Nua followed two years later, and was widely hailed for its return to the Irish folk tradition as its inspiration.
O'Connor used the press exposure from the album to further assert her pending retirement from music. In September 2003, the two-disc She Who Dwells... appeared through Vanguard. It collected rare and previously unreleased studio tracks, as well as live material culled from a late 2002 date in Dublin. The album was positioned as O'Connor's swan song, though official word was not forthcoming. Collaborations followed in 2005, a compilation of appearances on other artists' records throughout her long career. Later that year she released Throw Down Your Arms, a collection of reggae classics from the likes of Burning Spear, Peter Tosh, and Bob Marley that managed to reach the number four spot on Billboard's Top Reggae Albums chart. O'Connor returned to the studio the following year to begin work on her first album of all-new material since Faith and Courage. The resulting Theology, inspired by the complexities of the world post-9/11, was released in 2007 through Koch Records on the artist's own imprint, That's Why There's Chocolate and Vanilla.
Personal life
While she initially chose her bald look as a statement against the traditional view of women, years later O'Connor said she had tried to grow her hair back but after being asked if she was Enya, shaved it off again. "I don't feel like me unless I have my hair shaved. So even when I'm an old lady, I'm going to have it."
She has been married twice. Her first marriage was to music producer John Reynolds, who co-produced several of her albums, including Universal Mother. They have one child together. They split up on good terms and continue to work together. Her second marriage was to journalist Nicholas Sommerlad in 2002.
O'Connor also previously dated Red Hot Chili Peppers frontman Anthony Kiedis; the band's song "I Could Have Lied" was reportedly written about his sudden break up with O'Connor. However, in recent times she has claimed that they never dated, and that they were merely friends.
In a 2000 interview in Curve, O'Connor outed herself as a lesbian, "I'm a dyke ... although I haven't been very open about that and throughout most of my life I've gone out with blokes because I haven't necessarily been terribly comfortable about being a big lesbian mule. But I actually am a dyke." However, soon after in an interview in The Independent, she stated, "I believe it was overcompensating of me to declare myself a lesbian. It was not a publicity stunt. I was trying to make someone else feel better. And have subsequently caused pain for myself. I am not in a box of any description." In a magazine article and in a programme on RTÉ (Ryan Confidential, broadcast on RTÉ on 29 May 2003), she stated that while most of her sexual relationships had been with men, she has had three relationships with women. In a May 2005 issue of Entertainment Weekly, she stated, "I'm three-quarters heterosexual, a quarter gay. I lean a bit more towards the hairy blokes".
She has four children: a son, Jake Reynolds, by her first husband; a daughter, Brigidine Róisíne Waters, born early 1996, by The Irish Times columnist John Waters; another son, Shane, born 6 March 2004, whose father is Irish folk musician and record producer Dónal Lunny; and her fourth child, Yeshua Francis Neil, born on 19 December 2006 whose father is her former partner Frank Bonadio. O'Connor formally announced to Paul Martin in the Irish Daily Mirror that the two had broken up as of the weekend of 17 February 2007, citing difficulties between Bonadio and his former wife, singer Mary Coughlan.
On an 4 October 2007 broadcast of The Oprah Winfrey Show, O'Connor disclosed that she had been diagnosed with bipolar disorder four years earlier, and had attempted suicide on her 33rd birthday.
On 26 March 2010 O'Connor appeared on Anderson Cooper 360° to speak out about the Catholic sexual abuse scandal in Ireland. On the 28 March 2010 she had an opinion piece published in the Sunday Edition of the Washington Post where she wrote about the Catholic sex abuse scandal and her time in a Magdalene laundry as a teenager.
In a July 2007 interview with Christianity Today, O'Connor stated that she considers herself a Christian and that she believes in core Christian concepts about the Trinity and Jesus Christ. She said, "I think God saves everybody whether they want to be saved or not. So when we die, we're all going home... I don't think God judges anybody. He loves everybody equally". She also expressed a belief in pantheism, viewing the physical universe as a body with divine "energy". In an October 2002 interview with Salon.com, she credited her Christian faith in giving her the strength to live through and then overcome her child abuse.
O'Connor is a pacifist and, as such, she supports Ireland's tradition of neutrality in foreign wars.
Sinéad O'Connor's discography
* The Lion and the Cobra (1987)
* I Do Not Want What I Haven't Got (1990)
* Am I Not Your Girl? (1992)
* Universal Mother (1994)
* Faith and Courage (2000)
* Sean-Nós Nua (2002)
* Throw Down Your Arms (2005)
* Theology (2007)
Read more
Latest headlines