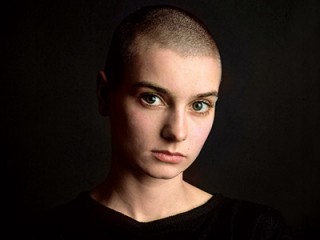 Sinead O'Connor biography
Date of birth : 1966-12-08
Date of death : -
Birthplace : Glenageary, County Dublin, Ireland
Nationality : Irish
Category : Arts and Entertainment
Last modified : 2012-01-05
Credited as : Singer-songwriter, Nothing Compares 2 U, How About I Be Me single
Sinéad Marie Bernadette O'Connor is an Irish singer-songwriter who rose to fame in the late 1980s with her debut album The Lion and the Cobra. O'Connor achieved worldwide success in 1990 with a cover of the song "Nothing Compares 2 U".
Curious, quirky, spontaneous, and street-smart, at times understated, yet always outspoken, Sinead O'Connor is an artist of extremes. From her trademark non-hairstyle--a shaved head--to her unabashed and irreverent publicity stunts, O'Connor's personal style and public antics have attracted as much attention as her captivating music and voice during her 15-year career. Highly talented and infinitely outrageous, O'Connor maintains that she hates liquor, loves marijuana, hates the Pope, and is an ordained Catholic priest by liberal standards.
O'Connor was born on December 8, 1966, in Dublin, Ireland. She was the third of four children of John and Marie O'Connor. O'Connor was raised according to a strict tradition of Irish Catholicism and attended catholic school as a child. Her father was an attorney and her mother was a dressmaker; both loved music and singing. O'Connor became distraught at age nine when her parents divorced. In her disappointment she entered an extremely rebellious phase of adolescence as a cry for attention from her separated parents. Ultimately O'Connor was expelled from her school and took to the streets. At age 14 she was taken into police custody for truancy and shoplifting and was sentenced accordingly to two years of incarceration in a juvenile detention home.
At the detention home, O'Connor spent her mornings in academic classes; afternoons were spent in secretarial training. Foremost in O'Connor's personal recollection of the institution was the uninviting, "Dickensonian," and frightening aura of the facility. She and the other juveniles were inappropriately housed in a building that served also as a hostel for the terminally ill. The sanitary conditions were less than acceptable, and the young inmates were not always segregated appropriately from the adult residents.
O'Connor, who aspired to become a writer, began to play the guitar during her stay at the juvenile facility. She sang as she played, often composing her own tunes. At times, she left the reformatory clandestinely to take part in singing contests in the locale. On occasion, she would win contests and a small sum of spending cash in the process. Over time one of the employees at the juvenile center developed a sincere appreciation for O'Connor's musical bent and asked her to sing at a wedding, an engagement that led to a series of contacts that ultimately brought her to the attention of a prominent Irish band U2.
Upon her release from the juvenile home, O'Connor attended a boarding school in Waterford. During those years, although she was not yet of legal age, she spent her evenings singing in taverns. Eventually--for fear of incurring further trouble with the police--she returned to Dublin where she supported herself collecting tips as a street performer while she studied voice and piano at the Dublin College of Music. Additionally, she waited tables and delivered novelty telegrams in order to survive.
O'Connor's music, like her shaved head, extols the extent of her practical propensity toward all things simple and direct. In 1985, when Nigel Grainge of Ensign Records had the opportunity to hear her intriguing musical repertoire as rendered by means of her lovely clear voice, he invited her to his London-based studio where he made a demo tape and signed her to a contract. Within a year she was collaborating with U2's guitarist, The Edge, in producing the soundtrack for the film, The Captive.
Yet when Ensign records initiated the recording of her first album, a serious conflict erupted between the producer's expectations and O'Connor's unbridled personal style. O'Connor rejected the entire output of the original taping session, which was staged with purely Celtic orchestration. The heavy instrumentation, especially the excess of violin accompaniment, aroused O'Connor's vehement distaste for the intricacies of the classic sound. A mere 20 years old at the time, O'Connor was highly influenced by the music of folk hero Bob Dylan and was likewise enamored by the legendary chanteuse Barbra Streisand. Whereas O'Connor's music evokes a Celtic mood, it displays also the dirge-like influence of so-called protest music and is heavily interspersed with a mix of jazz, pop, and folk. Thus the original recording was scrapped altogether; at O'Connor's insistence she retained artistic control over the entire production.
The completed album, The Lion and the Cobra,displays a spectrum of moods, from the soothing, "Just Call Me Joe," to the funky, "I Want Your Hands on Me." O'Connor's vocals range from spoken word to screaming hysteria. In some songs she speaks Celtic, while others exude vocal exhortations minus formal lyrics, which according to O'Connor are, "... just a trick to get your voice out there," as she confided to Als. Two single releases taken from the album, "Mandinka" and "Troy," were played extensively on alternative music radio stations.
Soon after the release of O'Connor's debut album, Ensign Records was sold, and her contract was converted to the Chrysalis label. Her second release, I Do Not Want What I Haven't Got,was released on the new label in 1990. The recording reached double platinum sales and ten years later remained the best-selling album of her career. Included on the album was "Nothing Compares 2 U," by Prince, which was produced also as a video single. O'Connor went on to record Am I Not Your Girl? in 1992. The album featured standards that she grew up listening to, such as "I Wanna Be Loved By You," "Don't Cry For Me Argentina," and "Success Has Made A Failure of Our Home."
O'Connor contributed to the albums No Prima Donna: The Songs of Van Morrison and The Glory of Gershwin in 1994. Her own album, 1994's Universal Mother,was a return to folk rock. Chrysalis was ultimately absorbed by EMI, which ceased operations in 1997, just ten days after the release of O'Connor's Gospel OakEP.The album, her final release of the decade, was reissued later by Columbia. She tried a new artform when she appeared in the 1998 film The Butcher Boy as the Virgin Mary. That same year, O'Connor joined in the annual Lilith Fair Music Festival where she became a welcome fixture and--after an involved search for a new label--signed a four-record deal with Atlantic Records. Faith and Courage, released in 2000, was her first issue on that label. Popular tracks on the Atlantic release included "Emma's Song," "Daddy I'm Fine," and "No Man's Woman," which was critiqued as highly autobiographical by the press.
As the public found O'Connor's music to be intriguing, likewise her personal life often created a stir. When in 1985 she lost her mother in a car accident, she came forward publicly after the tragedy for the cause of child abuse, indicating that as a child she had been victim to her own mother's abusive outbursts. Later in the 1980s, O'Connor conceived a child with one of her backup musicians, a drummer named John Reynolds. The two were married and divorced by 1990. In 1996, O'Connor gave birth to Roisin, her daughter by newspaper columnist John Waters. The affair with and resulting separation from Waters unfortunately ignited a prolonged custody battle that led to a cry-for-help suicide attempt by O'Connor when she reportedly ingested a large dose of Valium. Following the overdose, she relinquished custody of her daughter but later abducted the child while exercising her right to parental visitation. O'Connor transported the child from Dublin to London. In January of 1999, Waters accused O'Connor of neglecting Roisin but British authorities determined otherwise.
In 1991, O'Connor stirred up controversy when she withdrew from participation in that year's Grammy Awards ceremony and announced her intention to decline any awards given to her. By 2000, O'Connor had received a total of four Grammy Award nominations, which she refused, and withdrew her name from the competition.
In 1992 during an appearance on the satirical television program Saturday Night Live (SNL), O'Connor incited a deluge of criticism and caused some damage to her professional image when she brashly expressed her views on Catholicism. During the highly controversial incident, she held up a photograph of Pope John Paul II, denounced the pontiff, and tore up the picture, reinforcing her longstanding reputation as a rebel and a non-conformist. She did it in protest of the Catholic Church's policies toward women and children. She believed that these policies allowed child abuse to occur. Unfortunately, the press did not explain her position clearly enough, so many people saw the incident as a personal attack on the Pope, instead of on what he represented.
In the aftermath of the SNLincident, O'Connor became increasingly preoccupied with personal matters and retreated from public view, reportedly to study opera. During that time she appeared in live theater and toured with Peter Gabriel.
She surfaced abruptly on April 22, 1999, for a public ceremony at the Grand Hotel de la Grotte in Lourdes, France, whereby she was ordained a priest of the Catholic Church. A renegade sectarian, Bishop Michael Cox, performed the ordination rite. In honor of the occasion, O'Connor adopted a religious name, Mother Bernadette Mary--not for professional purposes. After the ordination, she habitually appeared in public wearing a roman collar. She refused to perform marriage ceremonies by reason of her celebrity, although reportedly she offered to hear confessions by telephone for a nominal fee. In 2000 she declared her ordination status as archdeacon, a clerical status that is non-existent in Catholicism. Likewise, a spokesperson for the Catholic Church in Dublin refuted the authenticity of her ordination, as the Catholic Church does not recognize women in the priesthood. O'Connor's transformation into a Catholic cleric was particularly ironic because of her earlier denouncement of the Pope.
In June of 2000, in an interview with Curvemagazine, O'Connor averred that she was and always had been a lesbian in her sexual orientation--her marriage and children notwithstanding. True to her unpredictable and irascible nature, she confessed to Time, in a separate interview that same month, "I have a huge calling toward celibacy." In another interview, however, O'Connor said her words were misinterpreted and that she was not homosexual. The media's renewed interest in O'Connor's antics guarantees that she will be in the news for years to come.
Faith and Courage was released in 2000, including the single "No Man's Woman", and featured contributions from Wyclef Jean of the Fugees and Dave Stewart of Eurythmics. On the eve of its release, O'Connor came out as a lesbian, and then retracted the statement
Her 2002 album, Sean-Nós Nua, marked a departure in that O'Connor interpreted or, in her own words, "sexed up" traditional Irish folk songs, including several in the Irish language.In Sean-Nós Nua, she covered a well-known Canadian folk song, Peggy Gordon, interpreted as a song of lesbian, rather than heterosexual, love. In her documentary, Song of Hearts Desire, she stated that her inspiration for the song was her friend, a lesbian who sang the song to lament the loss of her partner.
Ultimately, after a brief period of inactivity and a bout with fibromyalgia, her retirement proved to be short-lived - O'Connor stated in an interview with Harp that she only intended to retire from making mainstream pop/rock music, and after dealing with her fibromyalgia, chose to move into other musical styles.The reggae album Throw Down Your Arms appeared in late 2005 and was greeted with positive reviews. It was based on the Rastafarian culture and lifestyle, O'Connor having spent time in Jamaica in 2004.
O'Connor announced she was working on recording a new album, entitled Home, to be released in the beginning of 2012. On October 10, 2011 O'Connor announced that the release date for the album, now entitled How About I Be Me (And You Be You)?, had been set for February 20, 2012. The first single and title track "How About I Be Me", a reggae love song produced by Kemar McGregor, was released on 8 November 2011.
She has been married four times. Her first marriage was to music producer John Reynolds, who co-produced several of her albums, including Universal Mother. They have one child together. They split up on good terms and Reynolds continues to work as her producer and drummer. Her second marriage was to journalist Nicholas Sommerlad in 2002.
For a period during 2006 and early 2007, she had a relationship with Frank Bonadio, the father of her fourth child (see below). O'Connor acknowledged to Paul Martin in the Irish Daily Mirror that the two had separated as of the weekend of 17 February 2007, citing difficulties between Bonadio and his former wife, singer Mary Coughlan. O'Connor married long-time friend and collaborator Steve Cooney on 22 July 2010 but divorced him in April 2011.
Her fourth marriage was to Irish therapist Barry Herridge, whom she met online. They wed on 9 December 2011 in Las Vegas, but 17 days later she confirmed their marriage had ended, noting that they "lived together for 7 days only".
Discography:
1987: The Lion and the Cobra
1990: I Do Not Want What I Haven't Got
1992: Am I Not Your Girl?
1994: Universal Mother
2000: Faith and Courage
2002: Sean-Nós Nua
2005: Throw Down Your Arms
2007: Theology
2012: How About I Be Me (And You Be You)?
Read more
Sinead O'Connor Picture Gallery
Latest headlines