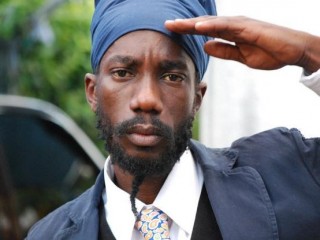 Sizzla biography
Date of birth : 1976-04-17
Date of death : -
Birthplace : Kingston, Jamaica
Nationality : Jamaican
Category : Arts and Entertainment
Last modified : 2012-02-07
Credited as : Reggae artist, D.J., Sizzla Kalonji
Sizzla Kalonji, or simply Sizzla (born Miguel Orlando Collins) is a reggae musician. He is one of the most commercially and critically successful contemporary reggae artists and is noted for his high number of releases. As of 2011 he had released over 40 solo albums.
Emerging from Jamaica's vibrant reggae scene, Sizzla has become one of the most prominent deejays and singers of his generation. Since his first international release in 1995, Burning Up, his recorded output has been astonishing: between 1997 and 2001, Sizzla released no fewer than 12 albums, a rate of more than two albums per year for a period of five years. In 2001 alone Sizzla released three albums on three different labels: Taking Over on VP Records, Black History on Charm Records, and Rastafari Teach I Everythingon Britain's Greensleeves label.
Despite this prolific output, however, Sizzla's music had yet to reach a sizeable audience outside of Jamaica. With lyrics that raged against Christians, homosexuals, and government authorities, Sizzla's militant stance threatened to overshadow his musical promise. Yet the artist has insisted that promoting his beliefs was far more important than selling records to an international audience. As Sizzla said in an interview with the West Indian Times, he was deeply critical of his government's efforts to promote reggae as an economic development tool: "They can't get involved in reggae music. Reggae music is a freedom music, the music of the slave, and the government enslaves the people so the government is not a part of it.... If the poor people stand firm to defend themselves with arms and warriors, the government will want to kill them off. They are looking [for] someone to kill so the poor people turn to music and whip Babylon through the music, so the government can't get involved in poor people things."
Miguel Orlando Collins was born on April 17, 1976, in the August Town section of Kingston, the capital of Jamaica. The second-born child in a single-parent family that eventually included six children, Collins grew up with an interest in engineering; although it did not lead to a professional career, it did acquaint him with some of the technical knowledge necessary to take part in the sound-system dancehall scene in Jamaica. A place where people could meet, dance, drink, and enjoy the latest single releases, dancehalls had long been an institution in Jamaican social life. By the late 1970s, however, dancehalls had produced their own specific genre of reggae music in which deejays would come up with their own patter over prerecorded tracks played on sound systems. Without the need for a backing band or extensive equipment, it seemed that almost anyone could become a dancehall deejay; in reality, though, only a few made a name for themselves.
By the time he was a teenager, Collins had already begun working as a dancehall deejay under the name "Sizzla Kalonji." As he explained in a profile for the Reggae Sumfest website, "The definition of 'kalonji' mean 'victorious,' and 'sizzla' mean 'burning essence,' just in sound. So it's just vibes and the word. When enough kind of people hear the word, the word giveth strength."
Even more than music, the strongest influence in Sizzla's early life was religion. In August Town, Rastafarians prized their self-sufficiency and separateness from mainstream Jamaican society. Believing that "Babylon"--the system that enslaved Africans, brought them west, and continued to oppress them--was determined to destroy them, Rastafarians kept to themselves. Another divisive influence was the faith's advocacy of ganja (marijuana) smoking, reparations for crimes committed during slavery, and a call to move back to Africa. Although they comprised only 10 to 15 percent of Jamaica's population, Rastafarians produced some of the most striking reggae music on the island. Reggae superstar Bob Marley was merely one of a legion of Rastafarian reggae musicians in the 1970s.
In 1994 Sizzla had his first hit singles in Jamaica, including the tracks "True God" and "Black and Comely." His first full-length album, Burning Up, followed in 1995. From the start, Sizzla's dancehall style was unique. Unlike many deejays, Sizzla could also sing; over time, he became identified with a "singjay" style that some industry observers thought would make him an ideal candidate for crossover international success. As Billboard's Elena Oumano wrote in 1997, "Sizzla's elastic vocal scope, musical imagination, and lyrical force are reinventing reggae singjay style--bringing together the rhythmic acuity of the DJ (rapper) with the emotional power of the singer--and setting the standard for today's reggae artist."
The almost-simultaneous release of two albums in August of 1997, Black Woman and Child and Praise Ye Jah, made Sizzla the hottest reggae act in Jamaica. The following year he was even more prolific, with the release of Freedom Cry, Good Ways, and the collection 2 Strong. Although the releases enhanced his reputation in the reggae world, Sizzla remained relatively unknown outside of it, a status that some observers attributed to his increasing hostility and strict religious beliefs.
Indeed, Sizzla's particular brand of Rastafarianism, Bobo Ashanti, took him out of the mainstream even further. After declaring himself a follower of Bobo Ashanti as a teenager, Sizzla took to wearing a turban as a sign of his faith. He also began to speak out against what he perceived as the corruption and oppression of the western world. In addition to issuing diatribes against government authorities, his wrath extended to homosexuals, Christians, and white people in general. As his British label Greensleeves noted on its website profile of the artist, "The Bobos' refusal to toe the establishment line together with their often controversial pro-change diatribes inspires supporters and alarms their opposers."
Observers such as Oumano, however, were concerned that artists such as Sizzla were "shrinking reggae's universal vision down to a world view the size of a pinhole." Oumano was particularly alarmed at Sizzla's racist diatribe during a concert that made headlines in August of 1998: "While it's admirable to be a missionary instead of a careerist, Sizzla's call to 'burn white people' from the Sumfest stage last August was another nadir of '98."
Sizzla insisted that his integrity depended on making music that expressed the anger of those he sees as oppressed, regardless of how others might perceive it. "The fire is the essence to persist, that vigor, and that conscious thought and inspiration," he explained in a profile on the Reggae Sumfest website. "Cause if I don't speak black culture even the white won't understand my nation, what it is on the black side." He added, "If I born black and him born white, I have to speak and sing my joy. I look and see what it is on his side, and if there is folly going on on his side, we throw fire over [there] and [burn it down] and say, 'Wrong!' Don't get caught in the fire because the fire is a judgment."
His 2000 releases, Bobo Ashantiand Words of Truth, continued Sizzla's trend into socially militant lyrics. "[I]t is probably Sizzla's most solid effort," wrote a reviewer for Metro Connection posted on the Urban Ambiance Journal website. "It's clear that he's maturing lyrically while maintaining the hot, fiery spiritual nature that separates him from most other deejays." In 2001, Sizzla released three albums: Taking Over, Black History, and Rastafari Teach I Everything. Some reviewers questioned, however, whether the artist's prodigious output was taking a toll on his artistic achievements. As a Reggae News reviewer described Black History, "[T]his is done a bit too fast and rushed. If [the producers] had spent just a little more time and money in the studio, I think this album could have been fabulous, but now it is kind of neither-nor." The reviewer also noted that Sizzla's anger might have worn out its welcome with listeners. "He is half screaming, 'Blaze, fyah [fire], blaze' and is almost frothing in his mouth on practically every track. One or two, yes, it could wake you up, but a whole album tends to be a bit much."
Sizzla seemed unwilling to temper his approach in exchange for mainstream success, however. Seeing himself as a visionary with a mission, Sizzla explained in an interview with the West Indian Times, "[M]usic is the foundation, it is the magnet that uphold and keep all things. In the beginning was the Word and the Word was with Jah [God] and the Word was Jah. After sitting and listening and watching people, I saw that everything was music, I had to grasp the knowledge as you have to grasp the information as a journalist and write.... [I]t's not everywhere your flesh can go, but the Word can go everywhere."
In February 2010, Sizzla traveled to Zimbabwe to perform at the 86th birthday celebration of President Robert Mugabe. There was a near-riot during his performance, including beatings of crowd members by police, causing Sizzla to temporarily halt his performance and ask the police to cease the beatings.
Later that year, Sizzla was "rewarded" with a farm in the country, with the artist stating he was "here to stay" in Zimbabwe. He also voiced plans to begin an agro-business and build a recording studio in the country. The moves were not without controversy, particularly among Mugabe detractors who insisted he not perform for the President. Sizzla refused to condemn Mugabe post-performance, while insisting the land he received was not a reward from the Zimbabwean government, but given to him by the local people in appreciation for his performance. He also stated plans to eventually make Zimbabwe his permanent home.
On August 24th 2011, Sizzla was hit by a bus while riding his motorcyle on Mount Salem Road ins St Anns Bay parish. He is reportedly in good health and awaiting a return to touring and recording.
Selected discography:
-Burning Up , RAS, 1995.
-Black Woman and Child , VP, 1997.
-Praise Ye Jah , Exterminator, 1997.
-2 Strong , Star Trail, 1998.
-Freedom Cry , VP, 1998.
-Good Ways , VP, 1998.
-Be I Strong ,VP, 1999.
-Royal Son of Ethiopia , Greensleeves, 1999.
-Bobo Ashanti , Greensleeves, 2000.
-Words of Truth , VP, 2000.
-Black History , Charm, 2001.
-Rastafari Teach I Everything , Greensleeves, 2001.
-Taking Over , VP, 2001.
Read more
Latest headlines