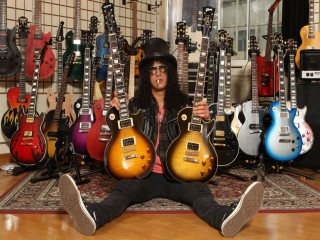 Slash biography
Date of birth : 1965-07-23
Date of death : -
Birthplace : Los Angeles, California,U.S.
Nationality : American
Category : Arts and Entertainment
Last modified : 2011-10-26
Credited as : Singer, Guns N' Roses, The 100 Greatest Guitar Solos
Saul Hudson, known by his stage name Slash, is a British-American musician and songwriter.
He is best known as the former lead guitarist of the American hard rock band Guns N' Roses, with whom he achieved worldwide success in the late 1980s and early 1990s. During his later years with Guns N' Roses, Slash formed the side project Slash's Snakepit. He then co-founded the supergroup Velvet Revolver, which re-established him as a mainstream performer in the mid to late 2000s. In 2010, Slash released his eponymous debut solo album, featuring an all-star roster of guest musicians.
Slash has received critical acclaim as a guitarist. Time named him runner-up on their list of "The 10 Best Electric Guitar Players" in 2009, while Guitar World ranked his solo in "November Rain" No. 6 on their list of "The 100 Greatest Guitar Solos" in 2008, and Total Guitar placed his riff in "Sweet Child o' Mine" at No. 1 on their list of "The 100 Greatest Riffs" in 2004.
In 1991, Slash played lead guitar on the single "Give In to Me" off Michael Jackson's album Dangerous, as well as in the opening skit for the song "Black or White" off the same album. In 1995, he played guitar on "D.S.," a controversial song from Jackson's HIStory album, and in 1997 appeared on the song "Morphine" off the remix album Blood on the Dance Floor. In 2001, Slash played on "Privacy" off Jackson's final studio album, Invincible.
In 1979, Slash decided to form a band with his friend Steven Adler.The band never materialized, but it prompted Slash to take up an instrument. Since Adler had designated himself the role of guitarist, Slash decided to learn how to play bass.
Equipped with a one-string flamenco guitar given to him by his grandmother, he began taking classes with Robert Wolin, a teacher at Fairfax Music School. During his first lesson, Slash decided to switch from bass to guitar after hearing Wolin play "Brown Sugar" by the Rolling Stones. His decision to play guitar was further influenced by one of his school teachers, who would play songs by Cream and Led Zeppelin for his students. As a result, Slash stated, "When I heard him do that, I said, 'That's what I want to do.'" A champion BMX rider,Slash put the bike aside to devote himself to playing guitar, practicing up to twelve hours a day.
Slash joined his first band, Tidus Sloan, in 1981. In 1983, he formed the band Road Crew—named for the Motörhead song "(We Are) The Road Crew"—with his childhood friend Steven Adler, who by then had learned to play drums. He placed an advertisement in a newspaper looking for a bassist, and received a response from Duff McKagan.
They auditioned a number of singers, including one-time Black Flag vocalist Ron Reyes, and worked on material that included the main riff of what would become the Guns N' Roses song "Rocket Queen."
Slash disbanded the group the following year due to them not being able to find a singer, as well as Adler's lack of work ethic compared to himself and McKagan. He then joined a local band known as Hollywood Rose, which featured singer Axl Rose and guitarist Izzy Stradlin. Following his time with Hollywood Rose, Slash played in a band called Black Sheep and unsuccessfully auditioned for Poison, a glam metal band that he would later openly deride.
In June 1985, Slash was asked by Axl Rose and Izzy Stradlin to join the newly founded Guns N' Roses. Duff McKagan and Steven Adler completed the line-up. They played nightclubs—such as the Whisky a Go Go, The Roxy, and The Troubadour—and opened for larger acts throughout 1985 and 1986. It was during this period that the band wrote most of its classic material, including "Welcome to the Jungle," "Sweet Child o' Mine," and "Paradise City,"
As a result of their rowdy and rebellious behavior, Guns N' Roses quickly received the moniker "Most Dangerous Band in the World," causing Slash to remark, "For some strange reason, Guns N' Roses is like the catalyst for controversy, even before we had any kind of record deal." After being scouted by several major record labels, the band signed with Geffen Records in March 1986. Later that year, they began recording their debut album, but initially nothing was accomplished as Slash had developed a drug problem.
In July 1987, Guns N' Roses released its debut album, Appetite for Destruction, which to date has sold over 28 million copies worldwide,18 million of which were sold in the United States, making it the best-selling debut album of all time in the U.S. In the summer of 1988, the band achieved its only U.S. No. 1 hit with "Sweet Child o' Mine," a song spearheaded by Slash's guitar riff and solo.
In 1994, Slash formed Slash's Snakepit, a side project that featured his Guns N' Roses band mates Matt Sorum and Gilby Clarke on drums and rhythm guitar respectively, as well as Alice in Chains' Mike Inez on bass and Jellyfish's Eric Dover on vocals. The band recorded Slash's material originally intended for Guns N' Roses, resulting in the release of It's Five O'Clock Somewhere in February 1995.
The album was critically praised for ignoring the then-popular conventions of alternative music, and fared well on the charts, eventually selling over one million copies in the US alone despite little promotion from Geffen Records. Slash's Snakepit toured in support of the album with bassist James LoMenzo and drummer Brian Tichy of Pride and Glory, before disbanding in 1996. Slash then toured for two years with the blues rock cover band Slash's Blues Ball.
In 1999, Slash chose to regroup Slash's Snakepit with Rod Jackson on vocals, Ryan Roxie on rhythm guitar, Johnny Griparic on bass, and Matt Laug on drums. Their second album, Ain't Life Grand, was released in October 2000 through Koch Records. It did not sell as well as the band's previous release, and its critical reception was mixed. To promote the album, the band—with Keri Kelli on rhythm guitar—embarked on an extensive world tour in support of AC/DC in the summer of 2000, followed by their own headlining theatre tour. Slash disbanded Snakepit in 2002.
In 2002, Slash reunited with Duff McKagan and Matt Sorum for a Randy Castillo tribute concert. Realizing that they still had the chemistry of their days in Guns N' Roses, they decided to form a new band together. Former Guns N' Roses guitarist Izzy Stradlin was initially involved, but left after the others decided to find a lead singer. Dave Kushner, who had previously played with McKagan in Loaded, then joined the band on rhythm guitar. For many months, the four searched for a lead singer by listening to offered demo tapes, a monotonous process documented by VH1. Eventually, former Stone Temple Pilots vocalist Scott Weiland joined the band.
In 2003, Velvet Revolver played several concerts during the summer and released their first single, "Set Me Free". In June 2004, they released their debut album, Contraband, which debuted at No. 1 on the U.S. chart and sold two million copies, re-establishing Slash as a mainstream performer. A year-and-a-half-long tour followed in support of the album. In July 2007, Velvet Revolver released their sophomore album, Libertad, and embarked on a second tour. During a show in March 2008, Weiland announced to the audience that it would be the band's final tour; he left the band the following month to rejoin Stone Temple Pilots. Despite Weiland's departure, Velvet Revolver did not officially disband.
In early 2010, Velvet Revolver began writing new songs and auditioning new singers. By January 2011, the band had recorded nine demos, and was reportedly due to make a decision on their singer. However, the following April, Slash stated that they had been unable to find a suitable singer and that Velvet Revolver would remain on hiatus for the next few years while its members focus on other projects.
In September 2008, Slash began recording music for his debut solo album. He described the process of recording by himself as "cathartic."
Slash's wife Perla revealed that many different artists would appear on the album, saying, "It's going to be Slash and friends, with everyone from Ozzy to Fergie."
The album, simply titled Slash, debuted at No. 3 on the U.S. chart upon its release in April 2010. It featured an all-star roster of guest musicians, including Ozzy Osbourne, Fergie of The Black Eyed Peas, Chris Cornell of Soundgarden, Adam Levine of Maroon 5, Lemmy Kilmister of Motörhead, Dave Grohl of the Foo Fighters, and Iggy Pop.
To promote the album, Slash embarked on his first solo world tour with Myles Kennedy of Alter Bridge on vocals, Bobby Schneck on rhythm guitar, Todd Kerns on bass, and Brent Fitz on drums.
In June 2011, Slash began pre-production on his second solo album; he plans to begin recording in October.The album, which will be a collaboration with his touring band mates Myles Kennedy, Todd Kerns, and Brent Fitz, is slated for release in March or April 2012.
Slash has received critical acclaim as a guitarist. In 2005, he was named "Best Guitarist" by Esquire, which congratulated him on "beating the comeback odds with a surprisingly legitimate and vital outfit, Velvet Revolver."
Slash was awarded the title of "Riff Lord" during Metal Hammer's fourth annual Golden Gods awards in 2007. In 2008, he was ranked No. 21 on Gigwise's list of "The 50 Greatest Guitarists Ever," and in 2009, he was named runner-up on "The 10 Best Electric Guitar Players" list in Time, which praised him as "a remarkably precise player."
In 2007, Slash was honored with a star on the Rock Walk of Fame; his name was placed alongside Jimmy Page, Eddie Van Halen and Jimi Hendrix. He was the honoree at the 2010 Sunset Strip Music Festival, where he was presented by West Hollywood mayor John Heilman with a plaque declaring August 26 as "Slash Day."
In 2001, at the age of 35, Slash was diagnosed with cardiomyopathy, congestive heart failure caused by his many years of alcohol and drug abuse. Originally given between six days and six weeks to live, he survived through physical therapy and the implantation of a defibrillator.Slash has been clean and sober since 2006, which he credits to his wife Perla.
Read more
Slash Picture Gallery
Latest headlines