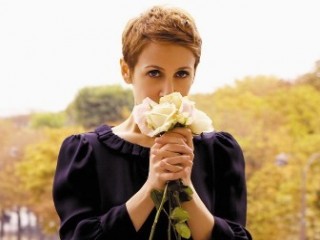 Stacey Kent biography
Date of birth : -
Date of death : -
Birthplace : New York City,U.S.
Nationality : American
Category : Arts and Entertainment
Last modified : 2011-12-06
Credited as : jazz singer, "Great American Songbook", 1998's Vocalist of the Year
American-born vocalist Stacey Kent became one of the most popular jazz singers in Great Britain during the late 1990s. Known for her optimistic, uncluttered singing style, Kent's repertoire includes the standard songs of the "Great American Songbook," which included jazz, big band, and swing. "What I love about the genre is that it is so natural," the singer revealed to United Press International reporter Ken Franckling. "This music is so infectious. I'm just me up on the stage. I like that." And despite her age, Kent believes that the songs of days past remain applicable to more modern times. "I'm living in today's world singing songs that are still relevant and performing them the way that we do and the way we are" she revealed to John McDonough in Downbeat. "That makes them fresh."
Although not so renowned in the United States, Kent has earned numerous honors from critics throughout Europe, and has become the toast of the jazz scene in her adopted home of Great Britain. Kent received her first recognition when she was voted 1998's Vocalist of the Year at the 1999 British Jazz Awards, and her three albums all became top-selling jazz collections in the United Kingdom.
Kent was born in 1969 just outside of New York City, New York, where she spent her childhood. Her father, an architect, and mother, a magazine editor, exposed their daughter to music early on. Kent's favorite performers include Frank Sinatra, Nat King Cole, Benny Goodman, Fred Astaire, Doris Day, Ella Fitzgerald, and other legends of the "Great American Songbook" whose songs would become standards. In addition to singing the music of popular entertainers, Kent also enjoyed the tenor solos of Paul Gonsalves from the Duke Ellington band. Although she never studied singing in the formal sense, she did sing in her high school's chorus and recalled that she always sang around the family home. "There was always music in the house when I was growing up, and I suppose it was obvious that I had a certain ability," she told Steve Graybow in a 1999 interview with Billboard magazine. She further added that taking piano lessons inadvertently allowed her to develop her singing skills. "I guess that I had sort of run my own ear-training course. I would hear a song or theme in a movie or on television and hurry to the piano to figure it out. I ended up with much more of a trained ear than I realized."
Nonetheless, Kent never considered a career as a professional singer. Instead, her love for speaking and studying foreign languages led her to attend Sarah Lawrence College in New York after graduating from high school. Here, she graduated with a bachelor's degree in comparative literature and intended to one day earn a master's degree. Already fluent in both Italian and French, Kent took some upper level courses, earning enough credit hours to complete half of those needed for her graduate studies. However, fate intervened when Kent took some time off before further pursuing graduate work to travel in Europe. She first traveled to Munich, hoping to improve her command of the German language. Then, during one of her stops in 1991, she visited some friends who were students at Oxford University in England and by chance met some musicians on their way to London to audition for a one-year, postgraduate jazz course at the Guildhall School of Music and Drama. On a whim, Kent decided to join them to audition, and despite her lack of training, won acceptance. Most of her classmates were music majors and well-versed in technical vocabulary. Thus, they reacted with amazement at Kent's talent.
Subsequently, music, rather than academics, began to shape Kent's future. In addition to realizing her natural aptitude for singing while attending Guildhall, Kent also met English tenor saxophonist Jim Tomlinson, a philosophy graduate and another student without a music degree, as well as guitarist Colin Oxley. Kent, Tomlinson, and Oxley discovered that they shared the same ideas musically and soon started playing together as a trio at parties. As Kent's career progressed, both Tomlinson and Oxley would appear on records and on the stage with the singer on a regular basis. Moreover, Kent credited Tomlinson, whom she eventually married and settled with in North London, as the person who most encouraged her to pursue a career as a jazz singer.
Other important opportunities arose from her studies as well. Because Kent's jazz course held close ties to the London music scene, she soon received unanticipated offers to work as a vocalist. Her first singing job was with a 1930s-style big band called the Vile Bodies Swing Orchestra, the resident band for dinner dances at the Ritz Hotel in London. Following this, she started earning dates at major jazz clubs in London and across Great Britain. Like her childhood inspirations, Kent also found herself performing with a big band before establishing a solo career. "Suddenly, I found myself in the position of having a career as a singer, which I never expected," Kent revealed to Graybow. "I sang with a 14-piece big band [at the Ritz]. I sang at Ronnie Scott's club. I met and performed with lots of up-and-coming musicians. It all cumulated in my record deal with Candid Records. At that point, of course, there was no turning back."
Meanwhile, Kent received more exposure when she appeared as the big band vocalist in the opening scene of a 1995 film version of playwright William Shakespeare's Richard III, starring Ian McKellen. The role, as well as Kent's performance on the film's opening track, led critics in both Britain and the United States to take notice. Since that time, Kent has continued to play with big bands across Europe, including the British Broadcasting Company (BBC) Big Band. One of her greatest and most fulfilling endeavors with the BBC Big Band occurred a few years later in 1998, when she participated in a broadcast at the Queen Elizabeth Hall for a show entitled Big Band Legends in Concert, with Les Brown, Billy May, and Ray Anthony.
Two years earlier, in 1996, Kent signed with London's Candid Records. The label would issue her recorded work throughout the world, except in the United States, where Chiaroscuro and Artists Only! provided distribution. Her debut album, Close Your Eyes, a collection of standard love ballads as well as swing numbers, appeared in May of 1997 to rave reviews. Jazzwise magazine called her debut "CD of the Month," and numerous critics, including writers for the American publication Jazziz and Britain's own Jazz Journal, placed the album on their top ten lists for 1997. One critic, Bill Protzman of the St. Paul Pioneer Press, asserted, "This is such a marvelous debut that it immediately places Stacey Kent among today's finest jazz singers . She has a voice that is distinctive and captivating, with an appealing vibrato that gives her singing a girlish sweetness a la Ella Fitzgerald." Recorded with a five-piece band, which included Tomlinson on saxophone, Steve Brown on drums, and David Newton on piano, Close Your Eyes received extensive airplay in England and became one of the best-selling jazz albums across Europe in 1997.
In June of 1998, Kent released her second album, The Tender Trap, to European audiences, prompting Mojo to declare the project "Jazz Album of the Month" in the magazine's August 1998 issue. A collection of 12 songs from the "Great American Songbook," The Tender Trap became one of Britain's top-selling jazz albums that year as well. Towards the end of 1998 and into 1999, Kent embarked on an extensive tour throughout the world, including stops in Scandinavia and the American East Coast, where she performed at major venues such as New York City's Birdland and the Blue Note. And following a February 14, 1999, feature profile of the singer which aired on the American television program CBS Sunday Morning, Kent's popularity in the United States skyrocketed. The Tender Trap (released on February 9, 1999 in the United States entered the Billboard charts at number 15 on March 27 of that year, and reached number one in sales for numerous internet sites including Amazon.com, Music Boulevard, and CDnow. As a result, Candid went into second and third pressings to keep up with the unexpected demands. By the end of the year, The Tender Trap had sold over 20,000 units in the United States, and the young singer was named 1998's vocalist of the year at the 1999 British Jazz Awards.
Europe saw the release of Kent's third album, Let Yourself Go, in October of 1999. The record hit the American market in the spring of 2000. This time, Kent chose to celebrate another favorite entertainer, Fred Astaire, in a 13-song collection that included songs such as "Isn't This a Lovely Day?" "One For My Baby," "A Fine Romance," and "S'Wonderful," all of which were composed by some of America's most legendary songwriters. Her backing band included Tomlinson, Newton, and Oxley, as well as a rhythm team consisting of Simon Thorpe and Steve Brown. Another successful album, Let Yourself Go hit number one on the Tower Europe jazz chart and earned stellar reviews; Andrew Vine in the Yorkshire Post called the album "faultless and exhilarating," as well as "by far the best thing she has yet recorded." In addition to recording Let Yourself Go, Kent also sang on Tomlinson's solo project Only Trust Your Heart, guested several times that year with the Humphrey Lyttelton Band, and appeared in the weekly BBC radio series Live From London, hosted by Simon Fanshawe.
Her latest album, due for release Oct 24, 2011, Dreamer In Concert, (Blue Note/EMI) is a live album, recorded on May 30-31, 2011 at La Cigale, in Paris. The album includes three previously unrecorded selections; Antônio Carlos Jobim's 'Waters of March', and two new compositions by her husband, saxophonist and the album's producer, Jim Tomlinson; 'Postcard Lovers', with lyrics once again by the novelist, Kazuo Ishiguro, (author of "Remains of the Day" and "Never Let Me Go") and 'O Comboio', penned by the Portuguese poet, Antonio Ladeira, which Stacey sings in Portuguese.
Discography:
- Close Your Eyes (1997)
-The Tender Trap (1998)
-Only Trust Your Heart (1999)
-Let Yourself Go: Celebrating Fred Astaire (2000)
-Dreamsville (2001)
-Brazilian Sketches (2001)
-In Love Again: The Music of Richard Rodgers (2002)
-The Boy Next Door (2003)
-"The Christmas Song" (single, 2003)
-SK Collection (2001)
-SK Collection II (2003)
-The Lyric (Jim Tomlinson & Stacey Kent) (2006) Re-release on Blue Note/EMI (2011)
-SK Collection III (2006)
-Breakfast on the Morning Tram (2007) Blue Note/EMI
-Raconte-Moi (2010) Blue Note/EMI
-Dreamer In Concert (2011) Blue Note/EMI
Read more
Latest headlines