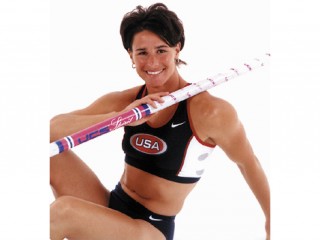 Stacy Dragila biography
Date of birth : 1971-03-25
Date of death : -
Birthplace : Auburn, California, U.S.
Nationality : American
Category : Sports
Last modified : 2010-07-28
Credited as : Olympic athlete and vaulter, won Jesse Owens Award, olympic Gold medalist
She's nicknamed the
"Goat Roper"
. Her sport is called "Chicks with Sticks." Say what you will about Stacy Dragila and women's pole vaulting, but don't expect a reaction from the biggest star in track & field's hottest event. She was there when it all began, and now she's reaping the rewards—more than a million bucks a year, thank you. In her sliver of the sports world, Stacy is Venus and Serena and Michael and Magic all rolled into a sleek and explosive 5-7, 140-pound package. This ex-rodeo star floats through the air like a superheroine and shows more skin than a FOX reality show.
GROWING UP
The Olympic gold medalist we know as
Stacy Dragila
was born
Stacy Mikaelson
on March 25, 1971. Her parents, Bill and Irma, already had a 20-month-old named Eric. The Mikaelsens were a hard-working, middle-class family. They lived in Auburn, California, a rural town northwest of Sacramento. Bill worked as a meat cutter, while Irma stayed at home to look after their children. Stacy's parents raised their kids to appreciate the simpler things in life. Spare time was never spent indoors watching TV or playing video games. The kids were adventurous and focused just like their mom and dad.
The Mikaelsens took family vacations on a small Idaho ranch owned by Stacy's grandfather. The kids pulled their weight by feeding, exercising and washing the horses, pigs, goats and chickens. The freedom of ranching life helped make Stacy a fearless child. She thought she was invincible, and challenged her brother to everything from mud fights to races on horseback. When Eric began entering rodeos, Stacy naturally followed. She would do anything to prove she was his equal.
Stacy's first love was actually gymnastics. She had great body control and a keen sense of balance. When she developed childhood asthma, however, she had to give up the sport. Looking for a replacement, she began focusing more on rodeo. Stacy's best events were goat tying, breakaway roping and team roping. She was also known to take a turn or two on the mechanical bull at the county fair. As she got older, Stacy was drawn to other sports. A good all-around athlete, she mopped up on field day in elementary school. When Stacy entered Placer High School in Auburn, she joined the volleyball and track teams. She was a solid sprinter, hurdler and long jumper.
Placer's wrestling coach doubled as the school's track coach, so Stacy did not get much insight into technique. This frustrated her, for she knew much of her potential was going untapped. That changed when she met John Orognen, the track coach at nearby Yuba Community College. Orognen was impressed by the 16-year-old's strength and stamina. He volunteered to teach her proper technique, and turned her into a winning hurdler. She reached the state finals in the 300 meters in her junior and senior years, and placed second in the 400 meters at the Golden West Invitational as a senior.
Stacy got it in her head that she was a choke artist. Rather than reaching down and finding something extra in pressure situations, she seemed to lose a step. This really bugged her. Her only ticket to a good college would be a track scholarship, because her parents couldn't afford tuition to a four-year institution. Stacy knew college track coaches looked for W's when they scanned a runner's results, and in this department she was lacking.
ON THE RISE
When Stacy graduated from Placer in the spring of 1990, she believed the future was pretty much mapped out for her. A good student and member of the 4-H Club and Future Farmers of America, she assumed she would take courses at a community college, find a job, get married and raise a family. Stacy started on this path by enrolling at Yuba. The school's campus in Marysville was an easy drive from her parents' home.
There the freshman was re-united with Orognen. Initially, Orognen assumed Stacy would concentrate on the 400-meter hurdles. But after noticing her tremendous versatility, he prodded her into trying the heptathlon. She quickly took to the event. The two spent long hours together training. Stacy developed great trust in Orognen's judgment, and they became close friends. She intensified her workouts as she entered her second year at Yuba, but was derailed when Orognen's health began to fail. Doctors first diagnosed him with jaundice. Further tests revealed lung cancer; he had less than a year to live.
Stacy visited her coach often in the hospital. On his death bed, he advised her to pursue her dreams without compromise. Orognen died before Stacy finished her sophomore year. His passing sent her reeling. She went about her life with no real direction. Finally, during the spring of 1992, Stacy took Orognen's words to heart and began to consider her options beyond Yuba. She toyed with the idea of going to UCLA or USC, but feared the L.A. smog would trigger her asthma.
Enter Dave Nielsen, the track coach at Idaho State University. He offered her a scholarship, and said he agreed with Orognen—Stacy had tremendous potential as a heptathlete. When Stacy visited the school's campus in Pocatello with her parents, she was immediately reminded of her grandfather's ranch. That sealed the deal.
Stacy started her freshman year at ISU in the fall of 1992. On the track and in the classroom, her first 18 months in Pocatello were uneventful. She double-majored in Physical Education and Health, and logged endless hours honing her skills on the athletic field. Romantically, the picture was much brighter. She married Brent Dragila, a Gulf War veteran with an eye on a career in law enforcement.
Stacy's scores in the heptathlon—usually between 4,700 and 4,800 points—were respectable. She figured she was good enough to contend for titles in the Big Sky Conference, but national championships were out of the picture. It seemed she had hit a ceiling, skill-wise. Again, it was coach Nielsen who helped her see a new direction. He had been keeping an interested eye on a trend in women's track and field. All over the country, female athletes were clamoring to try the pole vault. They were challenging the long-held belief that women lacked the upper body strength and mental toughness to excel in this sport.
Nielsen saw an opportunity. An All-American pole vaulter himself at Iowa during the 1970s, he won a Big Ten championship and once cleared 17-6. He knew if he could find the right woman, he had a chance to grab a leadership role in the sport. Nielsen gathered his troops, walked them over to the men's vault pit, and told them to have fun. Of all the women who tried it, Stacy seemed to be the most curious. The more he thought about it, the more Nielsen realized that Stacy might be perfect for the sport. Tall and muscular, she was blessed with the type of body that spells success in the pole vault. Her background as a sprinter and love of gymnastics was a plus.
To this day, Stacy swears she only agreed to try pole vaulting to indulge her coach. Initially, she showed almost no aptitude for it. But with Nielsen's pointers—and body-control tutoring from his wife, Joy Umenhofer, a coach for the U.S. Trampoline and Tumbling team—Stacy began to feel increasingly comfortable. Every week she showed marked improvement. It felt great, so she stuck with it. Even when Stacy's friends on the men's team told her she was wasting her time, she persevered.
Stacy cleared 10 feet for the first time in a 1994 meet during her junior year. She was taken aback when she read in Track & Field News that this vault established an American record. At the time, she was thinking about bagging pole vault so she could concentrate on her senior season in the heptathlon. Her goal was to capture the Big Sky Conference championship. When the 1995 season rolled around, Stacy was topping the 5,000-point mark, but she could not put the pole down. She cleared 11 feet that April at the BYU Cougar Track Invitational, and won the Prefontaine Classic a month later with a vault of 11-2.
Stacy bettered that mark by nearly four inches at the U.S. Outdoors in Sacramento—an effort that earned her a spot on a national team traveling to Great Britain for a dual meet. Naive when it came to the world of big-time track, Stacy thought it was up to her to scrape together the money to make the trip. Only when it was explained that her expenses were covered did she agree to go. In her first overseas meet, Stacy extended her personal best by nearly a foot to 12-1 1/2 and took second place. She finished the 1995 season as America's #2 pole vaulter.
With her college track career over, Stacy assumed the same was true for her days as a pole vaulter. But as Nielsen had anticipated, the vault was becoming a cult phenomenon at meets all over the world. It was easy for fans to watch and understand, made for great television, and had all the can-you-top-this drama of the high jump, except it was twice as high off the ground. The sport's first international star was Emma George, an Australian woman who had once been a child circus acrobat. Every time out, George was going for a new record, and the crowds were eating it up.
Stacy decided this was a sport worth sticking with, and she began competing on the European Grand Prix circuit. Nielsen hired her as an assistant coach to put some cash in her pocket and continue coaching her. Stacy augmented her income with a side job as a waitress. She also started on her master's in Athletic Administration. Meanwhile, her husband enrolled at Idaho State as a Criminology and Sociology major.
Over the next few months, Stacy's progress was astounding. In January of 1996, she established a new American record at 12-11 3/4. A week later she surpassed 13 feet. At an outdoor meet in Kansas that spring Stacy upped her U.S. mark to 13-6 1/2. In June, she cleared 13-9 1/4.
MAKING HER MARK
The world of women's pole vaulting came of age in March of 1997, when the event was included in the IAAF Indoors for the first time. The best in the business were on hand in Paris for a battle royal. The fans were totally captivated as Stacy, Emma George and Weiyan Cai of China put on an unforgettable show. After all three cleared 14-3 1/2, Stacy established a new world record at 14-5 1/4. Cai missed on all her attempts at this height, while George opted to raise the bar to 14-7 1/4. She was gambling on a "take-out" vault, but missed three times to give Stacy the gold medal. Thus Stacy became the first women's pole vault world champion in history.
Ah, the life of a pro. Stacy's win was good for $25,000, but the IAAF refused to turn over her check, claiming she had violated a rule requiring proper attire. Stacy's skimpy uniform had left little room for the logo of the meet's sponsor, Mita, and that was a serious no-no. Stacy had to fire off letters of apology to Mita and the IAAF in order to collect her prize.
This raised some interesting questions about women's pole vaulting. Part of its appeal was undeniably its sex appeal. But this same factor also kept some in track and field from taking it seriously. The fact that it was not on the slate of events for the 1997 World Outdoors or the 2000 Olympics seemed to confirm this fact. It also made it hard for Stacy to attract sponsors. She contacted Nike and Adidas, but both declined to invest in her. Like most companies in the sporting goods industry, neither wanted to take a chance on an event that was not yet firmly established in the mainstream.
Stacy finished the 1997 season as the top-ranked American women's pole vaulter and #2 in the world. In addition to her gold in France, she posted victories at the U.S. Indoors and the U.S. Championships. Still competing in the heptathlon, Stacy also reached a personal best in that event with 5,393 points, and competed in a decathlon, scoring 5,029 points. When winter rolled around, she and Brent packed their bags and returned to Auburn. There, she worked as a student-teacher as part of her master's program. Brent began looking into a career with the California Highway Patrol.
Stacy ignored her training for several months. In fact, she didn't pick up a pole again until just before the Vault Summit in January of 1998. Nevertheless, she took the event with a jump of 14 feet. Though glad to have won, Stacy felt she was not yet in peak form. Over-the-phone training sessions with Nielsen had helped, but she needed some face time with her old coach. Stacy skipped a European meet and went to Pocatello instead. After a couple of days with the pole doctor, she headed to New York for the Millrose Games.
This was where and when the women's pole vault arrived in the U.S. The 17,000-plus fans packed into Madison Square Garden were treated to a thrilling competition that included a great jump from 8th grader Samantha Shepard and a down-to-the-wire duel between Stacy and Janine Whitlock of Great Britain. Stacy won the competition with a vault of 13-9 3/4, then went for the record at 14-6 3/4. The crowd went crazy each time she tried, but she missed on all three attempts.
In the weeks that followed, the sport built on this momentum as the indoor and outdoor records fell a combined 10 times. George was on fire, becoming the first woman to eclipse the 15-foot mark. Stacy was right behind her, clearing 14-8 3/4 to win the U.S. Indoors. On Nielsen's suggestion she had made a slight adjustment in the way she planted the pole, which added crucial inches to her vaults.
Unfortunately, a stress fracture to Stacy's right foot ended her season prematurely. That September she had it repaired surgically and took a much-needed breather from competition. During that time she drew criticism for participating in a racy calendar that featured America's top female track and field athletes photographed in the nude. For her photo shoot, Dragila wore black vinyl platform boots, long gloves and a thin strip of body paint. Brent was totally supportive of the idea. Until he saw the negatives. The calendar was the brainchild of high jumper Amy Acuff, she of the fabled fur bikini. Proceeds went to a memorial foundation honoring Florence Griffith Joyner. But mostly the calendar raised the eyebrows of feminists, who believed it demeaned women. Of course, not everyone was offended by the calendar. Guys liked it. And fashion mags such as Vogue and W began to book Stacy for photo shoots. Corporate sponsors, now acknowledging the growing popularity of women's pole vaulting, also came knocking.
The increased attention created new challenges for Stacy. So did heightened competition in women's pole vaulting. Emma George was literally raising the bar almost every time out. Russian-born Tatiana Grigorieva, who had taken Australian citizenship, had reached the elite level, too. So were Americans Kellie Suttle and Melissa Mueller. At the 1999 Millrose Games, Mueller set a new U.S. indoor record with a vault of 14-9. Truth be told, Stacy did not mind seeing records fall so often. This increased interest and attendance, which translated into bigger paydays. At the Beach Pole Vault Challenge in June of '99, organizers offered a bonus of $100,000 for a vault of 15 feet or more. Stacy, now fully recovered, pocketed the bounty when she cleared the bar at 15-0 1/4.
With women's vaulting becoming so popular, the IOC had little choice but to announce its inclusion in the 2000 Summer Games in Sydney. The chance to win Olympic gold really lit Stacy's burner. At the World Outdoors in Seville—which included women's vault for the first time—George kept going higher and Stacy kept pace. When the bar hit 15-1, Stacy cleared and George didn't. Stacy could now claim to be the first official women's outdoor world pole vaulting champion in history, too.
All told, Stacy earned nearly 250,000 in 1999. She appeared on "Late Night with David Letterman," and ESPN The Magazine featured her in one of its November issues. Visa, Reebok, Oakley and General Motors all signed her to endorsement contracts. Her deal with GM included a new car. Stacy's most aggressive corporate sponsor was Visa, which produced a commercial starring her that premiered during the Super Bowl XXXIV.
With cash in her pocket and so many new distractions, it took all the discipline Stacy could muster to stay on top of her game. The smart money had a U.S. team of Dragila-Mueller-Suttle competing in Sydney, but there was still a long way to go before the Olympic Trials. In the meantime, Stacy went out and broke Mueller's American indoor record with a vault of 14-9 1/2. She also beat Mueller and Suttle at the 2000 Millrose Games with a vault of 14-6. Another highlight came at the Simplot Games in Pocatello. In front of her adopted hometown, Stacy shattered the world indoor record set by Germany's Nicole Humbert a year earlier. She then topped her own mark at the U.S. Indoors with a vault of 15-1 3/4—and collected $50,000 in the process.
When the outdoor season began, Stacy kept right on winning. She tied her own world record at the Modesto Relays, then upped it a quarter-inch at the Sky Invitational in Phoenix in another classic duel with Emma George. Everything was going perfectly until the eve of the U.S. Olympic Trials, when Stacy experienced what might be best described as an anxiety attack. Suddenly she was overcome by the fear that she was going to "no-height"—miss her first three jumps. Luckily, her friend Brian Jansen was there. Jansen was the cross-country coach at Idaho State. Stacy knew that he worked on visualization techniques with his runners and asked if he could help. Jansen gave her some exercises to help her relax and build back her confidence. Three days later she was as good as new. Not only did Stacy secure a spot on the squad, she set a new world record in the process, clearing the bar at 15-2 1/4. As expected, Suttle and Mueller finished behind her to round out the squad.
Stacy was featured in several Olympic previews, including the one by now-defunct Sports Illustrated for Women. In that magazine, she shared a page with Gail Devers—the athlete she had once idolized when she thought that her future was in hurdling.
Stacy arrived in Sydney as the odds-on favorite to win the first Olympic gold medal in women's pole vaulting. She chronicled her time in Australia with a daily diary that appeared on the NBC web site. The finals were held on September 25, and 112,00 fans were on hand to witness the historic event. Swirling winds made for less than ideal conditions, and in the early rounds most of the vaulters—Stacy included—appeared shaky.
Eventually, the battle for the gold was whittled down to a three-way race between Stacy, Vala Flosadottir of Iceland, and the "hometown" girl, Grigorieva. When the Aussie and the Icelander each cleared 14-9, and Stacy missed twice, the heat was on. Back in her high-school hurdling days, this kind of pressure always did Stacy in. But not this time. She nailed her third attempt, then left the other two in the sawdust with a vault of 15-1. The gold medal was Stacy's.
Stacy finished the 2000 season as the world's top-ranked pole vaulter. She opened the following season riding that wave of momentum. At the 2001 Millrose Games, she became the first women's pole vaulter to clear 15 feet in Madison Square Garden. Two weeks later, she set a new indoor record of 15-5 at the Golden Spike Tour meet on her home turf in Pocatello. Stacy was now using a slightly longer, slightly stiffer pole, and employing a different stride—both at Dave Nielsen's suggestion. Her dominance continued into the 2001 outdoor season, where she raised her world record to 15-9 1/4 at the Peregrine Systems U.S. Open
At the World Outdoors in July, Stacy faced a new challenger, Svetlana Feofanova, a 22-year-old former gymnast from Moscow. Both women hit vaults at 15-3, then 15-5, then 15-7. Technical problems and some clueless judging conspired to end this epic battle without a clear winner, but Stacy was given the gold medal based on fewer misses. She also won at the 2001 Goodwill Games and season-ending IAAF Grand Prix Final.
Heading into 2002, Stacy set her sights on surpassing 16 feet. The media, however, seemed more interested in her personal rivalry with Grigorieva. Stacy is serious about her craft, and despite having posed for Amy Acuff's's racy calendar she believes that focusing solely on the sex appeal of women's vaulters harms the sport. This was her main criticism of Grigorieva, whom she feels has more sizzle than substance. Of course, once you're on record with that kind of observation, you'd better go out and win. Stacy did just that, taking more than a dozen major titles in 2002, including a remarkable nine straight events from March to July.
By the end of the season, the quest to conquer 16 feet had convinced Stacy to switch to a longer pole with a higher grip. It took months for her to become comfortable with the new equipment. During that time Feofanova upped the indoor record to 15-7 3/4.
Stacy set out to better that mark at the 2003 USA Indoor Track & Field Championships, an event she had won five times in six years. Though the field she faced at the Reggie Lewis Center in Boston was small—just seven women in all competed—Stacy would have dominated just the same if the number of entrants had been doubled or tripled. Indeed, she cleared the bar on her second attempt at 15-8 1/4 to shatter Feofanova's world indoor record and cruise to another victory.
Stacy then pushed the height to 16 feet, but missed all three of her attempts. She electrified the sellout crowd nonetheless, illustrating just how captivating women's pole vaulting can be.
Stacy started 2004 on a tear, winning her first six events leading up to the US Indoor Championships. During that span, Stacy cleared 15-5 2/5 twice. At the UST Indoors, cleared 15-5, beating second-place finisher Jillian Schwartz by more than a foot.
Stacy was poised to follow this triumph with a victory at the World Indoors, but Russia's Yelena Isinbeyeva stood in her way. Stacy did break the world indoor record when she successfully cleared 15-9 2/5, but it wasn't good enough, as Isinbeyeva cleared 15-11 2/5—surprising Stacy and everyone else in the women's pole vaulting circle.
Three months later, at the Golden Spike in the Czech Republic, Stacy had her sights on the world outdoor record. Stacy cleared 15-10 1/5 on her final jump to shatter the standing mark.
A modest vault of 15-7 (by her standards) at the US Olympic Trials in July easily qualified Stacy for the 2004 Summer Games in Athens, but she still has her sights set on clearing 16 feet. She figures to be the heavy favorite to win the gold medal in Athens.
A second gold would indeed be a dream come true for Stacy, the next chapter in a fairy tale that never seems to end. The money keeps pouring in, and her popularity continues to soar. She remains the world's best female pole vaulter, though a group of talented newcomers is out there, eager to seize her crown. If Stacy beats them to 16 feet, it is hard to imagine what else she can accomplish in what already ranks among the greatest careers in women's sports.
STACY THE VAULTER
When Stacy first wrapped her fingers around a pole and eyed the bar a few feet above her head, there was no such thing as a "prototypical" women's vaulter. Everyone knew that ladies would bring different qualities to the sport than men had, but no one could quite say what those qualities were. Stacy has put many of those questions to rest.
Consistency in footwork and timing, so critical in pole vaulting, were Stacy's forte way back when she was a hurdler. Her taut upper body is perfect for the aerial portion of the vault. Her gymnastics background enables her to move her body over the bar without wasted motion. And over the years, she has also become adept at the mind games pole vaulters play. When you factor in Stacy's rough-and-tumble rodeo roots, it is truly the complete package.
EXTRAS
* Stacy has won the Jesse Owens Award twice, in 2000 and 2001.
* Stacy's coach, Dave Nielsen, was voted Nike's Elite Track & Field Coach of the Year for 2000.
* Stacy was inducted into the Yuba Community College Athletic Hall of Fame in 2001, two years after her former coach, John Orognen, was honored posthumously by the school.
* Stacy graduated from Idaho State with the school's indoor and outdoor records for the women's pole vault. She was also among the top 10 in the 55-meter hurdles, 4x400 relay, 4x100 relay, pentathlon, long jump, high jump,100-meter high hurdles, and 400 intermediate hurdles. In all, she set five ISU and venue marks.
* Because women's pole vault was a new sport, Stacy's winner's check at the 1999 World Outdoor Championships was $30,000—half of what every other gold medalist got.
* Stacy had history on her side when she cleared 15 feet at the 2001 Millrose Games. The same evening, Cornelius Warmerdam, the first vaulter to reach that height in Madison Square Garden, was inducted into the Millrose Games Hall of Fame.
Read more
Latest headlines