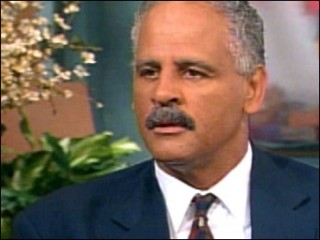 Stedman Graham biography
Date of birth : 1951-03-06
Date of death : -
Birthplace : Whitesboro, New Jersey
Nationality : American
Category : Famous Figures
Last modified : 2010-12-10
Credited as : Businessman and speaker, partner of Oprah Winfrey, formed S. Graham & Associates
Stedman Graham is an American educator, author, businessman and speaker, who has also served in the United States Army, although he is primarily known as the partner of media mogul Oprah Winfrey. Graham and Winfrey were engaged to be married in November 1992, but later decided they would rather have a "spiritual union."
Played basketball in European league; public relations and marketing executive, beginning c. 1980s. Worked for B&C Associates, NC; formed S. Graham & Associates, a management, marketing, and consulting firm, 1992; founded and served as executive director, Athletes Against Drugs (AAD); named director of Forum for Sport and Event Management and Marketing, George Washington University, Washington, DC, 1994; author of books The Ultimate Guide to Sport Event Management & Marketing (1995) and You Can Make It Happen: A Nine-Step Plan for Success (slated for 1997 publication).
Accomplished, wealthy, and well-respected, Stedman Graham has reached the limelight not by virtue of his own considerable achievements, but because of his longtime romantic attachment to television megastar
Oprah Winfrey
. Yet Graham has managed simultaneously to increase his standing as a public relations expert and sports commentator and protect his privacy. He has focused much of his time on the issue of "empowerment," particularly for black youth, and his views are summed up in a quote distributed with his publicity biography: "The future of this country depends upon what we give back to our youth and community, and we should always build with the desire of bringing someone else along to share in the success."
Graham was raised in Whiteboro, New Jersey, with his five siblings, and by high school his career seemed to have been determined by his height. At 6'6" he possessed the right physique for the basketball court, and clearly loved the game. Not only was he among the stars of his high school team, but "he worked well with the younger kids on the team," Graham's coach, John Roberson, told People. "He was so genuine that he would help anyone."
Basketball still seemed to be in his future even as Graham worked toward an undergraduate degree in social work at Hardin-Simmons University in Texas. His prowess in the game was undeniable, and he dreamed of playing professionally, but it was not to be. Graham married his first wife, Glenda, shortly after graduating from Hardin-Simmons. Their daughter, Wendy, was born soon thereafter. Yet, Graham told Mike Kiley of the Chicago Tribune, his self-esteem was too low for him to appreciate his life. "I was an angry person," he asserted. "I was angry at the system and a victim in my own right. It was almost as if I had a hole in my heart. You have to understand, to have no value as a person, to be perceived as someone with no value, it's hard to measure up."
Graham went on to earn a master's degree in education at Ball State University in Indiana. He played basketball in Europe for three years, and averaged 30 points a game, but his inability to break into the professional ranks at home still rankled years later. "My biggest disappointment was I never made the NBA," he informed Kiley. "The fact of the matter is I could have made the NBA if I had gone through the right process to access it." Growing up, he added, he believed sports and entertainment were the only avenues open to black people. "I didn't have anyone who said to me, `I'm going to stay with you every day and show you what educational values can do for you,'" Graham asserted. "I had the potential to do better, but I didn't know that."
Graham moved to North Carolina to pursue a career in education, and soon found himself working at B&C Associates under Bob Brown, the man he has identified as his mentor. Thanks to Brown's connection, Graham was able to travel to other countries and establish something of a profile. In 1990, he escorted the children of activist (and later president) Nelson Mandela to South Africa upon Mandela's release from prison. "I got to visit the White House, meet the president," he noted. "All this opened my eyes and was what I had been looking for." Brown told People, "Stedman mixes well.... He's a great traveler. He doesn't get tired or irritable. And he is intensely loyal."
From 1982 to 1985, in the wake of his divorce, Graham dated Robin Robinson, a TV anchorwoman in Chicago. "He's a proud man," she noted of her former beau to People, "and marriage-shy." He and Winfrey--a rising talk-show star who would eventually become one of the richest figures in the entertainment world--first got involved in 1986. A part-time sportswear model, Graham actually found his good looks worked to his disadvantage. Winfrey told the magazine that when Graham entered her life, many people she worked with warned her against him. "They figured if he looked like that," she said, "he either had to be a jerk or want something." What Graham wanted, she found to her delight, was her. "He's kind and supportive." she noted. "I don't think I'd be with him, though, if he didn't hate the limelight so much," Winfrey explained to the Chicago Tribune's Kiley. "Frankly, most of the men I've dated would have loved to be in that limelight."
The two stayed together without getting married, thus fueling all manner of speculation in the press. In 1992, Graham proposed; Winfrey subsequently mentioned their impending nuptials in a television interview, bringing about a media onslaught. Graham was nonplused--particularly since he considered his privacy precious-- but 1993 remained the proposed year of their wedding. He maintained his boundaries, however, even canceling an interview on TV's Larry King Live when it became clear King would be asking him primarily about Winfrey. And the pair sued a tabloid that alleged Graham had had a homosexual affair with his cousin, winning by default when the publisher did not show up in court. "I'm pretty proud of the way I've handled myself," Graham told Kiley. "They tried to call me all kinds of names, to question my manhood, do all kinds of stuff. They tried to disempower me to sell newspapers. Anything printed comes back different ways, because you're still making impressions on people."
Speculation nonetheless continued unabated. Popular psychologist Dr. Joyce Brothers even published an article in Good Housekeeping magazine about the factors in Winfrey's and Graham's personalities that would affect a possible marriage. "Stedman is a mature, realistic adult," she wrote, adding that she could not "imagine it would bother him in the least if some people thought of him as `Mr. Winfrey.' After all, both he and Oprah know better." Nonetheless, Winfrey and Graham eventually decided to postpone their conjoining indefinitely.
By 1996, Winfrey was telling Redbook she was "sick, sick, sick" of discussing the matter. "I have the right to not get married," she insisted. "I'm sorry I ever was such a big-mouth frog about the engagement. That is my biggest public regret." Graham declared in the same article that the couple was "happy with things as they are," dismissing claims by an unnamed source that their relationship was out of steam as "presumptuous." As he reminded writer J. Randy Taraborrelli, "It's our relationship, and if we choose to marry, it's our decision."
Yet even the couple admitted that as their careers became ever busier, enjoying downtime together grew more difficult. "It's gotten to the point where Stedman and I now have itineraries," Winfrey admitted in Ladies Home Journal. "His secretary faxes my secretary where he's going to be, where I'm going to be, so that at some point we can be together. It's gotten that bad." Their private time has often been spent at Winfrey's Chicago condo, though they have jetted off to her farm in Rolling Prairie, Indiana, her ranch in Telluride, Colorado, and her oceanside dwelling in Miami, Florida.
Graham cofounded S. Graham & Associates (SGA), a Chicago-based management, marketing, and consulting firm that specializes in sports and entertainment, while serving as CEO of Graham Gregory Bozell, another firm involved in sports and entertainment ventures. He also penned a column for the magazine Inside Sports, where his views sometimes invited controversy. The Chicago Tribune quoted a Graham column opposing the use of headgear for professional boxers. "The sport rewards courage--the guts to stand in, take a punch, and get up if you go down," he wrote, adding, "let's not water down the sport with protective gear that will undermine its popularity and do less to protect fighters than to ease the consciences of those handing out the gear." The Tribune found Graham's argument "a bit short of persuasive," and joked, "On the next Oprah: Dysfunctional Children of Adult Alcoholics Who Wore Boxing Headgear Around the House."
In 1994, Graham was named director of George Washington University's Forum for Sport and Event Management and Marketing; his duties were slated to include the development of curricula for women and minorities in event marketing. The following year saw the publication of The Ultimate Guide to Sport Event Management & Marketing, which Graham co-authored with Joe Jeff Goldblatt and Lisa Delpy. "The book gives advice on everything from uniform designs to licensing agreements," reported the Memphis Business Journal. "Strategies for planning and managing events for every level of sports activity are detailed by graphs, sample schedules, contracts and commentaries." Jet quoted a Graham interview in which he recalled, "When I looked for a research book on the subject, I couldn't find one."
Like the specialized curricula Graham was assigned to set up at George Washington, the book was intended in part to help minorities and women break into sports management and kindred professions. He hoped to help them "get a piece of the action," he explained. "If I can translate what I have learned, particularly to African Americans," he told the Chicago Tribune's Kiley, "to get them to realize it's not about race" or blame but about "taking control of your own life, changing the way you think, creating opportunities in excellence and improving the quality of your life and your family's, I'll have accomplished something."
To a similar end, Graham established Athletes Against Drugs (AAD), an organization dedicated to putting an empowerment message for kids in the mouths of sports heroes. The proceeds from the Ultimate Guide helped fund the program, which provides in-class anti-drug curricula in Chicago public schools as well as sports clinics and other special events. Such good works have earned him numerous laurels, including the Southern Christian Leadership Conference's Drum Major for Justice award, and the President's Award for Excellence from Lincoln University. In 1994, Winston-Salem, North Carolina, offered him a key to the city.
Graham's motivational efforts found a more generalized expression in the form of another book, Make It Happen: A Nine-Step Plan for Success, which was slated for publication in 1997. He expounded on his philosophy in his interview with Kiley: "You and me are going to die," he asserted. "The only thing that matters is empowering other people. When we leave here, what we have left and how we have impacted people is all that matters."
Read more
Latest headlines