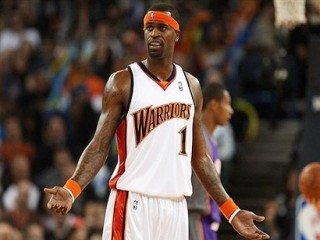 Stephen Jesse Jackson biography
Date of birth : 1978-04-05
Date of death : -
Birthplace : Port Arthur, Texas, USA
Nationality : American
Category : Sports
Last modified : 2010-07-12
Credited as : Nba player, plays for Charlotte Bobcats,
Stephen Jesse Jackson
(born April 5, 1978 in Port Arthur, Texas) is an American professional basketball player for the NBA's Charlotte Bobcats. Jackson, a 6'8" guard-forward, is currently in his 10th NBA season.
When growing up, Jackson worked in his grandfather's soul food restaurant in Port Arthur, Texas where he used to wash dishes and bus tables. At the age of 14, Jackson saw his half-brother Donald die, aged 25. Following the violent tragedy, Jackson often surmised how he wished he could have been there to assist and protect a member of his family. "You can't tell me seeing his brother die that way hasn't had an effect," recalls Pacers CEO Donnie Walsh. "To me, it's why he is always coming to the help of his teammates."
He prepped at Lincoln High School in Port Arthur before transferring to Oak Hill Academy (Virginia) where he earned All-America honors in 1996. He was the leading scorer in the 1996 McDonald's All-American game, on a team that included Kobe Bryant, Jermaine O'Neal and Tim Thomas. Following a commitment to join the University of Arizona, Jackson was ruled academically ineligible. He spent one semester at Butler Community College.
Jackson was selected 43rd overall in the 1997 NBA Draft by the Phoenix Suns, yet did not receive an opportunity to perform, as he was waived by the team on October 30. Following this development, Jackson then saw action in six games with the La Crosse Bobcats over two on-and-off seasons in the CBA, in which he averaged 2.7 points in 12.7 minutes per game. Additionally, Jackson had a brief stint with the Sydney Kings in Australia's National Basketball League. Continuing his basketball journey, Jackson played professionally in Venezuela and the Dominican Republic.
Jackson established the Jack 1 Foundation and the Stephen Jackson Academy in his hometown of Port Arthur.
New Jersey Nets
Jackson did not play an NBA game until the 2000–01 season with the New Jersey Nets, officially deemed his rookie season. He appeared in 77 games (including 40 starts), in which he averaged 8.2 points per game, and established a close friendship with star point guard Stephon Marbury. Jackson was selected to play in the Schick Rookie Game at the 2001 All-Star Weekend, in which he tallied 8 points, 5 rebounds, 4 assists and 3 steals in the contest.
San Antonio Spurs
Before the 2001–2002 NBA season, he was signed by the San Antonio Spurs. Following a somewhat successful rookie campaign, Jackson was hampered by injuries and team expectations in 2001, missing a total of 45 games. Former assistant coach Mike Brown stated: "The first year we had him in San Antonio, he was on the (injured reserve) most of the year. At first, he didn't understand why because he probably was the most talented player we had on that team, but he needed to mature a little bit so we stuck him there to see how he would respond. He was the best teammate on our team that first year. He was the first guy off the bench high-fiving his teammates during timeouts. He was in every single huddle. He was juiced at practice ready to play and compete and make the starters better, and it carried over into his second year when he got his opportunity to get out onto the floor and prove he could be a vital part of the organization." His season averages were 3.9 points and 1.1 rebounds, logging approximately 9.9 minutes per game.
During the 2002–2003 NBA season, Jackson became a key member of the Spurs. Appearing in 80 games (58 starts), his season averages were 11.8 points, 3.6 rebounds and 2.3 assists in 28.2 minutes per game. In the course of their postseason run in the 2003 NBA Playoffs, Jackson proved to be a vital asset and helped the Spurs win their second NBA Championship, averaging 12.8 points per game during the playoffs – the team's 3rd leading scorer.
Atlanta Hawks
In 2003, Jackson became a free agent during the offseason. He expected to be resigned by the Spurs to a big contract but that never occurred. He had to settle for a contract with less money on being signed by the Atlanta Hawks. Registering his best professional season to this point, Jackson established season averages of 18.1 points, 4.6 rebounds and 3.1 assists per game, in 80 total games (78 starts). On March 12, vs. the Washington Wizards, Jackson scored 42 points, his career high at the time. In the 29 games following the All-Star Break, Jackson averaged 24.0 points, 5.5 rebounds, 3.5 assists, and 2.2 steals per game. During this torrid post All-Star Break stretch, he was the NBA's 6th leading scorer.
Following the 2003–04 NBA season, he was traded to the Indiana Pacers for small forward Al Harrington (who finished 2nd place in Sixth Man of the Year voting), after signing a 6 year, $38.3 million contract.
Indiana Pacers
During his first season as a member of the Indiana Pacers in the 2004–05 NBA season, Jackson tallied averages of 18.7 points, 4.9 rebounds, and 2.3 assists per game. He received a 30-game suspension from the league after going into the stands and brawling with Detroit Pistons supporters during the Pacers–Pistons brawl at The Palace of Auburn Hills, on November 19, 2004. During this time, accompanied by 3 of his teammates, Jackson visited the Indiana Developmental Training Center. He donated a big screen television as well as other items.
Following his return from this lengthy suspension, he averaged 21.7 points per game in a span of 22 games, starting on March 3 (due to an injury to Pacers power forward Jermaine O'Neal).
Indiana's once promising post-season possibilities were marred by the suspension of small forward Ron Artest. Jackson averaged 18.9 points per game during the first round of the 2005 NBA Playoffs, versus the Boston Celtics. A series loss in the next round at the hands of the Detroit Pistons would end the campaign, with Jackson leading the team in scoring during the playoffs with an average of 16.1 points per game.
In the 2005–06 NBA season, Jackson appeared in 81 games for the Pacers, averaging 16.4 points, 3.9 rebounds, and 2.8 assists per game. A particularly impressive exhibition performed by Jackson came in a midseason victory over the Sacramento Kings, in which he made four consecutive 3-pointers on four straight possessions. As the playoff push ensued, he tallied an average of 20.2 points per game in the month of April.
On October 6, 2006, there were police reports that Jackson and three other Pacers players were involved in an argument with several patrons at Club Rio, a strip club in Indianapolis. Jackson was punched by one of the patrons and was hit by a car, rolling onto the hood. His injuries were considered minor. Jackson says he fired several gunshots from a 9-mm pistol as an act of self-defense. However, prosecutors later said he fired first. Jackson was charged October 11, 2006 with a felony count of criminal recklessness. He served a seven game suspension at the beginning of the 2007–08 NBA season as a Warrior for his legal problems.
Golden State Warriors
On January 17, 2007, the Pacers dealt Jackson to the Golden State Warriors in a blockbuster eight player trade. Along with Al Harrington, Šarūnas Jasikevičius, and Josh Powell, Jackson was swapped for Mike Dunleavy, Troy Murphy, Ike Diogu, and Keith McLeod of the Warriors.
Jackson registered 29 points, 7 rebounds, 4 assists, and 5 steals in his Warriors debut, January 20, 2007 versus the Cleveland Cavaliers. Yet another significant, meaningful performance came on February 5, when Golden State traveled to Conseco Fieldhouse to compete against Jackson's former team. He tallied 36 points, leading the Warriors to a 113–98 victory over the Indiana Pacers. Rejuvenated by the change of scenery, Jackson averaged 19.6 points and 4.6 assists per game in February – taking the reins of principal playmaker while star point guard Baron Davis was injured. Jackson led the team in scoring 3 times during the last 5 games in the regular season, including the season-ending victory over the Portland Trail Blazers that clinched the Warriors' first playoff berth in 12 seasons.
In the Warriors 4–2 series victory over the Dallas Mavericks in the first round of the 2007 NBA Playoffs, Jackson garnered both positive and negative publicity. In what some consider the biggest upset in NBA history, Jackson was ejected from Games 2 and 5. The latter decision, in Game 5, was heavily criticized as Jackson appeared to be merely applauding at the end of the game to lift the spirits of his teammates, and not sarcastically at a referee. But Jackson redeemed himself by playing well the entire series, especially in the series-clinching Game 6, where Jackson tallied 33 points on a franchise playoff-record 7 three-pointers. Also, he continued to play aggressive defense against eventual MVP recipient Dirk Nowitzki, who was held to 8 points.
Baron Davis, who suffered a slight hamstring injury in the 1st quarter of Game 6, shares his thoughts regarding Jackson: "I told him (Stephen Jackson) I'll give it all I got and I didn't want to be the hardest worker out there. He had to carry me. He is the leader of this team and if you ask anyone on this team, he is the heart and soul of this team. He is a big-game performer and he knew just how important this game was. He is the only one on our team to have won a championship, so we had to feed off of him."
Jackson finished the series with per-game averages of 22.8 points, 4.5 rebounds, 3.7 assists, and 2.0 steals.
Prior to the 2007–08 NBA season, Jackson (along with guard Baron Davis and forward Matt Barnes) was named a team captain of the Warriors. Jackson was the recipient of the NBA's Western Conference Player of the Week (November 26 – December 2), averaging 23.0 points, 5.5 rebounds, 3.8 assists, and 2.8 steals.
During the 2008–09 NBA season, Jackson registered three games of at least 30 points and 10 assists in a five-game span – the first NBA player to do so since LeBron James in 2007, and the first member of the Warriors since Tim Hardaway in 1992. He also tallied his first career triple double (30 points, 11 rebounds, 10 assists) against the Phoenix Suns in the midst of this stretch, on February 4th.
On November 17, 2008, Jackson signed a three-year contract extension with the Warriors. Jackson's 2008–2009 campaign effectively ended when he decided to officially determine the root cause of turf toe on his left foot, which had been ailing him for over 2 years. He underwent surgery on March 31, 2009 to remove multiple bone spurs above the nerve tissue under his big toe.
His per-game season averages were 20.7 points, 5.1 rebounds, 6.5 assists (2nd only to LeBron James for forwards), 1.5 steals, and 39.6 minutes (2nd in the league, trailing only Joe Johnson of the Atlanta Hawks).
Charlotte Bobcats
On November 16, 2009, Jackson was traded to the Charlotte Bobcats along with Acie Law in exchange for Raja Bell and Vladimir Radmanović. Jackson set a Bobcats franchise record with 43 points scored versus the Houston Rockets, on January 12, 2010. The NBA recognized Jackson as the Eastern Conference's Player of the Week on January 17, after he averaged 29.3 points, 6.7 rebounds, 4.7 assists and 3.3 steals.
Read more
Latest headlines