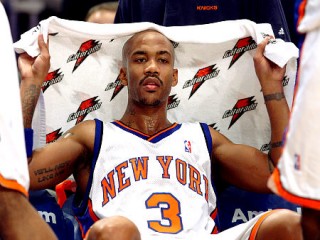 Stephon Marbury biography
Date of birth : 1977-02-20
Date of death : -
Birthplace : Brooklyn, New York, United States
Nationality : American
Category : Sports
Last modified : 2010-08-05
Credited as : Basketball player NBA, currently plays for the Shanxi Zhongyu Brave Dragons ,
Has Stephon Marbury been around forever, or does it just seem that way? New Yorkers have been reading headlines about him for more than a decade, though it's been a while since they've gotten to watch him every day. But Brooklyn's legendary hardwood prodigy is now playing for the team he followed as a kid in the epicenter of the basketball universe. In other words, Stephon is living his own hoop dream.
GROWING UP
Stephon Xavier Marbury
was born on February 20, 1977 in Brooklyn, New York, to Mabel and Don Marbury. Mabel was a daycare worker and Don bounced between a variety of jobs as a manual laborer. Stephon had three older brothers, Eric, Donnie and Norman, and twin sisters Marcia and Stephanie. It was Stephanie, 12 years old when her little brother was born, who got to name Stephon. In return, she promised to look after him as he grew up, taking some of the child-rearing pressure off Mabel. Stephanie was big for her age, and when she took Stephon around the neighborhood, most people assumed she was his mom. The Marburys had one more son after Stephon—Moses—and also welcomed an orphaned cousin, Jamel Thomas, who was Stephon's age.
The Marburys lived in the Coney Island Houses project, at the end of four subway lines in Brooklyn. To many, the development was nowhere land, and few paths led out. Basketball was the currency of the Marbury family. Stephon's three older brothers came of age as the center of the city' hoops world shifted from Long Island City to Coney Island.
Eric, nicknamed "Sky Dog," was a small forward who earned a scholarship to Georgia a couple of years after Stephon was born and played with Dominique Wilkins. He failed to graduate, then was cut when he tried out for the Clippers. Donnie, nicknamed "Sky Pup," was a 6-3 guard with a remarkable shot. He led the Southwest Conference in scoring with Texas A&M in 1986, but went undrafted. Norman, nicknamed "Jou-Jou," was one of the best point guards anyone in Brooklyn had ever seen. He blew a scholarship to Tennessee when he tanked his SATs and never got back on track.
The brothers passed down their gifts to Stephon—Eric's toughness and nose for the basket, Donnie's deft shooting and Norman's ballhandling prowess. Stephon's father, well-schooled in the cruel realities of inner-city basketball, carefully administered his son's career.
As soon as he could walk, Stephon was dribbling a basketball. As soon as he could reach the rim, he was playing at the local playground (aka The Garden) and running the steps of his 14-story building to build up his strength and stamina. At age nine, Stephon was putting on halftime shooting exhibitions at nearby Abraham Lincoln High School. By age 11, he was touted as the world's best sixth grader by the Hoop Scoop recruiting newsletter. And at 13 Stephon was so good that when he was discovered sneaking into a camp for high-school basketball prospects, the directors let him play.
Besides his outrageous talent, Stephon was outrageously cocky. He walked through his world like he owned it, demanding whatever he needed and insulting those who he considered weak. In youth league games he would scream at opposing coaches, demanding they put someone on the floor who could guard him. In games at the Garden, where crowds gathered to watch him, he was treated like royalty, even by the drug dealers who held sway over day-to-day life at the Coney Island Houses.
When it came time to choose a high school, he chose Lincoln, like his brothers, where he wore the family's traditional #3. Other city schools recruited him, showering him with shoes, equipment and other gifts—often at the insistence of his father, who knew how the game off-the-court was played. Later, Don held what amounted to an auction of Stephon among AAU summer teams. The winner was Lou D'Almeida's Gauchos. D'Almeida was an expert at keeping the Marbury's flush without violating NCAA rules or jeopardizing Stephon's amateur status.
Other coaches—college coaches—were less judicious. At least one sent a recruiting letter to the Marburys when Stephon was in junior high, while others engaged "street agents" who attempted to steer Stephon's interest in their direction.
Stephon dazzled as a freshman for Lincoln High, exhibiting skills far beyond what varsity coach Bobby Hartstein had dared imagine. Hartstein had sweated out the summer, as rival coaches wined and dined the Marburys and made extravagant promises. But he had the inside track thanks to family tradition, and promised Stephon that he would stay with him all four years no matter what offers he received, and help him navigate through the recruiting process.
Lincoln blew out most of its opponents during the 1992-93 season, with Stephon and friend Russell Thomas leading the way. The buzz was that Stephon was the real deal, and then some—by the far the best Marbury, not to mention one of the top freshmen in NYC history. In the classroom, Stephon paid attention but his schoolwork was nothing to brag about. Considering the academic failings of his brothers, this was a concern throughout his years at Lincoln.
Toward the end of his freshman year, Stephon was the subject of an article in Harper's Magazine that painted him as being arrogant, ill-mannered and narcissistic to the point of potential self-destruction. His family was offended by writer Darcy Frey's portrayal of their clan, and further angered when the article gave birth to a book, The Last Shot. Stephon's reaction was to do a 180 and reinvent himself as a humble, focused, self-assured "professional." He stopped talking trash, became more serious about his academics, and began to take a long-term view of his basketball career.
Stephon's game continued to evolve. He closed out his high-school career averaging more than 28 points per game and 9 assists. In 1995, he led Lincoln to the city championship, something his older brothers never did. All the while, Stephon was the focal point of an intense, no-holds-barred recruiting war. The winner was Georgia Tech.
Coach Bobby Cremins won out because of his work with Brooklyn's Kenny Anderson, who played two seasons for the Yellow Jackets before signing a lucrative NBA contract. The runner-up was Syracuse. Stephon's father and brothers pushed hard for him to go with Jim Boeheim, who had helped to shape Coney Island legend Pearl Washington's college career. Playing in the Carrier Dome, Stephon would have experienced the country's largest and loudest basketball crowds.
Stephon announced his decision during his senior season, but did not sign his letter of intent until April. This jangled the nerves of Cremins and his staff, who heard that Jerry Tarkanian—recently hired by Fresno State—had offered Donnie Marbury an assistant's job if Stephon agreed to suit up for the Bulldogs. Cremins flew up to New York to get a personal assurance that he was not going to back out, and returned a happy man. Stephon would indeed be a Yellow Jacket.
ON THE RISE
The summer before he left for Atlanta, Stephon got a grim reminder of what awaited him if, like his three brothers, he failed to realize his professional basketball aspirations. Jason Sowell, a high-school teammate, was murdered within earshot of his apartment.
One of the selling points for Georgia Tech was the team Stephon would be joining. With their freshman star at the point, Drew Barry (Rick Barry's son) at two guard, Matt Harpring and Michael Maddox at the forward positions, the Yellow Jackets had the makings of a superb ACC team.
Early in the year, Tech stumbled in several non-conference games, dimming their hopes at a successful season. But once the ACC schedule started, the Yellow Jackets turned it on, scoring impressive victories over Duke, Maryland and North Carolina. Stephon had his ups and downs during the season, often within the same game. In a wild contest with Kentucky, he torched the 'Cats for 17 in the first half as Tech aimed for an upset. But in the second half he was completely shut down. In the Duke game, it was Stephon who made the key adjustment, following a four-point first half with 23 points against the Blue Devils over the final 20 minutes.
To play effectively within Cremins's system, Stephon had to trust that it would work. Passing up a shot and moving the ball around the perimeter seemed unnatural to him, even though this could (and usually did) get him an even better shot when the ball came back. When challenged by a good one-on-one defender, Stephon sometimes reverted back to his street-ball days and tried to break his man down.
Cremins would remind his young star that this was a team game. But while his coach was preaching the evils of being a one-man show, his brothers told Stephon that this was the fastest way to the pros.
Just two months into his college career, Stephon sent a ripple of panic through Tech's basketball program when he told a Daily News reporter that he would leave school the following spring if he was guaranteed to be a lottery pick. He was quoted as saying that he would expect the college to support his decision, otherwise he would question whether they had his best interests at heart.
As the season wore on, Stephon's performances evened out and the team kept winning. Although he claimed he didn't fit in with his teammates, he and Barry formed the nation's most effective backourt, and the Yellow Jackets continued to grow stronger as the post-season neared. Stephon finished impresively (19 ppg and 4.5 apg), and was honored as ACC Rookie of the Year and third-team All-American.
Georgia Tech ended up winning the conference regular-season title and reached the ACC Tournament final against a Tim Duncan-led Wake Forest team. In that game the Deacons opened up an 18-point lead in the second half, but Stephon brought his team roaring back with 27 points in a heart-breaking 75-74 loss. In the first round of the NCAA Tournament, he played solid ball in an easy win over Austin Peay, then went wild against Boston College with nine assists and six three-pointers in a 103-89 shootout. Tech's year ended in the Sweet Sixteen with a loss to Cincinnati.
After the tournament, Stephon declared for the NBA draft. He would be the best pure point guard available, which guaranteed him to go in the Top 5. Ray Allen and Allen Iverson were in the mix, as was UMass center Marcus Camby, Kentucky forward Antoine Walker and Cal's Shareef Abdul-Rahim.
The Minnesota Timberwolves, who had drafted Kevin Garnett out of high school the previous season, believed that Stephon would be the perfect complimentary player. GM Kevin McHale envisioned a Malone-Stockton relationship, which he would use as a foundation for a championship team. The only problem was that they picked #5, and it was unlikely Stephon would be o the board.
Iverson was taken first by the Philadelphia 76ers, then Camby and Abdur-Rahim went. The Bucks next selected Stephon, at which point McHale finalized a deal that sent the next pick—Ray Allen—to Milwaukee plus a future first-round choice. The T-Wolves had their man and, with two young superstars, their future looked bright.
Stephon would run a team that featured Garnett and Tom Gugliotta, a nimble forward who had an arsenal of offensive moves. Despite a so-so supporting cast, the T-Wolves finished third in the Midwest Division with a 40-42 record and, for the first time in franchise history, earned a playoff berth. A first-round exit at the hands of the Houston Rockets dampened the joy of Minnesota fans, but they were delighted with Stephon's performance. He averaged 15.8 points and 7.8 assists a game, and was fearless breaking down veteran defenders and taking the ball to the hole. He paid the price, missing more than a dozen games with various injuries. The pine time hurt Stephon in Rookie of the Year balloting, as he finished behind Iverson—whose 'Sixers won just 22 games.
In the off-season, Garnett signed a contract extension that was valued higher than the selling price of the team. Stephon understood why Minnesota made this move, but looking down the road he wondered if there would be anything left for him when it came time to work on his next contract. In the second year of his NBA career, Stephon began campaigning for a similar deal, and intimating he would move on if the team couldn't or wouldn't get it done.
The 1997-98 season found Stephon stepping up his game and maturing into a bona fide NBA star. He boosted all of his stats, stayed healthy for all 82 games, and really clicked with Garnett and Gugliotta. For the first time ever, the T-Wolves finished with a winning record (45-37). Another first-round playoff loss, however, left a sour taste in Stephon's mouth. The T-Wolves had a chance to close out the series at home but lost the last two games to the Seattle Supersonics.
Stephon was growing increasingly dissatisfied with his situation in Minnesota, and during his second season he became less and less shy about expressing it. He complained about the harsh weather and his desire to play in a larger basketball market. More to the point, he often spoke of being homesick. Usually, when asked about his future, he insisted he would one day return home and play for the Knicks. Stephon also refused a generous contract extension. This left Marbury's future with the organization in doubt leading into the 1998-99 season.
As it turned out, 1998-99 became 1999 thanks to a bitter labor battle and lockout by the owners. Like many NBA players, Stephon was supporting a lot of people with his paychecks, and suddenly the well had run dry. He felt the financial pinch as the stalemate dragged through the holidays. It wasn't until January that the season was resurrected.
The new collective bargaining agreement limited the amount of contract extensions to players in Stephon's category to $71 million. Ray Allen took it and so did Allen Iverson. Stephon, meanwhile, said publicly he couldn't be on the same court with Garnett knowing his teammate was making so much more than him. The comment made him the poster boy for greed and stupidity in the NBA, and nearly caused McHale to walk away from basketball.
With agent David Falk dropping hints that Stephon planned to sign with the Bulls at season's end, the point guard lasted 18 games before Minnesota swung a three-way deal with New Jersey and Milwaukee that also moved point guards Terrell Brandon and Sam Cassell. Stephon was now a Net—not exactly a Knick, but close enough to feel like he was home.
Stephon's apparent willingness to move from a team on the rise to a perennially rebuilding franchise brought his commitment to winning into question. Was it all about the money? True or false, it created a stigma that has followed him throughout his pro career. To this day, Stephon maintains that basketball is definitely a business, but that the business side of basketball has never affected his love for the game.
The Nets were a team in turmoil, in the midst of a long losing streak and, when Stephon arrived, under the guidance of an interim coach, Don Casey. The squad had no real standouts. Jayson Williams and Kerry Kittles always seemed to be injured, while Keith Van Horn was a nice young role player being asked to do a Larry Bird imitation. Kendall Gill, who lined up at the two and three spots, was a solid veteran, but also in the waning years of his career. The team was lucky to win 16 games, even with Stephon scoring nearly 22 a night.
Stephon's first full season with the Nets (1999-2000) got off to an abysmal 2-15 start. Entering the fray with the same cast of characters around him, he tried to pick the team up and carry it on his shoulders. After six weeks, he learned his lesson, accepted the blame for New Jersey's poor performance, and began to involve his teammates more on offense and step things up on defense. Though ignored by All-Star voters, Stephon ended up earning Third Team All-NBA honors for his inspired play, finishing with outstanding numbers, including 22.2 points and 8.4 assists a game. The Nets, meanwhile, showed signs of turning the corner, going 29-36 the rest of the way with one of the worst clubs in their history.
New Jersey lucked into the #1 pick in the 2000 draft and tabbed Cincinnati's Kenyon Martin, the College Player of the Year and a ferocious power forward whose presence would enable Van Horn to ease into the small forward slot. The team also v, and picked up journeyman Aaron Williams to help Martin in the middle. Stephon was telling everyone that the Nets were a team on the rise, and he felt that new coach Byron Scott was just the man to instill a winning attitude in his players.
But once again, things began badly for the Nets. Van Horn broke his leg, forcing role players like Williams and Johnny Newman to log far too many minutes. Even before that, it was agonzingly clear that Van Horn would never click with Stephon. The two were quietly critical of each other's games, and distant on the court. East Rutherford, a parking lot of a town to begin with, was hardly big enough for the two Net stars. With Van Horn missing 32 games, Stephon shouldered more of the scoring load and was rewarded with his first All-Star nod. That did little to dull the pain of another bad season, however, as the Nets logged a mere 26 victories.
The Nets needed to shake things up, and since no none was likely to absorb Van Horn's huge contract, it was Stephon whose head was on the chopping block. When another elite playmaker, Jason Kidd, became available after the 2000-01 season, the New Jersey swapped point guards with Phoenix and Stephon found himself in a Suns uniform. The Phoenix franchise was looking for a youth injection, and Stephon seemed like the man for the job. Only 24, he was entering the prime years of his career.
Stephon embraced the chance to start anew. The Nets experience taught him an important lesson about the importance of team chemistry, and he took an active role in cultivating relationships with his new teammates. In camp, he often sprung for dinner and gave advice to the "young" players—several of whom were Stephon's age.
The Phoenix nucleus seemed sound enough. Stephon was slated to co-star with forward Shawn Marion and share backcourt duties with veteran guard Penny Hardaway and free agent Tony Delk. Also on the club was old friend Tom Gugliotta, a couple of knee surgeries past his 20-point days.
The desert can be an unforgiving place, especially when you do battle in the NBA's Western Conference without a frontline center. Stephon learned this the hard way—and the "Hardaway," as Penny repeatedly chewed him out for trying to do everything himself. Soon the fans added their two cents, and the season slid down the drain. A DUI arrest didn't help matters. Making them worse, Kidd had revived the now-healthy Nets and they were headed for the NBA Finals. With Stephon at the helm, Phoenix missed the playoffs for the first time in 13 years, finishing 36-46.
MAKING HIS MARK
Things began to look up for Stephon during the 2002-03 season. He played with more poise and confidence, and assumed a leadership role on a team that now included Amare Stoudemire, a 20-year-old force of nature who opened up the middle with the subtlety of an elbow to the solar plexus. For Stephon, it was refreshing to run with guys who were on the same wavelength. Along with Marion, he and Stoudemire formed a trio that pounded opponents for 60 points and 20 rebounds night after night, and the Suns finished with 44 wins. Stephon averaged more than 22 points and 8 assists, and burned San Antonio for a team-record 26 points in one quarter. He also received his second All-Star bid.
The Spurs were fully aware of Stephon and the Suns when the playoffs started. Favored to win it all (which they did), San Antonio split the first four games of their first-round series with Phoenix, then ran the table in the next two. Still, the season was a success for Stephon, who earned Third Team All-NBA honors again and was finally being appreciated for the fine all-around player he had become. The same fans who booed him now cheered, and the Suns wrote him a new contract that locked him up through 2009.
With Stephon seemingly dribbling on solid ground for the first time in his life, the 2003-04 season held all kinds of promise. Still lacking a big man—a death sentence in the West—Phoenix tried to make do with Stoudemire and some warm bodies. When this strategy proved ineffective, the Suns fired coach Frank Johnson and replaced him with Mike D'Antoni. When this move failed to turn the season around, the Suns felt they had to dom something. Faced with a salary-cap crunch, Phoenix looked to dump Hardaway and were willing to package their most marketable player, Stephon, to the team that agreed to give them some relief.
As luck would have it, a familiar franchise came knocking 34 games into the season. The New York Knicks, the team Stephon had followed religiously as a kid—the team he vowed he would one day play for—had just hired Isiah Thomas as GM and he yearned for a clone of himself to build a winner around.For Stephon and Hardaway, New York sent five players and a couple of draft picks to the Suns, who sank slowly in the West.
The revamped Knicks became Stephon's team the moment he stepped on the Madison Square Garden court. Thomas continued to wheel and deal, building a team that he could mold into a playoff club. After Stephon's arrival, he hired Hall of Fame point guard Lenny Wilkens to coach the team, then added Moochie Norris, DeMarr Johnson, Tim Thomas, Nazr Mohammed and Vin Baker to a roster that already included scorer Allen Houston and tough guy Kurt Thomas.
New York turned around a depressing season and advanced to the playoffs with Stephon leading the way. He topped the NBA with 719 assists and was third in minutes played. He averaged just under 20 a game as a Knick but reached double digits in assists as often as not.
The Knicks entered the playoffs as the seventh seed in the East, which earned them a showdown with the Nets. The match-up between point guards, Kidd and Stephon, was highly anticipated. But New York was hurting heading into the series, particularly Houston, who missed the final six weeks of the regular season with a bum knee. Thomas added to the injury woes when a hard foul felled him with back spasms.
With two of New York's top weapons out, Stephon tried to carry the team on to the second round by himself. He finished the series averaging 43.5 minutes, 21.3 points, and 6.5 rebounds, but it wasn't nearly enough. Despite Stephon's efforts, the Knicks were swept in four games. Still, his hard work in the regular season and in New York's short-lived playoff run won him a spot on the Olympic basketball team.
Stephon joined Allen Iverson in Team USA's starting backcourt. To some, that was a problem. Both usually thought shot first, pass second, a philosophy that didn't always work in international basketball. But head coach Larry Brown didn't want Stephon to be a scoring threat. Instead, he was supposed to control the tempo and deliver the ball to teammates. Throttling his natural instinct seemed to handcuff him. Stephon ran the offense as instructed in America's preliminary games, but he didn't shoot well and the U.S. staggered to a 3-2 record.
Going into a matchup with Spain, Stephon was playing like the worst point guard in the Olympics. But he broke out with 31 points to spearhead a 102-94 victory. The first American to top 30 points at the Summer Games, Stephon revived the struggling U.S. squad and kept its hopes for the gold medal alive. But he couldn't carry the team by himself, and Team USA had to settle for the bronze. Stephon, who never fully adjusted to the international style of play, was one of the scapegoats for his team's disappointing performance.
Stephon returned to the States and began working out in Los Angeles for the 2004-05 season. Then disaster struck: a cousin was gunned down in New York close to where Stephon grew up. When he resumed training, he did so with a heavy heart.
The Knicks, meanwhile, were also gearing up for the upcoming campaign. Their biggest acquisition was Jamal Crawford from the Chicago Bulls, who was scheduled to come off the bench, until Houston's knee forced him to the sidelines again. So began another year of musical chairs for New York. With Thomas continually fiddling with the roster—and the coaching staff—the Knicks were among the league's most maddening teams. Tim Thomas was in and out of the starting lineup, Mohammed was dealt in a head-scratcher for Malik Rose, Michael Sweetney couldn't get consistent minutes despite adding a valuable presence in the paint, and Crawford was either very good or very bad. Wilkens was unceremoniously forced out halfway through the season, and replaced by former Knick Herb Williams. The club played better under their new coach, but not well enough to make playoffs. They finished the campaign at 33-49.
To his credit, Stephon showed flashes of true leadership throughout the disappointing season. Looking more like a point guard than a scorer, he shared the ball more often, worked harded on defense, and displayed confidence in teammates that had been lacking in the past. Double-doubles in points and assists became the norm for him—he posted 22 of them in all. Stephon was also more efficient fron the floor, improving his shooting from the field and the line, cutting down his turnovers and increasing his scoring to 21.7 ppg.
The upside to New York's poor campaign is the chance to rebuild with youth. The Knicks nabbed Channing Frye in the draft, and dealt Kurt Thomas to Phoenix for Quentin Richardson. Do fans in the Big Apple finally have something to get excited about at MSG? That remains to be seen. Chances are that Thomas will search for a big-name coach other than Williams. Maybe even he'll end up on the bench. In the meantime, one thing seems certain: "Starbury" will be the team's brightest light.
STEPHON THE PLAYER
Stephon's game couldn't be simpler on paper. Whenever he has the ball, he's looking to draw defenders, break down the defense, and create a scoring opportunity for a teammate. If opponents don't respond, he scores himself. Watching Stephon execute this strategy on the hardwood can be utterly mesmerizing.
On offense, there is no glaring weakness in Stephon's game. He can dribble and drive with either hand, he has lightning moves and explosive speed and leaping ability. A deft passer who gives the ball to teammates where they want it, he can also shoot off the dribble, bomb away from three-point range, or go fearlessly to the hole. Sometimes, however, shot selection is a problem.
An astute ball handler and reader of defenses, he can actually create open space for others just by gliding along the perimeter. Stephon is also a good on-the-ball defender.
Where he gets in trouble is when he tries to control a game and make it his alone. Yet what sets him apart from other guards is his ability to create something out of nothing without taking his team out of its rhythm. It's a fine line that he has learned to straddle with experience.
EXTRA
* To build up his leg strength as a teenager, Stephon often ran on the beach at Coney Island.
* Stephon posted the fifth-highest scoring total for an ACC freshman in 1995-96.
* Stephon was named to the NBA's All-Rookie squad in 1997.
* Stephon's cousin, Jamel, played for four NBA teams. He teamed with Stephon on the Nets in 2000-01.
* If his current numbers remain the same, Stephon will become the only player other than Oscar Robertson to average 20 points and 8 assists over the course of his NBA career.
* Stephon's father was a track star as a teenager. He did not care much for basketball. Thanks to his basketball progeny, Don Marbury's nickname in his old Brooklyn neighborhood is "The Creator."
* Ray Allen, the player for whom Stephon was traded on Draft Day, ended up playing the lead role in Spike Lee's "He Got Game"—a story loosely based on Stephon's rise from the Brooklyn projects.
* Stephon's ability to make plays and knock down jumpers is reminiscent of Nate Archibald, who once led the NBA in scoring and assists in the same season with the sub-.500 Kings in 1972-73.
* Right after Stephon committed to Georgia Tech, he urged Bobby Cremins to recruit Kevin Garnett, whom he had met at a basketball camp. Cremins declined because of Garnett's low test scores.
* Stephon is married to his college sweetheart, LaTasha. Their daughter's name is Xaviera.
Read more
Latest headlines