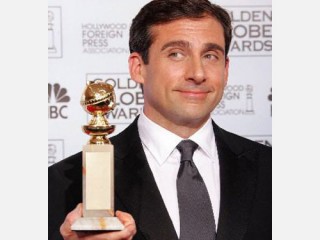 Steve Carell biography
Date of birth : 1963-08-16
Date of death : -
Birthplace : Concord, Massachusetts, USA
Nationality : American
Category : Arts and Entertainment
Last modified : 2010-10-26
Credited as : Actor and comedian, producer, The Daily Show
As a correspondent on the popular news show parody,
"The Daily Show"
(Comedy Central, 1999- ), comedic actor
Steve Carell
used his strange and often surreal deadpan humor to build a career that eventually spanned into high profile movies and television shows. After memorable supporting roles in "Bruce Almighty" (2004) and "Anchorman" (2004), Carell announced his arrival with a star-making turn in the sleeper hit comedy, "The 40-Year-Old Virgin" (2005). He made the jump back to television with his uncomfortably funny portrayal of the pushy, clueless boss, Michael Scott, on the American adaptation of the British hit comedy series, "The Office" (NBC, 2005- ) - a role he refused to abandon in light of his movie star status and which earned him critical accolades as well as award recognition. During his run on "The Office," Carell continued to star in big studio movies, including replacing Jim Carrey as the lead for the sequel, "Even Almighty" (2007), which saw his supporting character turned into a leading role. Meanwhile, he made the Don Adams character of Maxwell Smart his own in the big budget feature treatment of "Get Smart" (2008), confirming that Carell was one of the most versatile comedic actors working on either the big or small screen.
Steve John Carell was born Aug. 16, 1963 in Concord, MA. Carell was raised by his father, Edwin, an electrical engineer and his mother, Harriet, a psychiatric nurse. After graduating Middlesex School, he attended Dennison College where he formed a touring company that traveled the country improvising sketches. Carell also aspired to becoming a radio deejay and worked on-air for the college station WDUB, a.k.a. "The Doobie." He graduated in 1984 and tried to work as a letter carrier, but quit after only a couple of months. In 1991, Carell then moved to Chicago where he became a member of the famed Second City improv theatre. It was during his stint at Second City that Carell began to make strides - he met future wife, actress Nancy Walls, and future "Daily Show" cohort, Stephen Colbert. Though the foundation for his career was set, it would take years of hard work for Carell to make his name.
After appearing at the Goodman and Wisdom Bridge Theaters in Chicago, Carell made his film debut in "Curly Sue" (1991), a family comedy about a precocious nine-year-old girl (Alisan Porter) and a street-smart drifter (Jim Belushi) who try to scam their way into the good graces of a wealthy attorney (Kelly Lynch). He next appeared on "The Dana Carvey Show" (ABC, 1996), a sketch comedy show that was doomed from its very first episode, which aired a sketch showing President Bill Clinton (Carvey) breastfeeding puppies. The show lasted a month. Carell then found himself on another short-lived series, "Over the Top" (ABC, 1997), playing Yorgo Galfanikos, an annoying Greek chef. Starring Tim Curry as a newly-unemployed star of stage and screen, and Annie Potts as the women he was married to for seven days, the show lasted a solid three weeks before being suddenly pulled off the air, never to be seen again.
Carell landed a couple of guest-starring roles on "Just Shoot Me" (NBC, 1996-2003) and "Strangers With Candy" (Comedy Central, 1998-2001) before joining "The Daily Show" during its fourth season, thanks in part to fellow Second City alum, Stephen Colbert. Carell became one of several correspondents doing mock field pieces, while sometimes appearing in studio to serve as a so-called expert in whatever particular field the show needed for that episode. Though considered a comedy show - or fake news program, as dubbed by host John Stewart - "The Daily Show" was often credited by critics and fans for being more truthful than mainstream news. Aside from his correspondent pieces, Carell had regular segments that covered other topics apart from news and politics: Slimmin' Down with Steve; Ad Nauseum, which lampooned advertisers and their products; "Produce Pete," a spot where he gave humorous advice on produce while telling stories about his life's failures; and "Even Stev/phen," where he went one-on-one with Colbert in ridiculous, unproductive and confrontational arguments on issues of the day.
Though Carell remained an infrequent contributor to "The Daily Show," he had moved on to greener pastures by 2004. Making the transition from television to the big screen, he nearly stole the show from Jim Carrey - a rare, if not impossible feat - as the tongue-tied newscaster, Evan Baxter, in "Bruce Almighty" (2003), a broad comedy about a local Buffalo newscaster (Carrey) who - after cursing God for having a bad day - is challenged by the Almighty himself (Morgan Freeman) to use His powers to improve the world. Carell then had two features released in the same week during the summer of 2004: "Anchorman," in which he played a bizarrely off-kilter weatherman, and "Sleepover," where he played an overeager security guard. Carell's star continued to rise as he signed on to appear in several high profile projects: he was tapped to play Uncle Arthur in the adaptation of the popular 1960s television show, "Bewitched" (2005), giving an exquisitely Paul Lynde-esque performance, then had a minor role in Woody Allen's return to form, "Melinda and Melinda" (2005).
Going back to his days at Second City, Carell revived one of his favorite characters and collaborated with first-time director, Judd Apatow, to make "The 40 Year-Old Virgin" (2005), the rare broad comedy that had plenty of laughs, three-dimensional characters and a genuine heart. Carell played Andy Stitzer, an electronics store technician hiding his virginity, until his coworkers (Paul Rudd, Romany Malco and Seth Rogen) find out and try to help him have his first sexual experience. Carell - who also had a hand in improving much of the film's scenes and dialogue, including the infamous chest waxing scene - pulled off the difficult task of bringing his oft-cartoonish comedic gifts into play while still managing to develop a somewhat realistic and always sympathetic protagonist. Meanwhile, the film was a surprise summer hit, taking in over $100 million at the box office.
Thanks to "The 40 Year-Old Virgin," Carell was suddenly and surprisingly a star, which helped boost his other project at the time, "The Office" (NBC, 2005- ), an Americanized version of the wildly popular BBC series that depicted the wacky goings-on of a merchant paper company, Dunder Mifflin. Carell was hilarious as Michael Scott, an arrogant, sometimes spineless regional manager who believes his staff thinks of him as a friend first and boss second, as he routinely says offensive or inappropriate remarks to his employees, most of whom would rather he just leave them alone. Though the series was in jeopardy with the ratings after it emerged in March 2005, Carell's sudden stardom helped propel the show the following season. Eventually, "The Office" became a hit and began earning numerous awards and nominations, including a nod for Carell for Outstanding Lead Actor in a Comedy Series in 2006. Though he failed win an Emmy that year, he did receive a Golden Globe for Best Performance by an Actor in a Television Series - Musical or Comedy. Meanwhile, Carell earned more Emmy nominations for Outstanding Lead Actor in 2006, 2007 and 2008.
Back on the big screen, Carell voiced Hammy the Raccoon in Dreamworks' amusing animated feature, "Over the Hedge" (2006). He then had a quasi-serious turn as a gay, suicidal Proust scholar struggling to deal with a spurned love affair in "Little Miss Sunshine" (2006), a dark comedy with heart about a dysfunctional family and their quest to drive their youngest daughter (Abigail Breslin) 800 miles to a beauty pageant. In a strange turn only Hollywood could manage, Carell revived his character from "Bruce Almighty" to star in "Evan Almighty" (2007), turning his once-supporting role into a lead after Jim Carrey opted out of the sequel. This time around, God (Freeman) asks Evan to build an ark a la Noah in order to save the world from a second flood. He took a step back with "Dan in Real Life" (2007), a dramedy about a widower with three daughters whose strict rules for behavior are tested when he falls for the girlfriend (Juliette Binoche) of his younger brother (Dane Cook).
Carell then starred as Maxwell Smart in "Get Smart" (2008), a mildly received, but ultimately successful remake of the classic 1960s television show about a bumbling secret agent trying to save the world from the clutches of the evil crime syndicate KAOS. Back on the small screen, Carell earned his fourth straight Emmy Award nomination in the lead actor category for his work on "The Office." Back on the small screen, Carell earned his fourth straight Emmy Award nomination in the lead actor category for his work on "The Office." In the feature world, he had a rare animated gig when he voiced the Mayor of Who-ville in "Dr. Seuss' Horton Hears a Who!" (2008). While audiences eagerly awaited "Get Smart 2," Carell was on the precipice for further awards recognition when he was nominated for both a Golden Globe and a Screen Actors Guild award for "The Office" in late 2009.
Milestones
* 1991 Made his film debut in the John Hughes comedy Curly Sue
* 1996 Provided the voice of Gary, half of The Ambiguously Gay Duo the Robert Smigel-produced animated short which began airing on Saturday Night Live in 2007
* 1996 Received start in television as a writer and actor on The Dana Carvey Show (ABC)
* 2000 Joined The Daily Show (Comedy Central) with Jon Stewart as a Correspondent
* 2000 Cast in the short lived NBC series Watching Ellie, starring Julia Louis-Dreyfus.
* 2003 Starred as the obnoxious news anchor Evan Baxter in the hit comedy Bruce Almighty, directed by Tom Shadyac and starring Jim Carrey and Jennifer Aniston
* 2004 Cast Will Ferrell, as brain dead weatherman Brick Tamland in the comedy Anchorman: The Legend of Ron Burgundy written by Will Ferrell and Adam McKay
* 2005 Played the lead role of Michael Scott on The Office ; received Emmy (2006, 2007, 2008, 2009, 2010), Golden Globe (2006, 2007, 2008, 2009) and SAG (2006, 2007, 2008, 2009) nominations for Best Actor in a Comedy Series
* 2005 Cast as Uncle Arthur, opposite Nicole Kidman and Will Ferrell in Bewitched the remake of the classic 60s TV show
* 2005 Produced and starred in the comedy 40-Year-Old Virgin, which the actor co-wrote with writer/director Judd Apatow
* 2006 Co-starred in the ensemble road-trip comedy Little Miss Sunshine, as Toni Collette s brother, a gay, suicidal Proust scholar
* 2007 Co-starred with Dane Cook and Juliette Binoche in the romantic comedy Dan in Real Life
* 2007 Replaced Jim Carrey as the lead in Evan Almighty, the sequel to Bruce Almighty reprising his role as Evan Baxter
* 2008 Cast as Maxwell Smart in the Warner Bros. remake of the classic award winning series Get Smart
* 2008 Voiced The Mayor of Who-ville in the animated feature, Dr. Seuss Horton Hears a Who!
* 2010 Co-starred opposite Paul Rudd in the comedy Dinner for Schmucks
* 2010 Co-starred with Tina Fey, as a suburban couple whose date night turns disastrous, in the comedy Date Night
* 2010 Voiced the character of Gru in the animated film Despicable Me
* Began performing with the Second City comedy troupe in Chicago
* Nominated for the 2010 Primetime Emmy Award for Outstanding Lead Actor in Comedy Series
* Nominated for the 2010 Teen Choice Award for Choice TV Actor: Comedy
Read more
Latest headlines