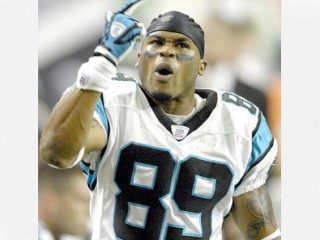 Steve Smith biography
Date of birth : 1979-05-12
Date of death : -
Birthplace : Los Angeles, California, U.S.
Nationality : American
Category : Sports
Last modified : 2010-08-23
Credited as : Football player NFL, Wide Receiver for the Carolina Panthers, plays in Super Bowl
GROWING UP
Stevonne Smith
was born May 12, 1979, in Los Angeles, California. Steve grew up as the lone child in a single-parent household. His mother, Florence Young, was drug counselor. She did not make much money, but she knew how to set an example for her son. She would take him to work, where he would be horrified by the addicts waiting to see her—and these were the people who wanted help! Florence talked openly about the drugs that had ruined their lives, and what decisions had led them down this path. Steve swore off drugs and alcohol before he even knew where to get them.
Not that they weren't available. The Athens Park section of South Los Angeles was better than other neighborhoods, but gangs and drugs were all around, and drive-by shootings were a constant danger. Once, Steve watched a boy gunned down at a bus stop. It was a case of mistaken identity, a life snuffed out for no reason. Even more alarming to Steve was how many people kept walking, as if nothing had happened.
Steve—who went by "Stevonne" until college—was not the biggest or strongest kid on the block, but he was usually the fastest. He had tremendous hand-eye coordination and a great pair of hands. Inevitably, he was drawn to football. Despite his diminutive stature, Steve dreamed of being a wide receiver in the NFL. On his way to and from school, he would fantasize about catching TD passes in front of packed stadiums. A long row of rose bushes on his street doubled as adoring fans and teammates—as he jogged past them he would high-five their leaves in a mock end zone celebration.
In Steve's world, the reality is that you often had to fight for what you wanted, or just to keep what you wanted. He was as quick with his fist as with his fists, and ended up in fights when challenged in football and basketball games. Still, he excelled on the gridiron for University High, playing tailback and defensive back.
Steve's dreams of NFL stardom didn't progress very far during his years at University. He was a very good player who put a charge into the team's games, but when he stopped growing (at a shade less than 5-9), he realized a pro career might not be in the cards. Still, he was intrigued by the pomp and glory of the NFL. When Steve was 14, he was invited with a group of other inner city teens to watch the Dallas Cowboys and Buffalo Bills play Super Bowl XXVII in the Rose Bowl. He had third-row seats in the end zone, and was excited by the sights and sounds of football's biggest game.
Like many athletically gifted young men, Steve received special treatment in school. His teachers let him slide a little on homework and tests, but he pushed the limits too far and soon found himself teetering on the precipice of academic ineligibility. Steve's mother stepped in and said there would be no football if he didn't get serious about school. He improved his performance as a senior, but his grades were so low that he didn't even see the point of taking the SATs. Between his size and poor classroom performance, he knew no college would want him.
That was not to say Steve did not want to continue playing football. He enrolled at Santa Monica College, Isaac Bruce's alma mater. To get to classes on time, Steve had to catch two buses and a train, often at 6:00 a.m. After practice, he worked at Taco Bell until 8:00 p.m. before making the long trek back home.
At Santa Monica, coach Robert Taylor converted Steve to receiver as soon as he reported to practice. The Corsairs had another wideout, Chad Johnson, who was long and lean and also bursting with talent. Taylor lined his two freshmen up on the same side, Johnson split and Steve in the slot.
Taylor also took Steve aside and explained what he was playing for. It was not for the glory of Santa Monica or the slim chance that he would one day be a pro. It was about earning a scholarship to a Division-I university, where he could keep playing football while getting a degree that would help him the rest of his life. Scant few adults had ever had Steve's best interests at heart. He trusted Taylor and decided to play hard for him—and go to classes. In two years he did not miss a single day.
Taylor also helped Steve control his anger. The football field had always been a place for the teenager to work out his frustrations. But after three fights in one week—with his own teammates—the coach benched him. He told Steve he would rather lose a game than lose him. He never had a problem after that.
Steve caught 29 balls in 1997 for 259 yards and two touchdowns. He garnered honorable mention on the All-Western State Conference South team. As a sophomore, he bolstered his numbers to 54 recpetions for 847 yards and 13 touchdowns, earning second-team all-conference honors.
Another highlight of his sophomore year was the arrival of a son, Peyton. He and his future wife, Angie, would have a second child, daughter Baylee, at the beginning of his rookie year with the Panthers, and later another son, Boston.
ON THE RISE
Steve's receiving work at Santa Monica came to the attention of several Division I coaches on the West Coast, including Ron McBride of Utah. He sent scout Fred Graves to look at him. Graves observed Steve working the register at Taco Bell and fell in love with his work ethic. He offered the 5-9 wideout a scholarship and he accepted. Steve began the year in spectacular form, running back punts and kickoffs and contributing mightily to the Utes' passing attack. He was the fastest player the school had had in years.
Leading the league in all-purpose yards, and already with 43 catches, Steve was on the way to a record-breaking season when he got nailed on a punt return in a game against Brigham Young. He continued to play even though he felt a weird sensation in his neck and shoulders
In the hospital after the game, doctors informed Steve that he had a broken neck. He had to wear a brace and halo for 10 weeks, and wondered whether he would ever step on the fieldagain. He was given odds of no better than 50-50. Fortunately, he made a full recovery. After the season, Steve was named first-team All-Mountain West as a return man and second-team as a receiver.
In 2000, Steve reeled in 35 catches for 753 yards with four TDs—three of which came on long bombs. Steve was honored as a first-team all-conference receiver. He finished his two years at Utah with 78 receptions and the school record for yards per catch with a 20.6 mark. He caught a dozen touchdown passes and also ran four punts back for scores.
After his final game for the Utes, Steve set his sights on a pro career. He accepted invitations to three all-star games and scored a touchdown in each, with long receptions in the Hula Bowl and Blue-Gray Game, and two TDs on shorter balls in the East-West Shrine Game. In the NFL combine, he ran the 40 in a blazing 4.35 seconds—among the fastest times among all the potential draftees.
Whoever drafted Steve knew they would be getting much more than a speedy little man. After his Hula Bowl TD, Steve climbed into the stands, grabbed an empty seat and sat briefly with his arms folded, as if watching his own scoring grab. The clip made all the highlight shows.
Steve lasted until the third round, when the anthers plucked him off the board to be a return man. Coach George Seifert planned to give him some back-up time at wideout, telling the press that in due time he could be a Santana Moss-like receiver. In the short run, it meant the team could replace Michael Bates, their Pro Bowl kick returner, who had signed with the Washington Redskins.
Steve spent the 2001 running back punts and kickoffs, and started one game at receiver. In the first game of the year against the Minnesota Vikings, Steve served notice on the league by returning the opening kick 93 yards for a touchdown. The fans loved the way he stiff-armed gargantuan tacklers and bounced up from each tackle. Almost immediately, kids in Carolina were spinning the ball on the ground after each play, just as Steve did.
Steve continued his inspired play all season, but did not get the opportunity at wideout he had hoped. Frustrated, he began to tell anyone who would listen that he deserved more time. Steve had no delusions about unseating top dog Muhsin Muhammad, but definitely felt he was a better player than Isaac Byrd. The fact of the matter was that Steve was not ready—he was still relying on his speed alone. His routes were sloppy and he dropped balls in practice.
Among the veterans who advised Steve to keep cool and bide his time was Wesley Walls. In his first five seasons, the tight end had fewer than a dozen grabs. In the next five, he averaged more than 50 per season. Steve decided to wait until his second year before making an all-out bid for a starting job. In the meantime, he averaged an NFC-best 25.6 yards per kick return and scored twice. He also returned one punt for a touchdown. Counting the yards on his 10 receptions, Steve amassed 1,994 combined yards—a Carolina record—leading all NFL rookies and finishing fourth in the league.
Steve had come to the club an unknown, and finished his first year as a fan favorite. He was also the only rookie selected for the Pro Bowl, and the only rookie to earn All-Pro honors after the season. It was one of the few highlights of an otherwise lost season for the Panthers, who went 1-15. The team's poor showing cost Seifert his job, and ushered in the John Fox era. Fox had been the New York Giants' defensive coordinator in 2000 when they went to the Super Bowl.
As training camp began for the 2002 season, the Panthers planned to expand Steve's role. The #3 wideout, Donald Hayes, had signed a free agent deal with the New England Patriots. Meanwhile, Carolina re-signed Bates after a productive year in Washington, hoping that they could work Steve into the wideout rotation in Hayes's place. When Bates suffered a season-ending injury, however, Fox had to re-examine his strategy. Confusing the situation further was the fact that Steve was making mind-blowing catches in practice every day, and had indeed become a superior receiver to Byrd.
When the campaign opened, Steve was a starting wideout and the primary return man on special teams. He ended up making 13 starts and catching 54 passses for 872 yards and three TDs. He returned 55 punts, scoring two touchdowns (in the same December game against the Cincinnati Bengals, including a spectacular 87-yarder).
Steve's receiving numbers showed that he was more than a safety valve for the Carolina passing attack. In fact, over time he became an important target. Indeed, among receivers with 50-plus receptions, Steve's 16.8 yards per catch ranked sixth in the NFL. The Panthers' defense, meanwhile, improved from 31st to second in the NFL thanks to rookie Julius Peppers, linebacker Dan Morgan, and interior linemen Mike Rucker and Kris Jenkins.
The only blemish on the team's season was an altercation between Steve and teammate Anthony Bright, a practice-squad receiver. They went at it during a November film session, and Steve punched his lights out. Bright pressed charges and sued Steve, who was suspended for a game by the team. The upside of the incident was that Steve toned down his act somewhat—starting a maturation process that would pay great dividends in the years to come. Nothing would accelerate that process more than the revelation in training camp the following summer that coach Sam Mills and linebacker Mark Fields were both fighting cancer. It really put things into perspective for Steve.
MAKING HIS MARK
Much was expected of the 2003 Panthers. They had one of the best defensive units in the NFC, and the offense—featuring newcomer Stephen Davis—had the ability to strike quickly even though it was the league's most conservative. Jake Delhomme was the big question mark. The former backup to Kurt Warner in the Arena League, he had gotten lost on the bench in New Orleans, but was still a well-regarded talent, especially when it came to marshalling a run-oriented team, which they instantly became with the acquisition of Davis. It remained to be seen how he and Steve would work together.
Fans would have the answer fast. Steve was a difference-maker from the season's first game, hooking up with Delhomme on a 24-yard TD pass, and making a spectacular 36-yard punt return late in the game to set up the winning score. A week later, he returned a punt 52 yards in overtime against the Tampa Bay Buccaneers, again putting Carolina in position for a W.
Steve's early-season breakthrough was accompanied by an ugly outburst when the Panthers refused to talk about a contract extension. When his agent told him that the team had characterized him as a "marginal receiver" during their talks that summer, he unleashed an obscenity-laced diatribe on the organization to a group of grateful reporters.
Delhomme held no grudge, however. As the season wore on, he looked Steve's way more often, especially when defenses were playing the pass. Steve not only had a knack for getting open, he was one of the best in the NFL at shaking the first tackler and tacking on another 10 or 15 yards. He finished the year with 88 catches and 1,100 receiving yards. Also returning 44 punts and 11 kickoffs, he amassed more than 1,900 total yards for the third year in a row.
Steve's contributions were magnified by the fact that Carolina won seven games by three points or less, and tied an NFL record with three overtime victories. In Week 15 against the Arizona Caridnals, Steve caught five passes on the game's final drive, which ended with a field goal by Jon Kasay with four seconds left. The 20-17 victory gave the Panthers their first division title since 1996.
Though finding the success he had long sought, Steve was still trying to get a handle on his emotions. A major turning point in this process was Carolina's game against the Houston Texans. Trailing 14-10, the Panthers were marching toward the winning score when Steve was tackled hard by Jerry Deloach. When he kicked Deloach in retaliation, he drew a flag that killed the drive and cost his team a victory. Had Steve kept his cool, the Panthers might have won that game, and earned a bye in the playoffs.
As it was, they needed to win three times to reach the Super Bowl. Carolina took on Dallas in the first round of the playoffs, and beat the Cowboys handily, 29-10. The Panther defense allowed only 10 first downs and forced a pair of turnovers. Steve set the tone early, turning a short pass into a 70-yard gain that led to a Kasay field goal. Kasay booted five in all that day, and Davis rolled up 104 clock-consuming yards.
A week later, the Panthers and Rams hooked up in St. Louis for one of the most exciting playoff games in history. The Carolina defense stalled several second-half drives by the Rams, forcing them to settle for field goals instead of touchdowns. With less than 30 seconds in the game and the Panthers up 23-20, the Rams opted to play it safe and kicked a short field goal instead of trying for a touchdown.
Neither team could score in the first overtime, with both Kasay and Jeff Wilkins missing field goal attempts. The teams switched ends after the first 15 minutes of OT elapsed. On the first play of the second overtime, Delhomme hit Steve on the fly at midfield and he accelerated through the seam for a 69-yard score that sent Carolina to the NFC Championship Game. The play Delhomme called was X-Clown, so named because Steve had screwed it up so many times in practice. He got it right this time, and the Panthers were one step closer to the big game.
In the title contest against the Eagles in Philly, Carolina's defense brutalized Donovan McNabb and made a second-quarter Delhomme-to-Muhammad TD strike hold up, winning 14-3. Steve drew an interference call in the end zone in the third quarter, giving the Panthers the ball on the one-yard-line. DeShaun Foster punched it in for the back-breaking TD.
It was the Cats versus the Pats in the Super Bowl, with the underdog Panthers looking to continue their magic against Tom Brady & New England. Carolina nearly pulled out the win. In a game billed as a gruesome defensive battle, it was the offenses that had their way, putting up 24 points in the second quarter alone. Steve scored his team's first points when he corralled a perfectly-lobbed pass by Delhomme in stride and jetted 39 yards down the left sideline. Still, New England led 14-10 at the half.
After a scoreless third quarter, the Patriots took a 21-10 lead early in the fourth, but Carolina came roaring back with two touchdown drives sandwiched around a clutch end zone interception of Brady by Reggie Howard. The Panthers failed to convert the two-point conversion after each of their scores, but still led 22-21 with less than seven minutes to go.
The Patriots responded quickly and scored, then tacked on a two-point conversion for a 29-22 lead. Incredibly, the Panthers marched down the field and scored with a minute left, kicking the extra point to tie the game 29-29. With Carolina confident about its chances to win again in overtime, the unthinkable happened—Kasay drilled his kick out of bounds and the ball was placed at the 40, Brady completed a long pass to Deion Branch, and Adam Vinatieri booted the game-winning field goal from 41 yards out.
Though the post-season ended with disappointment for Steve, he had nothing to be ashamed of. He led all receivers with 18 catches and 404 yards in the playoffs—244 of which came on crucial third down plays.
The Panthers looked solid heading into 2004, but injuries gutted the offense and the team lost seven of its first eight games. Steve broke his leg in the opener against Green Bay and watched the rest of the season from the sideline. Davis went down a week later with a bum knee, and it took more than a month for the offense to find its rhythm again. The Panthers did end the year on a high note, winning six of their final eight to finish at 7-9.
Once again, in 2005, the Panthers entered the season featuring a strong running attack. But when they needed big yards, Delhomme looked for Steve. It soon became clear that he had evolved as a receiver during his previous year on the sidelines. He studied and prepared so well for each game, and ran his patterns so precisely, that there was almost no reason to throw to anyone else. Indeed, Steve caught 103 passes in '05—just four fewer than the next four Carolina receivers combined. Basically, he was putting up Marvin Harrison numbers in a run-oriented offense. Steve was, in a word, unstoppable.
Fred Smoot of the Vikings learned this the hard way in an October match-up. After boasting that he would shut down Steve, he was absolutely torched, giving up 11 catches for 201 yards and getting flagged for four penalties. Steve had been limiting his post-catch performances, but this was too good an opportunity. After burning Smoot for a 69-yard catch that took Carolina to the Minnesota one-yard-line, Steve sat in the end zone and pretended to be rowing a rowboat.
In a December game against the Saints in Baton Rouge, Steve took the field with a case of gumbo-induced food poisoning. On Carolina's first possession, he took an end-around 20 yards for a touchdown. He then caught six balls on the day, including a couple of leaping grabs. After one reception, he spun away from two New Orleans tacklers and found the end zone.
The Panthers finished the season 11-5, and Steve ended up leading the NFL with his 100+ catches, 1,563 receiving yards, and 12 TD catches.—making him the first player since Sterling Sharpe in 1992 to win receiving's "Triple Crown."
The Panthers faced the Giants in the first round of the playoffs. The Carolina defense dominated and Steve scored a pair of touchdowns to spark a 23-0 win. Steve's first score came on a second-quarter pass from Delhomme. His second came on a spectacular end-around in the third quarter.
The following week, against the Chicago Bears, Steve was dominant again. He caught 12 passes for 218 yards and two touchdowns in an exciting 29-21 victory. Normally, when the Bears score three TDs, they get enough defense to win. But Steve was impossible to slow down. He scored on the game's second play, then scored the eventual winning touchdown in the third quarter. On the opposite sideline was Muhsin Muhammad, whom the Panthers had released after the 2004 campaign. Obviously, they made the right choice.
Carolina's run on the road ended in Seattle against the Seahawks. Delhomme threw two early interceptions, and the Panthers never recovered. Obviously angry, Steve could be seen screaming on the sidelines, demanding the offense get him the ball. But Seattle was prepared for him. The Seahawks often ran a linebacker out to jam him on the line of scrimmage. With both Foster and Davis on the sidelines with injuries, Seattle simply didn't care about Carolina's rushing attack.
Though often frustrated by his team's conservative offense, Steve may have found the perfect NFL home. The Panthers are a quiet, businesslike franchise that tries not to antagonize opponents or rock the boat. Steve is Carolina's lightning rod, the guy who stirs things up in the locker room, sparks his teammates in the huddle, and makes other teams sweat out every play.
Steve has said on many occasions that the thing he loves most about football is catching punts. He gets a rush when 11 guys are all trying to take his head off, feeling more in control than at any other time. Though he may now be too valuable a commodity for the Panthers to risk as a return guy ever again, Steve is being chased by ever more people. Indeed, as the most dynamic receiver in the league, everyone in the NFL has him in their sights.
STEVE THE PLAYER
The Steve Smith that came into the league in 2001 and the player wearing #89 today are two completely different people. He has learned how to channel the fire that nearly consumed him in his first couple of years, becoming more studious and dedicated to his craft. Steve has also toned down his act, picking the spots when being a loud-mouth actually helps the team.
In 2005, Steve finally put it all together. He took his innate speed, quickness and leaping ability, and blended it with precise route-running and an ability to separate from coverage at just the right time. This makes him even more dangerous after the catch—an area where he has always been sensational.
Steve is now one of the game's smartest, most observant receivers. He reads defenses as well as his quarterback, and he uses running calls to probe the secondary and see what they're tipping off. Also, he runs his routes like he is Delhomme's primary receiver, whether he is or not—probably because he'd be happy to get the ball on every snap. He never gives DBs a break.
EXTRA
* In 2001, Steve was the first rookie to make the Pro Bowl as a special teams player since Tyrone Hughes in 1993.
* Steve was the only player in 2001 to return a punt and kickoff for touchdowns.
* In 2002, Steve got into a war of words with fellow trash talker Warren Sapp of the Buccaneers.
* Carolina's 2003 acquisition of Ricky Proehl was a key in Steve's development. The veteran receiver shared some tricks of the trade in the route-running department.
* Steve's 404 post-season yards in the 2003 post-season were the most since Jerry Rice gained 409 yards in 1988.
* Steve signed a six-year $28 million contract extension with the Panthers prior to the 2004 season.
* In 2005, Steve became the first player since Washington's Art Monk in 1984 to lead the NFL in receptions for a team that ran more often than it passed.
* Steve and Jamal Lewis are the only players in history to run back tow punts for touchdowns and catch a TD pass in the same game.
* Among Steve's tattoos are Papa Smurf, a Superman S, the Tasmanian Devil, the words "Rough and Nasty" and "100% Fool", and Chinese letters that translate as "Strong Soul." He also has the names of his wife and children tattooed on his leg.
* Steve and his wife support the Posey Foundation, a charity named in memory of junior college teammate and friend Demetrius Posey.
* Steve heads a program that throws pizza parties for Charlotte-area kids who bring home good grades.
* One of Steve's favorite TV shows as a kid was I Love Lucy. He did not get a color television until he was a teenager, and was surprised to see that the program was black and white.
* Steve coaches his son Peyton's youth soccer team.
Read more
Latest headlines