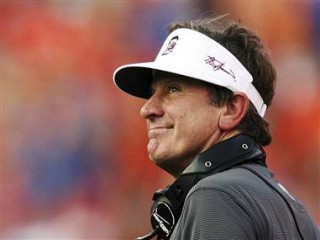 Steve Spurrier biography
Date of birth : 1945-04-20
Date of death : -
Birthplace : Miami Beach, Florida, U.S.
Nationality : American
Category : Sports
Last modified : 2010-08-23
Credited as : Football coach NFL and former player, running back for the Bulldogs and Washington Redskins, coacher of the Washington Redskins
GROWING UP
Steven Orr Spurrier
was born on April 20, 1945, in Miami Beach, Florida. He was the third of three kids born to John Graham and Marjorie Spurrier, who met in 1938 in Charlotte, North Carolina, and married two years later. Steve's father was a Presbyterian minister. He moved the family frequently when the children were little, in search of greener pastures and bigger congregations.
Steve's older brother, John Graham III, arrived in 1942 in Eudora, Arkansas. His sister, Sara Kathleen, came two years later in St. Albans, West Virginia. In 1947, the Spurriers packed their bags and headed north from Miami to Athens, Tennessee. There Steve began to develop as an athlete. He was one of those kids who was automatically great at anything he tried.
Football was a particular favorite. When Steve and John weren't playing the game, they were often watching it. The Spurrier boys liked to hang around football practice at nearby Tennessee Wesleyan College. Steve became such a fixture during workouts that the Bulldogs eventually made him the team mascot.
Tennessee Wesleyan, a junior college, was a pipeline for major college football programs. Steve's idol was Charlie Justice. "Choo Choo" got his start as a running back for the
Bulldogs
, then starred for North Carolina before playing in the NFL for the
Washington Redskins
. Steve was able to get Redskins games on the radio, and became a big fan of the team.
Before Steve reached his teens, the Spurriers moved again—this time about 200 miles northwest to Johnson City, Tennessee, which had a population of around 50,000. Steve became a legend there. In fact, the varsity football and soccer field at Science Hill High School is named after him. Johnson City is also where Steve, then a caddy at a local country club, discovered his passion for golf. Caddy day came each Thursday morning. This is where he began shaving his handicap down to single digits, where it remains today.
Steve's parents, particularly his father, encouraged him to excel in athletics. When John Graham wasn't preaching from the pulpit, he was preaching winning at all costs on the baseball diamond. Legend has it that the elder Spurrier only ever missed games his sons played on Sundays. He coached Steve's Little League and Babe Ruth teams, and once asked a group of youngsters whether they believed the old saying, "It's not whether you win or lose, but how you play the game." Those who raised their hands in agreement were admonished by reverend Spurrier.
At Science Hill High School, Steve blossomed into an All-State baseball, basketball and football player. He was at his most dominant as a pitcher. He led the Hilltoppers to two straight Tennessee titles, and didn't lose a single game during his last three seasons. On the football field, Steve had a knack for orchestrating dramatic comebacks. When he was named a prep All-American as a senior in 1962, he became the object of an intense recruiting war. With his heart set on playing quarterback, he narrowed his choices down to Tennessee, Alabama, and Florida. Surprisingly, Ray Graves, the head coach of the Gators, had the inside track. Tennessee ran the single wing—an offense of little interest to Steve—while the Crimson Tide already had two talented quarterbacks, Joe Namath and Steve Sloan.
Graves had originally learned about the Johnson City hotshot from his brother, Edwin, a postmaster in Tennessee. The Florida coach assured Steve that the team's starting quarterback job could be his by his sophomore year (freshmen were still varsity-ineligible in the 60s). That's all the teenager needed to hear. He left for Gainesville in 1963.
Florida was anything but a powerhouse. However, since taking over the Gators in 1960 from Bob Woodruff, Graves had begun to alter the way potential recruits perceived the program. For most of Florida's history, the school was viewed as long on talent, but short on heart. Under Graves—who played three years at Tennessee for General Nyland and cut his teeth coaching at the shoulder of Bobby Dodd at Georgia Tech—the Gators were gaining respect. He felt Steve was the player who could take Florida to the next level.
Steve fit in on the team well—maybe too well. Florida football players had the reputation as party animals, and he was no exception. Steve majored in Physical Education, but only worked hard enough to get C's. His girlfriend, Jeri Starr, whom he married in September of his senior year, used to joke that if Steve wasn't playing sports, he was "playing around." Jeri, a niece of former Penn State coach Rip Engle, remains his wife today.
The first sign that Steve was a special player came in 1964, during the second game of his sophomore season. With the Gators trailing 13-3 late in the fourth quarter at Mississippi State, Graves inserted him into the game for starter Bruce Bennett, and he rallied the team to a thrilling 16-13 victory. With Steve at the helm, Florida went on to a 7-3 record. The team relied heavily on senior running back Larry Dupree, who posted his third stellar season in a row.
Steve and the Gators enjoyed another big year in 1965. Again he guided Florida to several come-from-behind wins, including a 14-10 thriller over Georgia. In that one, Steve led the Gators back from a three-point deficit with four minutes remaining. He also victimized arch rival Florida State with late-game heroics in a 30-17 victory. Steve nearly pulled off another miracle in the season-ending Sugar Bowl against Missouri. The Tigers cruised into the fourth quarter period up by a comfortable 20-0 margin, when Steve heated up and engineered three scoring drives in eight minutes. On the final march, he crossed up Missouri by throwing to tight end Barry Brown underneath the coverage. When the Tigers adjusted, Steve went deep to All-American Charles Casey for a 21-yard touchdown strike. Though the Gators lost 20-18, all the talk after the game was about their sensational quarterback. Steve's performance in the Sugar Bowl taught opponents to expect the unexpected when he was calling the shots. Years later, this would form the groundwork for his coaching strategy.
As the 1966 season got under way, Steve was a leading candidate for the Heisman Trophy. Others in the hunt included Bob Griese of Purdue, Nick Eddy of Notre Dame, Gary Beban of UCLA, and Floyd Little of Syracuse. The Florida signal caller gained the inside track on the award with an unwitting assist from Auburn coach Shug Jordan and his thick Southern drawl. Jordan had difficulty pronouncing "Spurrier," and his garbled version sounded like "Superior." The media jumped on the malapropism, and soon Steve was known nationwide as "Steve Superior." The nickname was tailor-made for a Heisman hopeful.
Support for Steve grew as the season progressed. Florida won its first seven games, a feat it had not accomplished since 1928. Going into a crucial contest against Georgia,the Gators were ranked in the Top 10 and in line to capture their first SEC title. But coach Vince Dooley revamped his defensive strategy, and the Bulldogs battered Steve on their way to a 27-10 blowout. The loss by Florida enabled Alabama to take the conference championship.
Florida managed to end the season on a high note, rolling over Georgia Tech in the Orange Bowl, 27-12. By then Steve had already claimed the Heisman Trophy in a landslide. In the eyes of most voters, he wrapped up the award during the last weekend of October, when he booted a clutch field goal (the fourth of his college career) to give the Gators a last-second 30-27 win over Auburn.
ON THE RISE
Despite Steve's magical college career, in the minds of many NFL talent evaluators, there was something "missing." Some questioned his attitude. He often appeared cocky and aloof. His mechanics raised eyebrows, too. Steve delivered the ball from every angle, except over the top, and his release was a bit slow. No one was predicting greatness, but few doubted that he would one day become a competent pro passer.
In the months before the pro draft, it looked like the Giants would take Steve with the first overall pick. New York was in need of a quarterback who could become a starter quickly. Coach Allie Sherman believed the Heisman Trophy winner could get the job done, but when Fran Tarkenton of the Minnesota Vikings became available, the Giants traded their pick for him instead. In a pre-draft move, the Vikings flip-flopped picks with the Baltimore Colts, who then selected Bubba Smith of Michigan State. Instead of taking Steve with their pick, the Vikings tabbed Smith's teammate, running back Clint Jones. The San Francisco 49ers chose next, and they took Steve.
This was not good news, for the team already had an excellent starter in John Brodie, and a good backup in George Mira. Steve had originally thought that he would be selected in the American Football League draft, too, and anticipated a bidding war that would have made him a wealthy man. But the NFL and AFL merged that year, and he lost all his leverage.
Steve got his first taste of the pro game that August, in the annual College All-Star Game, which matched a team of top collegians against the NFL champion—in this case the Green Bay Packers. Steve found himself in the center of a swarm of green-and-yellow jerseys, and misfired on his first six attempts. When the smoke cleared the All-Stars were the victims of a 27-0 whitewash.
Steve's performance turned out to be a harbinger of a long but disappointing NFL career. He spent nine years in San Francisco, most of the time watching Brodie from the bench. In his first couple of years, he simply wasn't ready for the speed of the pro game, and 49ers head coach Dick Nolan wasn't particularly impressed with his work ethic. In spot duty in 1967, the rookie attempted 50 passes, seven of which were intercepted. In 1968, Steve barely took any snaps. In fact, he was most valuable to San Francisco as a punter. In those days, teams hated to waste a roster spot on more than one kicker. Steve punted 141 times in 1967 and 1968, averaging just under 39 yards per boot.
Steve saw his first significant action in 1969. Injuries ravaged San Francisco's defense, and the team got off to a miserable start, losing its first five games. The 49ers played better over the second half of the year, a resurgence keyed in part by Steve, who was subbing for a banged-up Brodie. In six games, he threw for 926 yards and five touchdowns. His 11 interceptions, however, proved he still had a lot to learn. Steve became increasingly frustrated over the next two seasons, when he was used sparingly. Though the front office believed in him, Nolan didn't.
In 1972, the coach had no choice but to give Steve the ball when Brodie went down with an injury five games into the campaign. San Francisco's run of two straight NFC Western Division titles was in jeopardy, but Steve rallied the 49ers, guiding them to a record 5-2-1 in eight games. During that span he tossed 18 touchdown passes, and brought the 49ers to within a victory of the division title. In the season's final game, against the Vikings, Steve could not move the team. Nolan replaced him in the fourth quarter, sending Brodie back in. He threw for two scores, and sparked al 20-17 victory. The writing was on the wall: Brodie was Nolan's guy. It meant yet another year as a backup.
Steve finally was handed the starting job after Brodie retired. Unfortunately, he was injured a week before the 1974 season opened, and sat out virtually the entire schedule. The following year San Francisco signed Norm Snead, and Nolan opted for the veteran newcomer. The team stagnated, however, and Steve was able to convince the coach to let him start. He responded with 290 yards and three touchdowns in a rousing upset of the Rams. As it turned out, that was Steve's last highlight with San Francisco. He was in and out of the lineup the rest of the way.
Steve's career was at a crossroads in the spring of 1976. Enter the Tampa Bay Buccaneers, one of two expansion franchises set to enter the league in the fall. Coach John McKay, the former head man at Southern Cal, was piecing together a patchwork collection of over-the-hill veterans and inexperienced rookies. McKay happened to be in the stands the day Steve torched the Rams, and the wheels began to turn. Bringing the former Gator back to Florida had all the makings of a fairy tale finish for the former Heisman hero. It also promised to put fans in the stands. On April 2, Tampa Bay sent receiver Willie McGee, linebacker Bruce Elia, and a second-round pick to the 49ers for Steve.
Things opened on a promising note in the preseason, as he totaled 244 yards passing and two touchdowns in the team's first exhibition game. Though the Bucs lost 28-21 to the Dolphins, the 71,718 on hand in Tampa Stadium felt reason for optimism. But hope quickly faded when Tampa Bay was shut out in its first two games of the regular season. Steve went a combined 11 for 31 in those contests, and began to hear it from fans. The Buccaneers didn't record their first touchdown until two weeks later, in a 42-17 drubbing at home by Baltimore—and that score came after Steve had been yanked. To his credit, McKay tried to protect his quarterback, hoping the hometown crowd would realize that Tampa Bay was short on talent everywhere. But the fans showed no mercy. Every time Steve took the field, he was showered with boos.
History has since shown that nothing could have saved the woeful Bucs in 1976. They were so bad that their fans began a "Go for 0" campaign, rooting for the club to end the season without a win. Tampa Bay obliged. The club finished 0-14, getting outscored 412 to 125. The quick-witted McKay, appearing more often like a stand-up comedian than a head coach, entertained writers after every loss with his take on the team. When asked how he felt about his players' execution after a particularly sloppy loss, he replied, "I'm all for it."
Alas, there were few laughs for Steve in Tampa Bay. The Bucs released him after the campaign, after which he signed with Denver. But the Broncos cut him before the 1977 regular season. After failing to catch on with another NFL team, Steve decided to retire.
His playing days over, Steve was hired as quarterbacks coach at his alma mater in 1978, but was let go after one season because head coach Charley Pell didn't think he put in enough hours. A year later Steve joined Bill Curry's staff at Georgia Tech as offensive coordinator and quarterbacks coach. After a tough year, Curry cut his entire staff loose.
Steve didn't stay unemployed for long. Red Wilson, the second-year head coach at Duke, was looking to energize the Blue Devils. He liked Steve's aggressive style, and offered him the job of offensive coordinator. The 35-year-old-opened his career in Durham with a double-reverse pass on his first play from scrimmage.
The undermanned Blue Devils struggled to keep their heads above water during the next three years, but not for a lack of offense. Steve installed his "Air Ball" attack, a multifaceted offense that mixed the run and pass. He inserted freshman Ben Bennett as his starting quarterback, transforming him into an All-American and bona fide pro prospect. Bennett graduated from Duke in 1984 with the NCAA mark for career passing yards (9,614) and a school-record 55 touchdowns.
Steve wasn't around for Bennett's last year with Blue Devils, having moved on to coach in the United States Football League. The brainchild of David Dixon, a New Orleans art and antique dealer, the USFL announced its formation in May of 1982. The 12-team league hoped to challenge the NFL by playing its games in the spring. The USFL stationed two franchises in Florida, the Tampa Bay Bandits and Orlando Renegades. John F. Bassett, the colorful owner of the Bandits, was determined to put on a good show. Among his first moves was signing Steve as the team's head coach for the league's inaugural 1983 season.
Steve thrived in his new role. Despite dubious talent, Tampa Bay went 11-7 in the spring of '83, and just missed the playoffs. Florida graduate John Reaves started the year at quarterback. When he went down with a wrist injury, Jimmy Jordan stepped in. Regardless of who took the snaps, Steve's high-flying "Bandit Ball" was nearly unstoppable. Tampa Bay topped the league with 4,580 yards passing and added 26 touchdowns through the air. Wideout Danny Buggs finished second in the league with 76 catches for 1,146 yards, while Eric Truvillion caught 66 passes for 1,080 yards.
In 1984, with more and more NFL-caliber players jumping to the new league, the Bandits signed running back Gary Anderson out of Arkansas. With a more balanced offense, Tampa Bay finished at 14-4, averaging 26.2 points and 378.6 yards a game. Anderson ran for 1,008 yards and 19 touchdowns, and caught 66 passes for 682 yards. Healthy for the entire campaign, Reaves threw for 4,092 yards and 28 scores. His favorite targets were Truvillion (70 receptions for 1,044 yards) and tight end Marvin Harvey (70 receptions for 938 yards). The Bandits advanced to the playoffs, but shot themselves in the foot against the Birmingham Stallions in the first round, falling 36-17.
Plagued by falling attendance, spiraling salaries, and indecisive management, the USFL needed a shot in the arm heading into the 1985 season. Most of the league's owners felt their best chance for survival was to play out the current campaign, then switch to the fall and compete directly with the NFL in 1986. Bassett was totally opposed to the idea, certain the proposed plan was suicide. He threatened to secede from the USFL, and start his own league.
Tamp Bay's players fully supported Bassett, especially after they learned he was suffering from brain cancer. The Bandits dedicated their 1985 campaign to him, and overcame a slew of injuries to make the playoffs. Anderson enjoyed another big year with 1,207 yards and 16 TDs rushing. He also topped the squad with 72 receptions, while Reaves passed for 4,193 yards and 25 TDs. Tampa Bay snuck into the playoffs at 10-8, but the club's drive for a title was derailed by a 30-27 defeat to the Oakland Invaders. Twelve months later, after winning its antitrust lawsuit against the NFL, the USFL folded when damages of just $1 were awarded.
Out of a job, Steve eventually returned to Duke. In the years since his departure, the Blue Devils had limped to a combined record of 13-30-1 under coach Steve Sloan. Steve took the reigns in 1987, and the team's fortunes rapidly improved. Again he molded marginal talent into a lethal aerial attack. Clarkston Hines benefited as much as anyone from Steve's coaching, finishing his career as the school's al-time leading receiver with 189 catches for 3,318 yards.
In 1988, quarterback Anthony Dilweg set a new mark at Duke with 3,824 yards passing. A year later, quarterback Dave Brown and Hines developed into one of the nation's most dangerous passing combinations. Along the way, the Blue Devils captured a share of the ACC title, their first league championship in 27 years.
MAKING HIS MARK
By the end of the 1989 college football season, supporters of the University of Florida football program were growing restless with coach Galen Hall. After taking over the team early in the 1984 campaign, he had produced back-to-back campaigns of 9-1-1. But the Gators faltered during the next several years, and Hall was fired five games into 1989. Though interim coach Gary Darnell guided Florida to an appearance in the Freedom Bowl, the search for a permanent replacement began when the season ended. Coming off his second year in a row as ACC Coach of the Year, Steve got the job.
He inherited an experienced team stacked on defense, led by stars Huey Richardson and Richard Fain. However, Emmitt Smith's departure for the pros after his junior year left Steve with little to work with on offense. He went with sophomore Shane Matthews at quarterback, and rotated Willie McClendon and Errict Rhett in the backfield. Steve's first victory as the Florida coach came in early September, a 50-7 blowout of Oklahoma State. The Gators won eight more games during the 1990 regular season to finish 9-2. But no bowl invitations arrived. Because of NCAA violations under Hall's watch, Florida was ineligible for post-season play.
Gator fans were optimistic heading into 1991. Steve's "pitch and catch" offense had rung up an average of more than 450 yards and 35 points per game the year before. Matthews proved he could handle his coach's in-your-face approach, and McClendon and Rhett both returned. Defensively, Brad Culpepper and Mike Brandon anchored a strong front seven. Florida got off to a good start, and clinched their first SEC title in school history when they beat Kentucky 35-28 in mid-November. Two weeks later the Gators made their season by beating Florida State, 14-9. While the year concluded with Steve flinging clipboards as Jerome Bettis and the Fighting Irish ran over the Gators 39-28 in the Sugar Bowl, the Florida program had turned the corner.
Steve felt the Gators might be ready to challenge for more than just an SEC title in 1992. Matthews, now a senior, was being mentioned as a Heisman Trophy candidate, while Rhett had blossomed into one of the nation's most productive backs. The defense, ranked 20th in the country in 1991, returned seven starters. An early loss to Tennessee, however, took the wind of out Florida's sails. When the Gators got manhandled by Mississippi State a week later, Steve had to restore his team's confidence. Florida rebounded nicely and advanced to the first Championship Game in SEC history, but lost to an opportunistic Alabama squad, 28-21. Steve's troops managed to finish the year on a positive note with an impressive 27-10 win over North Carolina State in the Gator Bowl.
Steve had a tough choice at quarterback in 1993 between junior Terry Dean and freshman Danny Wuerffel. By now, it was common knowledge that playing the position at Florida required a special makeup. Steve ranted and raved on the sidelines, and didn't tolerate mistakes. Though Wuerffel wasn't as physically gifted as Dean, he processed the complexities of the offense better, and never seemed rattled by his coach's outbursts.
Steve took some of the pressure off his quarterbacks by building the 1993 offense around Rhett. Meanwhile, the defense, led by junior Kevin Carter, matured into a ferocious unit. Florida dropped just two games—a heartbreaking 38-35 defeat at Auburn and a loss to Florida State. But a big win over Tennessee and a pair of blowouts (including a 58-3 victory over LSU) helped the Gators reach the SEC Championship Game again. Facing Alabama for the second year in a row, Florida took care of business in a 28-13 win. In the Sugar Bowl, the Gators blitzed West Virginia, 41-7.
In 1994, Steve and the Gators were installed as the preseason #1 by many publications. The defense returned eight starters, Wuerffel was a year wiser, and Willie Jackson headlined a dangerous group of receivers. Florida opened the campaign with a pair of 70-point performances. The team was 5-0 going into a home tilt with Auburn, but gave the game away on a questionable pass play called by Steve late in the fourth quarter, which resulted in an interception. The Gators suffered more disappointment in November, settling for a 31-31 tie with Florida State after leading by four touchdowns. Somehow, Florida recovered to win its second straight SEC crown. That earned the team a berth in the Sugar Bowl, and a second shot at the Seminoles. Again the Gators came up short, losing 23-17.
The sting of Florida's late-season collapse stayed with Steve into the fall of 1995. He whipped his squad into a frenzy in August, then let them loose during the regular season. The Gators stormed through the first two months of the campaign. Wuerffel was putting up record numbers, while sophomore backs Fred Taylor and Elijah Williams were both on pace to surpass 1,000 yards. On defense, Florida didn't boast any major stars, but the unit was fast and hard-hitting. Going into their annual contest against Florida State, the Gators were 11-0, having won their last three games by a combined score of 153 to 31. This time around, Steve got the best of Bobby Bowden, as Florida posted an impressive 35-24 victory over the Seminoles. That set up a showdown with Nebraska in the Fiesta Bowl for the national title. The Gators never knew what hit them. Outhustled and outcoached, they were destroyed, 62-24.
Most experts thought the Gators wouldn't recover from their humiliating Fiesta Bowl loss. Steve was determined to prove his detractors wrong. He hired Bob Stoops away from Kansas State to run the defense. Stoops had gained a reputation as a mastermind after turning the Wildcats into a perennial Big 12 contender with his attacking style.
Even after the Gators beat Peyton Manning and Tennessee on the road and jumped to No. 1 early in the 1996 campaign, questions about the team persisted. Wuerffel didn't look sharp, and Florida tended to get complacent once it grabbed a lead. Steve saw things differently. Stoops had instilled a new attitude on defense. If Florida needed a stop in a crucial situation, the team was confident it could produce. In turn, the offense felt less pressure.
By the last weekend of November, the Gators were 9-0 and in control of their destiny. A victory over Florida State would all but guarantee another shot at the national title. When the Seminoles administered an unexpected beating, however, it appeared Florida's hopes were shattered. But fate smiled on the team. Thanks to key losses by several schools still in contention, the Gators received new life with a bid to the Sugar Bowl against Florida State to decide the national championship. This time Steve was ready. He befuddled Bowden by using a silent snap count and installing the shotgun. The Seminoles never adjusted, and Florida cruised to a 52-20 victory—and the school's first national title.
The 1996 championship proved to be the highlight of Steve's college coaching career. Over the next four seasons, the team was often in position to reclaim the title, but failed every time. A loss to LSU in 1997 dropped the Gators from the top ranking in the polls, and for the first time in five years they didn't capture the SEC crown. In 1998 Florida was victimized by poor field-goal kicking and inconsistent play at quarterback. The team finished 10-2, but slipped out of serious contention when Collins Cooper missed a 32-yard attempt in overtime in a 20-17 defeat to Tennessee. Steve was frustrated all year long by quarterbacks Doug Johnson and Jesse Palmer. For a while, he had them run in the plays from snap to snap, though he eventually ditched that strategy and stuck with Palmer.
Not surprisingly, there were plenty of people around college football basking in Florida's "struggles." Steve was regarded by many as a bully who wouldn't hesitate to run up the score. In 1999, the Gators were 9-0 before falling to Florida State. That defeat was followed by losses to Alabama in the SEC Championship Game and Michigan State in the Florida Citrus Bowl. The stretch marked Steve's first three-game losing streak since coming to Gainesville. The following year the Gators dropped to 9-4. The good news, however, was that the 2001 squad was looking great.
Florida opened the 2001 campaign #1 in the polls. It was clear as the season progressed that the pressure was getting to Steve. He became increasingly suspicious of the media, and snapped at the program's boosters.
The Gators battled neck-and-neck with Miami to hold on to the top ranking. A 23-20 loss at Auburn in October knocked them from that spot. Yet, come the SEC Championship Game in December, Florida was still in contention for the national title. When the team was beaten 34-32 by Tennessee, however, it was eliminated from the championship picture.
Steve's last game as coach of Florida was the Orange Bowl, a 56-23 thrashing of Maryland. Two days later he resigned, and the rumors began to swirl about his next destination. He was mentioned as a replacement for Tony Dungy in Tampa and Marty Schottenheimer in Washington. Redskins owner Daniel Snyder was his most aggressive suitor. On January 15, 2002, he announced that Steve had signed a five-year, $25 million contract.
The consensus seems to be that Steve will have a brilliant, but short career in the NFL. That said, he struggled through a tough season in 2002. He made a shrewd move before the campaign by naming Marvin Lewis his defensive coordinator. It has always been Steve's philosophy to concentrate all his efforts on offense, and Lewis allowed him to do this without any worries. In fact, Washington's defense was the team's greatest strength. Outside from a handful of letdowns, Lewis's unit played well.
Actually, most of the club's problems arose on offense, where Steve engaged in a season-long game of musical quarterbacks. A pair of familiar faces from Florida, Shane Matthews and Danny Wuerffel, saw a lot of action early in the year. Even though he had a talented rookie in Patrick Ramsey, Steve preferred to go with a signal caller who knew his system. To no one's surprise, however, neither Matthews nor Wuerffel was able to do the job when he landed on the hot seat. That opened more opportunities for Ramsey, who showed some promise by season's end. He led the Redskins to victories in their last two games, as the club finished 7-9.
Steve received a fair amount of criticism for the way handled his quarterbacks, but it didn't compare with the lambasting he took for his use of Stephen Davis. A Pro Bowl running back who had averaged more than 1,300 yards over his past three seasons, Davis had his worst year since becoming the team's featured rusher in 1999. More than once he complained of his lack of work, and the media agreed, questioning why Steve seemed to purposefully ignore arguably his top offensive threat. In the last couple of weeks of the campaign, rookie Ladell Betts got more carries, further fanning the flames of controversy. Interestingly, the usually boisterous Snyder remained surprisingly quiet about the situation.
Of course, no one should have been shocked by Steve's headstrong tactics in 2002. He had always done things his way, and his first season in the NFL was no exception. Did he learn that that he needed to spend more time in his office and less on the golf course? Perhaps, but Steve was still determined to prove that his coaching style could be successful anywhere.
Of course, the '03 campaign showed that might not be the case. Over the summer, Snyder opened his wallet, adding several free agents who fit Steve's system. Receiver Laveranues Coles was the most notable addition, while another ex-New York Jet, Chad Morton, also figured to excel in Washington's wide open attack. On defense, the major change was the loss of Marvin Lewis, who took the head coaching job in Cincinnati. In his place, the Redksins installed George Edwards as defensive coordinator. For Steve, who purposefully kept his involvement in the defense to a minimum, the hiring of Edwards was hardly the biggest news of the offseason.
The year began optimistically enough, as Washington won three of its first four. Coles instantly developed chemistry with Ramsey, who was progressing quickly under Steve. Behind the steady play of LaVar Arrington and Champ Bailey, meanwhile, the defense was stopping opponents when it had to.
But the season unraveled when the team was hit by several key injuries on offense. Ramsey was getting battered regularly, and halfback Trung Canidate—brought in when Davis was allowed to walk away via free agency—couldn't handle the rigors of being an every-down back. Steve's passing system was blamed for many of the problems. Because Washington rarely established a consistent running game, enemy defenses were able to blitz at will. Steve was eventually forced to go with journeyman Tim Hasselbeck at quarterback, and the Redskins limped home at 5-11.
That's when things really got weird in Washington. Rumors swirled that Steve wanted out of the NFL, though he denied them at every turn. Ultimately, however, the reports were true. Steve's resignation was negotiated with Snyder, and the official announncement came on December 30.
Steve laid low for nearly a year, until his name began surfacing for several high-profile college jobs, including in his old stomping grounds of Tallahassee. But he fooled many by side-stepping the Gators in favor of the South Carolina Gamecocks. When venerable coach Lou Holtz decided to call it quits, the school found a more than suitable replacement in Steve. Two decades after energizing Duke's moribund football program, he's looking to do the same in SC, where the conditions are perfrect for him: warm, with plenty of golf courses nearby, not to mention a seven-year deal at $1.25 million per.
So what's the final judgment on Steve? Is he a classic playground bully or a shrewd, iron-willed gamesman? The answer is a little of both, which probably explains why he is disliked by so many people.
His inner compass was set decades ago, first as the child of an unrelenting father, then in his teens and early twenties, when he met with nothing but success and unbridled adulation. Next came a decade of disappointment and frustration, during which Steve discovered the hard way that when you get an opponent down, it's better to trample him than to offer a hand up. His bluster came with the success he finally found on the sidelines.
Yet clearly there is a method to his madness. Steve likes being the center of attention, but not as a matter of pure ego. By drawing the ire of fans and newspaper pundits, he deflects criticism from his players and assistants. Is it also a means of controlling his world? That might be so. But that does not make him the control freak he is made out to be. Ask his defensive coordinators. Over the years, he has rarely stuck his nose in their business.
What, ultimately, does Steve crave? There is little doubt he would die a happy man if he were mentioned in the same breath as football's great offensive innovators. Far more important, though, is his thirst for victory. Despite a career of ups and downs and controversy, he has always been a winner. Losing on football's biggest stage—in the NFL—will bother him for a long time. So don't be surprised to see Steve re-emerge as a major force in college football. He would like to be remembered as a coaching legend, and capturing another national championship will go a long way towards cementing his legacy.
STEVE THE COACH
Steve loves a challenge, which is why many experts predicted success in his career with Washington. Despite his commitment to winning, however, you'll never find him sleeping on a cot in his office when his players go home. Steve favors light practice schedules, and has never been a student of videotapes.
Contrary to popular belief, Steve's offense isn't a pass-happy quarterback's dream. He relies on the run, both to set up the passing game and to capitalize on defenses in nickel and dime packages. His greatest talent is play calling. Steve possesses tremendous instinct for what the guys with the clipboards and headsets are thinking across the field. Time and again, he frustrates opponents by doing the opposite of what they expect.
Above all, Steve is an innovator. And a fearless one at that. His influence is seen everywhere in the NFL and college. For example, in the USFL he pioneered the use of the no-huddle offense and the three-receiver set, which he still calls the "Bandit" formation. At Florida, he developed the empty-backfield "Tiger" formation when preparing for LSU. Today this formation is a staple in offensive game plans on virtually all levels of football.
EXTRA
* When Danny Wuerffel won the Heisman Trophy in 1996, Steve became the first to win the award and coach someone who did the same.
* From 1906 to 1989, only seven Florida teams won as many as nine games in one season. The Gators claimed at least that many victories in all 12 seasons under Steve.
* Steve's four SEC championships rank second to Bear Bryant, who won six.
* Steve's favorite baseball player as a kid was Willie Mays. He also loved Bart Starr, and enjoyed watching Bill Russell and Bob Cousy work their magic for the Celtics.
* Among the nicknames the media came up with for Steve during his career at Florida were "S.O.S.," "Super Steve," "Batgator," and "Goldfinger."
* Steve set six offensive records in the 1966 Sugar Bowl, and became the only player from the losing team to be voted the game's Most Outstanding Player.
* Steve finished his playing career at Florida with 4,848 yards passing and 36 touchdowns.
* Steve was the secretary of the Fellowship of Christian Athletes on campus as Florida.
* Steve once held the San Francisco 49er records for touchdown passes (5) and completions (31) in a game.
* Steve's 1984 Tampa Bay Bandits were the first team in pro football history to produce a 4,000-yard passer (John Reaves) and two 1,000-yard rushers (Greg Boone and Gary Anderson) in the same season.
* Steve and wife Jerri have four children: Mrs. Lisa King, Mrs. Amy Moody, Steve, Jr., and Scotty. They also have six grandchildren: Trey King, Davis Graham King, Jake Moody, Kyle Spurrier Moody, Gavin Orr Spurrier. Luke Phillip Spurrier, and Emma Starr Spurrier
Read more
Latest headlines