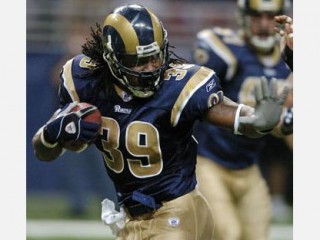 Steven Jackson biography
Date of birth : 1983-07-22
Date of death : -
Birthplace : Las Vegas, Nevada, USA
Nationality : American
Category : Sports
Last modified : 2010-12-27
Credited as : Football player NFL, running back for the St. Louis Rams, Pro Bowl/NFL Draft player
Steven Jackson is an American football running back for the
St. Louis Rams
of the National Football League.
Pro Highlights:
Signed six-year contract with St. Louis (9/21/08)…selected by St. Louis in the first round (24th overall) of the 2004 NFL Draft (4/24/05).
PRO:
Sixth in NFL history in receptions in one season among running backs (90)…sixth in NFL history in single-season yards from scrimmage (2,334)…since becoming a full-time starter in 2005, ranks second in the NFL in career receptions among running backs (262) and second in receiving yards (2,098)…in that same time span, averages 86.2 rushing yards per game for the NFL lead…also leads the NFL in scrimmage yards since 2006 (6,766)…third in the NFL in receptions among running backs since 2006 (219)…third on Rams' all-time rushing yards list (6,707)…fourth among Rams' running backs in single-season rushing yards (1,528)…fourth in receiving yards among Rams' running backs in a single season (806)…second among Rams' running backs in receptions in one game (13)…fourth in receiving yards in one game among Rams' running backs (133)…only Rams' running back to have five consecutive 1,000-yard rushing seasons (2005-2009)…has 23, 100-yard rushing performances, third most in Rams' history…has 1,548 carries, the most in Rams' history.
2009 SEASON: Finished the season with a team-high 1,416 rushing yards on 324 carries and four touchdowns, and a team-high 51 receptions for 322 receiving yards…his rushing yards total led the NFC, second in the NFL…1,738 scrimmage yards total finished second in the NFC, fifth in the NFL…77 first downs were second
in the NFC, fifth in the NFL…755 yards after contact was second-best in the NFC, fourth in the NFL…became the only Ram to have five consecutive 1,000-yard rushing seasons…rushed for a career-high seven 100-yard games…had four consecutive 100-yard rushing games for first time in career…Week 2 at Washington (9/20): Rushed 17 times for 104 yards…17th career 100-yard performance…58-yard run marked the second longest behind a 59-yard run at Minnesota (12/31/06)…6.1-yard average was fifth-highest of career…passed Dick Bass (5,417) for fourth all-time in Rams' history…one of only two running backs to rank in the top 10 in Rams' history in receptions (ninth with 281)…Week 3 vs. Green Bay (9/27): Rushed for 117 yards on 27 carries…fourth time of career with back-to-back 100-rushing yards games…lead the team with five receptions for 46 yards…Week 6 at Jacksonville (10/18): Produced 128 scrimmage yards, passing Lawrence McCutcheon (7,869) for sixth place in Rams history…Week 7 vs. Indianapolis (10/25): Rushed for 134 yards on 23 carries…totaled 95 rushing yards in the third quarter, the most in one quarter of career, surpassing his 82 yards in one quarter vs. Dallas (10/19/08)…Week 8 at Detroit (11/1): Recorded a season-high 149 rushing yards on 22 carries…6.8-yard rushing average marks third highest of career…passed Eric Dickerson (8,157) for fifth in scrimmage yards in Rams' history…Week 10 vs. New Orleans (11/15): Rushed for 131 yards…third consecutive 100-yard rushing game…second time in career with three consecutive 100-yard rushing games (Weeks 15-17, 2006)...third consecutive game with 100 rushing yards in a single half…led the team in both rushing and receiving…Week 11 vs. Arizona (11/22): Rushed for 116 yards on 24 carries…broke the 1,000 yard mark to become the only player in Rams history with five consecutive 1,000-yard rushing seasons... Week 13 at Chicago (12/6): Rushed 28 times for 112 yards…seven 100-yard rushing games in one season ties Jerome Bettis (1993) and Marshall Faulk (1999) for third most in Rams' history.
2008 SEASON: Rushed 253 times for 1,042 yards with seven touchdowns in 12 games…notched his fourthconsecutive 1,000-yard rushing season, matching RB Eric Dickerson for most consecutive 1,000-yard rushing seasons in team history…caught 40 passes for 379 yards and one touchdown…9.4-receiving yard average was
highest among all NFL running backs…118.4 scrimmage yards per game average ranked first in the NFL…recorded 100 or more scrimmage yards in nine of 12 games…vs. Buffalo (9/28): Rushed for 110 yards on 24 carries with one touchdown…led the team with five receptions for 78 yards…vs. Dallas (10/19):
Earned NFC Offensive Player of the Week honors after rushing for 160 yards on 25 carries and tying a career high with three touchdowns..160 yards mark the third-highest rushing total in his career…passed Elroy Hirsch to move into 10th place on the Rams all-time all-purpose yards list...vs. San Francisco (12/21): Rushed for
108 yards on a season-high 32 carries…at Atlanta (12/28): Rushed for a season-high 161 yards on 30 car-ries with two touchdowns…161 yards are the second-highest rushing yard total of his career…215 scrimmage yards are third-most of his career.
2007 SEASON: Produced third consecutive 1,000-yard rushing season…scored a 50-plus yard touchdown in three consecutive games, first player to do so since Deuce McCallister in 2003…at Tampa Bay (9/23): Rushed 30 times for 115 yards…suffered groin injury…at New Orleans (11/11): Led the team with 76 rushing yards and one touchdown…threw first-career touchdown on a 2-yard pass to TE Randy McMichael…vs. Green Bay (12/16): Rushed for a season-high 143 yards on 24 carries with one touchdown…sixth-highest rushing output of career.
2006 SEASON: Finished season with a career high 1,528 yards rushing (third in the NFC, fifth in the NFL) on 346 carries with 13 touchdowns…led all NFL running backs with 90 receptions (fourth in the NFC, seventh in the NFL) for 806 yards and three touchdowns…2,334 yards from scrimmage led the NFL…90 receptions were the most by a Rams' running back…his 436 offensive touches were the second-most in Rams' history and 11th in NFL history…1,528-yard rushing total was the best by a Ram since Hall of Famer Eric Dickerson's 1,821-yard season in 1986…earned NFC Offensive Player of the Month honors in December after leading the NFL with seven rushing touchdowns, 849 yards from scrimmage (169.8 average), and 10 touchdowns…vs. Denver (9/10): Rushed 22 times for 121 yards, fifth career 100-yard game…at San Francisco (9/17): Carried the ball 22 times for 103 yards…vs. Kansas City (11/5): Made a career-high 13 receptions for a career-high 133 yards, as well as then career-high 219 scrimmage yards and first career 100-yard receiving game…tallied the most receptions by a Rams' running back since Marshall Faulk had 14 at Denver (9/8/02)…vs. San Francisco (11/26): Gained 121 yards on 23 carries…vs. Arizona (12/3): Gained 165 yards from scrimmage, the thirdbest output of the season…at Oakland (12/17): Rushed for 127 yards on 31 carries and two touchdowns…vs. Washington (12/24): Earned NFC Player of the Week Honors after gaining a season-high 150 yards rushing on a career-high 33 carries with one touchdown...added six receptions for 102 yards and another touchdown…at Minnesota (12/31): Rushed 25 times for 142 yards and three touchdowns, adding two receptions for 24 yards and one touchdown…marked the first time a Ram has had three rushing touchdowns in a game since Marshall Faulk vs. Minnesota (11/30/03)…59-yard touchdown run is the longest of career.
2005 SEASON: Ranked seventh in the NFC (14th in the NFL) with 1,046 yards on 254 carries with eight touchdowns…registered his first 1,000-yard rushing season…vs. New Orleans (10/23): Rushed 20 times for 97 yards and two touchdowns, the first multiple rushing touchdown game of career…vs. Jacksonville (10/30): Rushed 25 times for a career-high 179 yards…at Houston (11/27): Notched 25 carries for 110 yards and one touchdown.
2004 SEASON: Second on team, third among NFL rookies, with 673 yards on 134 carries with a team-high four rushing touchdowns…performance ranked fourth in Rams' history for rushing by a rookie (Eric Dickerson 1,808; Jerome Bettis 1,429; Ron Waller 716)…vs. Arizona (9/12): Rushed seven times for 50 yards in NFL
debut…vs. San Francisco (12/5): Rushed career-high 26 times for 119 yards, first-career 100-yard performance…vs. Philadelphia (12/27): Rushed 24 times for a career-high 148 yards and one touchdown…performance marked the sixth best rushing performance by a rookie in team history.
College Highlights:
Ended Oregon State career after three seasons, becoming the first Beaver player in history with eligibility remaining to enter the NFL Draft…in 36 games, carried 743 times for 3,625 yards for a 4.9-yard average and 39 touchdowns...added 680 yards and six touchdowns on 66 catches...gained 240 yards with a touchdown on seven kickoff returns…4,545 all-purpose yards rank second in school history…ranks second on the school's all-time scoring list with 276 points…as a junior ranked 10th in nation in rushing, ninth in all-purpose yardage, and fourth in scoring…carried 350 times for 1,545 yards and 19 touchdowns, adding 44 receptions for 470 yards and three touchdowns…2,015 all-purpose yards set school record…as sophomore led Pac-10 in rushing and finished season eighth nationally with 1,690 yards and average of 130.0 yards a game…housing studies major.
Personal :
Born
Steven Rashad Jackson
in Las Vegas, Nev…attended Eldorado High in Las Vegas…selected as first-team prep All-American and No. 1 prep player in Nevada by SuperPrep Magazine following senior year…selected by Las Vegas Sun to the newspaper's "Super 11" second team…All-America pick by Prep Star…led state in rushing as senior with 2,764 yards and 34 touchdowns on 386 carries (7.1 average) and caught 14 passes for 263 yards and three touchdowns, giving him 226 points for the season…226 points also was top mark in Nevada for 2000…as junior, rushed for 1,212 yards and scored 17 touchdowns to lead Devils to 10-3 record, Northeast Division title, the Sunrise Region championship, and appearance in the 4A State Tournament…named Player of the Year in Nevada and Southern Nevada's Co-Offensive Player of the Year…first team All-Conference (Sunrise Region) pick as a senior as well as first-team all-state…finished with 3,976 yards and 51 rushing touchdowns in career, both marks were school records…three-year starter in football, two-year starter in basketball (guard), and was a four-year letterman in track as a sprinter…posted :10.4 best in 100-meters as a junior…his football jersey number (34) was retired by the school…served as spokesman for Susan G. Komen Race in 2006 and 2008…single and resides in St. Louis.
Read more
Latest headlines