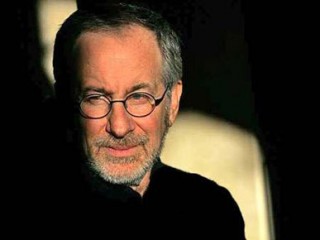 Steven Spielberg biography
Date of birth : 1946-12-18
Date of death : -
Birthplace : Cincinnati, Ohio, United States
Nationality : American
Category : Arts and Entertainment
Last modified : 2010-10-01
Credited as : Movie director and producer, screenwriter, Schindler's List (1993) , Saving Private Ryan (1998), Jaws (1975), E.T. the Extra-Terrestrial (1982)
Steven Spielberg
DIRECTOR
* The Sugarland Express, Universal, 1974.
* Jaws, Universal, 1975.
* (And author of screenplay) Close Encounters of the Third Kind, Columbia, 1977.
* 1941, Universal, 1979.
* Raiders of the Lost Ark, Lucasfilm Ltd., 1981.
* (And coproducer) E.T. the Extra-Terrestrial, Universal, 1982.
* (And coproducer) Twilight Zone--The Movie, Warner Brothers, 1983.
* Indiana Jones and the Temple of Doom, Lucasfilm Ltd., 1984.
* (And coproducer) The Color Purple, Guber-Peters, 1985.
* (And coproducer) Empire of the Sun, Amblin Entertainment, 1987.
* (And coproducer) Always, Universal, 1989.
* Indiana Jones and the Last Crusade, Lucasfilm Ltd., 1989.
* Hook, Amblin Entertainment, 1991.
* Jurassic Park, 1993.
* (And producer)Schindler's List, 1993.
* The Lost World: Jurassic Park, 1997.
* (And producer)Amistad, 1997.
* (And producer)Saving Private Ryan, 1998.
* The Unfinished Journey, 1999.
* (And producer)Artificial Intelligence: A1, 2001.
* Minority Report, 2002.
* (And producer)Catch Me If You Can, 2002.
* (And producer)The Terminal, 2004.
* War of the Worlds, 2005.
* (And producer)Munich, 2005.
* Also director of television films, including Duel, 1971. Director and author of screenplays, including Escape to Nowhere, Firelight, and Amblin'.
COPRODUCER
* I Wanna Hold Your Hand, 1978.
* (And author of screenplay with Michael Grais and Mark Victor) Poltergeist, Metro Goldwyn Mayer/United Artists, 1982.
* Back to the Future, Universal, 1986.
* Who Framed Roger Rabbit?, Walt Disney Productions/Amblin Entertainment, 1988.
* The Land before Time, 1988.
* An American Tail, Amblin Entertainment, 1986.
* Other Works
Close Encounters of the Third Kind (novel; adapted from screenplay of the same title), Delacorte, 1977. (Editor) The New Illustrated Disney Songbook, Abrams, 1986. Also author of stories, including The Sugarland Express, Ace Eli and Rodger of the Skies, and The Goonies. Director of episodes of television series, including Night Gallery, Marcus Welby, M.D., Owen Marshall, The Name of the Game, and Columbo. Producer and segment director of television series Amazing Stories, 1985; producer of television series Tiny Toon Adventures.
ADAPTATIONS:
Ace Eli and Rodger of the Skies was adapted for film by Chips Rosen and released by Twentieth Century-Fox, 1973; The Sugarland Express was adapted for film by Hal Barwood and Matthew Robbins and released by Universal, 1974.; The Goonies was adapted for film by Chris Columbus and released by Warner Bros., 1985.
Writer, director, and producer. Founder of Amblin Entertainment, 1984.
Received awards at Atlanta Film Festival and Venice Film Festival for Amblin'; Academy Award nomination for best director, Academy of Motion Picture Arts and Sciences, 1977, for Close Encounters of the Third Kind; Directors Guild award for best director, 1985, and Image Award for best picture, National Association for the Advancement of Colored People (NAACP), 1986, both for The Color Purple; Scopus Award, American Friends of the Hebrew University, 1986; National Board of Review awards for best director and best picture, 1987, for Empire of the Sun; Irving G. Thalberg Award, Academy of Motion Picture Arts and Sciences, 1987; honored at the Moving Picture Ball, American Cinematheque, 1989; Academy Awards for best director and best picture, Academy of Motion Picture Arts and Sciences, 1994, for Schindler's List; Golden Globe for best director, 1994, for Schindler's List; Lifetime Achievement Award, American Film Institute, 1995; Great Cross of Merit with Star, 1998; Medal for Distinguished Public Service, U.S. Department of Defense, 1999; Academy Award for best director, Academy of Motion Picture Arts and Sciences, 1999, for Saving Private Ryan; Golden Globe for best director, 1999, for Saving Private Ryan; Lifetime Achievement Award, Directors Guild of America, 2000; Knight Commander of the British Empire, 2001; Best feature film, Hollywood Film Festival, 2002, for Minority Report; Emmy Award for best mini-series, Academy of Television Arts and Sciences, 2003, for Steven Spielberg Presents "Taken"; Cavaliere di Gran Croce, Italy, 2004; Knighthood, French Legion of Honor, 2005; Inducted into Science Fiction Hall of Fame, 2005; Kennedy Center Honor, Kennedy Center of Performing Arts, 2006.
Motion picture producer, director and writer Steven Spielberg
, creator of such immensely popular films as
Jaws, Close Encounters of the Third Kind, E.T. the Extra-Terrestrial, and Raiders of the Lost Ark
, is considered one of the most gifted and successful filmmakers of all time. With a powerful appeal among moviegoers of all ages, most of Spielberg's highest-grossing films examine the effects of horror or fantasy on mainstream, middle-class Americans. In Jaws, for example, a concerned police chief patrols the waters, stalking a killer shark that has been terrorizing swimmers from a once serene resort community. And in the enchanting E.T. the Extra-Terrestrial, a loveable little alien who is accidentally left on Earth befriends a young boy living in a typical suburban neighborhood who then helps him return home. "Everything I do in my movies," remarked Spielberg in Time, "is a product of my homelife in suburban U.S.A. I can always trace a movie idea back to my childhood."
Spielberg was born in Cincinnati, Ohio, in 1947 and was raised with his three younger sisters. His father, who worked in the computer industry in the late 1940s and early 1950s, was often forced to relocate the family to follow promising job leads. "Just as I'd become accustomed to a school and a teacher and a best friend," Spielberg related in Time, "the FOR SALE sign would dig into the front lawn and we'd be packing and off to some other state. I've often considered Arizona, where I was from [age] nine to sixteen, my real home. For a kid, home is where you have best friends and your first car, and your first kiss; it's where you do your worst stuff and get your best grades." The Spielberg family moved from Phoenix, Arizona, to northern California when Steven was sixteen, and soon after, his parents separated. "They hung in there to protect us until we were old enough," the filmmaker wrote in Time. "But I don't think they were aware of how acutely we were aware of their unhappiness.... When the separation finally came, we were no better off for having waited six years for it to occur. I have two wonderful parents; they raised me really well. Sometimes parents can work together to raise a wonderful family and not have anything in common with each other. That happens a lot in America."
As a young child, Spielberg experienced many of the same fears that other youngsters have; he thought that monsters lived under his bed and in the crack in his bedroom wall. "I remember lying there, trying to go to sleep," he told Michiko Kakutani in the New York Times, "and I always used to imagine little [Dutch painter] Hieronymus Bosch-like creatures inside, peeking out and whispering to me to come into the playground of the crack and be drawn into the unknown there, inside the wall of my home in New Jersey." To alleviate his anxieties, the boy told his sisters scary stories and came up with various ways of terrifying them. "This removed the fear from my soul and transferred it right onto theirs," Spielberg noted in Time. The filmmaker's mother recalled in People that "he used to stand outside [his sisters'] window at night, howling, 'I am the moon! I am the moon!'.... And he cut off the head of his sister Nancy's doll and served it to her on a bed of lettuce." Because Spielberg was easily frightened by horror scenes in movies, his parents attempted to limit the youngster's exposure to films to what they thought were harmless, nonviolent Walt Disney movies. "When I came screaming home from Snow White when I was eight years old, and tried to hide under the covers," Spielberg told David Breskin in Rolling Stone, "my parents did not understand it, because Walt Disney movies are not supposed to scare but to delight and enthrall. Between Snow White, Fantasia and Bambi, I was a basket case of neurosis." But his parents' restrictions had another effect on Spielberg--he became increasingly interested in the world of cinema that was closed to him. "I often think that depravity is the inspiration for an entire career," he noted in Rolling Stone. "I feel that perhaps one of the reasons I'm making movies all the time is because I was told not to. I was ordered not to watch television."
Discovering an eight millimeter movie camera in his house when he was twelve years old was a particularly pivotal event in Spielberg's life. It began an ardent interest in filmmaking that was encouraged by his very patient mother who even let Steven miss school on most Mondays to finish short films he had begun over the weekend. The boy had a strong distaste for schoolwork that was reflected in his average grades, and he was, as he expressed in Time, a "skinny, acne-faced wimp who gets picked on by big football jocks all the way home from school." Once safe at home, which Spielberg's mother described in People as containing "white walls, blue carpeting and tripods" in order to accommodate the young movie director, Spielberg escaped the hardships of adolescence by making short films that often involved the participation of his entire family. "It was creative and chaotic at our house," remarked Spielberg's father to Richard Corliss in Time. "I'd help Steven construct sets for his 8-mm movies, with toy trucks and paper mache mountains." In addition, the family would sometimes dress in costumes and drive to the desert so Steven could film "on location."
At the age of seventeen, Spielberg went on a tour of Universal Studios where he had his first meeting with someone in the motion picture industry. "The tram wasn't stopping at the sound stages," Spielberg told Corliss. "So during a bathroom break I snuck away and wandered over there, just watching. I met a man who asked what I was doing, and I told him my story. Instead of calling the guards to throw me off the lot, he talked to me for about an hour.... He said he'd like to see some of my little films, and so he gave me a pass to get on the lot the next day. I showed him about four of my 8-mm films. He was very impressed. Then he said, 'I don't have the authority to write you any more passes, but good luck to you.'" Spielberg, however, soon found a way to get back onto the movie sets. "I walked past the guard every day," he related to Lynn Hirschberg in Rolling Stone, "waved at him, and he waved back. I always wore a suit and carried a briefcase, and he assumed I was some kid related to some mogul, and that was that."
By the time Spielberg was out of high school, he had already won student awards for his short films. One of them, Firelight, premiered at a local movie theatre. Since his high school grades were not good enough for acceptance into film school, Spielberg became a student at California State College (now University), Long Beach; he still found time, however, to spend three days a week on the Universal Studios lot, asking executives to view his films. "They were embarrassed when I asked them to remove their pictures from the wall so I could project my little silent movies," he acknowledged in Time. "They said, 'If you make your films in 16- mm or, even better, 35-mm, then they'll get seen.' So I immediately went to work in the college commissary to earn the money to buy 16-mm film and rent a camera. I had to get those films seen."
Spielberg's persistence was finally recognized. Universal executives agreed to view one of his short films titled Amblin', and he was offered a seven-year contract as a television director by Sid Sheinberg. "I was still several months shy of my twenty-first birthday," he pointed out to Hirschberg. "And I hadn't graduated [from] college. But Sheinberg said, 'Do you wanna graduate college or do you wanna be a film director?' I signed the papers a week later." Journeyman work in several weekly series--including a Night Gallery episode starring Joan Crawford--led to Spielberg's first television movie, Duel. The story of a motorist pursued by an unseen driver in a menacing truck, the film gained much critical attention. In fact, it was eventually released as a feature in Europe and Japan and became a worldwide success.
After a story he wrote titled Ace Eli and Rodger of the Skies was made into a 1973 film that failed at the box office, Spielberg embarked on his first feature project as a director, The Sugarland Express. Goldie Hawn and William Atherton star in this tale of parents who defy authority to regain custody of their child. In this case, defying authority manifests itself in a number of car chases and other action scenes, which prompted critic Pauline Kael of the New Yorker to note that the movie "is mostly about cars; Spielberg is a choreographic virtuoso with cars. He patterns them; he makes them dance and crash and bounce back. He handles enormous configurations of vehicles; sometimes they move so sweetly you think he must be wooing them." And yet Kael also saw in the filmmaker a gift for "very free-and-easy, American" humor, speculating in those early days that Spielberg "could be that rarity among directors, a born entertainer." New York Times reviewer Stephen Farber, however, maintained that in The Sugarland Express "everything is underlined; Spielberg sacrifices narrative logic and character consistency for quick thrills and easy laughs."
This mixed critical response, which characterizes virtually every film Spielberg has directed, has not affected the commercial success of his projects. That became apparent early in Spielberg's career, after his second picture--about a great white shark whose attacks on swimmers cause a panic among citizens and tourists of the fictional Amity Island--was released in the summer of 1975. Based on a best-selling novel, cast with mostly unknown actors, and filmed with a daunting (for 1975) $8 million budget, Jaws exploded into American theatres and instantly became the most talked-about movie of its time--making its twenty-six-year-old director a star.
The filming of Jaws on Martha's Vineyard in Massachusetts presented Spielberg with many unforseen challenges. The director was quoted in Time as saying "nobody thought much about the currents or anything at all about the waves." A strong Atlantic tow "would cause equipment boats to drift away," Spielberg continued. "Water color would change, the rhythm of the waves would fluctuate." What problems Mother Nature neglected, the mechanical shark, nicknamed "Bruce," readily provided. There were, in fact, three mechanical sharks, each created to perform differently, and all "fairly programmed for mishap," as Spielberg noted in Time. "Bruce sank when he made his debut. During his second test on water his hydraulic system exploded.... A special makeup man in scuba gear would plunge into the ocean to add more blood to Bruce's teeth and gums or administer a touch-up to his tender plastic tissue. Bruce's skin tended to discolor and deteriorate in the salt water."
These filming difficulties were forgotten after millions of moviegoers helped Jaws shatter the record for box office earnings. As pointed out by a reviewer in Time, this achievement is especially notable considering that the film was released during a season full of adventure and disaster movies. "What sets Jaws apart from most of the other ceiling busters and makes it a special case," declared the reviewer, "is that it is quite a good movie. For one thing, it is mercifully free of the padding--cosmic, comic, cultural--that so often mars 'big' pictures. In that sense, the movie is very like its subject. If the great white shark that terrorizes the beaches of an island summer colony is one of nature's most efficient killing machines, Jaws is an efficient entertainment machine."
Though the film received some negative reviews, many critics applauded the high level of suspense that Spielberg created with the help of special effects experts. "The right things certainly happen in Jaws," remarked Gordon Gow in Films and Filming. "At given moments, the images before us lead to ... dread anticipation. The pulses pound. Excitement escalates. And by climax time, when it is impossible to disbelieve that one of the leading actors ... is actually being swallowed alive by a gigantic shark in an unnerving series of gulps, we are watching movie magic of the highest order. Trickery has mastered the illusion of truth."
After the huge success of Jaws, Spielberg enjoyed a newfound clout within the Hollywood community. He even endured what he termed a "Jaws backlash. The same people who had raved about [the movie] began to doubt its artistic value as soon as it began to bring in so much money," he explained in Newsweek. The most apparent aspect of the controversy occurred when Spielberg did not receive a nomination for best director from the Academy of Motion Picture Arts and Sciences. "It hurt me because I felt [Jaws] was a director's movie," the filmmaker continued in Newsweek. Still, Jaws remains number four on the list of top-grossing motion pictures in Hollywood's history.
Even while praising his directorial success, many wondered how the young filmmaker could produce another work to match the commercial appeal of Jaws. Spielberg answered the challenge in 1977 with another blockbuster, Close Encounters of the Third Kind. The title, at first a meaningless phrase to most Americans, soon became synonymous with making physical contact with alien life forms. Although mainstream films had long portrayed aliens as threatening monsters, Spielberg believed coexistence with creatures from other planets held a much more peaceful promise. The movie tells the story of how a series of Unidentified Flying Object (UFO) sightings in Indiana leads to revelation and awe. The mysterious spaceships lure several people, including a group of scientists, a family man, and a five-year-old boy and his mother, to Devil's Tower in Wyoming. There the aliens' brightly colored mother ship lands and is able to communicate a message of hope and goodwill to the humans. This uplifting conclusion helped make Close Encounters of the Third Kind one of the top ten highest- grossing films.
At the time of its release, many critics and moviegoers considered Close Encounters of the Third Kind Spielberg's most poignant film. Commenting on the roles of plot and special effects in the movie, the filmmaker told Chris Hodenfield in Rolling Stone that "you need good storytelling to offset the amount of technique the audience demands, the amount of spectacle audiences demand before they'll leave their television sets. And I think people will leave their television sets for a good story before anything else.... That was the reason I spent so much time on the story of Close Encounters, because I didn't just want to make a UFO movie, where something lands, people get on, and it takes off again. I figured I had to write a mystery story. As opposed to just a special effects movie."
Spielberg again utilized a unique combination of mystery and special effects for the first movie in his adventure trilogy with Star Wars director George Lucas, titled Raiders of the Lost Ark. "Raiders [of the Lost Ark] is, in fact, an exemplary film," proclaimed Richard Schickel in Time, "an object lesson in how to blend the art of storytelling with the highest levels of technical know-how, planning, cost control and commercial acumen." Ranked number five on the list of the highest-grossing films of all time, the movie recounts the myriad adventures of Indiana Jones, an archaeologist recruited by the U.S. Government to find the lost Ark of the Covenant, described in the Bible's Old Testament as a wooden chest which contains the original tablets of the Ten Commandments and promises great power to its beholder. Indiana's mission--to locate the Ark before the evil, power-seeking German Nazis--takes him to several countries where he obtains clues to the Ark's whereabouts and fends off the attacks of a number of sinister people. Schickel praised the film and found that "so strong is the imagery, so compelling the pace, so sharply defined are the characters, that one leaves ... [Raiders of the] Lost Ark with the feeling that, like the best films of childhood, it will take up permanent residence in memory."
The filming of Spielberg's next movie, E.T. the Extra- Terrestrial--which became the top-grossing film of all time--was clouded in secrecy; no publicity photographs of its alien star were released prior to the movie's premiere in 1982. The idea for the story, according to Jim Calio in People, came to Spielberg in 1980 when he was in the Tunisian desert making Raiders of the Lost Ark. "I was kind of lonely at the time," Spielberg told Calio. "My girlfriend was back in Los Angeles. I remember saying to myself, 'What I really need is a friend I can talk to--somebody who can give me all the answers.'" The friend Spielberg imagined would eventually be cast as E.T.'s main character, a visitor from the heavens who is left stranded on Earth when his spaceship inadvertently leaves without him. Finding his way into a suburban American neighborhood, the little alien--"a squat-looking creature with an expandable neck that sort of looks like an eggplant on a stick," according to Chicago Tribune contributor Gene Siskel--meets a lonely boy, Elliott, who names the creature E.T. and offers shelter, friendship, and an education in human culture and language.
Elliott initially manages to keep E.T.'s presence a secret, but when the alien's existence soon becomes known to the community, maleficent government scientists quarantine the family's house in order to perform life-threatening studies on the creature. Meanwhile, the distraught boy, his siblings, and their friends attempt to find a way to help the ailing E.T. contact his native planet, resulting in the most famous line of the film, "E.T. phone home." E.T. and Elliott escape from the scientists after a tense chase scene, and E.T. is ultimately rescued by his fellow aliens. Spielberg shared in the characters' triumph, though on a more personal level: "Action is wonderful," he remarked in People, "but while I was doing Raiders [of the Lost Ark] I felt I was losing touch with the reason I became a moviemaker--to make stories about people and relationships. [E.T.] is the first movie I ever made for myself."
Despite drawing huge crowds and garnering critical acclaim, E.T. still did not generate an Academy Award nomination for best director for Spielberg. The film, declared Gary Arnold in the Washington Post, "is essentially a spiritual autobiography, a portrait of the filmmaker as a typical suburban kid set apart by an uncommonly fervent, mystical imagination. It comes out disarmingly funny, spontaneous, big-hearted." And New York Times contributor Vincent Canby proclaimed that E.T. "may become a children's classic of the space age." Ironically, the same year that brought the gentle, life-affirming extraterrestrial also brought a Spielberg horror film--one that he wrote and produced, but did not direct. Poltergeist, directed by Tobe Hooper, dispenses with friendly, otherworldly visitors in favor of malicious ghosts tormenting a typical, middle-class family. As the filmmaker told Kakutani, "Poltergeist is what I fear and E.T. is what I love. One is about suburban evil and the other is about suburban good. I had different motivations in both instances: in Poltergeist I wanted to terrify and I also wanted to amuse--I tried to mix the laughs and the screams together. Poltergeist is the darker side of my nature--it's me when I was scaring my younger sisters half to death when we were growing up--and E.T. is my optimism about the future and my optimism about what it was like to grow up in Arizona and New Jersey."
Spielberg revisited a proven formula in 1984 when he again teamed with Lucas and directed a sequel to Raiders of the Lost Ark, Indiana Jones and the Temple of Doom. Containing even more hair-raising scenes than its predecessor, the film follows Indiana Jones on his mission to recover a mysterious stone missing from the shrine of a village in India. The story finds Indiana in a seemingly endless series of life-threatening and often gruesome predicaments, including a bizarre ritual in which a man's beating heart is ripped from his chest. "They're going to have to scrape youngsters out from under the seats like old chewing gum with this one," insisted Los Angeles Times film critic Sheila Benson. Some reviewers faulted Spielberg for his excessive reliance on special effects to hold the audience's attention, but the film was a commercial success and managed to gross $180 million at the box office.
Despite Spielberg's string of successes, he has not been immune to criticism. He suffered his first box office failure in 1979 with the slapstick comedy 1941, which examines the mayhem arising in Southern California from a fear of invasion after the Japanese attack on Pearl Harbor. The film was deemed tasteless and unfunny by critics, and although it made $23 million at the box office, 1941 failed to match its production costs. In 1986, however, Spielberg responded to critics with his most controversial film, The Color Purple. Based on Alice Walker's Pulitzer Prize-winning novel, the plot concerns African- American life in the South. Some questioned the appropriateness of a white, male director at the helm of this powerful story which tackles such issues as race relations and sexism, while others charged that Spielberg had tampered with the intent of the novel.
The Color Purple chronicles a woman's coming of age in the rural South in the early twentieth century. Celie, with the triple burdens of being black, female, and poor in a racist society, endures a brutal marriage and continual heartache until she meets singer Shug Avery, a woman who is everything Celie is not. In the novel, Celie and Shug's friendship turns into a homosexual relationship, an aspect Spielberg intentionally avoids in his film version. In a Film Comment article, Marcia Pally remarked, "Sadly, Spielberg did not let his actors preserve the voice Walker gave black women who love women." His "empathy," continued the reviewer, "doesn't extend that far."
The Color Purple was nominated for eleven Academy Awards, but failed to win any. However, the film did earn some praise for its epic sweep and fine performances. Whoopi Goldberg received a best actress nomination for her portrayal of Celie and New York contributor David Blum recognized that the movie provided another example of "conflict between the little people and the big, evil forces of society that has dominated all [Spielberg's] movies." Blum found Celie's dilemma similar to that of E.T.: "Both are outsiders in a strange, cruel world, struggling for freedom." The reviewer also lauded the director's handling of many complicated social issues, concluding that "as with all his movies, Spielberg managed to bring The Color Purple to a rousing, uplifting conclusion in the simplest way possible."
Spielberg directed another film of epic proportions in 1987, Empire of the Sun. The film centers on Jim Graham, a nine-year-old British boy living with his aristocratic family in Shanghai, China, during the 1940s. When Japanese troops invade China in a campaign during World War II, British citizens--fearing for their lives--try to flee the city. In the turmoil of the streets, Jim is separated from his family and must try to take care of himself. He befriends an older man, but the two are soon rounded up and placed in a prison camp where Jim, free of parental guidance and initially oblivious to the horrors of war, has many adventures. Eventually, however, the boy is psychologically affected by the situation. When the war ends, the now thirteen-year-old Jim is reunited with parents he doesn't recognize. The film earned fair reviews, and critics especially praised the performance of Christian Bale, the actor who portrayed Jim Graham. And in the same year Empire of the Sun was released, the Academy of Motion Picture Arts and Sciences finally recognized Spielberg's directorial talent, bestowing upon him the Irving J. Thalberg Award.
Spielberg's next project, Always, released in 1989, was a remake of the 1943 romance movie A Guy Named Joe. The director presents the tale of a hot-shot Montana pilot killed while fighting a forest fire who becomes the guardian angel of one of his fellow fliers. Pete, though now invisible, wishes to continue his romance with his love in life, Dorinda. He ultimately realizes, however, that their union is impossible, and he must relinquish his feelings for Dorinda so she can pursue a new relationship. The film received mixed reviews and critics complained about the its sentimentality and melodramatic cinematic effects. Though she ultimately assessed its elaborate "visual style" as "powerfully distracting" for the viewer, New York Times contributor Janet Maslin found that Always has a "stirring, inspirational tone."
Also in 1989 Spielberg released Indiana Jones and the Last Crusade, the final segment of the Indiana Jones trilogy. Spielberg cast Sean Connery as Indiana's archaeologist father, Henry Jones. After Indiana rescues Henry from a Nazi fortress, the twosome embark on a quest to find the Holy Grail, the centuries-old chalice believed to hold magical powers. "Though it uses some of the same characters that appeared in the earlier two [Indiana Jones] films," commented a reviewer in the New York Times, "it also explores new narrative territory--as usual, the geographic territory is the globe." The critic proclaimed that Indiana Jones and the Last Crusade, "an endearing original, attests to the filmmaker's expanding talent."
In 1994, Spielberg finally attained the holy grail of filmmaking - an Oscar. He received nods from the Academy for both best picture and best director for Schindler's List. The effort also won him a Golden Globe for best director. Four years later, he picked up another Academy Award and Golden Globe for directing Saving Private Ryan. Later films he directed included Catch Me If You Can (2002) and Munich (2005). And upcoming projects included a fourth installment of the Indiana Jones series, scheduled for release in 2008.
Further cultivating his creativity, Spielberg has also taken on the role of producer for film and television, and beginning in 1984 he has served as the head of his own production company, Amblin Entertainment. His movie production credits include such commercial successes as the Back to the Future trilogy, about a boy's adventures with a brilliant scientist who invents a time machine; Who Framed Roger Rabbit?, a $45 million movie combining human actors and cartoon characters in a 1940s Hollywood setting; and The Land before Time, an animated story focusing on dinosaurs that Hal Hinson described in the Washington Post as "entertaining" and "emotionally rich." His 2006 feature, Letter from Iwo Jima, earned an Academy Award nomination for best motion picture. In television Spielberg produced a short-lived anthology series titled Amazing Stories as well as Tiny Toon Adventures, an animated show with characters reminiscent of Bugs Bunny and his friends. Commenting in a 1990 advertisement in Fortune on his involvement with animated films and television programs, Spielberg said, "Animation is the most fun I have right now.... As the dollar shrinks and movies cost more, my imagination is becoming less and less affordable. So I've turned to animation as a way to free it up. In animation, anything can happen."
Spielberg's longstanding popularity as a producer, director, and writer for film and television stems perhaps from his appeal to a child's sensibility that attracts viewers among both youngsters and adults. "I use my childhood in all my pictures, and all the time," he told David Breskin in Rolling Stone. "I go back there to find ideas and stories. My childhood was the most fruitful part of my entire life. All those horrible, traumatic years I spent as a kid became what I do for a living today, or what I draw from creatively today."
Read more
Latest headlines