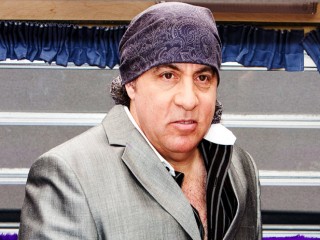 Steven Van Zandt biography
Date of birth : 1950-11-22
Date of death : -
Birthplace : Boston, Massachusetts, U.S.
Nationality : American
Category : Arts and Entertainment
Last modified : 2011-10-26
Credited as : Singer, Bruce Springsteen's E Street Band, Little Steven
Steven Van Zandt is an Italian-American musician, songwriter, arranger, record producer, actor, and radio disc jockey, who frequently goes by the stage names Little Steven or Miami Steve. He is best known as a member of Bruce Springsteen's E Street Band, in which he plays guitar and mandolin, and as an actor in the television drama The Sopranos, in which he played Silvio Dante. Van Zandt also had his own solo band called "Little Steven and The Disciples of Soul" in the 1980s.
Van Zandt grew up in the Jersey Shore music scene, and was an early friend and pre-E Street bandmate of Springsteen. In the early seventies, he was a journeyman guitarist (working as a sideman for The Dovells) as well as a founding member of Southside Johnny and the Asbury Jukes and several of Bruce Springsteen's early bands.
In 1975, during the recording sessions for Born to Run, Springsteen - at a loss (according to author Dave Marsh in the Springsteen biography Born To Run) for ideas on how to arrange the horn part for "Tenth Avenue Freeze-Out" - called on Van Zandt and his encyclopedic knowledge of soul music for help with the arrangement. In the Wings for Wheels Documentary, Springsteen revealed that Van Zandt was partially responsible for the signature guitar line in Born to Run; "Arguably Steve's greatest contribution to my music." It has been long debated if Van Zandt himself is playing guitar on the song. Van Zandt then joined the E Street Band in the midst of their Born to Run tours.
In those early years, Van Zandt supplied a great deal of the lead guitar work for the band in concert, as can be seen on the 1975 concert DVD within Born to Run 30th Anniversary Edition (later released as the CD Hammersmith Odeon London '75).
Van Zandt cites the Dave Clark Five as an early influence. Along with Paul Shaffer of the David Letterman Show he organized a benefit for Mike Smith (the Dave Clark Five's lead singer), who had suffered a paralyzing fall at his home in Spain.
an Zandt subsequently became a songwriter and producer for fellow Jersey shore act Southside Johnny and the Asbury Jukes in the mid- to late-1970s, penning their signature song "I Don't Wanna Go Home", co-writing other songs for them with Springsteen, and producing their most-acclaimed record, Hearts of Stone. As such, Van Zandt became a key contributor to the Jersey Shore sound. Van Zandt then went on to share production credits on the classic Springsteen albums Darkness on the Edge of Town, The River, and Born in the U.S.A.. In 1989, Jackson Browne covered the 1983 Van Zandt composition "I Am A Patriot" for Browne's World in Motion album. The song has also been covered by other artists including Eddie Vedder of Pearl Jam.
Van Zandt has produced a number of other records, including an uncredited effort on the Iron City Houserockers' Have A Good Time (But Get Out Alive). Less successful was his work on Lone Justice's second album Shelter, which was a career-ending flop for the Los Angeles cowpunk band.
In 1993, Van Zandt wrote and produced "All Alone on Christmas" for the soundtrack of the Chris Columbus film Home Alone, which yielded singer Darlene Love her first hit since "A Fine, Fine Boy" from 1963, thirty-one years earlier.
In 1994, Van Zandt produced the eponymous debut album of the punk rock band Demolition 23 which featured ex-Hanoi Rocks members Michael Monroe and Sami Yaffa. Van Zandt also co-wrote six songs for the album with Monroe and Jude Wilder.
In 1995, Van Zandt aided Meat Loaf with the song "Amnesty Is Granted" off of his "Welcome to the Neighborhood" album.
In 2004, he contributed the song "Baby Please Don't Go" to Nancy Sinatra's self-titled album.
Van Zandt officially left the E Street Band in 1984 (Springsteen's song "Bobby Jean" is said to be inspired by the split, and Bruce asked him to perform his mandolin solo in the "Glory Days" video anyway.) and has been involved in numerous solo musical projects and collaborations since then, ranging from soul music to hard rock to world music. In particular, he released four albums in the 1980s and one in 1999, sometimes fronting an on-and-off group known as Little Steven and the Disciples of Soul. Van Zandt has written that these albums are each elements in a five-part concept cycle. The first of them, 1982's Men Without Women, earned the most critical praise (Jay Cocks of TIME magazine dubbed it one of the ten best albums of the year), while its follow-up, 1984's Voice of America, did the best on the U.S. albums chart, although none of them were much of a commercial success. With Voice of America, his music became explicitly political, with the central theme being opposition to Ronald Reagan-era American foreign policy.
Van Zandt returned to the E Street Band when it was reformed (briefly in 1995, and on an ongoing occasional basis in 1999) and remains with it. By now, his guitar playing had mostly been reduced to a background rhythm role, due to Nils Lofgren's position in the band and his capability as a lead guitarist. In addition, Springsteen had begun taking many more of the solos during his absence. Notwithstanding this, among E Street Band members he often gets the second-most amount of "face time" in concert after Clarence Clemons, frequently mugging and posing for the audience and sometimes delivering his unpolished, nasal backing vocals while sharing a microphone with Springsteen. His playing or singing is most prominently featured on the songs "Glory Days", "Two Hearts", "Long Walk Home" (when featured a Van Zandt outro vocal solo) "Land of Hope and Dreams", "Badlands", "Ramrod", and "Murder Incorporated", among others like the live versions of "Rosalita". He often trades vocals with Springsteen in live versions of "Prove it All Night". He features prominently in the video for "Glory Days", sharing the spotlight with Springsteen during the choruses, while swapping lines with him during the (non)fade, and in live versions he does the same. During the E Street Band's performance at the Super Bowl in 2009, Van Zandt was the most prominently featured member of the band, playing a guitar solo on the final number of the set, "Glory Days" (although the solo could not be heard in the mix), as well as sharing lead vocals and exchanging humorous banter with Springsteen.
In 1999, Van Zandt took one of the core roles in The Sopranos, playing level-headed but deadly mob consigliere and strip club owner Silvio Dante. Van Zandt had no acting experience, and the unusual casting choice was made by series creator David Chase. As a guest on the Opie and Anthony Show, Van Zandt related the story of his casting on The Sopranos. Van Zandt was picked to induct The Rascals into the Rock and Roll Hall of Fame in 1997. The original members of The Rascals had been feuding for a number of years and Van Zandt was concerned that the induction and subsequent band performance would result in a very public fiasco on live television. Wanting to defuse any confrontation, Van Zandt donned a Little Lord Fauntleroy-type costume for the event and delivered a humorous induction instead of the more traditional speech delivered for other inductees. The Rascals had worn this type of outfit when they debuted on the national scene in 1965. Chase saw this performance on VH1's broadcast of the event and thought that Van Zandt was very funny and contacted him a few days later. Then Chase discovered that Van Zandt had no acting experience. Van Zandt was reluctant to audition for Chase but eventually relented.
Van Zandt gained acclaim for his performance as Silvio, but has contended that he has no interest in acting beyond The Sopranos. However, Van Zandt found time to record the narration to a Hives biography on their concert DVD Tussles in Brussels. His role resumed in importance in later seasons, with sixth season plot developments especially giving him prime focus. His real-life wife Maureen Van Zandt is an actress who made occasional appearances on The Sopranos playing Silvio's wife Gabriella Dante.
Van Zandt maintains a certain look, always wearing gypsy clothes and a bandana on stage, while donning a noticeable pompadour toupee on The Sopranos. Both are to cover permanent loss of hair from a car accident in which he hit a windshield with his head.
In 2010 Van Zandt appeared as himself in the Norwegian soap opera Hotel Cæsar, broadcast on Norway's biggest commercial channel TV2 Norway. He also appeared on Scandinavia's largest talkshow Skavlan, and talked about his upcoming starring role in a Norwegian-produced TV series where he will play a mafia boss who, as a part of a witness-protection program, is hiding in the Norwegian town of Lillehammer. The series' working title is Lilyhammer, a reflection of the town's mispronunciation by many non-Norwegians, and production starts January 2011.
Since 2002, Van Zandt has hosted Little Steven's Underground Garage, a weekly syndicated radio show that celebrates garage rock and similar rock sub-genres from the 1950s to the present day. As of December 2006, the show is heard on over 200 US radio stations and in some international markets. For example, in Finland, Radio Helsinki started beaming Underground Garage in August 2008 and in Spain is beamed through Rock & Gol since 2007 and later on Rock Rock Radio.
On October 20, 2011 the program recorded it's 500th show in front of a sold out crowd at the Hard Rock Cafe in New York's Times Square. The guests included the band Green Day, Steve Buscemi, star of the HBO series Boardwalk Empire, Vincent Pastore, aka "Big Pussy" from the HBO series The Sopranos, actor and director Tim Robbins, and singer Debbie Harry aka "Blondie."
Steven is also the program director for two radio channels for the Sirius Satellite Radio network. The channels are heard continuously on satellite radio in the USA and worldwide on Sirius Internet Radio. One channel is named Underground Garage, which has the same philosophy and musical mandate as his own radio show. On-air hosts on the channel include original Rolling Stones manager/producer Andrew Loog Oldham, rock star Joan Jett, punk rock singer Handsome Dick Manitoba, and rock entrepreneur Kim Fowley. The second of Van Zandt's radio channels presented on Sirius is named the Outlaw Country channel. It presents the edgier side of country music – both roots and contemporary. On-air hosts for this channel include pop-culture satirist Mojo Nixon.
Van Zandt is not to be confused with similarly named radio personality Steve Van Zandt, who was co-host of the "Steve and Jackie in the Morning" show formerly airing on WROW in Albany, New York.
In December 2006 Little Steven launched his own record label, Wicked Cool Records.The first set of records released by Wicked Cool were new albums from Underground Garage favorites the Charms, the Chesterfield Kings and the Cocktail Slippers; and 'Fuzz For The Holidays,' by Davie Allan and the Arrows and 'CBGB Forever,' a tribute to the famous, now-defunct venue. The label continues to release new albums from the next generation of garage rockers including the Cocktail Slippers as well as volumes of 'Little Steven's Underground Garage presents The Coolest Songs in the World,' a compilation of selected songs from the Underground Garage radio show's popular feature, the Coolest Song in the World This Week. In 2007 the label signed The Launderettes. 2008 marked the release of the labels first Halloween and Christmas themed compilations.
In 2007, Van Zandt launched his Rock And Roll Forever Foundation. The first incentive of the foundation is Rock And Roll High School, a chronological anthology tracing the history of Rock and Roll from its roots to present day, highlighting the cultural impact and significance of each era of the genre as it relates to the events and changes that took place in the history of the country and of the world. The program, endorsed by MENC: The National Association For Music Education and Scholastic, is being written and hopes to launch in the fall of 2010.
In September 2006, Van Zandt assembled and directed an all-star band to back Hank Williams Jr. on a new version of "All My Rowdy Friends Are Coming Over Tonight" for the season premiere (and formal ESPN debut) of Monday Night Football. The all-star lineup included Little Richard, Rick Nielsen (Cheap Trick), Joe Perry (Aerosmith), Questlove (The Roots), Charlie Daniels, Bootsy Collins, Chris Burney (Bowling for Soup), and Bernie Worrell. Steve is now the director of a music selection committee for the video game Rock Band; he is in charge of selecting new music for the game.
Van Zandt is married to actress Maureen Van Zandt (formerly Maureen Santoro) who portrayed his wife Gabriella Dante in the TV series The Sopranos. They married in New York City on December 31, 1982.
Bruce Springsteen was the best man at the ceremony, which was presided over by Reverend Richard Penniman (Little Richard). Singer Percy Sledge sang his classic "When a Man Loves a Woman" at the reception.
Read more
Latest headlines