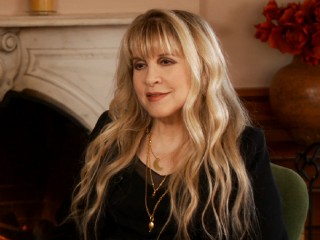 Stevie Nicks biography
Date of birth : 1948-05-26
Date of death : -
Birthplace : Arizona, U.S.
Nationality : American
Category : Arts and Entertainment
Last modified : 2011-10-26
Credited as : Singer, Fleetwood Mac, Rock and Roll Hall of Fame
Stephanie Lynn "Stevie" Nicks is an American singer-songwriter, best known for her work with Fleetwood Mac and an extensive solo career, which collectively have produced over forty Top 50 hits and sold over 140 million albums. She has been noted for her ethereal visual style and symbolic lyrics.
Nicks joined Fleetwood Mac on December 31, 1974, along with her then-boyfriend Lindsey Buckingham. Fleetwood Mac's second album after the incorporation of Nicks and Buckingham, 1977's Rumours, produced four US Top 10 singles (including Nicks's song "Dreams", which was the band's first and only US number one) and remained at No.1 on the American albums chart for 31 weeks, as well as reaching the top spot in various countries around the world. To date the album has sold over 40 million copies worldwide, making it the tenth highest selling album of all time.
Nicks began her solo career in 1981 with the 8 million selling album Bella Donna, and she has produced six more solo studio albums to date. Her seventh solo studio album entitled In Your Dreams, and her first in ten years, was produced largely by Dave Stewart of Eurythmics fame, and was released on May 3, 2011.
After the release of her first solo album, Rolling Stone magazine|Rolling Stone deemed her "The Reigning Queen of Rock and Roll". Having overcome cocaine addiction, and dependency on tranquilizers, Nicks remains a popular solo performer. As a solo artist, she has garnered eight Grammy Award nominations and, with Fleetwood Mac, a further five, of which one was the 1978 award for Album of the Year for Rumours, which they won. As a member of Fleetwood Mac, she was inducted into the Rock and Roll Hall of Fame in 1998.
In November 1977, after a New Zealand concert for the Rumours tour, Nicks and Fleetwood, who was married to Jenny Boyd, secretly began an affair. The pair mutually decided to end the affair, because, according to Nicks, "we knew it would be the end of Fleetwood Mac." Soon after, in October 1978, Mick Fleetwood left his wife for Nicks's best friend Sara Recor. After the success of the Rumours album and tour in 1977–78, Fleetwood Mac began recording their third album with Buckingham and Nicks, Tusk, in the spring of 1978. That year, Nicks sang back-up on virtually every track of Not Shy, recorded by musician Walter Egan, a friend of both Nicks and Buckingham. One track, "Magnet & Steel", prominently featured Nicks on back-up vocals and became a hit single on Billboard's "Hot 100" chart during the summer of 1978. Lindsey Buckingham also played guitar and sang back-up on some of the tracks recorded for that album.
By 1978, Nicks had amassed a large backlog of songs dating back to her Buckingham Nicks days that she had been unable to record and release with Fleetwood Mac because of the constraint of having to accommodate three songwriters on each album.Nicks wrote and recorded demos for the solo project during Tusk sessions in 1979 and the Tusk world tour of 1979–80. Nicks, Danny Goldberg, and Paul Fishkin founded Modern Records to record and release Nicks's material. Nicks recorded the hit duets "Whenever I Call You Friend" with Kenny Loggins in 1978, and "Gold" with John Stewart in 1979.
Nicks released The Wild Heart on June 10, 1983. The album introduced songwriter and performer Sandy Stewart as co-writer, vocalist, and musician. The Wild Heart went double platinum, reached No.5 on the Billboard album chart, and featured three hit singles. Nicks performed at the second US Festival at Glen Helen Regional Park in San Bernardino, California, and later toured the US from June 1983 to November 1983. Nicks appeared on Saturday Night Live in 1983, performing "Stand Back" and "Nightbird".
In 1985, Fleetwood Mac began work on Tango in the Night, which was released in April 1987. Nicks joined in the later stages of production in late 1986 after her stay in at the Betty Ford Clinic.
Creative differences and unresolved personal issues within the band led Buckingham to quit the group right before their world tour. According to bassist John McVie, a "physically ugly" confrontation between Nicks and Buckingham ensued when Nicks angrily challenged Buckingham's decision to leave the band.
The band embarked on the Shake the Cage tour in September 1987, with Buckingham replaced by Rick Vito and Billy Burnette. The tour was suspended during Nicks's bout with chronic fatigue syndrome and developing addiction to tranquilizers, though it resumed in 1988. Tango in the Night met with commercial success and was followed in 1988 by Fleetwood Mac's Greatest Hits album in November 1988.
In 1989, Nicks set to work with Fleetwood Mac on a new album, Behind the Mask, which was released in 1990 to moderate commercial success in the US In the UK, however, the album entered the chart at No.1 and has been certified Platinum there. The band went on a world tour to promote the album, on the last night of which Buckingham and Nicks reunited on stage to perform "Landslide".After the tour concluded, Nicks left the group over a dispute with Mick Fleetwood, who would not allow her to release the 1977 track "Silver Springs" on her album Timespace – The Best of Stevie Nicks, because of his plans to release it on a forthcoming Fleetwood Mac box set.
On the tenth anniversary of her solo career debut, Nicks released Timespace – The Best of Stevie Nicks on September 3, 1991.
Fleetwood Mac also released a four-disc box set, 25 Years – The Chain, which included "Silver Springs".
During the 1992 US presidential campaign, Bill Clinton used the Fleetwood Mac hit "Don't Stop" as his campaign theme song, and Nicks joined her band mates to perform the song at Clinton's 1993 Inaugural Gala. No plans for an official reunion were made at that time. Nicks was criticized for her weight gain.
In 1996 Lindsey Buckingham, working on a planned solo album, enlisted the help of Mick Fleetwood and John McVie, which eventually led to a reunion of the entire band. A newly invigorated and slimmed down Nicks joined Fleetwood Mac for The Dance, a highly successful 1997 tour that coincided with the 20th anniversary of the release of Rumours. Prior to the tour, Nicks started work with a voice coach, to lend her voice more control and protect it from the stress of lengthy touring schedules.
The live CD release, The Dance, was released to commercial and critical acclaim, earning the group several Grammy nominations. In 1998, Nicks joined the group for its induction into the Rock and Roll Hall of Fame. This same year, she won the Outstanding Contribution at the BRIT Awards.
The box set Enchanted was released to acclaim on April 28, 1998 with liner notes from Nicks, as well as exclusive rare photographs, and pages from her journals. Nicks supported the box set with a successful US tour. In 1998, Nicks contributed to the Practical Magic soundtrack and performed in Don Henley's benefit concert for the Walden Woods Project.
Nicks had begun writing actively for Trouble in Shangri-La in 1994 and 1995 as she came out of her Klonopin dependency. According to Nicks, friend and former musical partner Tom Petty was responsible for convincing her to write music again when he rebuffed her request that he write a song with her. Nicks resumed recording songs for the Trouble in Shangri-La album with Sheryl Crow, who produced and performed on several tracks. When a scheduling conflict forced Crow to drop out of the project, Nicks first approached R&B producer Dallas Austin, but these sessions have never surfaced. Nicks finally called on John Shanks to produce the remainder of the album, with additional contributions from David Kahne, Rick Nowels, Pierre Marchand, and Jeff Trott. Artists Natalie Maines, Sarah McLachlan, and Macy Gray contributed to some of the tracks.
Released May 1, 2001, Trouble in Shangri-La restored Nicks's solo career to critical and commercial success. "Planets of the Universe" was nominated for a Grammy Award for Best Female Rock Vocal Performance, and Nicks was named VH1's "Artist of the Month" for May 2001. Nicks was named one of People magazine's 50 Most Beautiful People, was featured in a well-received Behind The Music episode, and performed an episode of the VH1 Storytellers Concert Program. Nicks made several television appearances in support of the album and performed at the 2001 Radio Music Awards.
On March 27, 2007, Reprise Records released Crystal Visions – The Very Best of Stevie Nicks in the US The album debuted at No.21 on the Billboard 200 Albums Chart.
The compilation includes her hit singles, a dance remix, and one new track, a live version of Led Zeppelin's "Rock and Roll". There are two versions of this album, one with just the audio CD and another version with an included DVD featuring all of Nicks's music videos with audio commentary from Nicks, as well as rare footage from the Bella Donna recording sessions.
A tour with Chris Isaak, opening in Concord, California on May 17, 2007 supported the release.
After completing the Unleashed Tour with Fleetwood Mac, Stevie began work on her first solo album in a decade with David A. Stewart (musician and record producer, best known for his work with Eurythmics), who announced this via his Twitter in February 2010. During 2010, Stewart used Twitter to confirm various facts about the album; in one of the tweets, Stewart stated that he, Nicks, Waddy Wachtel, Mike Campbell (of the Heartbreakers), Mike Rowe, and Steve Ferrone were all working on the album, and that Mick Fleetwood has also contributed drums to at least one track. Waddy Wachtel has been Nicks's lead guitarist for most of her solo career, featuring prominently on all of her albums to date. It was also later confirmed that Lindsey Buckingham would appear on the track "Soldiers Angel".
Nicks performed in a series of shows in August 2010 ("it's not really a tour," she said). They did not contain any of her new music, because she does not want it to end up on YouTube. The Santa Barbara show benefited a little girl she knows in Los Angeles with rhabdomyosarcoma, a rare cancer.
On January 13, 2011, Reprise announced Stevie's upcoming album In Your Dreams would be released on May 3, and the lead single, "Secret Love", would be released on February 8. Reprise provided a free download of the single to fans who pre-ordered the album via certain websites. Nicks originally wrote "Secret Love" in 1976 and recorded a demo of it for Fleetwood Mac's 1977 album, Rumours. It did not make the final cut for the album. The demo version had been circulating among fans for many years prior to its inclusion on In Your Dreams. Nicks promoted the song with a video directed by Dave Stewart. Nicks' goddaughter Kelly appears in the video wearing a vintage dress that Nicks wore on stage in 1976. According to Nicks, Kelly portrays the young Stevie Nicks blending with the soul of Nicks' 62 year-old self. On the US Billboard Charts, "Secret Love" was a modest hit on the Adult Contemporary Singles Chart, peaking at #20, and at #25 on the Triple A Singles Chart.
In Your Dreams received overwhelmingly positive reviews, rivaling that of Stevie's 1981 debut. Rolling Stone commented "It's not just her first album in 10 years, it's her finest collection of songs since the Eighties", which mirrored the reception from most other critics and music industry members. The album debuted at #6 on the Billboard 200 giving Nicks her fifth top ten album on that chart, with 52,000 copies sold in the first week. Elsewhere, the album has made numerous Top 50 debuts, including #24 on the Australian ARIA Chart and #22 in Canada.
The same day that Nicks' new album was released, Fox Network broadcast the Glee episode (Season 2, Episode 19) "Rumours" that featured six songs from Fleetwood Mac's 1977 album, including Nicks' song "Dreams" (the band's only #1 song on the US charts). The show sparked renewed interest in the band and its most commercially successful album, and Rumours reentered the Billboard 200 chart at #11, the same week that In Your Dreams debuted at #6. (Nicks was quoted by Billboard saying that her new album was "my own little Rumours."
Nicks contributed a cover of Buddy Holly's "Not Fade Away" for the tribute album Listen to Me: Buddy Holly, which was released in September 2011.
Read more
Latest headlines