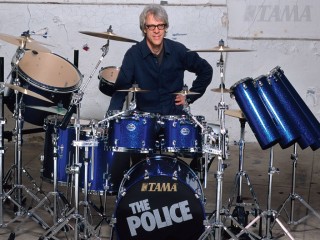 Stewart Copeland biography
Date of birth : 1952-07-16
Date of death : -
Birthplace : Alexandria, Virginia,U.S.
Nationality : American
Category : Arts and Entertainment
Last modified : 2011-11-07
Credited as : drummer, The Police, Rumblefish
Stewart Armstrong Copeland is an American musician, best known as the drummer for the band The Police.
A multitude of musicians have been hailed as "experimentalists," but perhaps no one has been more deserving of the label than Stewart Copeland. His many achievements include forming the enormously successful pop supergroup the Police, scoring numerous films, and composing operas. The versatile artist's works range from punk/new wave hit songs that topped the charts in the 1980s to esoteric soundtracks for television and film.
The diversity of Copeland's repertoire springs from his multicultural childhood spent in such exotic locales as Egypt, Syria, and Lebanon. His father, Miles Copeland II, who helped develop the infrastructure of the Central Intelligence Agency (CIA), was the organization's head of operations in the Middle East. Stewart, the youngest of four children, was ushered into the music world while living in Beirut; his brother Ian started drumming for a band in one of the local gangs. Stewart became fascinated with percussion, and his father bought him a drum kit. One night, at an American beach club, the young Copeland performed for the first time as a substitute drummer for one of the bands.
In 1966 the political situation in Beirut changed dramatically, and the family was given 15 days to leave the country. They fled to England, where Stewart attended the prestigious Millfield school in Somerset. In 1971 he returned to the United States and entered the University of California at Berkeley, but because of his inability to transcribe music, he was denied acceptance to the music program.
It was not until the end of Copeland's first year in college that an opportunity to work in the music industry was presented by his brothers Miles and Ian. While Stewart was spending his days in classrooms, Miles had maneuvered himself into the world of rock promotion, marketing groups like the Climax Blues Band and Wishbone Ash. Miles and his assistant, Ian, asked Stewart to help manage and promote several bands. Always in search of a new challenge, he headed immediately to England.
Copeland's first real break came in 1974 when one of Miles Copeland's groups, Curved Air, needed a new drummer. Stewart naturally volunteered. Essentially a live band, they toured constantly, but incompatibilities with producers, lack of material, and debts to record companies led to their eventual stagnation. After a performance one night in December of 1975, however, Copeland attended a late set by a local band in Newcastle called Last Exit, whose singer/songwriter/bassist had curiously named himself "Sting." Sting, born Gordon Sumner, had struggled through the ranks to help form Last Exit, and when Copeland saw the band they had just signed a contract with Virgin Records and were on the brink of fame.
The ultimate demise of Curved Air came in 1977, and Stewart, who had aligned himself with the punk movement, was eager to form a band. He already had a name--the Police--and now all he needed were the faces. Since Last Exit had recently disbanded, Stewart contacted Sting and arranged for a meeting. With the addition of Andy Summers, former guitarist for Soft Machine and Eric Burdon and the Animals, the Police were born. With Miles Copeland's support, the bleached-blond trio began to record, promote, and perform at a fast pace in an attempt to penetrate the punk market.
Copeland decided he had found his true calling with the Police, stating in The Police, a chronicle of the band's formation: "I think I was able to use more of my talent with the Police than I was with Curved Air. In Curved Air I had to keep laying back. With the Police I went berserk; I played like a madman." The Police's first album, Outlandos D'Amour, was recorded in 1978, and with Miles's management and A&M Records behind them, they released their first single, "Roxanne." However, the single and its follow-up, "Can't Stand Losing You," were met with dismal noninterest, so the band headed to the United States for a grueling, whirlwind tour that started with a concert at the legendary punk birthplace CBGB's the very night their plane touched American soil.
The Police returned to England, released Regatta de Blanc, and embarked upon the rest of their fast and furious career, selling over five million singles and two million albums in 1979 alone. The group's singular combination of Sting's harsh lyrics, Summer's textured guitar-playing, and Copeland's driving rhythm created a power trio supergroup that defied categorization. Called anything from punk to reggae to new wave, the Police sound quickly became the boilerplate for struggling new artists.
In the late 1970s Copeland took a short respite from the Police and assumed the personality of Klark Kent, whose single "Don't Care" made a brief appearance on the charts. The collector's album that followed, released on the obscure Kryptonite pseudo-label, was distributed by A&M, pressed on green vinyl, and packaged in a die-cut double K cover. Copeland claimed he was not connected to Kent, a supposed native of the Welsh fishing village Llandyckkk, but the vocals, attitude, and such lyrics as "Don't care if you really wanna hang around/ Don't care cause I am the neatest thing in town/ If you don't like my arrogance you can suck my socks," were pure Copeland.
An unprecedented 19-country Police world tour, a sell-out concert in New York City's Madison Square Garden, and a third album, Zenyatta Mondatta, followed in 1980 and 1981. The introspective and moody Ghost in the Machine, released in 1981, topped the U.S. and U.K. charts at Number Two, and 1983's Synchronicity, along with the monster hit single "Every Breath You Take," reached Number One. The Police soon realized, however, that at the height of their career the energy was gone. Oddly enough, Sting predicted the breakup in a 1981 interview with Rolling Stone when he said: "I don't think we'll be relevant in two years. I think we will have said all we have to say within four, maybe five albums." Indeed, after four platinum albums and nine singles in the Top 40, the Police disbanded, and the band's members pursued solo careers.
The multitalented Copeland was not idle for long. In 1983 he composed the soundtrack for Francis Ford Coppolla's teen angst film Rumblefish, which earned him a Golden Globe Award nomination. The following year he directed So What?--a 35-minute movie comparing the punk scene of 1977 to that of 1982--and also traveled to Africa to participate in the documentary The Rhythmatist, a chronicle of the music from Tanzania, Zaire, Kenya, Burundi, and the Congo. A solo album, also titled The Rhythmatist, showcases the music explored in the documentary.
Copeland also ventured into the realm of television, penning the themes for George Lucas's Droids and Ewoks Saturday morning cartoons and composing the music for The Equalizer, an Emmy Award-winning television show that subsequently spawned 1988's The Equalizer and Other Cliff Hangers, an instrumental album composed and performed entirely by Copeland.
Copeland's earlier success with the film score Rumblefish earned him the attention of Hollywood, and he was asked to compose music for a string of motion pictures, including Oliver Stone's Wall Street and Talk Radio and John Hughes's She's Having a Baby. In 1994 he wrote the blues-influenced score for Fresh, the critically acclaimed film about a young boy's struggle to survive in New York City's gang underworld.
Copeland also experienced heightened interest in other forms of music, and he conquered yet another musical form: the opera. Having already composed a 20-minute ballet version of King Lear for a San Francisco troupe in 1986, he wrote his first full-blown production in 1989, the three-hour Holy Blood and the Crescent Moon. The piece was selected to open the Cleveland Opera's 14th season and was later performed by the Fort Worth Opera in Texas. The performance was met with a negative reaction for Copeland's lack of experience and praise for what he accomplished as an "untrained rock musician." One critic writing in the Christian Century called Holy Blood "one of the most significant moral statements to come from the arts community in many years."
As for Copeland himself, he told Musical America, "I thought opera was a guy ... with his chest pumped out making a loud noise. I had no idea what kind of a door was being opened to me. Opera is the ultimate art form. There's nothing that can freeze your blood like the combination of drama and music." The genre had captured Copeland's interest, and he later composed Horse Opera (1993) for British television, and the mini-opera Cask of Amontillado (1994), based on the Edgar Allan Poe short story of the same title.
Copeland also ventured back into the world of popular music in 1989 when he formed the group Animal Logic with bassist Stanley Clarke and singer Deborah Holland, ultimately releasing two self-titled albums. In 1994 he launched an innovative tour with a sampling of percussion groups from countries around the world, including Zaire, Spain, and West Africa.
In 2000, he combined with Les Claypool of Primus (with whom he produced a track on the Primus album Antipop) and Trey Anastasio of Phish to create the band Oysterhead. That same year, he was approached by director Adam Collis to assemble the score for the film Sunset Strip. In 2002, Copeland was hired by Ray Manzarek and Robby Krieger of The Doors to play with them for a new album and tour, but after an injury sidelined Copeland, the arrangement ended in mutual lawsuits.
In 2005, Copeland released "Orchestralli", a live recording of chamber ensemble music which he had composed during a short tour of Italy in 2002. Also in 2005, Copeland started Gizmo, a new project with avant-garde guitarist David Fiuczynski. The band made their U.S debut on September 16, 2006 at the Modern Drummer Drum Festival. In January 2006, Copeland premiered his film about the Police called Everyone Stares: The Police Inside Out at the Sundance Film Festival. In February and March, he appeared as one of the judges on the BBC television show Just the Two of Us (a role he later reprised for a second series in January 2007). At the 2007 Grammy Awards, Copeland, Andy Summers and Sting performed the song "Roxanne" together again as The Police. This marked the band's first public performance since 1986 (they had previously reunited only for an improvised set at Sting's wedding party in 1992 and for their induction into the Rock and Roll Hall of Fame in 2003). One day later, the band announced that in celebration of The Police's 30th anniversary, they would be embarking on what turned out to be a one-off reunion tour on May 28, 2007. Also at that time, Copeland released the compilation album The Stewart Copeland Anthology.
In 2008, RIM commissioned Copeland to write a "soundtrack" for the BlackBerry Bold. Copeland created a highly percussive theme of one minute's length, from which he evolved six ringtones and a softer 'alarm tone' that are preloaded on the device.[4]
In March 2008, Copeland premiered a new orchestral composition "Celeste" at "An Evening with Stewart Copeland", part of the Savannah Music Festival. The performance featured classical violinist Daniel Hope. Copeland's appearance at Savannah included a screening of Everyone Stares: The Police Inside Out and a question and answer session. On August 21, 2009, at SummerFest '09, Copeland unveiled a recent composition, "Retail Therapy", which had been commissioned by the Music Society. Copeland then performed three more original works: "Kaya", "Celeste", and "Gene Pool", the last aided by San Diego-based percussion ensemble red fish blue fish.
Copeland was also present for a composer's roundtable and a question and answer discussion in conjunction with the festival. Copeland wrote the score for an updated theatrical presentation of chariot-racing saga Ben-Hur, premiered September 17, 2009, at the London O2 Arena. Copeland provided English-language narration of the production, which is performed entirely in Latin and the Aramaic language. In September 2009, a memoir by Copeland entitled Strange Things Happen: A Life with The Police, Polo, and Pygmies was released by Harper Collins. According to an interview Copeland conducted with the Californian music store Amoeba Music, the book chronicles much of Copeland's life, from his childhood through the course of his work with The Police and to the present.
In 2008, Copeland was commissioned by the Dallas Symphony Orchestra to create a percussion piece involving primarily Indonesian instruments. "Gamelan D'Drum" was first performed (after two weather delays) in Dallas on February 5, 2011.In October 2009 he was a guest on Private Passions, the biographical music discussion programme on BBC Radio 3.
On August 24, 2011, he was a featured soloist on The Late Show With David Letterman, as part of their second "Drum Solo Week", alongside other such notable drummers as Tony Royster, Jr., Gavin Harrison, and Dennis Chambers.
Stewart Copeland is no stranger to the challenges of composition, and whether he writes a libretto or a film score, he incorporates his experiences with music in all of its varied forms. As a percussionist, he tunes himself into the rhythm of the world's music and finds the inherent beat in his subject, then, in writing music he draws on the full range of musical styles to produce a distinctive sound.
Selective Works:
-(As Klark Kent) Music Madness From the Kinetic Kid, I.R.S., 1978.
-The Rhythmatist, A&M, 1985.
-The Equalizer and Other Cliff Hangers, I.R.S., 1988, reissued, 1993.
-With Curved Air Live, BTM.
-Air Borne, BTM.
-Midnight Wire, RCA.
-With the Police; on A&M Records Outlandos d' Amour, 1978.
-Reggatta de Blanc, 1979.
-Zenyatta Mondatta, 1980.
-Ghost in the Machine, 1981.
-Synchronicity, 1983.
-Every Breath You Take: The Singles, 1986.
-Message in a Box: The Complete Recordings, 1993.
-With Animal Logic Animal Logic, I.R.S., 1986.
-Animal Logic II, I.R.S., 1991 .
-Rapa Nui - 1994
-Kollected Works - 1995 (as Klark Kent)
-Silent Fall - 1995
-The Leopard Son - 1996
-Simpatico - 1999
-Orchestralli - 2004
-La Notte della Taranta - 2004
-The Stewart Copeland Anthology - 2007
-Dead Like Me - 2010
Compositions:
-Selected scores Film Rumblefish, 1984.
-Out of Bounds, 1986.
-Wall Street, 1987.
-Talk Radio, 1988.
-The First Power, 1990.
-Men at Work, 1990.
-Taking Care of Business, 1990.
-Riff Raff, 1991.
-Wide Sargasso Sea, 1993.
-Raining Stones, 1993.
-Fresh, 1994.
-Surviving the Game, 1994.
-Silent Fall, 1994.
-Fresh, 1994.
-Television The Equalizer, 1986.
-TV 101, 1990.
-Seconds Out, 1992.
-Afterburn, 1992.
-Babylon 5, 1993.
Read more
Latest headlines