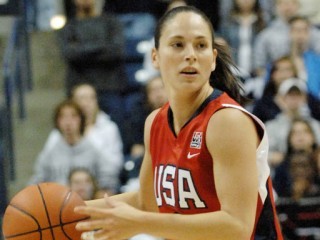 Sue Bird biography
Date of birth : 1980-10-16
Date of death : -
Birthplace : Long Island, New York, U.S.
Nationality : American
Category : Sports
Last modified : 2010-08-02
Credited as : Basketball player WNBA, played for Seattle Storm,
Everyone loves a winner—which gives fans all the more reason to love Sue Bird. Over eight seasons in high school and college, she won four championships and lost just seven games. As a WNBA rookie, she created a palpable electricity whenever she took the floor, turning the Seattle Storm into a team befitting its name. Hailed as the Mia Hamm of women's basketball, Sue could end up being that and a whole lot more.
GROWING UP
Suzanne Brigit Bird
was born in suburban Long Island on October 16, 1980. Her mother, Nancy, was a high school nurse, and her father, Herschel, a cardiologist. She has one sister, Jennifer. Everyone called Sue "Peanut" when she was a kid. She was always happy and energetic—unless she lost at a game, even something as mundane as Candyland. Then her mood would turn dark, and she would become unapproachable.
Sue's earliest basketball memory was a trip to see the Chicago Bulls and New York Knicks play in Madison Square Garden in 1988. She recalls a dunk by Michael Jordan, but not much else. A pro hoops career was about the farthest thing from her mind at the time.
Sports was a big part of growing up in Syosset, and Sue was one of those kids instantly better than her classmates at almost every activity she tried. Her best sports were soccer, tennis, track and basketball. A combination of great coordination and an unquenchable thirst for victory propelled her throughout her childhood.
While serious about honing her basketball skills, Sue was hardly a gym rat, a la her WNBA counterpart Jackie Stiles. When practice was over, she put down the ball and put her mind to other things. More than anything, she enjoyed the social aspect of sports (and for that matter she still does). The only time Sue took the court in non-competitive situations was when she would perform three-point shooting exhibitions during halftime of her older sister's games at Syosset High School.
Sue was the type of player you noticed immediately. Everything about her was natural and fluid, and she never made the same mistake twice. Once, after her CYO team scrimmaged during halftime at a St. John's women's basketball game, the 11-year-old was stopped by a security guard…for her autograph.
That was the same year Sue began showing signs of becoming an elite player. Her father remembers a game in Staten Island to determine who would advance to a national tournament. Sue took over in such convincing fashion that everyone on hand told Herschel his daughter would be a star.
Living in soccer-crazed Long Island, Sue also matured into an avid player on the pitch. The sport helped her develop quick footwork and great anticipation. She found these skills translated well to the hardwood. By age 15, after two years on Syosset's varsity hoops team, her game was ready to blossom.
In search of top-level competition for their daughter—and in the midst of a painful divorce—Sue's parents enrolled her at Christ the King Regional High School. A private catholic school in Middle Village, Queens, Christ the King had a phenomenal basketball program. In recent years the Royals had produced Chamique Holdsclaw, Lamar Odom, Jason Williams and Speedy Claxton. Sue had all the earmarks of being an equally special player.
During her career at Christ the King, Sue lived in a Queens apartment with her dad. When he was out of town on business, Nancy would stay there. The strain of her splitting time between parents was trying on the teenager. So was being the target of local hoops coaches, who accused her of having allowed herself to be recruited.
Sue's coach at Christ the King was Vincent Cannizzaro, who years earlier had helped mold Holdsclaw into the top player in NCAA history. He and his assistant, Bob Mackey, tried to help Sue shut out the pain of her home life, advising her to immerse herself in basketball. She developed a particularly close relationship with Mackey, who is now Christ the King's head coach.
With the Royals, Sue stepped directly into the starting point guard job and came into her own. In turn, Christ the King built on its reputation as a national powerhouse. In Sue's junior season, the team went 27-0. She had so many good teammates that instead of shooting, she preferred to set them up. Sue noticed how much better they played when she anticipated their moves and put the ball in their hands at just the right time. This talent became her trademark throughout high school.
The Royals were an incredibly cohesive unit that stuck together all year round. During the summers, they all played for the same AAU team, called the Liberty Belles. It was as big-time as women's high school basketball gets—travel, hotels, morning shootarounds, post-game interviews with high-circ newspapers.
The 1997-98 season—Sue's senior year—was one for the books. The Royals had four other first-rate starters in Kathryn Fowler, Maria Edwards, Mary Kacic and Antoinette Saitta—who, along with Sue, made up the "Fab Five"—plus two excellent reserves, Gillian McGovern and Mary Bullock. (In an unheard of development, all seven earned college basketball scholarships.) With Sue running the show, Christ the King went undefeated, won the state championship, and was named national champion by USA Today. She averaged more than 16 points, seven rebounds and eight steals a game, and was voted New York State Player of the Year.
ON THE RISE
Sue's grades were good enough to get her in to just about any school. With scholarship offers from around the country, she chose the University of Connecticut. She liked the fact that UConn was close to home in Storrs, but was also drawn to the school because coach Geno Auriemma had fashioned a winning tradition that felt like the one at Christ the King.
Upon settling on UConn, Sue was delighted to learn that she was part of the top recruiting class in the country—some called it the best of all time. This meant that the Huskies would have a strong squad right through her senior year. Sue's fellow freshmen included Swin Cash, Asjha Jones and Tamika Williams, each of whom would have been an immediate go-to girl at virtually any other program.
Eight games into the 1998-99 campaign, disaster struck. On a simple stop-and-pop she had executed without incident countless thousands of times before, Sue felt her left knee collapse during practice and had to be carried off the court. Doctors gave her the bad news: it was a torn ACL. She had to sit on the bench the rest of the year, and because she had participated in 20% of the team's games, she could not red-shirt and come back as a freshman the following fall.
While her fellow Huskies were going full-tilt on the court, Sue had to be satisfied with going full-tilt in rehab. The experience gave her new perspective. Life without basketball made her see the beauty of the game and understand how much it meant to her. She vowed from to play every game from that point on as if it were her last. Auriemma was happy to see this change in attitude. Up until then, he believed Sue was on cruise-control, never tapping her full potential.
Sue's bench time also offered insights into her team. She watched where her teammates liked to get the ball and which way they liked to drive, then filed this information away for the following season. In addition, she observed how Auriemma handled different players, how he squeezed the most out of each in practice and during games.
Without Sue, the Huskies were still a force. Shea Ralph, coming back from a torn ACL of her own, led the team to a 24-4 regular-season record and a berth in the NCAA Tournament. UConn advanced to the Sweet 16, then prepared for what should have been an easy matchup with Iowa State. But Ralph picked the wrong time to play her worst game. She shot just two of 12 from the floor, and the Huskies fell 64-58.
If Ralph could accept the blame for the premature end to UConn's season (which she did), then she could also take credit for Sue's recovery. By watching her teammate push herself all year and regain much of her past form, Sue became convinced she could do the same. So did Auriemma. He not only expected her back, but announced that UConn's ability to contend for a championship would depend largely on Sue.
In the summer of 1999, Auriemma scheduled a preseason barnstorming tour of Europe, hoping his players would bond on the road, while sharpening their skills against some of the world's top women's clubs. The trip also offered Sue a crash course in UConn's new offense, which used a complex system of picks and screens to create mismatches. The challenge was not so much to anticipate the moves of her teammates as to have the patience to let the plays develop.
The Huskies returned to Storrs a finetuned machine. In their season opener against Iowa, they shut down the Hawkeyes with suffocating defense, stopping them on their first 20 field goal attempts in an easy win. Next, in a see-saw battle against Kentucky, Sue hit a pair of clutch free throws, then led the team on an 11-5 run in the final two minutes to close out the game. From there UConn went on a 17-game roll, including victories over #2 Tennessee and #3 Louisiana Tech.
By now Auriemma's troops were running his offense flawlessly. The top five scorers form the previous season were back, so every time Sue brought the ball up the court she had multiple options. She also created havoc with her penetration, and introduced the Big East to her deadly pull-up jumper. In the 74-67 win over Tennessee, Sue was all over the place, scoring 25 points, diving for loose balls and playing terrific defense.
In early February, UConn and Tennessee locked horns again, this time in Storrs. The Lady Vols were looking for revenge, while the 19-0 Huskies knew this might be their toughest obstacle on the way to an undefeated season. In an epic battle, Sue had her team up 71-70 with seconds remaining. But Tennessee's Semeka Randall sliced between her, Ralph and Cash to can a tough 12-footer for the win. Sue got a hand on the ball but could not stop the shot.
Other than that loss, the Huskies were perfect in 1999-2000. They won the rest of their games, beating opponents by an average of 31 points. Their final regular-season contest, against Ruth Riley and Notre Dame (which was working on a winning streak of 20), was close for 37 minutes. Then Sue took over, scoring nine points to ice a 77-59 victory that decided the Big East title.
With Ralph grabbing the headlines going into the NCAA Tournament, Sue was still a relative unknown. Though she was enjoying a fine campaign, rarely was she mentioned in the same breath as All-America point guards Helen Darling of Penn State and Tasha Pointer of Rutgers. That would change as the Huskies ran roughshod over opponents during the tourney's early rounds.
UConn marched on to the Final Four, where they faced Penn State. Eager for the chance to go head-to-head with Darling, Sue played one of the best games of her life. In an easy win, she hit for 19 points and didn't turn the ball over once.
The championship game pitted top-ranked UConn against number-two Tennessee, for the third time of the season. Prior to the contest, the Huskies embraced a welcome harbinger. Five years earlier to the day they had captured their first NCAA title, also against the Lady Vols. The game had all the makings of a classic until Tennessee shooting guard Kristen Clement rolled her ankle in the morning shootaround. Minus this weapon, Pat Summitt's club did not stand a chance. The Huskies forced 26 turnovers, blocked 11 shots—including nine by center Kelly Schumacher—and burned the Lady Vols with crisp cuts and pinpoint passes to win 71-52. UConn blanketed All-Americans Semeka Randall and Tamika Catchings, while the offense revolved around Ralph, who had an excellent all-around contest. Sue ran the point perfectly, and for the second game in a row did not record a single turnover.
Going into the 2000-01 season, with Ralph entering her last year, Sue and her three fellow '98 recruits began to exert their influence on the team. They were close friends and housemates, always competing, always pushing one another. Sue was the quiet leader, Williams was more of a vocal presence, Cash was a bundle of energy, and Jones was the workhorse. The four welcomed a new face that fall, freshman Diana Taurasi, a scary good shooting guard who would spell Ralph.
The Huskies enjoyed another excellent regular campaign, and looked strong heading into the postseason. Defending their national title became a dicey issue, however, when Ralph blew out her knee once again, in the Big East Tournament final. Sue saved the day for the time being, canning a 10-foot buzzer beater to defeat Notre Dame for the conference championship. But without Ralph—not to mention Svetlana Abrosimova, who was also injured—UConn had a tough road ahead in the NCAA Tournament.
Sue responded by taking charge, and the Huskies got through their early games to earn a berth in the Final Four. There UConn opened a 16-point lead against conference rival Notre Dame. Uncharacteristically, Sue and her teammates began thinking ahead—which allowed Riley and the Irish to ambush them with an historic comeback and bounce the Huskies out of the tournament. Sue realized later she had had the opportunity to control the game by shooting the ball, but chose to pass instead. This had been a bone of contention between her and Auriemma for two years, and she finally got the point, albeit a little late.
MAKING HER MARK
After the Notre Dame loss, Sue told herself she never wanted to lose again as a Huskie. Incredibly, she didn't. Sue was sensational in 2001-02, winning the Wade Trophy and Naismith Award as College Player of the Year. The three girls who came to Storrs as freshmen with her—Cash, Jones and Williams—all followed suit by making All-America and Dean's List. Meanwhile, Taurasi showed signs that she might soon surpass all of them. The Huskies outscored their opponents by an average of 35 points a night, and out-rebounded them by 15. Their smallest margin of victory was nine, against Virginia Tech in a January contest.
It was in a practice after the Hokies game that the season went into high gear. Auriemma criticized Sue for not contending a shot. She did the unthinkable, and snapped back at her coach. He then ripped into his star, reducing her to tears. Auriemma's outburst was calculated. He had been waiting for Sue to show her emotions for more than three seasons. Now, he hoped, she would finally let it all hang out on the court.
The coach's strategy worked. With Sue running the offense, UConn put on a clinic of intelligent, unselfish basketball the rest of the way. The Huskies finished the regular season leading the nation in offense and defense—a mind-boggling accomplishment at any level of any sport.
By the NCAA Tournament, no one could compete with UConn. With Sue finally shouldering more of the scoring load—she canned a career-high 26 points against Old Dominion in the East Regional Final—the team cruised to the Final Four. Their first opponent was Tennessee. Talented but young, the Lady Vols had received an 86-72 whipping at the hands of the Huskies earlier in the year. They were no match again, as UConn dismantled Tennessee, 79-56—one of the most lopsided scores ever between two top teams. So good were the Huskies that after the game, coach Summit visited them in the locker room to congratulate them.
UConn faced All-America Stacey Dales and Oklahoma in the final. Having already beaten the Sooners by 14 points three months earlier, the Huskies focused mainly on playing mistake-free basketball. When Oklahoma came out tough and shut down UConn's perimeter game, Sue pounded the ball inside to her roommates. The Huskies raced to a 15-point lead in the second half, but the Sooners cut the margin to six with less than two minutes on the clock. With UConn needing a clutch bucket, Taurasi drove the lane, hit her shot and was fouled. She sank the free throw and the game was in the bag. UConn was a perfect 39-0 and national champions for the third time in eight seasons.
During the post-game celebration, Sue wept. Her teammates gave her the honor of the final snip when the net came down.
As soon as she graduated, Sue began to get offers for commercial endorsements. She signed a three-year deal with Nike and became a spokesperson for American Express. She fielded inquiries from soft drink, automotive, cosmetics and cellular communications companies, too. Also on Sue's agenda was the WNBA draft, where she would likely be the top selection.
If ever a team deserved a number-one pick, it was the Storm. They had tied for the league low with 10 wins in 2001, and at just over 5,000 per game, no team drew fewer fans. GM and head coach Lin Dunn was tempted to let Sue fly on draft day, when she was overwhelmed by offers from the New York Liberty —who opened the bidding with a trio of veteran stars and the #14 pick—and the Washington Mystics, who were willing to deal the #3 and #4 picks to pair the UConn star with Chamique Holdsclaw, the league's best young player. Dunn resisted and kept Sue for herself.
During training camp, Sue was given control of the offense. Dunn saw that she had the speed, smarts and court vision to adjust quickly to the pro game, and with 6-5 Aussie superstar Lauren Jackson as the team's go-to scorer, the Storm looked ready to turn things around.
Seattle's souvenir sales were in even better shape. After the Storm's preseason opener, everything with Sue's name and number on it had to be re-ordered. It wasn't just teenagers buying the jerseys and other items. A lot of men were reaching into their wallets, too. Later in the campaign, a surge in ticket sales was also attributed to interest among male fans. The Storm even began advertising games on Seattle sports radio stations—where female listeners make up only a small percentage of the audience.
On the court, Sue had to get over her own case of hero-worship. Although she was clearly one of the league's most talented players, she was in awe of the strength and experience of WNBA veterans. But in no time she accelerated her game, and picked up the entire team. With Jackson on the bench with a bad ankle to start the year, Sue took over and led the Storm to three wins after dropping their opener.
All season long, Storm fans screamed their approval with every pull-up jumper and no-look pass from Sue. And they were right to scream. Until Sue came along, the WNBA did not have an A-level point guard who could also score 20 a night. Just as important, she was raising the level of play of her teammates, which was just what the Storm had banked on.
By mid-season, Sue was completely acclimated to the pace of the pro game. She was picking apart defenses, thinking a pass ahead of her opponents and controlling the flow of games. To no one's surprise, she was voted to the West starting squad for the 2002 WNBA All-Star Game.
After the break, the Storm concentrated on making the playoffs. Entering the campaign's final month, they needed a big finish to reach their goal. With Sue leading the way, Seattle took seven of its last 10 games to go 17-15 and snag a postseason spot. The run ended, however, when the club fell to the Lisa Leslie and the Los Angeles Sparks.
Sue still looked back at the year with pride. Starting all 32 games for the Storm, she averaged 14.4 ppg, and registered a career-high 33 points in an August game against the Portland Fire. Sue placed among the WNBA's top ten in 11 statistical categories, including free throw percentage (first at 91.1%) and assists (second with 6.0). For her efforts, she earned First-Team All-WNBA honors.
Thanks to Sue, the Storm and their fans had good reason to be optimistic going into 2003. With two elite-level stars and a strong nucleus of young players, they possessed the talent to compete with the league's best teams. Seattle also embraced a new look at the top—Hall of Famer Anne Donovan was in as coach, replacing Dunn, who resigned after the '02 season. A dominant force in the paint during her college playing days, Donovan promised to help everyone on the Storm's frontline sharpen their games.
In order to overcome LA and the Houston Comets, Seattle needed to develop a third scorer to back up Sue and Jackson. Where those points would come from was the real question. Candidates included Kate Starbird, Sandy Brondello, Alisa Burras and Korean star Jung Sun-Min, the Storm's first-round pick in the '03 draft.
Sue's campaign was a rollercoaster ride. She went for a season-high 22 points in the second game of the year, a painful 77-74 loss to the Sparks. From there, she failed to reach double-digits in her next three contests, but the Storm logged a trio of victories. She soon regained her scoring touch, while also bolstering other parts of her game. Five times Sue dished out at least 10 assists, and her rebounding average was up by a board a night.
In the standings, Seattle began to establish itself as a real contender in the West, though Los Angeles remained the class of the division. Still, with Jackson among the league's most dangerous scorers and Brondello becoming a solid offensive option behind Sue, the Storm gatherted strength and looked to be a factor come playoff time.
But things unraveled near the end of the year. Despite ending at 18-16, the best record in franchise history, Seattle was bumped from the post-season picture.
Sue, who battled a sore knee down the stretch, put up good numbers, but didn't push the Storm to the next level. Second in the league in passing (6.5 apg), she became just the third player in WNBA history to record 200 assists in a season. She also raised her shooting percentage to 42.1%, and converted 88.4% from the free-throw line. Sue and Jackson were named All-WNBA first team, her second straight first-team selection.
As the 2004 season opened, Sue and the Storm were making fans believe that they were ready to turn in the tide completely. Seattle jump-started the campaign with a 88-85 win over Minnesota in the opener, including 31 points from Jackson, 18 from Betty Lennox (acquired by in the off-season) and 17 from Sue. Days later, the Storm broke down the Sparks in a convincing 93-67 victory.
Sue was happy to be handling the ball and running the floor again in '04. Storm supporters were just as happy to have an additional 12 years of WNBA experience on hand to back her up in the form of Lennox, Janell Burse and Sheri Sam. Also on the plus side, Sue was playing with considerably less pain, which was apparent on the defensive end.
Donovan planned to rest Sue more often—as long as the team could make due without her. That was welcome news, since Sue was slated to suit up for the U.S. women in Greece in August. (To accommodate the Games, the league took a month-long break.)
In Athens, Sue was not as much of a factor as she was with the Storm. This was due, at least in part, to the quality of her U.S. teammates. Veteran players like Dawn Staley, Sheryl Swoopes and Lisa Leslie helped lead the way for the women, along with rising WNBA star Diana Taurasi. From their first game, a 99-47 rout of New Zealand, the Americans looked unstoppable. The U.S. women won every game except one by double digits, and cruised to a perfect 8-0 record in the Olympics.
Their efforts culminated in a victory over Australia to win gold. Bird's playing time decreased after the first few games, and she didn't set foot on the court at all in the gold medal matchup. The surplus of superstars on the U.S. team limited her contribution to just under three points and about one rebound and one assist per game. Still, Bird returned to the United States an Olympic champion. She was also ready to continue her success with the Storm.
The thought of Sue dribbling down the court with a couple of finishers in front of her during the postseason had Seattle fans excited, and rightfully so. The Storm ended the '04 campaign second in the West, five games behind L.A., but primed for a playoff run.
They opened against Minnesota, and disposed of the Lynx in two games. Jackson topped the team in scoring both wins, while Sue was conspicuously quiet. In her defense, a broken nose in her team's second win limited her to just three minutes of action.
Jackson carried Seattle again in the next round. The Storm dropped its first game to the Sacramento Monarchs in OT, and then swept the next two to move onto the Finals. Jackson averaged 27 points and more than 10 boards per contest. Sue picked up her play, including a 10-point, 14-assist performance in the the clincher, just 24 hours after having surgery on her nose.
Seattle faced Connecticut for the championship. The Sun boasted a well-balanced attack, with Lindsay Whalen and hometown favorite Nykesha Sales leading the way. Connecticut took Game One of the best-of-three on its home floor, but the Storm remained confident with the series headed back west for the final two contests.
Game Two was a nailbiter that Seattle gutted out, 67-65. Sue combined with Jackson for 25 points, but the real story was the unheralded Lennox, who exploded for 27. The decider started the same way, with both teams shooting well in the first half and matching each other basket for basket. Lennox was feeling it again, so Donovan made sure she got plenty of good looks. In the second half, Seattle surged to a double-digit bulge, and then coasted home for the victory. Sue enjoyed her best all-around game of the Finals, scoring eight points with six assists and five rebounds.
A gold medal and WNBA title in the course of two months isn't a bad haul. And while the next Summer Games are four years off, Sue and the Storm have a great chance of repeating. Indeed, as the Comets and Sparks begin to age, the West may soon belong to Seattle. They've got the coach, the talent, and a point guard who can't stand to lose.
SUE THE PLAYER
Sue's offensive game flows from her ability to hit pull-up jumpers. When defenders guard her tight, a devilish crossover dribble creates enough space to get the shot away cleanly.
The book on Sue has always been to deny her the ball. This, of course, is easier said than done, especially when plays are running interference to get her open. In the WNBA, defenders have tried to rough her up and muscle her out of her rhythm, with varying degrees of effectiveness.
Getting inside Sue's head is not easy, either. She heard her share of trash talk in college and is more or less immune to it. (Sue is always messing with her ponytail, so some opponents try to psych her out by saying it doesn't look right.) The only thing that really gets her down is coming up short in key situations. She was, is and will probably always be a notorious sore loser.
How good can Sue be? Five years from now, it is possible she might be the best player in WNBA history. There's also a chance she won't be playing ball at all. She has never fully embraced the game, so it doesn't have a tight grip on her. Ask her what she liked most about college hoops, and she'll talk about the off-the-court closeness and camaraderie. That doesn't exist in pro hoops, no matter what the league would like you to think. Unless she finds something to hold her heart, Sue might find her destiny elsewhere.
EXTRAS
* Since childhood, Sue has had near total recall. Her father calls her an idiot savant. Geno Auriemma says she sees the game the way a coach does—and that he's never had another player like that.
* Sue was a two-time All-American at UConn. She was named NCAA Point Guard of the Year three times. Her most embarrassing college memory is her mother dancing in the stands on national television.
* Sue wears number 10 because she and her sister were both October babies.
* Sue won the 2002 ESPY as Female College Athlete of the Year.
* Sue was a member of America's 2002 gold medal-winning Women's World Championship squad. She is in line to be the starting point guard for Team USA in the 2004 Olympics.
* Sue's salary as a WNBA player is around $60,000. Endorsement deals could one day earn her 10 to 20 times that amount.
* The toughest thing for Sue to get used to in the WNBA was the travel. At UConn, the women's team flew chartered everywhere. In the pros, they take commercial flights, which often requires Seattle players to rise before dawn.
* One of Sue's dreams is to own a pet monkey, like Marcel on the sitcom "Friends."
* Sue is constantly asked if she's related to Larry Bird.
* A year after Sue's ACL injury, high school teammate Mary Kacic suffered the same fate on the court for Manhattan College. The first person she called was Sue, who became her long-distance rehab coach.
* Once a week at UConn, Sue and her roommates would have a "family" dinner. Tamika Williams prepared the main course, Swin Cash the vegetable, Asjha Jones the starch and Sue the dessert. Sue says her secret talent is her chocolate chip cookie recipe.
* During the 2002 NCAA Tournament, former UConn star Ray Allen took the Huskies out for dinner at the Velvet Room in Milwaukee.
* Sue was one of four Huskies to go in the first six picks of the 2002 WNBA Draft. That has never happened in any draft, in any sport. Cash went to the Detroit Shock with the second pick, Jones was selected by the Mystics with the #4 pick, and Williams was the sixth overall choice, by the Minnesota Lynx.
* During the 2003 season, Sue inadvertently caused a stir when she made a bet with Seattle radio personality Mitch Levy. If her turnover-to-assist ratio ended at higher than 2:1, she agreed to an on-air spanking. If it didn't, Levy said he would buy season tickets for the '04 campaign. But the wager eventually drew criticism, forcing Sue to cancel and issue a public apology.
* Sue's best friend outside of the WNBA is Knicks guard Jamal Crawford. The two met at a charity basketball game in 2003, and discovered they have the same taste in music. They now email regularly.
* During the winter of 2004, Sue played for a professional team in Moscow. The toughest thing on her was the brutally cold weather. Her favorite Russian saying was "Ya ne panimayu," which means, "I don't understand."
* Sue loves to dress in jeans and funny t-shirts.
Read more
Latest headlines