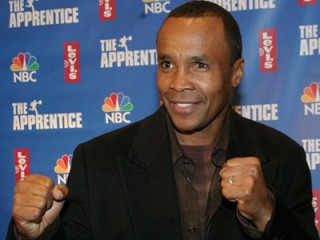 Sugar Ray Leonard biography
Date of birth : 1956-05-17
Date of death : -
Birthplace : Rocky Mount, North Carolina, U.S.
Nationality : American
Category : Sports
Last modified : 2011-10-27
Credited as : Boxer, Sugar Ray Leonard Boxing Inc, Real Steel
Sugar Ray Leonard is an American retired professional boxer and occasional actor. He was named Ray Charles Leonard, after his mother's favorite singer, Ray Charles.
Leonard was the first boxer to earn more than $100 million in purses, and he is widely considered to be one of the best boxers of all time, winning world titles in five weight divisions and defeating future fellow International Boxing Hall of Fame inductees Wilfred Benítez, Thomas Hearns, Roberto Durán and Marvin Hagler.Leonard was named "Boxer of the Decade" for the 1980s.
Leonard started boxing at the Palmer Park recreation center in 1969. His older brother Roger started boxing first. Roger helped start the boxing program, urging the center's director, Ollie Dunlap to form a team. Dave Jacobs, a former boxer, and Janks Morton volunteered as boxing coaches. Roger won some trophies and showed them off in front of Ray, goading him to start boxing.
In 1972, Leonard boxed in the featherweight quarterfinals of the National AAU Tournament, losing by decision to Jerome Artis. It was his first defeat. Later that year, he boxed in the Eastern Olympic Trials. The rules stated that a boxer had to be seventeen to box in international competition, so Leonard, only sixteen, lied about his age. He made it to the lightweight semifinals, losing a disputed decision to Greg Whaley, who took such a beating that he wasn't allowed to continue in the trials. Whaley never boxed again.
Sarge Johnson, assistant coach of the U.S. Olympic Boxing Team, said to Dave Jacobs, "That kid you got is sweet as sugar." The nickname stuck. However, given his style and first name, it was probably only a matter of time before people started calling him Sugar Ray, after the man many consider to be the best boxer of all time, Sugar Ray Robinson.
In 1973, Leonard won the National Golden Gloves Lightweight Championship, but lost to Randy Shields in the lightweight final of the National AAU Tournament. The following year, Leonard won the National Golden Gloves and National AAU Lightweight Championships.
In 1976, Leonard made the U.S. Olympic Team as the light welterweight representative. The team also included Leon and Michael Spinks, Howard Davis, Jr., Leo Randolph, Charles Mooney and John Tate. Many consider the 1976 U.S. team to be the greatest boxing team in the history of the Olympics.
Leonard won his first four Olympic bouts by 5–0 decisions. He faced Kazimier Szczerba in the semifinals and won by a 5–0 decision, avenging his last amateur loss. In the final, he boxed the great Cuban knockout artist Andrés Aldama, who scored five straight knockouts to reach the final.
When Leonard decided to turn professional, Janks Morton introduced him to Mike Trainer, a friend of his who was an attorney. Trainer talked twenty-four of his friends and clients into underwriting Leonard's career with an investment of $21,000 to be repaid within four years at 8% interest. Trainer then made Leonard the sole stockholder in Sugar Ray Leonard, Inc.
In his fourteenth professional fight, Leonard fought his first world-ranked opponent, Floyd Mayweather, who was ranked seventeenth. The fight took place on September 9, 1978. Leonard won by a tenth-round knockout. A month later, Leonard defeated his old amateur nemesis Randy Shields by a ten-round unanimous decision.
On August 12, 1979, Leonard knocked out Pete Ranzany in four rounds to win the NABF Welterweight Championship.The following month, he made his first title defense against Andy Price. Many felt that Price would give Leonard a tough fight, but Leonard took him out in the first round, advancing his record to 25–0 with 16 knockouts.
Leonard fought Wilfred Benitez for the WBC Welterweight Championship on November 30, 1979 at Caesar's Palace in Las Vegas, Nevada. Leonard received $1 million and Benitez, a two-division champion with a record of 38–0–1, received $1.2 million.
It was a highly competitive and tactical battle. In the first round, Leonard rocked Benitez with a left hook that came off a jab and right cross. Late in the third, Leonard dropped Benitez on the seat of his pants with a stiff left jab. More embarrassed than hurt, Benitez got up quickly.
Leonard made his first title defense in Landover, Maryland on March 31, 1980. His opponent was Dave "Boy" Green. The British challenger had a record of 33–2. In the fourth round, Leonard knocked Green out with a devastating left hook. Leonard called it "the hardest single punch I ever threw."
On June 20, 1980 Leonard returned to the Olympic Stadium in Montreal to defend his title against Roberto Durán before a crowd of 46,317. Duran, the former Undisputed World Lightweight Champion, had a record of 71–1 and was the #1 welterweight contender. Duran received $1.5 million and Leonard, working for a percentage of the closed-circuit gate as well as a guarantee, received over $9 million.
Angelo Dundee counseled Leonard to box, to move side to side and not to get caught on the ropes. However, Leonard decided to fight Duran's way. "Flat-footed," he said. "I will not run."
Duran was awarded a unanimous decision, although it was mistakenly read as a majority decision in the ring. The scorecard of judge Angelo Poletti was incorrectly added and announced as 147–147. He actually scored it 148–147. In rounds, he had it three for Duran, two for Leonard, and ten even.
The rematch took place November 25, 1980 at the Louisiana Superdome in New Orleans. Leonard received $7 million and Duran received $8 million.
Dave Jacobs disagreed with the decision to have an immediate rematch with Duran and terminated his relationship with Leonard when the rematch was made. "My idea is that he should have a tuneup fight before he fights with Roberto again," Jacobs said. "I think he won the fight with Duran, but I don't think it is healthy for him to be fighting Duran right away."
On March 28, 1981, Leonard defended his title against Larry Bonds, the WBC sixth-ranked contender, at the Carrier Dome in Syracuse, New York. Bonds was a southpaw, which made him a good opponent for Leonard, given that his next opponent was scheduled to be the WBA Junior Middleweight Champion Ayub Kalule, a southpaw.
Leonard was the aggressor throughout, with Bonds circling the ring. He staggered Bonds with a right in the fourth round and dropped him with a follow-up combination. Bonds got up and continued to move, with Leonard in pursuit. Leonard dropped him again in the tenth. Bonds rose but Leonard didn't let him off the hook. The referee stopped the fight with Bonds taking punishment in a corner.
Leonard moved up to the junior middleweight division and faced Kalule on June 25, 1981 at the Astrodome in Houston, Texas. Kalule, who was 36–0, had been the WBA Junior Middleweight Champion for two years.
Kalule and his handlers had expected Leonard to use lateral movement against him, but Leonard took the fight to Kalule. After eight tough rounds, he got Kalule in the ninth. Leonard hurt him with a right to the head. Shortly afterward, Leonard dropped him with a right-left-right combination. He got up but when the referee asked him if he was O.K., he shook his head. Leonard celebrated his victory with a full 360-degree, no-hands flip.
Promoted as "The Showdown", Leonard fought Thomas Hearns on September 16, 1981 at Caesars Palace in Las Vegas to unify the World Welterweight Championship in a scheduled fifteen-rounder. They fought before a live crowd of 23,618. Hearns was paid $5.1 million, and Leonard made over $11 million.
Hearns, 32–0 with 30 knockouts, won the WBA Welterweight Championship in 1980, scoring a second-round knockout of Jose 'Pipino' Cuevas in Detroit, Michigan. He made three successful title defenses, stopping Luis Primera, Randy Shields, and Pablo Baez.
The fight began as expected, Leonard boxing from a distance and Hearns stalking. Leonard had difficulty with Hearns' long reach and sharp jab. By the end of round five, Leonard had a growing swelling under his left eye, and Hearns had built a considerable lead on the scorecards. Leonard, becoming more aggressive, hurt Hearns in the sixth with a left hook to the chin. Leonard battered Hearns in rounds six and seven, but Hearns regrouped. Hearns started to stick and move, and he started to pile up points again. The roles reversed: Leonard became the stalker and Hearns became the boxer. The fight billed as a classic showdown between a powerful knockout artist and the best boxer/puncher the middleweight division had seen in decades devolved into a tactical and boring fight.
In round fourteen, after staggering Hearns with an overhand right, Leonard pinned Hearns against the ropes, where he unleashed another furious combination, prompting referee Davey Pearl to stop the contest and award Sugar Ray Leonard the Unified World Welterweight Championship. Hearns was leading by scores of 124–122, 125–122, and 125–121.
After the fight, there was controversy due to the scoring of rounds six and seven. Even though Leonard dominated, hurting Hearns and battering him, all three judges gave both rounds to Leonard by a 10–9 margin. Many felt that the ten-point must scoring system was not properly used and those rounds should have been scored 10–8.
The fight was named "Fight of the Year" by The Ring.
On February 15, 1982, Leonard defended the unified title against Bruce Finch, the WBC #4 contender. Leonard knocked him out in the third round. Leonard's next fight was scheduled to be against Roger Stafford on May 14, 1982 in Buffalo, New York. While training, Leonard started to see floaters. He went to a doctor and discovered that he had a detached retina.
On November 9, 1982, after consulting with doctors, friends and family, Leonard invited Marvin Hagler and other boxing dignitaries to a charity event in Baltimore, Maryland. Standing in a boxing ring with ABC's Howard Cosell nearby, Leonard announced his retirement, saying a bout with Hagler would unfortunately never happen. Leonard maintained his eye was fully healed, but that he just didn't want to box anymore.
Missing the limelight and the competition, Leonard announced in December 1983 that he was returning to the ring. Leonard boasted that he would have a couple of ten-round bouts and then take on Milton McCrory, Donald Curry, Duran, Hearns and finally Hagler. This decision was met with a torrent of criticism from fans and the media, who felt Leonard was taking unnecessary risks with his surgically repaired eye.
A bout with Philadelphia's Kevin Howard, who was 20–4–1, was scheduled for February 25, 1984. The fight was postponed when Leonard had minor corrective surgery on his right eye. This latest eye injury further fueled the flames of those who opposed Leonard's comeback.
Before the fight with Howard, Dave Jacobs rejoined Leonard's team in a limited role. Jacobs had quit in 1980, disagreeing with Leonard's decision to have an immediate rematch with Duran.
On March 10, 1986, Marvelous Marvin Hagler knocked out John "The Beast" Mugabi in eleven rounds to retain the Undisputed World Middleweight Championship for the twelfth time and advance his record to 62–2–2. "I was ringside," Leonard said. "I'm watching John 'The Beast' Mugabi outbox Hagler. Of all people, John 'The Beast' Mugabi." It was then that Leonard decided to come back and fight Hagler. He called Mike Trainer and said, "I can beat Hagler."
On May 1, 1986, Leonard announced on a Washington, D.C. talk show that he would return to the ring to fight Hagler. The announcement generated a lot of controversy because of Leonard's inactivity and eye injuries, yet it also excited many sports fans who had hoped to see them fight years earlier. Hagler took a few months to decide, then agreed to the match.
The fight, promoted as "The Super Fight", was scheduled for April 6, 1987 at Caesars Palace in Las Vegas. Leonard was guaranteed $11 million, and Hagler was guaranteed $12 million. Hagler was a heavy favorite. The odds started at 4–1, then settled at 3–1.
The original fight plan for Leonard was to go toe-to-toe with Hagler and try to cut him, but the plan changed about five days before the fight. Leonard got hit by sparring partner Quincy Taylor and was badly buckled. "He almost knocked me out," Leonard said. After that, Leonard decided to box Hagler.
Many others felt that Leonard deservedly got the decision, arguing that Leonard landed more punches and showed better defense and ring generalship. Jim Murray, long-time sports columnist for the Los Angeles Times, wrote, "It wasn't even close...He didn't just outpoint Hagler, he exposed him. He made him look like a guy chasing a bus. In snowshoes.... Leonard repeatedly beat Hagler to the punch. When he did, he hit harder. He hit more often.... He made Hagler into what he perceived him to be throughout his career—a brawler, a swarmer, a man who could club you to death only if you stood there and let him. If you moved, he was lost."
The fight was named "Fight of the Year" and "Upset of the Year" by The Ring.
Despite requests from the Hagler camp, Leonard was uninterested in a rematch and retired on May 27, 1987. "I'll try, I'll give it a shot," Leonard said of his latest retirement. "But you guys know me." A month after Hagler's formal retirement in June 1988 Leonard would announce another comeback.
On November 7, 1988, Leonard made another comeback, facing Don Lalonde at Caesar's Palace in Las Vegas. They fought for Lalonde's WBC Light Heavyweight Championship and the newly created WBC Super Middleweight Championship, which meant that Lalonde had to make 168 lbs. Many were critical of Leonard for stipulating that his opponent—a natural 175 pounder—should weigh less than his usual fighting weight, weakening him. The newly created Super Middleweight division gave Leonard the opportunity to win a world title in yet another weight class.
Lalonde, 31–2 with 26 knockouts, was guaranteed at least $6 million and Leonard was guaranteed over $10 million.
On June 12, 1989, Leonard defended the WBC Super Middleweight Championship in a rematch with Thomas Hearns at Caesar's Palace. It was promoted as "The War." Hearns was guaranteed $11 million and Leonard was guaranteed $14 million.
On February 9, 1991, Leonard went down to 154 lbs and fought WBC Super Welterweight Champion Terry Norris at Madison Square Garden. Norris dominated the fight. He knocked Leonard down with a left hook in the second round, and in the seventh, he dropped Leonard again with a short right. This time, it was Sugar Ray who looked awkward and slow. His vaunted and crisp flurries that wowed judges and fans alike were now sloppy and wide. Unable to turn his punches over crisply, Leonard often slapped at his opponent. Leonard went the distance but lost by a lopsided decision. The scores were 120–104, 119–103, and 116–110. After the verdict was announced, Leonard announced his retirement. "It took this fight to show me it is no longer my time," Leonard said. "Tonight was my last fight. I know how Hagler felt now."
In October 1996, the 40-year-old Leonard announced that he was coming out of retirement to fight Héctor Camacho for the lightly regarded IBC Middleweight Championship. Camacho, a quick southpaw, had a record of 62–3–1.
Leonard attributed his poor performance against Norris to lack of motivation, a rib injury, moving down in weight, and divorce, which was being litigated while he was in training. "It was stupid for me to fight Norris at 154 lbs," Leonard said. "This is different. I'm in the best shape possible."
For the Camacho fight, Leonard had a new trainer, Adrian Davis. "He's a great trainer, a throwback," Leonard said. "He has really helped me get ready."
The fight with Camacho took place on March 1, 1997 in Atlantic City, New Jersey. Leonard held his own in the first two rounds, but Camacho, who applied pressure from the opening bell, started to score well in the third. He continued to score well in the fourth and opened a cut above Leonard's right eye. In the fifth, Camacho dropped Leonard with a right followed by two left uppercuts. Leonard got up, but was unable to ward off Camacho. The referee stopped the fight with Leonard taking punishment on the ropes.
Afterward, Leonard retired again, saying, "For sure, my career is definitely over for me in the ring." However, less than a week after the fight, Leonard said he planned to fight again. He blamed his loss on a torn right calf muscle. His doctor suggested that he cancel the fight, but Leonard wanted to go through with it. Before the fight, he was given a shot of novocaine.
Leonard has also worked as an actor. He has appeared in numerous television shows, including Half & Half, L.A. Heat, Married With Children, Renegade, and Tales From The Crypt. He has also appeared in several movies, including I Spy and most recently The Fighter, starring Christian Bale and Mark Wahlberg. This movie brought back memories of his fight with Dicky Eklund.
In 2001, Leonard launched Sugar Ray Leonard Boxing Inc., a boxing promotional company, and announced the company's strategic partnership with ESPN. Together, Leonard and ESPN would produce and promote "Sugar Ray Leonard and ESPN II Presents Friday Night Fights," which would air the first Friday of every month for twelve months.
Leonard worked as adviser in 2011 robot boxing film Real Steel.
Leonard dissolved the company in 2004. He had a falling out with partner Bjorn Rebney, whom he called "a cancer in my company." He also started a new time-consuming project, the reality boxing show The Contender.
Speaking of his promotional company, Leonard said, "We did some great shows with evenly matched fights. I took great pride in it. But the TV show came about and made my decision a lot easier. I already had it in the back of my mind to dissolve the company. The working environment was not healthy."
For four seasons, Leonard served as host and mentor to the aspiring fighters on The Contender. Sylvester Stallone, who co-hosted during the first season, was one of the executive producers, along with Mark Burnett. The first season of the television show rewarded the tournament champion $1,000,000 but this reward was reduced to $500,000 in the second season, then increased to $750,000. Some may speculate it was because Sugar Ray could not afford to keep handing out a million dollars.
Leonard competed on season 12 of Dancing with the Stars, which premiered on Monday, March 21, 2011, on ABC. His partner was Anna Trebunskaya. He was voted off in Week 4 of the show.
For many years, Leonard has been the International Chairman of the Juvenile Diabetes Research Foundation's Walk for a Cure and is actively involved in raising both awareness and funds.
Leonard married his high school sweetheart, Juanita Wilkinson, in January 1980. Their six-year-old son, Ray Jr., served as the ring bearer. In 1984, they had another son, Jarrel.
They were divorced in 1990. During divorce proceedings, Juanita Leonard accused her husband of physically abusing her while under the influence of alcohol. She also said he was an occasional cocaine user.
After the Los Angeles Times broke the story, Leonard held a press conference and acknowledged that the accusations were true. He said he started using after he retired in 1982, following surgery to repair a detached retina. "I wanted more," Leonard said. "I wanted that arena. I didn't want anyone to tell me my career had to end."
In 2011, Sugar Ray revealed in an NPR broadcast that he had been free of alcohol since July 2006.
In 1989, Leonard was introduced to Bernadette Robi by Kenny G at a Luther Vandross concert. Robi is the daughter of Paul Robi, one of the original Platters, and she is the ex-wife of Lynn Swann.
Leonard and Robi were married at Leonard's $8.7 million estate in Pacific Palisades, California in August 1993. At the wedding ceremony, the grounds were converted into a garden with 10,000 roses and blossoms of other flowers flown in from the Netherlands. They have two children, Camille and Daniel Ray.
Leonard is also the godfather of Khloe Kardashian and has appeared on many episodes of Keeping Up With The Kardashians.
Read more
Latest headlines