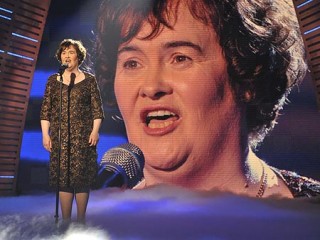 Susan Boyle biography
Date of birth : 1961-04-01
Date of death : -
Birthplace : Blackburn, West Lothian, Scotland
Nationality : Scottish
Category : Arts and Entertainment
Last modified : 2011-10-27
Credited as : Singer, Britain's Got Talent,
Susan Magdalane Boyle is a Scottish singer who came to international public attention when she appeared as a contestant on reality TV programme Britain's Got Talent on 11 April 2009, singing "I Dreamed a Dream" from Les Misérables. Her first album was released in November 2009 and debuted as the number one best-selling CD on charts around the globe.
Boyle never married, and she dedicated herself to care for her ageing mother until she died in 2007 at the age of 91. Boyle has a reputation for modesty and propriety, admitting during her first appearance on Britain's Got Talent that she had "never been married, never been kissed".
A neighbour reported that when Bridget Boyle died, her daughter "wouldn't come out for three or four days or answer the door or phone." Boyle is a practising Roman Catholic and sang in her church choir at her church in Blackburn. Boyle remains active as a volunteer at her church, visiting elderly members of the congregation in their homes. On a 2010 episode of the Oprah Winfrey Show, Boyle summarised that her daily life was "mundane" and "routine" prior to stardom.
Boyle took singing lessons from voice coach Fred O'Neil. She attended Edinburgh Acting School and took part in the Edinburgh Fringe.
Prior to Britain's Got Talent, her main experience had come from singing in her local Catholic church, Our Lady of Lourdes; in local choirs; and in karaoke performances at pubs in and around her village. She had also auditioned several times for My Kind of People. She also has long participated in her parish church's pilgrimages to the Knock Shrine, County Mayo, Ireland, and has sung there at the Marian basilica.
Her repertoire through the years has included songs such as "The Way We Were" and "I Don't Know How to Love Him." British tabloids claimed "exclusives" of video clips of some early performances.In 1995, her audition for Michael Barrymore's My Kind of People at the Olympia Shopping Centre in East Kilbride was filmed – the amateur video shows Barrymore was more interested in mocking her than in her ability to sing.
In 1999, she recorded a track for a charity CD to commemorate the Millennium produced at a West Lothian school. Only 1,000 copies of the CD, Music for a Millennium Celebration, Sounds of West Lothian, were pressed.
An early review in the West Lothian Herald & Post said Boyle's rendition of "Cry Me a River" was "heartbreaking" and "had been on repeat in my CD player ever since I got this CD..." The recording found its way onto the internet following her first televised appearance and the New York Post said it showed that Boyle was "not a one trick pony." Hello! said the recording "cement her status" as a singing star.
In 1999, Boyle used all her savings to pay for a professionally cut demo, copies of which she later sent to record companies, radio talent competitions, local and national TV. The demo consisted of her versions of "Cry Me a River" and "Killing Me Softly with His Song"; the songs were uploaded to the Internet after her BGT audition.
After Boyle won several local singing competitions, her mother urged her to enter Britain's Got Talent and take the risk of singing in front of an audience larger than her parish church. Former coach O'Neil said Boyle abandoned an audition for The X Factor because she believed people were being chosen for their looks. She almost abandoned her plan to enter Britain's Got Talent believing she was too old, but O'Neil persuaded her to audition nevertheless. Boyle said that she was motivated to seek a musical career to pay tribute to her mother. Her performance on the show was the first time she had sung in public since her mother died.
In August 2008, Boyle applied for an audition for the third series of Britain's Got Talent and was accepted after a preliminary audition in Glasgow. When Boyle first appeared on Britain's Got Talent at the city's Clyde Auditorium, she said that she aspired to become a professional singer "as successful as Elaine Paige".
Boyle sang "I Dreamed a Dream" from Les Misérables in the first round of the third series of Britain's Got Talent, which was watched by over 10 million viewers when it aired on 11 April 2009.Programme judge Amanda Holden remarked upon the audience's initially cynical attitude, and the subsequent "biggest wake-up call ever" upon hearing her performance.
This performance was widely reported and tens of millions of people viewed the video on YouTube. Boyle was "absolutely gobsmacked" by the strength of this reaction. Boyle is aware that the audience on Britain's Got Talent was initially hostile to her because of her appearance, but she has refused to change her image.
Since the appearance, Paige has expressed interest in singing a duet with Boyle, and has called her "a role model for everyone who has a dream".Boyle's rendition of "I Dreamed a Dream" has been credited with causing a surge in ticket sales in the Vancouver production of Les Misérables. Cameron Mackintosh, the producer of the Les Misérables musical, also praised the performance, as "heart-touching, thrilling and uplifting".
She was one of 40 acts that were put through to the semi-finals. She appeared last on the first semi-final on 24 May 2009, performing "Memory" from the musical Cats.In the public vote she was the act to receive the highest number of votes and go through to the final. She was the clear favourite to win the final, but ended up in second place to Diversity; the UK TV audience was a record of 17.3 million viewers.
The Press Complaints Commission (PCC) became concerned by press reports about Boyle's erratic behaviour and speculation about her mental condition and wrote to remind editors about clause 3 of their code of press conduct. The day after the final, Boyle was admitted to The Priory, a private psychiatric clinic in London, TalkbackThames explained "Following Saturday night's show, Susan is exhausted and emotionally drained." Her stay in hospital attracted widespread attention, with Prime Minister Gordon Brown wishing her well.
Cowell offered to waive Boyle's contractual obligation to take part in the BGT tour. Her family said "she's been battered non-stop for the last seven weeks and it has taken its toll her dream is very much alive," as she had been invited to the Independence Day celebrations at the White House.
Boyle left the clinic five days after her admission and said she would participate in the BGT tour. Despite health worries, she appeared in 20 of the 24 dates of the tour.The Belfast Telegraph said "Despite reports of crumbling under the pressure..., she exuded a confidence resembling that of a veteran who has been performing for years".
Boyle's first album, I Dreamed a Dream, was released on 23 November 2009. The album includes covers of "Wild Horses" and "You'll See" as well as "I Dreamed a Dream", and "Cry Me a River".
I Dreamed a Dream became Amazon.com's best-selling album in pre-sales on 4 September 2009, three months before the scheduled release. In Britain, Boyle's debut album was recognised as the fastest selling UK debut album of all time selling 411,820 copies, beating the previous fastest selling debut of all time, Spirit by Leona Lewis. I Dreamed a Dream also outsold the rest of the top 5 albums combined in its first week.
In the U.S., the album sold 701,000 copies in its first week, the best opening week for a debut artist in over a decade. It topped the Billboard chart for six straight weeks and although it narrowly failed to become the best-selling album of 2009, with sales of 3,104,000 compared to 3,217,000 for Taylor Swift's Fearless, it was one of only two albums to sell over 3 million copies in the U.S., and was also the top selling "physical" album of 2009, with only 86,000 of its sales coming from digital downloads. This has in turn garnered more media attention, as mentioned by People magazine.
On 9 July 2010, Boyle announced that her second album would be a Christmas album entitled The Gift. As part of the lead up to the album, she will be holding a competition 'Susan's Search', the winner of which would get to sing a duet with her on her new CD. The album was released on 8 November 2010.
Produced by Steve Mac, who says "Now Susan's used to the studio and the recording process, this time round we might go even further down a traditional route of recording by getting a band together and rehearsing songs before we go into the studio to see what works, how she reacts with certain parts, and so we can change the arrangements that way. I think that's going to work much better....With Susan it's very important she connects with the public and the public connect with her. She doesn't want to sing anything that hasn't happened to her or she can't relate to."
Boyle has suggested the album will include some jazz numbers now she's "a bit more content" within herself. "My next album has to have an element of surprise in it again. I'm hoping to make it better and a bit extra special."
In August 2010, British tabloid, News of the World, reported that Boyle was experiencing financial woes as Boyle was unable to access her fortune, which was being controlled by her management team – consisting of Andy Stephens, Ossie Killkenny, and Susan's lawyer niece Kirsty Foy.
Boyle's brother Gerry said his sister was fearful of losing her contract and of returning to her previous financial situation, and that she has been unable to move into her £300,000 five-bedroom house in Blackburn because she does not have the cash to furnish it. He said "Susan's millions are ring-fenced but Susan has no concept of money," and was "extremely distressed" at having to live off £300 a week, after being banned from withdrawing money from the bank or owning a credit card.
This story was contradicted the following day though by the news that she had bought two houses. It was also reported that she had recently been on a spending spree, where she had bought a grand piano, iPhone, and five dresses made by Stewart Parvin, the Queen's dressmaker. The press had previously stated that Susan Boyle was suing her brother Gerry for other stories he'd sold to the newspapers.
In November 2010, Boyle became only one of three to ever top both the UK and US album charts twice in the same year.
Emeli Sande is reported to be helping Susan write songs for her third studio album, which is due this autumn. Susan performed on the second semi-final results show of the sixth season of America's Got Talent, which aired on August 31, 2011.
It was originally planned that Boyle would appear as herself in a musical about her life. She was quoted as saying she hated "having to sit watching people up there" who are actors. However it was later announced actress Elaine C Smith would be portraying her.The musical will "tell the singer's entire life story, including her years living with her moggy back in Blackburn before her world-famous telly audition." The show may play in the West End before touring the United Kingdom.
Read more
Latest headlines