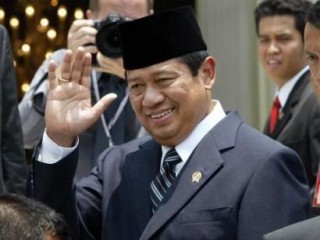 Susilo Bambang Yudhoyono biography
Date of birth : 1949-09-09
Date of death : -
Birthplace : Pacitan, East Java, Indonesia
Nationality : Indonesian
Category : Politics
Last modified : 2010-07-22
Credited as : Politician, President of Indonesia, World's political leader
Susilo Bambang Yudhoyono
, born September 9, 1949 in Pacitan, East Java, Indonesia is an Indonesian politician and the current President of Indonesia.
Retired general-turned-politician S
usilo Bambang Yudhoyono
--sometimes known by the nickname
SBY
--has achieved two significant firsts in his native Indonesia. When he won election to the presidency over incumbent Megawati Sukarnoputri in 2004, Yudhoyono became the first directly elected chief executive in Indonesian history. Five years later, Yudhoyono made history again when he was re-elected to that office in a landslide victory--the first time an Indonesian president had ever won re-election. A few weeks before his victory, the president declared that "I am optimistic that in the next five years we will be doing many things for a better future," according to Norimitsu Onishi of the New York Times. A month after reelection, in August of 2009, however, Yudhoyono was the target of a failed assassination attempt mounted by a militant Islamic group. His inauguration to a historic second term came two months later.
Yudhoyono's tenure has been marked by a series of reform efforts and liberal policies aimed at reducing governmental corruption and enhancing Indonesia's political and economic standing. These initial goals were temporarily subsumed by the crisis following the tsunami that devastated much of Southeast Asia in December of 2004. Nevertheless, Yudhoyono succeeded in bringing increased political and economic stability to Indonesia through such measures as the stabilization of rice prices and an amnesty for rebels in the northwestern province of Aceh. During his second term he continued work to mitigate government corruption, with two senior officials resigning in November of 2009 following their controversial arrests of members of Indonesia's anti-corruption commission. In addition to his political achievements, Yudhoyono is known for his mental capabilities. The "thinking general" has published numerous books and articles, including 1999's Coping with the Crisis--Securing the Reform, 2002's Revitalization of the Indonesian Economy: Business, Politics and Good Governance, 2004 anthology Taman Kehidupan (Garden of Life), and 2005's The Making of a Hero.
Born on September 9, 1949, in Pacitan--a small town located in the eastern portion on the Indonesian island of Java--Yudhoyono came from a well-off family with a background in the military; his father, Raden Soekotjo, retired from the Indonesian army as a lieutenant. In 1965, Yudhoyono married another child of a military family, general's daughter Kristiani (Ani) Herawatti. The couple has two sons, Agus Harimurti and Edhie Baskoro. Both of these sons have themselves followed in their father's footsteps, with the elder repeating the president's success at the Indonesian military academy and the younger running for election to the nation's parliament on the ticket of Yudhoyono's Demokrat Party in 2009.
Yudhoyono attended Indonesia's military academy, graduating at the top of his class in 1973. The young officer then served largely in the politically tumultuous region of East Timor over the next several years, advancing briskly through the ranks of the army. During the conflict in Bosnia-Herzegovina in the mid-1990s, Yudhoyono served as Commander of the United Nations Military Observers and Commander of the Indonesian Military Contingent. By the time of East Timor's formal independence from Indonesia in the late 1990s, Yudohoyono had become the Chief of Territorial Affairs for the region.
This rise was supported by Yudhoyono's continuing education abroad. In 1976, the future president completed the first of two military training programs at Fort Benning, Georgia; he returned to the United States for a second stint with the Infantry Officer Advanced Course in 1982. Yudhoyono is also a 1991 graduate of the United States Army's Command and General Staff College, located at Fort Leavenworth, Kansas. That same year, Yudhoyono completed a master's degree in business administration and management from St. Louis, Missouri's Webster University. In 2004, the then-retired military officer rounded out his education with a doctorate in Agricultural Economics from the Bogor Institute of Agriculture, West Java, Indonesia.
During the declining years of the regime of military leader Suharto in the late 1990s, Indonesia was rocked by public protests, violence, and economic turmoil. Although Yudhoyono served as chief of the army's social and political affairs division, he emerged largely unscathed from this challenging era even as some of his colleagues faced criminal charges for their actions. In 1999, he retired from the military to join the cabinet of Indonesian President Abdurrahman Wahid as Minister of Mining and Energy, receiving his fourth general's star as a purely honorary measure soon after. The following year Yudhoyono advanced to become Wahid's Minister for Political, Social, and Security Affairs; however, this position proved short-lived; Wahid, who was soon to undergo impeachment proceedings, requested that Yudhoyono declare a state of national emergency. Yudhoyono refused to do so, and Wahid fired him in February of 2001.
After Megawati ascended to the presidency later that year, she rehired Yudhoyono to serve as her own Minister of Political, Social, and Security Affairs. In this role, he dealt with several domestic crises, including bringing a swift close to an investigation into a series of terrorist bombings on resort hotels in Bali during 2002 and 2003. In March of 2004 Yudhoyono resigned his post after publically sparring with Megawati and her husband--and after becoming the 2004 presidential candidate of the recently formed Demokrat Party. Neither this resignation nor his earlier dismissal soured Yudhoyono's career. In fact, the president's BBC News profile noted that "being forced from office under successive presidents seems to have enhanced Mr. Yudhoyono's reputation as a man of principle, willing to sacrifice his own ambitions for the values he believes in."
The retired general mounted his first campaign for Indonesia's top political office in the spring of 2004. Running on what his Web site described as a platform to create a "more just, more peaceful, more prosperous, and more democratic Indonesia," Yudhoyono emerged as a strong candidate for the presidency due to his educational and professional background. His reputation for adhering to his principles even at the expense of his own personal advancement resonated with the Indonesian electorate. "Even though SBY was a senior member of a deeply unpopular government, he has come to be seen as a victim of that government rather than part of it," explained executive director of the Indonesian Survey Institute Denny Ja to Rachel Harvey of the BBC. The general public--voting for president for the first time in Indonesian history--gave Yudhoyono a wide advantage in the first round of voting, and he successfully carried the presidency over Megawati in a run-off election in September of 2004.
Entering office the following month, Yudhoyono affirmed his commitment to growing Indonesia's economy and eradicating government corruption. "Indonesia will be a democratic country, open, modern, pluralistic, and tolerant," he declared in his inaugural speech, according to Jane Perlez in the New York Times. Before the new president could begin implementation of his goals, a devastating tsunami struck much of southeast Asia, including Indonesia. The president's response drew the respect of observers, and soon he overcame the natural disaster to embark on numerous reforms that touched much of Indonesia's economic and political worlds. Some of these measures, such as easing controls on fuel prices, courted potential disapproval from the country's electorate. Yet Yudhoyono's successes at stabilizing rice prices, overseeing a peace agreement ending a long-standing rebellion in the province of Aceh, and uprooting corruption at all levels of Indonesian government won him great public approval. The president also found time to pursue a perhaps unexpected project: an album of music. In 2007, Yudhoyono released My Longing for You, a collection of songs "written to relieve the tedium of being stuck on an airplane, flying from summit to summit," according to Maclean's, and performed by some of the nation's most popular singers.
Entering 2009, Indonesia enjoyed a stable economy much changed from what it experienced at the beginning of the president's term in 2004, despite the global economy downturn. This economic improvement along with Yudhoyono's popular anti-corruption measures contributed to a successful election season for the parliamentary candidates running on the ticket of the president's Demokrat Party. Months later, Yudhoyono himself enjoyed a boost from the public when his re-election campaign ended in a landslide victory in July of 2009. He garnered more than 60 percent of the popular vote, carrying 28 of Indonesia's 33 provinces; runner-up Megawati won just 27 percent of the vote, while sitting vice-president Jusuf Kalla carried 12 percent.
In early August of 2009, however, continuing Islamist militant attacks in Indonesia struck close to the president's home--literally. As part of a larger raid on terrorists operating in the country, Indonesian security forces discovered a truck containing explosives and bomb-making materials scant miles from Yudhoyono's residence. Although the police raid nipped the attack in the bud, Indonesian authorities stated that two men believed to be connected to notorious Malaysian terrorist Noordin Muhammad Top intended to drive the truck to the president's home and detonate the explosives as part of a suicide bombing attack on Yudhoyono. "Our president was a target," Indonesian National Police chief General Bambang Hendarso Danuri confirmed to Seth Mydans of the New York Times. Two months after the seizure of these explosives, an unharmed Yudhoyono was inaugurated for his second five-year term.
Continuing efforts to stamp out top-level government corruption again made headlines during the fall of 2009. In late September of that year, Indonesian police arrested Chandra Hamzah and Bibit Samad Rianto, two prominent deputy chairmen of the nation's Corruption Eradication Commission, or KPK, in what was widely considered a move in a long-standing feud between that commission and the police and attorney general's offices. The pair were accused of taking bribes from corruption suspect Anggodo in return for allowing him to leave Indonesia. Public outcry against the arrests was swift and loud, with popular opinion clearing the accused and placing blame squarely on the shoulders of the police and attorney general's staff. In response to the situation, Yudhoyono launched a formal investigation, and government officials along with Anggodo's brother, Anggodo Widjojo, appeared in court in early November. Shortly after the initiation of this investigation, the Economist observed that "the scandal is overshadowing all Mr. Yudhoyono's plans for economic reform, and denting the mood of optimism that followed his re-election."
Indeed, details that emerged throughout the investigation gained great attention in Indonesia, and Yudhoyono drew criticism for not being active enough in the proceedings. However, after wiretapped conversations played in court revealed that Anggodo Widjojo had conspired with the police and attorney general's office to create false evidence implicating the suspended officials, Yudhoyono had little choice but to step in. He called for the resignation of two high-ranking government officials. In early December, Yudhoyono announced that both of the suspended deputy chairmen were reinstated in their positions with the KPK. A follow-up investigation by the KPK into Anggodo Widjojo and others involved in the scandal was widely anticipated to be undertaken soon after their return to work.
With the corruption scandal behind him, the president is expected to continue to his agenda of reform throughout Indonesia's political and economic system. Regardless of the success of these reforms, the leader's second term will be his last: Indonesian law limits presidents to two terms.
PERSONAL INFORMATION
Born on September 9, 1949, in Picitan, East Java, Indonesia; son of Raden Soekotjo (a retired lieutenant) and Siti Habibah; married Kristiani (Ani) Herawatti, 1965; children: Agus Harimurti, Edhie Baskoro. Education: Indonesian Military Academy, 1973; Webster University, St. Louis, MO, M.A., 1991; Bogor Agricultural University, Bogor, Indonesia, Ph.D., 2004. Addresses: Office--Republic of Indonesia, Office of President, Bina Graha J1, Veteran 17 Istana Merdeka, Jakarta, 10110, Indonesia.
AWARDS
Numerous Indonesian military honors; named as one of 25 Stars of Asia, BusinessWeek magazine, 2005.
CAREER
Served in Indonesian army, 1973-99; commander, United Nations Military Observers and Indonesian Military Contingent in Bosnia-Herzegovina, mid-1990s; chief, Armed Forces Social and Political Affairs Staff, 1997-99; retired from the military to become Indonesian Minister of Mining and Energy, 1999; minister, Political, Social, and Security Affairs, 2000; released from position and later rehired, 2001; resigned from cabinet position, elected president of Indonesia, 2004; reelected to a second term, 2009. Author of books and articles including: Coping with the Crisis--Securing the Reform, 1999; Revitalization of the Indonesian Economy: Business, Politics and Good Governance, 2002; Taman Kehidupan (Garden of Life), 2004; The Making of a Hero, 2005. Songwriter on albums including My Longing for You, 2007.
WORKS
* Selected writings
* Coping with the Crisis--Securing the Reform, 1999.
* (Editor) Revitalization of the Indonesian Economy: Business, Politics and Good Governance, 2002.
* (With others) Taman Kehidupan (Garden of Life), 2004.
* (With others) The Making of a Hero, 2005.
* Selected discography
* My Longing for You, 2007.
Read more
Latest headlines