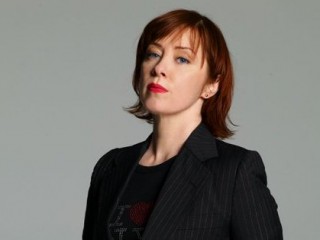 Suzanne Vega biography
Date of birth : 1959-07-11
Date of death : -
Birthplace : Santa Monica, California,U.S.
Nationality : American
Category : Arts and Entertainment
Last modified : 2012-03-02
Credited as : Singer-songwriter, Folk inspirations, Guitarist
Suzanne Nadine Vega is an American songwriter and singer known for her eclectic folk-inspired music.
Two of Vega's songs (both from her second album Solitude Standing, 1987) reached the top 10 of various international chart listings: "Luka" and "Tom's Diner". The latter was originally an a cappella version on Vega's album, which was then remade in 1990 as a dance track produced by the British dance production team DNA.
Suzanne Vega has enjoyed a career as a singer-songwriter and acoustic guitarist that has defied conventional genre categorization. Her style has been variously described as neo-folk, new waif, and even unclassifiable, however Vega says her style as is a blend of jazz, rock and roll, and minimalism, but it is important to note she has not been timid about trying new sounds. In her writing, she says she looks for a unique angle on life. The lyrics and music follow.
As a result, Vega is often credited with either single-handledly creating the mid-'80s neo-folkie movement and/or paving the way for women singer-songwriters in the folk vein including Shawn Colvin, Tracy Chapman, Michelle Shocked, the Indigo Girls, Sinéad O'Connor, and others.
Vega was born in Santa Monica, California, but grew up in New York's Spanish Harlem. Her work was influenced by her Puerto Rican stepfather, who is a novelist, short-story writer, and teacher. Her mother, a computer analyst, was also musical. As the eldest of four children, Vega found herself entertaining her younger siblings with Woody Guthrie and Simon and Garfunkel-style acoustic guitar tunes she had learned on her own. "I missed the whole punk movement in New York because I babysat on Saturday nights," she said in the Los Angeles Times.
Vega didn't miss out on rock and roll, even though she didn't attend her first rock concert until she was twenty: a 1979 Lou Reed performance made a profound mark on Vega's musical life. "Suddenly it hit me that I could write about things I had experienced without softening up the edges or apologizing for it or putting it in a nice package necessarily," recalled Vega in the Los Angeles Times. In 1986 she met Reed, who was aware of her progress. "Suzanne is one of the more articulate new songwriters," he stated in the Village Voice.
Vega cites as major influences, apart from Reed, Leonard Cohen and Bob Dylan. When she was attending Barnard College, she frequently played in coffeehouses. It was while working as a receptionist with a temporary agency that Vega met lawyer Ron Fierstein and musician Steve Addabbo, who were just putting together a partnership in music promotion. This led to a contract with the A&M label in 1983 and to two hit albums.
Addabbo described Vega's musical style as "unbelievably simple, and yet it comes out sounding very complex," in Guitar Player. Vega calls her self-contained way of playing guitar "circular." She pares down to three or four chords she likes and sticks with them. She generally uses glue-on nails for stronger plucking.
Vega also studied dance since the age of nine, including at New York's High School for the Performing Arts, the school in Fame. "I just had this feeling that I would never have the drive to make it out of the chorus," she confessed in Rolling Stone. But now that Vega is in the spotlight, she seems interested in reviving the part of herself that's a dancer. She's noted that ten years of her life were devoted to dance, then she became verbally oriented. "The dancer character is much more powerful, more eloquent in a way," she told Rolling Stone. Yet Vega does not move much on stage. Instead, she stands still and magnetizes the audience's attention. She has said she'd like to move around like Lou Reed but is too nervous when performing.
There's yet another intriguing side to Vega as well. Audiences "expect me to be like Joan Baez, to take on a political slant," she stated in the Chicago Tribune, "when I actually think the answers are more spiritual than political."
Perhaps surprisingly, Vega appeals to a diverse range of listeners. Counted among her fans are New Age yuppies, folk singer aficionados in their thirties and forties, and young men "who look sincere and earnest with their notebooks and their Camus and their Sartre," reflected Vega in the Los Angeles Times. She concluded that her followers are made up of people who feel isolated and who come together at her concerts. She made it clear, however, that she doesn't see isolation, or solitude, as a negative state at all. This view, which is reflected in Vega's songs, particularly those on her second album, Solitude Standing (which sold over half a million copies within three months of its release in 1987), has generated a great deal of critical interest in her lyrics on the part of reviewers."
To promote Solitude Standing Vega toured the United States, Canada, Europe, and the Far East. The American tour included performances at Carnegie Hall and the Shubert Theater. She has been rewarded with a ranking in the Billboard Top 30 for the album. Vega's first album also met with surprising success. Called simply Suzanne Vega, the LP sold 200,000 copes in the United States and 500,000 abroad, where it reached double gold status. Her record company, A&M, had conservatively estimated sales of 30,000 albums. But Vega had become something of a cult figure. Her songs were played on campus radio stations. "She emerged as the strongest, most decisively shaped songwriting personality to come along in years," wrote John Rockwell in the New York Times.
This was due in no small part to the winsome power of "Luka," a first person account of child abuse. The song was nominated for Grammy Awards for Record of the Year, Song of the Year, and Best Female Pop Vocal Performance. It also won New York Music Awards for Single of the Year and Song of the Year. The album would prove the measuring stick for all her subsequent efforts.
Days of Open Hand was a lyrical experiment for Vega. She co-produced the 1989 album, her third, with then-boyfriend Anton Sanko who also played keyboards. Philip Glass, the noted composer, contributed the arrangements for strings. Reviews were mixed. Although given a Grammy award in 1990, it wasn't for the music, but the packaging. The project gave critics pause, including People's Andrew Abrahams who said it demonstrated "Vega hasn't yet displayed the power to stay in the groove." It didn't sound like the folky-singer-songwriter music she was noted for, and by that time there were plenty of other folky-singer-songwriters getting critical attention and airplay.
Vega found renewed fame after a remix of "Tom's Diner" by D.N.A., two British dance producers, became an underground hit in Europe in 1990. The pair had set the a capella tune from Solitude Standing to an electronic dance groove and released it as "Oh Suzanne." Once her record label learned of the single they were prepared to pursue the bootleggers legally; Vega intervened. She permitted the remix to be officially released under its original title and became an international hit. She decided to gather other unauthorized remixes of "Tom's Diner" and released them as the compilation Tom's Album.
Some said the success of the remix "encouraged the breathy folk singer to venture beyond the safety of her acoustic guitar" with 99.9F as Time posited in a review, calling it "a bold experiment in both verse and technology."
For 99.9F, Vega was looking for something new. She employed a new producer, Mitchell Froom, and a group of veteran musicians including David Hidalgo of Los Lobos, and Richard Thompson, the peerless singer-songwriter. She said she selected Froom for his candor rather than his resume, which included working with the likes of Elvis Costello, Thompson, and Crowded House. By way of introduction, Froom had been presented with a demo of six songs by Vega. He said he "really did not like the demo and said he felt it could be better and more vivid, and I agreed with him," Vega told Billboard. The recording process took two weeks, which she described as being fun and adventurous.
Reviewers including Billboard's Paul Verna found the marked change of direction for Vega exciting; he called 99.9F an excursion to "new musical terrain that includes trysts with industrial and alternative rock." That showed "a singer firmly rooted in folk; on the other hand, an adventurous artist unafraid to break new ground."
Reviewer David Browne wrote in Entertainment Weekly the project "puts the edges back into her music. ... What holds the album together are its clangorous, eccentric arrangements, which seem to take their cue from DNA's dance remix of Vega's 'Tom's Diner.' They're the perfect counterpart to Vega's cool, cautious delivery."
The collaboration with Froom proved more than professional. They fell in love despite her misgivings. According to Chris Willman in Entertainment Weekly, "the erotic electricity between them remained unspoken till well after that album was complete, since he was still in his first marriage at the time--and, anyway, her cerebral side found the idea of a female singer and a male producer falling in love terribly tacky." They married in 1995.
With Froom, Vega released Nine Objects of Desire in 1996. Critics deemed the project a more sensual and lyrically direct collection of songs, attributed in no small part to maternal domesticity. Vega was happily married to Froom and caring for their daughter, Ruby.
"In every one of these songs there's an object of desire. It's either me desiring someone or someone desiring someone else or someone desiring me. And there are different types of desire, so I added them all up and there were nine," she told Billboard. "I thought of lying and calling it 'Seven Objects Of Desire' or calling it 'Twelve Songs About Desire,' but then I thought it would be more accurate to say it was nine."
Beginning in 1998, there were abundant changes in Vega's personal and professional life. She and Froom separated, and would later divorce. She sold her house and relocated. Her record label was closed in the wake of the Universal and Polygram consolidation. And, she had no manager.
"I'm kind of reconstructing everything from the ground up," said Vega in an interview with Seth Rogovoy of The Berkshire Eagle. "So it's a little turbulent, but at the same time I feel there's a lot of support, and I'm hoping to write some new things in the fall and make a new album next year."
By that next year, she had assembled a collection of writing from a 30-year period into a book called The Passionate Eye: The Collected Writing of Suzanne Vega. "Like her music, Vega's prose is studded with precise images that prove her a keen observer of the world around her," wrote Publishers Weekly. In addition to lyrics and longer prose pieces, the book also included an interview with Vega by Cohen.
Although Vega may have been out of the limelight for long periods of time, she was not idle. She continued to raise her daughter and has been involved in charitable works, some of which incorporated her writing and musical talents. As a member of the Greenwich Village Songwriter's Exchange, for example, Vega was part of the September 11th tribute Vigil.
Songs In Red And Gray was Vega's first release in five years. The 2001 album seemed to capture all that had been going on in her life since Nine Objects of Desire, including her divorce. As Angela Page noted in her review in Sing Out!, Vega's "careful lyrics" offer "reflection and strength for new beginnings." The All Music Guide noted it "marked a return to the more direct sound of Suzanne Vega and Solitude Standing," and it also received some of the best reviews she has had since those projects.
In 2007, Vega followed the lead of numerous other mainstream artists and released her track "Pornographer's Dream" as podsafe. The song spent two weeks at #1 during 2007 and finished as the #11 hit of the year on the PMC Top10's annual countdown. Vega joined the 10th annual Independent Music Awards judging panel to assist independent musicians' careers. She was also a judge for the 6th, 7th, 8th, and 9th Independent Music Awards.
Vega sang lead vocals on the song "Now I Am an Arsonist" with singer-songwriter Jonathan Coulton on his 2011 album, Artificial Heart.
Read more
Latest headlines