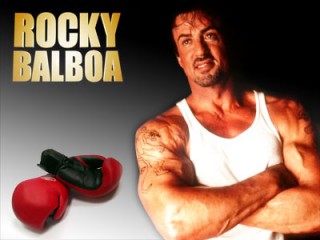 Sylvester Stallone biography
Date of birth : 1946-07-06
Date of death : -
Birthplace : New York City, New York, U.S.
Nationality : American
Category : Arts and Entertainment
Last modified : 2010-07-06
Credited as : Actor and writer, Film director and producer, Rocky
Sylvester Stallone
is born on July 6, 1946, in New York City. One of the most popular action stars of all time, Sylvester Stallone is best known for portraying two heroic characters on the big screen—boxer Rocky Balboa and Vietnam War veteran John Rambo. His trademark droopy visage was the result of a forceps accident at the time of his birth. A nerve was severed in the accident, which also left him with slurred speech.
Stallone had a difficult childhood. Both he and younger brother Frank were adversely affected by their parents' hostile relationship, which later ended in divorce. Sylvester spent some time in foster care. He eventually ended up in Philadelphia, living with his mother and her second husband. There Stallone struggled emotionally and academically. After his expulsion from several schools, he attended a special high school for troubled youth.
After graduation, Stallone eventually went on to college. First, he attended the American College in Switzerland where he studied drama. Stallone then went to the University of Miami, again choosing to focus on the dramatic arts. He left school before completing his degree to go to New York City to pursue an acting career.
While he waited for his acting career to take off, Stallone worked all sorts of jobs to make ends meet. He cleaned up the lions' cages at the Central Park Zoo, ushered at a movie theater, and even made an appearance in an adult film called A Party at Kitty and Studs (1970). A few uncredited parts in mainstream films, such as Woody Allen's Bananas (1971) and Klute (1971), soon followed. He had a more substantial role playing a tough guy in the 1974 independent film The Lords of Flatbush with Henry Winkler and Perry King. Around this time, Stallone married Sasha Czack.
In addition to acting, Stallone had an interest in writing. He created a screenplay about a rough-and-tumble thug who struggles for a chance to make it as a professional boxer. According to several reports, Stallone refused to sell the script unless he was allowed to star in it. Despite having a pregnant wife and little money in the bank, he held out until he found two producers, Irwin Winkler and Robert Chartoff, willing to let him play the lead.
Released in 1976, Rocky became a critical and commercial hit. The film earned ten Academy Award nominations, including two for Best Actor and one for Best Original Screenplay. Rocky faced stiff competition in the Best Picture category from such films as Taxi Driver, All the President's Men, and Network. Proving to be the small film with a powerful punch, Rocky emerged victorious and won the Academy Award for Best Picture. The story of Rocky Balboa, the quintessential underdog, also struck a chord with movie-goers and earned the film more than $117 million at the box office.
To follow up on his breakthrough role, Stallone next starred as a labor organizer in F.I.S.T. (1978). He received some favorable reviews for his work, but the film failed to attract much of an audience. Returning to the film that made him famous, Stallone wrote, directed, and starred in Rocky II (1979). He kept the franchise going a few years later with Rocky III (1982).
That same year, Stallone introduced a new character to movie-goers—John Rambo, a disenfranchised and troubled Vietnam vet—in First Blood (1982). Rambo ends up going to war with the police in a small town after being mistreated by authorities. Once again, Stallone struck box office gold. He went behind the scenes for his next effort, Staying Alive (1983), which he wrote and directed. A sequel to Saturday Night Fever (1977) starring John Travolta, the film did not fare as well as the original.
Trying to branch out as an actor, Stallone starred opposite Dolly Parton in the comedy Rhinestone (1984). The film proved to be a commercial and critical failure. Fans, however, continued to line up to see Stallone in trademark roles in Rocky IV (1985), Rambo: First Blood Part II (1985), Rambo III (1988), and Rocky V (1990).
By the mid-1990s, Stallone's star power as an action hero started to fade. He made a series of forgettable films, including Judge Dredd (1995) and Daylight (1996). Taking a break from big budget action films, Stallone took a supporting role in the independent drama Cop Land (1997) which starred Harvey Keitel, Robert De Niro, and Ray Liotta. He earned raves for his portrayal of a sheriff in a small New Jersey town largely inhabited by New York City cops.
Returning to his leading man status, Stallone starred in the crime thriller Get Carter (2000), which received mixed reviews. He then wrote, co-produced, and starred in the car-racing drama Driven (2001). It netted more than $32 million at the box office—a long way from his glory days of Rocky. Another effort, Shade (2004), came and went without much notice.
Stallone once again returned to familiar territory to write the final chapter of his most popular creation. The plot of Rocky Balboa (2006) mirrored Stallone's own career to some extent. The former heavyweight champion, long retired, decides to go for one more big fight. "Things really started to slow down for me about 10 years ago, and I had a lot of time for introspection...It is kind of bittersweet. That is why I wanted to write this film. If I had been cranking out films, very successful ones, I wouldn't have done this one," Stallone explained to People magazine in 2007. Fans turned out in droves to see Rocky's final fight, which earned more than $70 million at the box office.
More recently, Stallone returned his other action persona, John Rambo. In addition to playing the lead, he wrote and directed Rambo (2008). The film lived up the gory legacy of its predecessors. As one Entertainment Weekly critic described it, the film "is up to its boot tops in numbing violence." Rambo may be maligned by critics, but it was able attract enough fans to bring in $42.7 million at the box office.
Stallone continues his work as an action hero with his next project The Expendables. But this time he is not alone. The film has an ensemble cast that features Jason Statham of The Transporter film series, mixed martial arts fighter Randy Couture, and martial arts expert Jet Li. The film is expected to go into production in early 2009 with Stallone serving as director and screenwriter.
After years of being the target of many critical barbs, Stallone has begun to receive some appreciation for his life's work. He received an honorary Cesar Award, the French equivalent of the Academy Award, in 1992 and an acting award at the Stockholm film festival in 1997. In 2008, Stallone became the first person to receive the Golden Icon Award at the Zurich film festival.
Currently, Stallone is working on a film titled
The Expendables
, for which he will star, write and direct. The movie was filmed during 2009 and is in post-production. It is set for release in August 2010. Joining him in the film will be fellow action superstars Jason Statham, Jet Li, Dolph Lundgren, Bruce Willis and Arnold Schwarzenegger as well as Terry Crews, Mickey Rourke, Danny Trejo, Randy Couture, Robert Knepper, Eric Roberts, David Zayas, and Stone Cold Steve Austin. The cameo appearances of Willis and Schwarzenegger in a scene with fellow action legend Stallone is eagerly awaited. Due to the overwhelmingly positive reaction to early test footage and trailers, producer Avi Lerner has reported that there is already talk of making two more sequels, or at least some sort of a longer franchise, based on the members of the team.
Rambo V
The movie was officially greenlit by Nu Image/Millenium Films in September 2009 and initially Stallone said the movie was to be entitled Rambo V: The Savage Hunt and would be loosely based on a novel called Hunter (a novel to which Stallone had the rights for ten years), involving Rambo hunting a "feral beast". In November 2009 Stallone has confirmed that the story has been switched and that the man/beast hunt story will be saved for an unrelated film. Rambo V will now be based on Rambo searching for women who disappeared in a town over the Mexican border. It has been confirmed by Stallone himself that he has scrapped Rambo V (and "retired" Rambo) in order to work on The Expendables sequel.
Personal life
Stallone has been married three times. At age 28, on December 28, 1974, he married Sasha Czack. The couple had two sons, Sage Moonblood (b. May 5, 1976) and Seargeoh (b. 1979). His younger son was diagnosed with autism at an early age. The couple divorced on February 14, 1985. The same year his divorce finalized, he married model and actress, Brigitte Nielsen, on December 15, 1985, in Beverly Hills, California. Stallone and Nielsen's marriage, which only lasted two years, and their subsequent divorce, were highly publicized by the tabloid press. In May 1997, Stallone married Jennifer Flavin, with whom he shares three daughters: Sophia Rose (b. August 27, 1996), Sistine Rose (b. June 27, 1998), and Scarlet Rose (b. May 25, 2002).
Stallone has repeatedly used human growth hormone for its reputation of being anti-aging. In 2007, he was caught in Australia with 48 vials of the synthetic human growth hormone Jintropin; this led to concerns that the resulting publicity would increase usage of the drug.
After Stallone's request that his acting and life experiences be accepted in exchange for his remaining credits, he was granted a Bachelors of Fine Arts (BFA) degree by the President of the University of Miami in 1999.
Stallone grew up Catholic and stopped going to church as his acting career progressed. He began to rediscover his childhood faith when his daughter was born ill in 1996, and is now a churchgoing Catholic.
Stallone supports The Brady Center to Prevent Gun Violence, and is featured prominently on that organization's website along with other celebrities.
Stallone is a longtime Republican supporter who publicly endorsed Senator John McCain in the 2008 presidential election.
Filmography
1970 -The Party at Kitty and Stud's
1970 -No Place to Hide
1971 -Bananas
1971 -Klute
1974 -The Lords of Flatbush
1975 -The Prisoner of Second Avenue
1975 -Capone
1975 -Death Race 2000
1975 -Mandingo
1975 -Farewell, My Lovely
1975 -Police Story
1975 -Kojak
1976 -Cannonball
1976 -Rocky
1978 -F.I.S.T.
1978 -Paradise Alley
1979 -Rocky II
1981 -Nighthawks
1981 -Escape to Victory
1982 -Rocky III
1982 -First Blood
1983 -Staying Alive
1984 -Rhinestone
1985 -Rambo: First Blood Part II
1985 -Rocky IV
1986 -Cobra
1987 -Over the Top
1988 -Rambo III
1989 -Lock Up
1989 -Tango & Cash
1990 -Rocky V
1991 -Oscar
1992 -Stop! Or My Mom Will Shoot
1993 -Cliffhanger
1993 -Demolition Man
1994 -The Specialist
1995 -Judge Dredd
1995 -Assassins
1996 -Daylight
1997 -The Good Life
1997 -Men In Black
1997 -Cop Land
1998 -Antz
2000 -Get Carter
2001 -Driven
2002 -Liberty's Kids
2002 -D-Tox
2002 -Avenging Angelo
2003 -Taxi 3
2003 -Shade
2003 -Spy Kids 3-D: Game Over
2005 -Las Vegas
2006 -Rocky Balboa
2008 -Rambo
2010 -The Expendables
Read more
Latest headlines