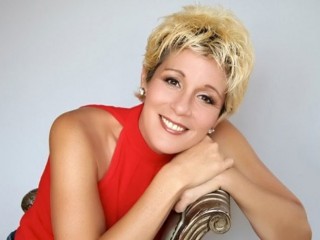 Sylvia McNair biography
Date of birth : 1956-06-23
Date of death : -
Birthplace : Mansfield, Ohio,U.S.
Nationality : American
Category : Arts and Entertainment
Last modified : 2011-12-13
Credited as : opera soprano, classical recitalist, has won two Grammy Awards
Sylvia McNair is an American opera singer and classical recitalist who has also achieved notable success in the Broadway and cabaret genres. McNair, a soprano, has made several critically acclaimed recordings and has won two Grammy Awards.
Sylvia McNair is one of the most promising young singers in classical music. Since the early 1980s, a radiant but disciplined performing style has carried her to the front ranks of her profession, buoyed on a wave of audience and critical acclaim. Initially making her mark as an orchestral soloist, McNair has also achieved considerable repute in the world of opera, interpreting a wide-ranging repertoire from the classic to the contemporary with invariable success. In the mid-1990s, with her vocal talents approaching their peak and a solid schedule of performances and recording dates before her, she seemed poised to take her place among the top sopranos of the twentieth century.
McNair was born in Mansfield, Ohio, on June 23, 1956, the daughter of George McNair, a chemical engineer, and Marilou McNair, a music teacher. Between her mother's profession and her father's hobbies of playing the violin and singing in the church choir, there was a decidedly musical atmosphere in the McNair household; Sylvia's musical education started at age three with piano lessons from her mother. At age seven, she began playing violin, and though she also sang in the choir throughout her childhood and adolescence, instrumental music remained her first love.
In 1974 McNair enrolled in the music program at Wheaton College in Illinois, intending to concentrate in violin performance, with the ultimate goal of making a career as an orchestral musician. Opera was perhaps the furthest thing from her mind; in fact, she found it repellant, as she recalled in an interview with BBC Music Magazine: "My first experience of opera was playing in the orchestra.... I just couldn't believe how ridiculous it was. I thought, what a ludicrous art form this is!"
Given this adverse initial reaction to opera, it seems odd that McNair should excel in that very discipline. It was purely by coincidence that she did. While at Wheaton, one of her violin instructors suggested she take voice lessons to refine her instrumental technique. Discovering that she enjoyed singing more than playing the violin, McNair modified her career plans, and in 1978 enrolled in the master's program in vocal music at the University of Indiana. Under the guidance of her voice teachers, who included the renowned opera singer and teacher Virginia McWatters, she applied the technical precision and musical exactitude she'd learned from playing the violin to singing, developing quickly into a first-rate vocalist.
In 1980 Robert Shaw, conductor of the Atlanta Symphony, visited Indiana to direct a performance of Bach's B-minor Mass with McNair singing the soprano solo. Shaw was impressed by her abilities, so much so that McNair began making guest appearances with the Atlanta Symphony and recording on the Telarc label before even finishing her degree. In 1982, she won the National Metropolitan Opera Auditions, made her London concert debut as part of the American Artists' Series, and received a Grammy nomination for her first recording, Poulenc's Gloria. Such on-the-job training was to prove invaluable; without having to undergo the struggle for recognition faced by many young artists trying to establish themselves on the classical music scene, McNair received immediate professional and critical exposure, enabling her to work full-time as a singer from the moment she left school.
Singing and recording with orchestras as a soloist proved a staple in the 1980s for McNair. In addition to her work with the Atlanta Symphony, she appeared with the Boston Symphony under Seiji Ozawa and Kurt Masur, the Academy of Saint Martin-in-the-Fields under Neville Mariner, the Berlin Philharmonic under Jeffrey Tate, and the San Francisco Symphony. Working in this distinguished company, she became widely known for her interpretation of oratorios, choral works with a scriptural basis, particularly those of Mozart. The most significant factor in her success was the tone of her voice; perhaps as a result of her prior training on the violin, it had a strongly instrumental quality to it, which seemed to naturally complement the playing of an orchestra. McNair acknowledged this in a New York Times interview, explaining, "Because I'm still an instrumentalist at heart, I tend to respond most strongly to singing that sounds like brilliant instrumental playing."
In 1985 McNair made her Carnegie Hall debut in a concert performance of Handel's Semele. Soon after, she had her first major label release, a Philips Classics recording of Mozart's Mass in C Minor with the Monteverdi Choir and Orchestra under John Eliot Gardiner. Performing as a soloist with orchestras also had an impact on McNair's personal life; in 1984 she met Hal France, a conductor on the American regional opera and symphony circuit, at a rehearsal of Handel's Messiah. They wed 16 months later. The couple currently make their home in New York's Hudson Valley, though the demands of their respective careers often keep them apart for prolonged periods.
In the field of opera, McNair was slower to make a name for herself, initially performing largely on regional stages. In 1983 she appeared to highly favorable reviews in the role of Hero for an Opera Theater of Saint Louis production of Berlioz's Beatrice and Benedict. McNair became something of a favorite with this company and subsequently returned to perform in Mozart's The Magic Flute and Idomeneo, Handel's Alcina, and Purcell's King Arthur. The following year, she made her European opera debut at the Schwetzingen Palace Festival, playing the title role in the world premiere of Ophelia, an opera by contemporary Swiss composer Rudolf Kelterborn. Other appearances by her in Europe included playing Ilia in Idomeneo in Strasbourg and Lyon, France, Susanna in Mozart's Le Nozze di Figaro with the Netherlands Opera and the Vienna State Opera, and Pamina in Mozart's The Magic Flute with the Deutsch Oper of Berlin.
The turning point in McNair's opera career came in 1989 and, like her decision to take up singing, was more by chance than design. While in New Mexico to perform in The Magic Flute with the Santa Fe Opera, she happened to play tennis with Brian Dickie, artistic director of England's prestigious Glyndebourne Opera Festival. Dickie accidentally hit her in the face with a hard serve, her face became swollen and, by her account, Dickie felt so remorseful that he offered her the part of Anne Truelove in a Glyndebourne production of Stravinsky's The Rake's Progress. Whatever the case, her performance of the role was a triumph, garnering critical acclaim for her simplicity and purity of tone. Max Loppert, reviewing her performance for Opera, stated that McNair sang "with a candid radiance and a limpid sweetness of tone that kept one spellbound."
In the wake of her international exposure in one of opera's foremost venues, other opportunities were quick in coming. In 1990 McNair scored a fresh success in her debut at the Royal Opera in London as Ilia in a new production of Idomeneo. This role has become a hallmark for her, and she repeated it for her first appearances at the Salzburg Festival in Salzburg, Austria, and the Bastille Opera in Paris. In the same year, she was the first winner of the Marian Anderson Award and later embarked on a recital tour of the United States and Europe. For the bicentennial of Mozart's death in 1991, she sang his Requiem at Carnegie Hall in New York. The following year saw her debut at the Metropolitan Opera in New York--a milestone for any rising star--as Marzelline in Beethoven's Fidelio, and in 1993 she returned as Pamina in The Magic Flute. The 1992/93 season also featured her debut with the San Francisco Opera as Tytania in Benjamin Britten's A Midsummer Night's Dream.
Just as important as her work on opera's top stages was a substantial increase in McNair's recorded output. Beginning in 1982, she appeared on more than two dozen recordings, primarily from the late 1980s on. In 1991 she signed a long-term contract with Philips Classics to record a wide range of operatic and choral works, some of which would fall outside of the traditional classical repertoire. Reflecting McNair's strong interest in twentieth-century American choral music, her releases through the mid-1990s included an album of songs by Jerome Kern, the Broadway songwriter and composer, with piano accompaniment by Andre Previn, himself a noted composer and arranger. Four albums on which she was featured have been nominated for Grammy awards, including Deutsche Grammophon's Semele, which won a Grammy in 1993.
Having reached the musical pinnacle at a relatively young age, McNair's future seems bright, and the only real limits to her potential are self-imposed. She understands that her voice lacks the size and power necessary for some roles, and as a result, is extremely careful in choosing those to which she feels ideally suited. McNair has also expressed a dislike for singing in large venues such as New York's Metropolitan Opera, preferring the intimacy of small concert halls where, as she stated in a New York Times interview, "you can see the whites of people's eyes." Wherever she may choose to sing, the quality of McNair's voice, the perfected and flawlessly pure tone that is her hallmark, is sure to inspire awe in her listeners.
In 2006, McNair joined the voice faculty of the Jacobs School of Music at Indiana University, her alma mater. She teaches English diction (IPA), opera workshop, and private lessons.
Awards and honors:
-National Metropolitan Opera Auditions, first place, 1982
-Marian Anderson Award, 1990
-Grammy Awards, 1993 and 1996
-Honorary Doctor of Music degrees from Westminster Choir College, 1997, and Indiana University, 1998
-Governor's Award for Outstanding Achievement in Arts and Entertainment from Ohio Governor Bob Taft, 1999
-Command recital performances for Justice Sandra Day O'Connor, Hillary Clinton, Pope John Paul II
Read more
Latest headlines