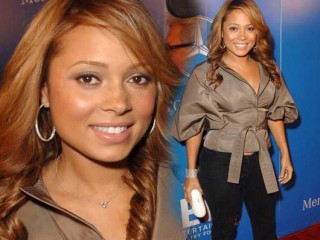 Tamia biography
Date of birth : 1975-05-08
Date of death : -
Birthplace : Windsor, Ontario, Canada
Nationality : Canadian
Category : Arts and Entertainment
Last modified : 2012-02-17
Credited as : Singer-songwriter, Record producer, Beautiful Surprise album
Tamia Marilyn Hill, and known professionally as Tamia, is a Canadian R&B and soul singer, songwriter, record producer, composer, model, entrepreneur and philanthropist, as well as an occasional actress.
She is best known for her 2001 hit "Stranger In My House" and Fabolous' 2003 song "Into You", sampling her 1998 song "So Into You", and "Me" 2006 hit from her debut album. Tamia is married to NBA player Grant Hill of the Phoenix Suns.
Tamia was anointed a rising star by record producer Quincy Jones when she was just 18 years old. She appeared on his album Q's Jook Joint in 1994, and then spent several years recording with other stars. In 2000, though, the R&B artist finally came into her own with the release of A Nu Day. The album moves from sweeping torch ballads to more hard-hitting, hip-hop influenced songs and showcases the singer's vocal talents. It marks Tamia's growth as an artist and confirms her tenacity in the world of R&B.
Tamia Washington was born on May 9, 1975, in Windsor, Ontario, Canada. She was introduced to the pleasures of singing very early. She began performing in her church choir when she was just six years old, and by the time she was ten, she was taking acting and vocal lessons. Tamia sang in several choirs and appeared in theater productions such as Godspell and Little Shop of Horrors throughout her teen years. Tamia noted in her Elektra biography, "Church is always the best place for a young person to start. Everyone is so supportive when you're singing for God. You can make a few mistakes and it's still all right." Another early influence was the Motown sound; Windsor is directly across the Detroit River from Detroit, Michigan, and Tamia's mother exposed her to this music, singing it around the house.
Tamia's first real recognition came in 1993 when she was honored with the prestigious Canadian Youth TV (YTV) Vocal Achievement Award. This was followed in 1994 when Tamia was awarded the Steve Ross Music Scholarship at the American Academy of Achievement's Annual Salute to Excellence in Las Vegas, Nevada. While she did study at the Walkerville Collegiate Institute, 1994 also marked the beginning of Tamia's professional career as a singer. That year, her manager Brenda Richie invited Tamia to sing at a party for famed R&B singer/songwriter Luther Vandross. At the party, Tamia caught the eye of legendary producer Quincy Jones. Jones had founded Qwest Records, and was known for promoting the careers of R&B artists. When he asked Tamia to record a song for his new album, she knew that it was her big break.
Tamia went into the studio with Jones and recorded "You Put a Move on My Heart," which was the first single released from the album Q's Jook Joint in 1995. The record included performances by other stars such as Barry White and Queen Latifah. Tamia herself was a little awestruck by the opportunity. She told Jet magazine, "I'm very, very flattered. As a new artist, I feel that it's so much to handle. Even being on an album with such people as Ray Charles and Stevie Wonder is an honor, and then to be on the first single out--it's amazing to me." The single made it to the top ten on the R&B charts and was nominated for a Grammy Award in 1996. Another song from the album--Tamia's duet with Babyface called "Slow Jams"--was also nominated. Tamia went on to record a song for the soundtrack to the 1995 film Set It Off; "Missing You" was a collaboration with Brandy, Gladys Knight, and Chaka Khan. That song also garnered a nomination at the 1996 Grammy Awards, making Tamia a three-time nominee all before she had recorded her own album.
Tamia finally produced her debut album for Qwest Records in 1998. Titled simply Tamia, the album is a collection of collaborations between the singer and such established producers as Jermaine Dupri, Keith Crouch, and Stevie J. Jones was the executive producer on the recording and was again a big influence on Tamia. The album received mixed reviews; generally Tamia was credited for what Leo Stanley of All Music Guide called her "seductive voice," but he noted that the album contained "mediocre songs" that even Tamia's lovely voice couldn't save. The album was not a huge commercial success despite Tamia's earlier popular recordings and Grammy nominations. The singer herself seemed disappointed with the long-awaited debut and told an Essence interviewer, "I wasn't real happy about what happened with [Tamia]. Other people were in charge of my music, my image ... which left little space for me."
After a less-than-stellar debut, Tamia appeared on a few additional albums. She recorded "Spend My Life With You" with Eric Benet--collecting another Grammy Award nomination--and contributed to the soundtrack of Speed 2: Cruise Control. The singer won a small role in that film, and took time out from her music career to appear in a series of advertisements for clothing designer Tommy Hilfiger. During the years between her albums, Tamia was also developing a relationship with professional basketball superstar Grant Hill. After dating for three years, Tamia married the National Basketball Association (NBA) All-Star on July 24, 1999, in Battle Creek, Michigan. At the time Hill was a Detroit Piston, but he later signed with the Orlando Magic and the two relocated to Orlando, Florida. Tamia became a United States citizen in September of 2000 but retains a dual citizenship.
A year of changes for Tamia, 1999 found her leaving Qwest Records to sign with Elektra (also owned by Warner). At the new label she worked on developing another album, one that would allow her more control over her music. The result was A Nu Day, released in 2000. She told Rashaun Hall of Billboard, "With this album, I wanted to show my growth.... I also chose material that was a lot more difficult vocally and saying something." Tamia worked with producers such as Dallas Austin, Shep Crawford, and Missy "Misdemeanor" Elliot in developing the album. Elliot produced one hip-hop infused hit, "Can't Go For That," based on the Hall and Oates hit from the 1980s, "I Can't Go For That (No Can Do)." The two women so enjoyed working together that Elliot produced three more songs on the album. But the recording did not stick strictly to edgier tunes; Crawford produced the torch ballad "Stranger In My House," which fully exercises Tamia's vocal range.
A Nu Day was an attempt to refashion Tamia as Elektra's premiere female R&B star and to change her image from the squeaky-clean teenager that debuted on Q's Jook Joint. Chuck Taylor commented in Billboard that she is "sexy, sultry, and all grown up" on the album. Michael Paoletta, also writing in Billboard, commented that Tamia is "truly one of tomorrow's divas." Not all the critics praise the singer as a diva, though. Entertainment Weekly's Craig Seymour called the album "hammy" and "self-conscious," and Chuck Arnold commented in People that Tamia "[s]till hasn't found her voice." Lynn Norment strongly disagreed with these critics in her review of the album for Ebony: "Tamia's vocals soar, purr, pout and confess the feelings of a self-assured woman."
While critics disagree about the quality of Tamia's second album, A Nu Day produced a few R&B hits and enjoyed solid sales. Elektra seems satisfied with its new star as well. Michelle Murray, senior director of marketing for the label, commented to Rashaun Hall of Billboard, "Other labels have their Mariahs and their Whitneys.... We believe in Tamia fully, and we see her not as a one- or two-album artist but as a long term career artist with us. Our goal is to take her to every level." Tamia certainly seems ready to go.
Tamia released her third studio album, More, on April 6, 2004 in the United States. The album debuted at number seventeen on the Billboard 200 and at number four on the Billboard R&B Albums Chart. The album was certified Gold by the RIAA, for shipping over one million units in North America.The lead single "Into You", which is a collaboration with rapper Fabolous, sampled the chorus from Tamia's "So Into You", a song from her self-titled debut album. The song soared to #4 on the Hot 100 and to #1 on the Billboard R&B chart.
On May 12, 2006, Tamia released Between Friends on South African independent label Gallo Records. It was released in the US on November 14, 2006. The album has three tracks produced by Rodney "Darkchild" Jerkins. The rest are produced by Shep Crawford. The album peaked at number 66 on the Billboard 200 and number nine on the Billboard Top R&B albums chart. Although none of the singles released made the Hot 100, Between Friends has sold more than 350,000 copies in the United States, 120,000 in South Africa, and more than 800,000 worldwide to date.
On her 2008 Summer Soul Concert Series tour, Tamia recorded her Sunday 10 August 2008 performance at the Lincoln Theatre (Washington, D.C.). The recorded performance is planned to be released as a live CD album, along with the DVD. Both were slated for release on December 2, 2008, but have been pushed back several times. As of September 2009, it has not been released. The live album, called Live in Washington, DC, will include 3 new tracks. In March 2010, she confirmed on her Twitter page that the live album would be released later this year.
In March 2010, Tamia confirmed on her official Twitter page that she is working on her new album. As of November 8, 2010, Tamia told Kempire Radio she is "seven songs into the album" and will remain true to her signature themes of love. The album will feature writing and production from Rodney "Darkchild" Jerkins in addition to Chuck Harmony, The Runners, Claude Kelly, Ivan Barias, and others.The album is presently titled Beautiful Surprise due to be released in the summer with the 1st single before in February 2012.
Albums:
1998: Tamia
2000: A Nu Day
2004: More
2006: Between Friends
2009: Greatest Hits
2012: Beautiful Surprise
Read more
Latest headlines