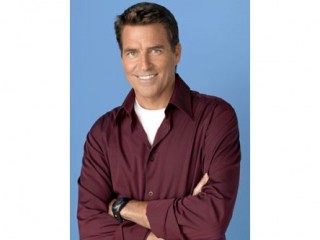 Ted McGinley biography
Date of birth : 1958-05-30
Date of death : -
Birthplace : Newport Beach, California, U.S.
Nationality : American
Category : Arts and Entertainment
Last modified : 2011-09-20
Credited as : actor, Hope & Faith, The Love Bost
Theodore Martin "Ted" McGinley
is an American actor. He is perhaps best known for his role as Jefferson D'Arcy on the television series Married... with Children and as Charley Shanowski on the former ABC sitcom Hope & Faith. He was also a regular on Happy Days and The Love Boat.
Classically handsome actor Ted McGinley appeared in supporting roles on a number of successful television series including Happy Days, Love Boat, Dynasty, and Married With Children. He often joined these shows mid-run. Sometimes the shows had reached their peak and/or were canceled within a few years of his joining the cast. Because of this trend, McGinley was named the patron saint of a website which chronicled this so-called "Jump the Shark" phenomenon. McGinley did not just appear in television shows, but also had roles in television movies and on film. One of his most popular film roles was a supporting role as an antagonist in the hit comedy Revenge of the Nerds and two of its sequels. As McGinley told Christian Toto of the Washington Times, "I've made a living out of not being the main person. I consider myself a utility player."
McGinley was born on May 30, 1958, in Newport Beach, California (some sources say San Marino, California), where he was raised with his two older sisters. His father was a successful cardboard salesman, while his mother was a nurse for heart surgeons who had a second career as a real estate broker. From childhood, McGinley wanted to be an actor and appeared in musicals and theater productions. Sports were also a big part of his life. He played little league baseball and began swimming to lose weight. By the time McGinley was 14 years old, he was a member of an elite swim team and won some championships. He also surfed and worked as a lifeguard on the beach at Newport Beach. McGinley was already attracting attention for his looks on the beach, but did not like getting into the water to save people unless he had to.
Water sports proved to be McGinley's ticket to college. He was given a full scholarship to play water polo at the University of Southern California, located in Los Angeles. By his senior year, he was the captain of the team. While a college student, McGinley also began a modeling career. He saw this as the first step to an acting career. However, modeling led to McGinley losing his athletic scholarship. He appeared in a sporting goods ad that was seen as violating NCAA rules of amateurism. After losing his scholarship, McGinley left school and went to New York City for a time to model.
While working as a model, McGinley appeared on boxes of Sun-In hair lightener and in a dozen television commercials. Within a short time, he was making his acting debut. McGinley's first role was as a jogger in an ABC television movie, 1979's Valentine. Producer-director Garry Marshall soon discovered McGinley and added him to the cast of his hit television show, Happy Days. McGinley joined the show in 1980, playing Roger Phillips, the cousin of main character Richie Cunningham. McGinley's Phillips was also a high school English teacher and basketball coach.
When McGinley took the role, he had minimal professional acting experience and had to learn on the job. It was a very hard adjustment for him, and McGinley thought his acting on the show was very bad at times. He considered leaving acting behind during the run of Happy Days to become a heart surgeon. Just as McGinley considered quitting, Marshall called him with a film offer that the actor decided he wanted.
Marshall cast McGinley in the 1982 film he was directing, Young Doctors in Love, which was a parody of the soap opera genre. McGinley played Dr. Bucky De Vol, an orthopedic surgeon who was also a jock. The character was in love with a hooker who favored roller skates. This film led to more roles for McGinley. He appeared in the 1983 television movie The Making of a Male Model with future Dynasty co-star Joan Collins. McGinley also continued to appear on Happy Days until the end of its run in 1984.
As soon as Happy Days ended, McGinley was cast in a role on another hit television series already well into its run, The Love Boat. He played Ashley "Ace" Covington-Evans, the ship's photographer and social director. McGinley stuck with the show until it was canceled by ABC in 1986. After its end as a television series, The Love Boat continued on in television movies; McGinley appeared in three: The Love Boat: The Christmas Cruise, The Love Boat: The Shipshape Cruise, and The Love Boat: Who Killed Maxwell Thorn? .
In 1984, McGinley also had his first big-screen role of significance. In the hit comedy Revenge of the Nerds, he played Stan Gable, the quarterback of the fictional college's football team and president of the Alpha Beta fraternity. McGinley's Gable was the primary enemy of the nerds at the center of the film. McGinley reprised the role in two sequels which were aired as television movies, 1992's Revenge of the Nerds III: The Next Generation and 1994's Revenge of the Nerds IV: Nerds in Love.
Until this point, most of McGinley's significant roles had been in comedies. After the run of The Love Boat ended, he was cast in a role on another production produced by Aaron Spelling, the already-popular prime-time soap opera, Dynasty. McGinley spent a little more than a season, 1986-87, playing Clay Falmont, a senator's son who was both a rebel and a rogue. McGinley believed that this dramatic role helped make him a better actor. During the run, he also volunteered his time to work at a paradise camp for kids suffering from terminal cancer.
In the late 1980s and early 1990s, McGinley worked on a number of different film and television projects. In 1989, he had a role in the dramatic mystery Physical Evidence, directed by Michael Crichton and starring Burt Reynolds. McGinley played the boyfriend of a female lawyer played by Theresa Russell. McGinley continued to alternate between film and television roles. In 1991, he played Craig Palmer on the short-lived situation comedy, Baby Talk. The ABC show was derived from the hit film Look Who's Talking.
After the end of Baby Talk, McGinley was added to the cast of yet another already-successful show, the over-the-top situation comedy Married With Children on FOX. He played Jefferson D'Arcy, the second husband of Marcy D'Arcy, a controlling career woman, from 1991 until the show ended its run in 1997. McGinley's character was a hunky freeloader who was "kept" by his wife. He told Eirik Knutzen of Copley News Service, "I guess I'm part of television history, because I have appeared in four successful shows but I really can't take the credit, because I came in late on all of them. I've always been the low man on the totem pole. I'd be thrilled to be part of a TV series from day one and ride that cow until it died."
During and shortly after the run of Married … With Children, McGinley was a part of many film and television movies, playing different types of characters. In 1993, he played Mr. Scream in Wayne's World 2. That same year, McGinley used a Southern accent in his role in the miniseries Wild Justice which did not go over well with critics. Some of his television movie roles were very dark. In 1996, he was the star of Deadly Web, a movie that aired on NBC in 1996 and co-starred his wife, Gigi Rice. The movie was about a woman who was stalked on the Internet. One of McGinley's darkest roles came in 1998 in the television movie Every Mother's Worst Fear. He played Mitch Carson (also known as Scanman), a sexual predator who lures a teenage girl upset by her parents' divorce into his lair. He holds her captive and tortures her.
Bigger film roles came McGinley's way in the late 1990s and early 2000s. In 1998, he appeared in Major League: Back to the Minors, the third film in the Major League series. He played Leonard Huff, the manager of the Minnesota Twins, who was incompetent, vain, and arrogant. The film received some praise, and was seen as better than part two in the series, Major League II, but did not do well at the box office. Of the actor's performance, Michael Saunders of the Boston Globe declared: "McGinley has made a career of playing well-groomed twits and does a great job here."
Soon after Major League: Back to the Minors, McGinley filmed Dick, a comedy about President Richard Nixon's Watergate break in. The story focused on two teenage girls who accidentally stumble on the crime in progress. McGinley's character was an aide of Nixon who has to interrogate the girls. The film was released in 1999. McGinley was also a part of big Hollywood productions such as 2001's Pearl Harbor, in a small role as an Army Corps major.
In the late 1990s and early 2000s, McGinley's television career had its ups and downs. He joined the critically successful show Sports Night mid-season. McGinley played Gordon until the show was canceled in 1999. In 1999, he played Murray Epstein on the CBS pilot Work With Me that was not picked up. In 2001, McGinley joined the hit drama The West Wing, first in a guest-starring role that turned into a recurring role. Two years later, he was selected for a role in Charlie Lawrence, a situation comedy about a freshman congressman from New Mexico, played by Nathan Lane. McGinley played Graydon Cord, the neighbor of Lane's title character, who was a member of the opposing political party. McGinley was also in the pilot for the 2002 CBS show Life of the Party, playing a senator.
Because of McGinley's checkered television history, he was picked as the epitome of the phenomenon known as "Jump the Shark." This concept was begun by Jon Hein on a website ( www.jumptheshark.com ) in 1997. Hein claimed that whenever McGinley-or certain other actors-appeared on a show, its run soon ended or at least its best days were behind it. The name comes from what Hein considered the zenith of Happy Days, when one of the characters jumped over a shark on water skis. Hein named McGinley the patron saint of Jump the Shark, but meant no malice against the actor. For his part, McGinley disagreed with Hein's assessment, pointing out that several of the shows he was on ended long after he was on them. McGinley told Melanie McFarland of the Seattle Post-Intelligencer, "I've had a lot of fun with it. To be honest with you, it's meant people are still talking about me. It's kind of doing me a favor. And people keep hiring me, so I know that I'm OK."
Indeed, McGinley kept working. In 2003, he was cast in yet another situation comedy, Hope & Faith. The show focused on the relationship between stay-at-home mom, Hope (played by Faith Ford), and her sister, Faith, a washed-up soap actress (played by Kelly Ripa). McGinley played Charlie, an orthodontist married to Hope whose life is turned upside down when Faith moves in. While the show had some initial success, it struggled to keep an audience during its first season on the air. Despite its potential Jump the Shark status, McGinley was not worried about its longevity. He told Scott D. Pierce of Deseret News, "Look, it took me 3 1/2 years to kill The Love Boat, 4 1/2 years to kill Happy Days, 7 1/2 years to kill Married … With Children. So I'm hoping it takes me ten years to kill this one."
Read more
Latest headlines