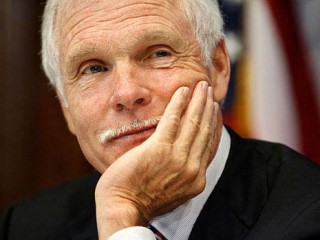 Ted Turner biography
Date of birth : 1938-11-19
Date of death : -
Birthplace : Cincinnati, Ohio, U.S.
Nationality : American
Category : Famous Figures
Last modified : 2010-09-08
Credited as : Media executive and businessperson, sportscaster, owner of company Dt Solar
Robert Edward "Ted" Turner III
, also known as the
"Mouth of the South"
, has put his money where his mouth is to become a multimedia mogul. From his ownership of two professional sport teams and a love of yachting to his empire of seven cable networks and two movie studios, Ted Turner has become a billionaire three times over. He was also named 1997s biggest charitable donor by pledging to the United Nations $100 million each year for the next 10 years.
Personal Life
Ted Turner
was born in Cincinnati, Ohio, on November 19, 1938. His parents, Ed and Florence Rooney Turner, moved Ted and his younger sister, Mary Jane, to Savannah, Georgia, when Ted was nine.
Ted's father, Ed, was described as an authoritarian who, at times, asserted his power by beating Ted with a wire coat hanger. Ted never felt like he could, or would, ever live up to his father's high standards.
Ed Turner enrolled his son in the Georgia Military Academy where Ted remained until high school. His father then sent Ted off to McCallie, a Tennessee military preparatory school. In 1955 Ted, representing his high school, won the Tennessee state debate contest. But, he was also somewhat of a rebel.
After graduating from high school, Turner wanted to attend the U.S. Naval Academy in Annapolis, Maryland. His father, however, put his heavy foot down and told Turner that he would attend Brown University and pursue a business degree. Turner denied his father's authority when he decided to study humanities and the classics instead of business. This show of independence ignited a battle that became public after Turner published, in Brown's student newspaper, a letter that his father wrote, which completely made fun of him and his decision. However, this did not stop Turner's father. Ed continued wielding his influence until Turner finally broke down and changed his major to economics. Yet, Turner would never earn a degree from Brown. He was kicked out of Brown twice. First, Turner was suspended because of a rowdy party, although he was allowed to return six months later, after a tour of duty with the Coast Guard. He was kicked out for the second time after he had broken Brown's rule forbidding students from having guests of the opposite sex in their dorm rooms. Turner was not asked back.
Turner married three times--first to Judy Nye with whom he has two children, Laura Lee and Robert Edward IV; second, in 1964, to Jane Smith, with whom he has three children, Beau, Rhett, and Jennie; and third, in 1991, to Jane Fonda.
Career Details
Turner actually began a full-time "career" at just nine years old when his father had him work summers at his billboard company--Turner Advertising. Turner mowed the lawn around billboards and maintained their poles. He continued working summers at his father's company, although by college he had stopped cutting grass and started working with customers as an account executive. Yet, Turner was not happy. He had wanted to work at the Noroton Yacht Club in Connecticut, a club that would let Turner pursue his love of sailing by giving him the chance to race, but his father said no.
In 1960, Turner became Turner Advertising Company's general manager at its branch office in Macon, Georgia. For the next three years, Turner found that he did have, if not a love, then a strong like for business. As Turner's success grew, so did his confidence, and in 1963, with this new found confidence, Turner battled his father once again. In 1962, Ed Turner had overextended his budget by buying into the General Outdoor Advertising Company and, by 1963, felt that he had too many financial obligations. He decided to sell his business. Turner became furious and confronted his father. He had become a successful businessman, just as his father wanted, and was not willing to simply give up on the business. But, on March 5, 1963, Ed Turner did give up--he killed himself. Turner stopped the sell-out plans and sold two family plantations to help cover business debts. Over the next seven years, Turner worked hard to get the family business, now his business, back on track.
In 1970 after rebuilding the company--now known as Turner Communication Corporation--into a huge success, Turner stepped into the world of television. Television would never be the same again. Merging with Rice Broadcasting, Turner bought Channel 17, an independent Atlanta UHF station. With this station, Turner stomped out the local competition by cornering a 16 percent share of the TV audience. Turner won this huge audience by broadcasting Atlanta sports teams' games, movie reruns, and sitcoms. Just six months later, Turner further expanded his TV audience when he bought a second independent station, WRET-TV in Charlotte, North Carolina. For the next five years, Turner kept an eye on the progress of cable television, and in 1975 his station--now known as WTBS--became the first wholly cable station to be delivered to TV audiences via satellite. By the end of 1976, Turner's "superstation" was estimated to be worth $40 million dollars.
Turner was not solely focused on his work, however. In 1976 he bought Atlanta's baseball team, the Braves, and Atlanta's basketball team, the Hawks. In addition, he bought controlling interest in Atlanta's hockey team, the Flames. Turner was also a sportsman in his own right. In 1977 he captained his yacht the Courageous and won the America's Cup. This win granted him the title "Yachtsman of the Year." This award, according to Les Brown's Encyclopedia of Television, "earned him the nickname Captain Courageous." However, "the [TV] industry and press [named him] Captain Outrageous, for Turner's outspokenness, eccentric behavior, and derring-do in the business world." With this "derring-do," the purchase of three of Atlanta's sports teams, and his growing library of network reruns and movies, Turner's WTBS, in 1979, began broadcasting 24 hours a day.
However, Turner was not happy with just one cable station, albeit a "superstation." In 1980 Turner got what he wanted by creating the first U.S. 24-hour news station--Cable News Network (CNN). The television industry laughed at Turner's creation. Some wondered how Turner could profit with a 24-hour cable news station when broadcast networks like CBS, NBC, and ABC could not profit with their daily half-hour newscasts. He went on to launch a second news channel, Headline News Network, in 1982. This new network offered continuous half-hour news summaries. Both would prove to be huge successes.
Still, Turner faced setbacks during the 1980s. He first made an unsuccessful bid to buy CBS. He then closed a $1.6 billion deal to gain control of the movie studio MGM's film library; this acquisition benefited Turner but its terms were less than favorable. To finance this deal, he had to give up some of his power when he was forced to sell off parts of his media empire to cable operators such as Tele-Communications, Inc. (TCI) and Time Warner. By 1986, Turner was once again standing tall when CNN began showing a profit and increasing its audience steadily. Also, in 1986, Turner established his fourth cable station--Turner Network Television (TNT)--now known for its programming of WCW wrestling matches, theatrical movie reruns, and original movies.
In 1986, Turner's love of sports yet again pushed him into another new venture. Turner founded, financed, and broadcast the Goodwill Games. Turner, according to the Encyclopedia of World Biography, wanted these Olympic-like games to "foster better relations" between Russia and the United States. For the next five years, Turner continued building his empire by purchasing the Hanna-Barbara animation studio and its cartoon library. He also continued promoting peace through the second Goodwill Games in 1990, even though this endeavor cost Turner millions of dollars. Also, during these five years, the popularity of CNN exploded due to its accurate and up-to-the-minute reporting of the Persian Gulf War. Thus, Turner was dubbed by some the "King of Cable," and was named "Man of the Year" in 1991 by Time magazine. That year Turner also married Academy Award-winning actress Jane Fonda.
In 1992 Turner established two more cable and satellite channels: the Airport Channel, which offered flight information at U.S. airports, and the Cartoon Network, which was supported by his recently purchased cartoon library. Two years later, Turner established yet another channel when he started broadcasting his MGM film library on Turner Classic Movies (TCM).
In a surprise move in 1995, Turner accepted a $7.5 billion bid from Time Warner to buy Turner Broadcasting. With this deal, Turner became Time Warner's vice chairman and largest shareholder. The purchase in part helped Turner and Time Warner to fend off an aggressive television-market attack by holdings of Rupert Murdoch's News Corporation, owner of the Fox network among many other media interests. The Time Warner partnership soured over time, however; and by 2006, Turner had resigned his vice chairmanship and departed from the company's board of directors.
Turner was seldom hesitant to share the fortune he'd made from his many business ventures. Most dramatically, in 1997 he announced that he would donate $1 billion to the United Nations through a special foundation he created for the cause. That goal was met in the autumn of 2006. His massive contribution came in the wake of his periodic criticisms of other billionaires for not giving enough back to society. Turner had long been associated with environmental and other charitable causes. In an explanation of his gift to the UN, Turner told Howard Fineman in Newsweek, "According to Jesus Christ, money is worthless. It won't buy you anything in heaven, if there is one. It might not even get you in." A Turner Networks employee speculated on additional motives behind Turner's unusual pledge to the UN, calling the pledge part of Turner's "Citizen Kane complex." Turner was apparently fascinated by the story of Citizen Kane, and Turner's son claimed that Turner "thought he was Kane, a guy who has everything and ends up with nothing." Turner's friends also suspected that his philanthropy was in part motivated by the fact that Turner didn't want to die rich and alone.
But Turner angered environmentalists in 1999 when he went against his previously stated intentions and decided to allow oil drilling operations on private property. The property in New Mexico, which he owned, encompassed 578,000 acres. Turner had stated when he bought the land in 1996 that it was to be used only by ecotourists and resident bison. He later sold the mineral rights to the property for a 3 percent royalty, which was expected to total $81 million over a period of 21 years.
By early 1999, Turner's wide array of business ventures included a large share of the bison market, according to Insight on the News. Turner owned 17,000 head of bison on three ranches, and was a major supplier of the North American Bison Cooperative. Although $6 million of the meat that Turner supplied was purchased by the government to feed poor Native American families, a rival group (The InterTribal Bison Cooperative) accused Turner of selling the best cuts of the meat to exotic restaurants and selling the government the fattiest cuts. Appearing embarrassed, Turner attempted a low profile on the issue by stepping out of the spotlight and merging his operations with an Omaha-based meat supplier.
In 2007, Turner announced the formation of yet another business venture called
DT Solar

Social and Economic Impact


Ted Turner has made an indelible mark on the world's television markets through his founding of several of the leading networks viewed on cable and satellite television. His revolutionary concepts like CNN's all-news format created wholly new and profitable genres of broadcasting that had not previously existed. He has also been a notable personage in international sporting and social causes through his participation in yachting competitions, his ownership of Atlanta-based professional sports teams, and his philanthropy and social activism.

Turner considered himself an ardent environmentalist and in the year 1998, gave funds to environmental organizations that totaled $25 million. The Turner Foundation included the Turner Endangered Species Fund, which focused on saving species such as the desert bighorn sheep and the California condor. Turner's environmental foundation funded 450 environmental advocacy groups in 1999. On ranch land that Turner owned in Montana, he planned to reintroduce wolves and falcons as well as native plant life. In addition, he hoped to demonstrate cultivation methods on the land that were environmentally sound. Turner was also concerned with other social issues such as world overpopulation and the impact of consumption on the earth's resources. In his personal life, Turner sought to decrease his own consumption by driving a mid-sized car, walking when possible, and saving on electricity in his home. Claimed Turner of his approach to life, work, and the causes that he supported, "I didn't set out to make a lot of money . . . . I went after the best ideas that would benefit the most people."

CHRONOLOGY

* 1938: Born.
* 1960: Took over family business, Turner Advertising Company.
* 1970: Purchased first TV station.
* 1976: Bought the Atlanta Braves and the Atlanta Hawks.
* 1977: Won America's Cup yacht race.
* 1980: Formed Cable News Network (CNN).
* 1982: Launched Headline News.
* 1986: Established Turner Network Television (TNT).
* 1986: Purchased MGM/UA's movie studio and film library.
* 1991: Named Time's Man of the Year.
* 1991: Married Jane Fonda.
* 1992: Introduced Airport Channel and Cartoon Network.
* 1994: Began Turner Movie Classics, his seventh cable network.
* 1996: Purchased ranch acreage in New Mexico, for purpose of ecotourism and bison grazing.
* 1997: Pledged $1 billion in donations to United Nations causes.
* 1999: Sold mineral rights on New Mexico land for royalty, allowing drilling.
* 1999: Turner and Fonda announce separation; divorce becomes final in 2001.
* 2006: Completes divorce from Time Warner by exiting its board of directors.
* 2006: Turner's United Nations Foundation reaches billion dollar goal.
* 2007: Launches new business, DT Solar.

AWARDS

Martini & Rossi Trophy for Outstanding Yachtsman of the Year, 1970; named U.S. Yachtsman of the Year, 1970, 1973, and 1977; named Time magazine's Man of the Year, 1991; named Cable & Broadcasting's Man of the Century, 1999; World Ecology Award from the University of Missouri, 2000; inducted into the Atlanta Braves Hall of Fame, 2000; inducted into the American Advertising Foundation's Advertising Hall of Fame, 2005.

Read more
Latest headlines