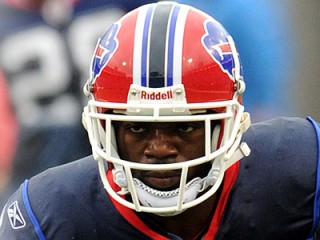 Terrence McGee biography
Date of birth : 1980-10-14
Date of death : -
Birthplace : Smith County, Texas
Nationality : American
Category : Sports
Last modified : 2010-11-23
Credited as : Football player NFL, cornerback for the Buffalo Bills, Pro Bowl/NFL Draft player
Terrence McGee is an American football cornerback and kick returner who currently plays for the
Buffalo Bills
of the National Football League.
PRO:
Drafted by the Bills with the first of their two fourth-round selections (111th overall) in the 2003 NFL Draft.
NFL Awards:
* 2005 Pro Bowl Selection
* 2006 Pro Bowl Alternate
* AFC Special Teams Player of the Week – Week 8, 2004
* AFC Special Teams Player of the Week – Week 13, 2004
* AFC Special Teams Player of the Week – Week 16, 2005
CAREER:
* Has 17 career interceptions which ties him for 15th place in team history
* Bills are 14-3 when McGee posts an interception
* Led the team interceptions in 2008 (3), 2007 (4), and tied for the lead in 2005 (4)
* Recorded at least 80 tackles in four consecutive seasons (2004-07)
* Holds the following Bills kick return records
o Most kick return yards – career: 5,450
o Most kick returns – career: 207
o Most kickoff return touchdowns – career: 5
o Most kickoff return touchdowns – season: 3 (2004)
o Longest kickoff return: 104 yards (at Miami, 12/5/04)
o Longest non-scoring kickoff return: 88 yards (at Indianapolis, 11/12/06)
* Seven career return touchdowns (5 KOR, 1 INT, 1 FR) ties for the most in franchise history (Nate Clements)
* One of 13 NFL players with five kick return touchdowns
* On 12/24/05 at Cin., became the first player in NFL history to return a kickoff for a touchdown (99 yards) and an interception for a touchdown (46 yards) in the same game
* First Bills player to ever return an opening kickoff for a touchdown (104 yards) at Mia (12/5/04)
2009:
* vs. NO (9/27) Posted five tackles including one tackle-for-loss. Helped Buffalo pass defense hold New Orleans to just 156 passing yards.
* at NYJ (10/18) Posted three solo tackles. Missed the majority of the second half with a shoulder injury.
* at KC (12/13) Made his first start since week eight and recorded his first interception of the season and 17th of his career. Led defensive backs with six tackles and added a pass defensed.
* vs. NE (12/20) Led the team with two passes defensed and added five tackles. Suffered a shoulder injury in the second half and did not return to the game. Pass defense held New England 115 yards and Tom Brady to a passer rating on 59.3.
* Placed on injured reserve on December 22, 2009.
2008:
* Led the Bills in passes defensed with 21 and interceptions with 3
* Led Bills defensive backs with 69 tackles
* Posted his 14th career interception in the fourth quarter vs. Sea (9/7), allowing Buffalo to take a knee and run out the clock… was the fourth INT of his career enabling Buffalo to run out the clock for a victory… added a team-high four passes defensed
* Recorded his second interception at Jac. (9/14) in the Jaguars end zone… tied Billy Atkins (15) for 16th on the team's all-time INT list… INT streak was the third of his career
* Held Patriots WR Randy Moss to 53 receiving yards at NE (11/9)… notched six tackles (5 solo) and three passes defensed vs. Patriots
* Broke up a season-high six passes vs. Cle. (11/17)
* Tallied his third interception of the year at NYJ (12/14), returning the ball 36 yards… turnover led to a K Rian Lindell 48-yard field goal… five of his 16 career INTs have come against the Jets
* Led the defense with a team-high 10 total tackles and six solo stops at Den. (12/21)
2007:
* Recorded 1,082 kickoff return yards on 45 attempts, the sixth most by a Bill in a single season and his fourth straight 1,000 yard season
* Extended his club record to 5,358 kickoff return yards
* Became one of 28 NFL players to record 200 or more kickoff returns with 203 in his career
* Led the team with four interceptions (tied a personal season-high)
* Posted 86 total tackles
* Ranked third in the NFL with 23 passes defensed
* Recorded 100 or more kickoff return yards for the 21st time in his career vs. Den. (9/9) with 112 yards on four returns... Was his second consecutive 100+ yard kickoff return yards performance in a season opener (110 yards/4 returns at NE 2006)
* Gained a season-high 170 yards on six kickoff returns at Pit. (9/16), breaking 100 yards for the 22nd time in his career… Marked the third straight game with 100+ KR yards, the third streak of his career… Is one of eight Bills in club history with 100+ KOR yard streaks but is the only one with more than one streak… Became the second Bill to post 100+ KOR yards in the first two games of a season (Charlie Rogers, 2002)... Returned the second-half opening KO for 63 yards, leading to a field goal
* Vs. NYJ (9/30), sealed the victory with an interception on the Jets' final drive… Was the 10th pick of his of career and his third in which Buffalo was able to run out the clock (all vs. NYJ)… Became the 23rd Bill with 10+ career interceptions
* Fielded a third quarter kickoff three yards deep in the end zone and returned the ball 103 yards for a touchdown vs. Dal. (10/8), the second longest kick return in team history… Tied a Bills record with 7th career return TD (5 KOR, 1 INT, 1 fumble)… became the 10th NFL player to post five kick return touchdowns in a career … Posted a 48.0 kick return average, the fourth highest in a single game by an individual in team history … Was his 23rd game with 100+ KOR yards in career
* Caught his second interception of the year at NYJ (10/28), just before the two minute warning
* Notched 82 KOR yards on three returns to move within 39 yards of 5,000 in career vs. Cin. (11/4)
* Became the 23rd player in NFL history to post 5,000+ career kick return yards with a 21-yard return in the first quarter at Mia. (11/11)
* Vs. NE (11/18), tied a club record with eight kickoff returns and gained 147 yards…Posted 100+ kick return yards for the 24th time
* Vs. Mia. (12/9), posted his 12th career interception, the third of the season… Became the 28th player in NFL history with 200-plus kick returns
* Posted an interception vs. NYG (12/23), his fourth of the season, matching a season-high… 17th Bill with 13+ career interceptions
* Finished the year with a return of 19 yards at Phi. (12/30) to total 1,082 KOR yards on the season
2006:
* Posted his third career 1,000+ yard kickoff return season (1,355) … season kickoff return average of 26.06 ranks sixth in club-history and ranked sixth in the NFL … set the Bills record for the longest non-scoring kickoff return at 88 yards at Ind. (11/12) … finished the season with 80 tackles, 13 passes defensed, one fumble recovery and one touchdown …extended his club-records for most kickoff returns in a career to 158 and most kickoff return yards in a career to 4,276
* At NE (9/10), had a team-high eleven tackles, his season-high… returned four kickoffs for 110 yards, including a 44-yard return
* At Chi. (10/8), set then career-high with seven KOR for 159 yards…also had three tackles on defense to go along with three pass break ups
* At Ind. (11/12), had a 68-yard fumble return touchdown near the end of the second quarter, tying the score at 10-10… return was the second longest fumble TD in Bills history … third fumble recovery of career … 88-yard KOR to open 2nd half was longest non-scoring KOR in Bills history … 19th time in career and fifth straight game with 100+ KOR yards …fourth straight game with 40+ yard return …also had six tackles
* vs. SD (12/3), returned two kickoffs for 67 yards … became the 21st player in NFL history to record 4,000 kick return yards with one team … did not return after halftime due to an ankle injury
* at NYJ (12/10), inactive with an ankle injury
2005:
* Was the team's co-leader in interceptions with four…Raised career total in kickoff return yards to 2,921… his season KOR average of 30.24 set a new club record (old mark 29.87 Wallace Francis, 1973) … voted as Pro Bowl alternate.
* Posted a season-high 13 tackles, including nine solo and two passes defensed at TB (9/18); also marked 1st 100+ kick-off yardage game of season
* Posted five tackles, including four solo at NO (10/2) and also recorded a pass breakup; returned an 82-yard kickoff to the Saints two-yard line, at the time the 2nd longest non-scoring kick return in Bills history
* Tallied five tackles and recorded an interception vs. Mia. (10/9) and posted two kickoff returns for 80 yards; kickoff return in the 4th quarter helped set up FG which increased the Bills lead to 20-14
* Recorded five tackles and an interception of 18 yards vs. NYJ (10/16); posted a 43-yard KOR to open the game, helping set up a Willis McGahee touchdown; also registered three pass breakups …became the first Bill ever to record 40-plus yard returns in three consecutive games
* Tallied six tackles at Oak. (10/23) and continued streak of 40-plus yard returns to 4 games, posting three returns for 98 yards…registered eight solo tackles at NE (10/30); also posted two kickoff returns for 22 yards to become franchise leader in kick return yards passing Keith Moody (2,168 yards)
* Notched a fumble recovery and one tackle at Mia. (12/4); the fumble recovery in 1st quarter led to Bills 2nd TD on a connection with JP Losman and Lee Evans
* Returned a kickoff 99 yards for a touchdown at Cin. (12/24) and sealed the game with a 46-yard interception return for a touchdown; became first player in NFL history to return a kickoff and interception for a touchdown in a single game; kickoff return touchdown marked his fourth of career, setting a team record; posted 220 yards on five kick returns and set team record with third consecutive 100-yard kick return game
2004:
* In his second season with the Bills, exploded into the team's kickoff return record books while also making an impact on the defensive side of the ball… earned his first ever Pro Bowl selection by leading the AFC with a 26.3 kickoff return average and three kickoff return touchdowns… set a Bills single season record with three kickoff return touchdowns … posted the longest kickoff return touchdown in Bills history and became the only Bill to return an opening kickoff for a touchdown at Mia (12/5) with a 104-yard return …on defense, moved into a starting role at cornerback after a Troy Vincent injury in week 4 and started 13 games, tallying 95 tackles (81 solo), 2.0 sacks, three interceptions, and 15 passes defensed
* Posted his first career kickoff return for a touchdown with a 98-yard return vs. NE (10/3); gained 176 yards on four kick returns and added six tackles and two pass break-ups
* In first start of the season, recorded eight tackles at NYJ (10/10) and registered three kickoff returns for 69 yards
* Scored second touchdown of season on 87-yard kick return vs. Arz. (10/31), becoming 3rd Bill in team history to run back two kicks for touchdowns in one season (Charley Warner, 1965; Wallace Francis, 1973)
* Posted his first interception of the season and added his second sack vs. STL (11/21) while adding eight tackles and a pass break-up; also returned four kicks for 93 yards with a long of 35
* Posted an interception for second consecutive week and tied for a team-high with eight tackles at Sea. (11/28)
* at Mia. (12/5), returned his third kickoff for a touchdown by taking the opening kickoff back 104 yards for the longest kickoff return touchdown in Bills history; became the 10th NFL player and first Bill to register three kickoff return touchdown in a season; only one other Bill (Charlie Warner, 1964-66) had posted three KOR TDs in a career; his return at Miami marked the first time a Bill returned the opening kick for a touchdown in team history; defensively, registered an interception in a third straight game and tallied seven tackles
2003:
* Played in 14 games and started two at cornerback, posting 23 tackles (21 solo), a sack, two interceptions, and seven passes defensed…also saw time on special teams, tallying 20 tackles (14 solo), and returning eight kickoffs for 160 yards
* Played his first NFL game at Jax. (9/14) but did not record a tackle
* Registered a season-high six solo defensive tackles, a forced fumble, two solo special teams' tackles, and a kickoff return for 26 yards vs. Ind. (11/23)…made first NFL start at NYG (11/30) and posted three solo tackles and two passes defensed
* Recorded his first career interception vs. NYJ (12/7) in the fourth quarter off Chad Pennington and also added two tackles (one solo) on special teams
* Tallied his second career interception vs. Mia. (12/21) off quarterback Jay Fiedler
* Matched season-high with six tackles at NE (12/27)
COLLEGE:
Was a four-year starter at Northwestern State, a I-AA school located in Natchitoches, LA…was not only a stellar defensive back who played both corner and safety but also excelled as a return specialist and a kick blocker…possesses a 37.5-inch vertical leap that helped him block three kicks in his career…in 43 career games he recorded 192 tackles (142 solos) with a sack, 6 tackles for losses, 46 deflected passes, 11 interceptions for 166 yards in returns and 2 touchdowns, 4 forced fumbles, and 3 fumble recoveries…returned 56 punts for a school career-record 972 yards (17.4 avg) and 3 touchdowns, breaking the old mark of 845 yards by Al Dodd (1963-66)…added 267 yards on 12 kickoff returns (22.3 avg)…saw brief action on offense during his career and finished with one reception for 12 yards and 5 rushing yards on 3 carries. … Majored in business administration.
PERSONAL:
Full name –
Terrence Dewayne McGee
… attended Athens (TX) High where he was a two-way, two-time all-district selection as a running back and cornerback…was All-state defensive pick as a senior…also earned first-team All-district honors in baseball and was named his school's Athlete of the Year.
COMMUNITY
Terrence participated in the 2009 Community Ticket Donation Program by donating 20 season tickets to various Community Partners in WNY. Over 200 people were part of Team 24 and attended Buffalo Bills home games where they were also treated to food and beverage coupons compliments of Terrence.
Read more
Latest headlines