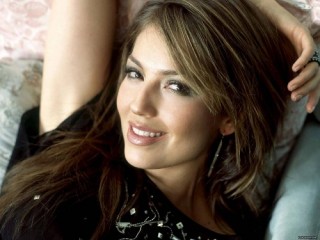 Thalia biography
Date of birth : 1971-08-26
Date of death : -
Birthplace : Mexico City, Mexico
Nationality : Mexican
Category : Arts and Entertainment
Last modified : 2012-02-21
Credited as : Singer-songwriter, actress, married with Tommy Mottola
Ariadna Thalía Sodi Miranda, known mononymously as Thalía, is a Mexican singer, songwriter and actress. She has sold over 40 million albums worldwide. She has sung in Spanish, English, French, Portuguese and Tagalog.
Thalia has been nominated for various Latin Grammy, Latin Billboard and many other awards throughout her career, being considered as one of the best known Latin singers globally.
Apart from her success in music, she also rose to international fame because of her starring in very successful soap operas like Marimar and María la del Barrio. Thalía has achieved to maintain her autonomy and her status as a powerful woman within the recording industry because of her multifaceted career in many different fields of art. She is also an occasional author, businesswoman and fashion designer.
As superstar of both Mexican telenovelas (soap operas) and Latin pop music, Thalia has won worldwide fame and adulation. Known for her sultry, romantic image, she had reached an almost goddess-like stature in some countries, such as the Philippines. She made news in the United States when she married Sony Music Entertainment chairman and CEO Tommy Mottola, who had previously been married to pop diva Mariah Carey.
Ariadne Sodi Miranda was born in Mexico in 1972, the youngest of five children. Her father died while she was a young child. At age nine, she joined Din-Din, a pop group made of children, and toured Mexico. Din-Din released four albums; their first, Alegrias musicales, was released in 1981. While performing in the band, Miranda continued to pursue her love of acting and dancing, taking the stage name of Thalia. She won a part as a chorus girl in Mexico City's production of the musical Grease, and at age 13 she became the lead in the production. Firmly planted in the entertainment world, Thalia joined a popular vocal group called Timbiriche. She and the group released three albums.
Spending a year living in Los Angeles, California, Thalia felt ready to change her image. She decided to go solo and cut her debut album, Thalia, on Fonovisa in 1989. Producer and mentor Alfredo Diaz Ordaz produced all three of her Fonovisa albums, which include Mundo de cristal (1991) and Love (1992). While Thalia was experiencing great success in her career, she was devastated in 1994 when Diaz died from cancer. They had been engaged to marry.
All the while her musical career was taking off, Thalia continued to pursue acting. She appeared in numerous Mexican soap operas, including Luz y Sombra in 1989. Her breakthrough role came in Quinceanera, which ran in 1987. She won three career-defining roles in soap operas that would span the next four years. Playing the lead in 1992's Maria Mercedes, 1994's Marimar, and 1995's Maria la del barrio, Thalia became a global celebrity. "[She] always portrayed a poor girl who found a way to become rich," described Teresa Aguilera in Billboard. Thalia won fans everywhere, and was viewed by one billion people worldwide. Fans related to her romantic characters and were glued to the television sets whenever she appeared. Thalia explained to Billboard's Leila Cobo, "In all my soaps, my characters have always been very real, very pueblo [of the people], very raza [the common race]. They get the opportunity to expand, but they're Cinderella characters. And I've always had very direct contact with my audience. They don't see me as unattainable."
Whatever the reasons, Thalia's success as a soap opera star was nothing short of phenomenal and translated to huge record sales for her albums. "Soaps give you a platform in places you can't even imagine," she told Cobo, "For example, in Greece ... in Spain, too. My records sell in Turkey, the Philippines, countries where I would have never had the opportunity to be known and it wouldn't have happened if I hadn't had those roles and if my songs hadn't played every single night on TV."
In 1994 Thalia signed with EMI Latin, releasing En extasis in 1995. Emilio Estefan produced the album's hit single "Piel Morena." She took promotional tours to the United States, Brazil, and Southeast Asia, and toured Argentina, Bolivia, Paraguay, Peru, and the Dominican Republic in support of the album, and watched her sales reach top-ten levels throughout Latin America. Her visit to the Philippines in 1996, where Mari Mar was the country's favorite soap opera, revealed the extent of Thalia's global fandom. The same week that a peace agreement was being signed with Muslim guerrillas and the Philippines were celebrating their centennial anniversary of their revolution, her week-long visit earned non-stop press coverage. Television carried her arrival as thousands gathered to catch a glimpse of her. Politicians fawned over Thalia, making sure they had their photos taken with her. In the Filipino Daily Inquirer, a reporter noted: "They are trying to escape from the ugliness around them ... you can see Thalia descending like an apparition from Mount Olympus, and you can understand what the Filipinos are trying to escape into. They are trying to escape into beauty." Many lawmakers were amazed that Filipinos were more interested in Thalia than the celebration of the Revolution.
Creating her own revolution of sorts, Thalia continued pursuing both her acting and musical careers. After the release of her second EMI Latin record, Amor a la mexicana in 1997, Thalia released Nandito Ako, which includes songs sung in Tagalog, a Philippine idiom. The Mexico City Wax Museum placed a wax figure of Thalia in their museum. She also made forays into new businesses by creating two lines of lingerie and a Thalia doll, and appearing in her first Hollywood film, Mambo Cafe.
EMI Latin released Thalia's Arrasando in 2000--a mix of rap, salsa, rap, and reggae set to a club beat. Her Con banda grandes exitos followed in 2001, a collection of her greatest pop hits backed by banda music, a brass-based traditional Mexican music. Exploring new venues, Thalia contributed to the soundtrack of the animated film Anastasia. At the same time her albums were climbing the charts, she made another popular soap opera called Rosalinda and watched the ratings soar. Billboard anointed her with their Star Award in 2001 in recognition of "artistic achievements [that] cross barriers beyond music."
Cutting back from acting and concentrating on her music, Thalia courted an English-speaking audience with 2002's Thalia, which includes three English-language tracks. According to Billboard reviewer Cobo: the album "has far more aggressive rock undertones than its namesake's previous material, edgier arrangements that often rely on crunchy guitars, and a generally relaxed feel." Thalia was attracting more attention in the United States for other reasons as well. She and Sony Music executive Mottola had married in December of 2000.
Promotional materials for Thalia accents the vocalist's steamy soap opera image and while some in the press called for a recognition of Mexican female singers that don't promote a sultry, Latin image, all indications pointed to massive worldwide sales. Thalia settled into a new home in Miami Beach, poised to work as hard as ever to promote her new album. Cobo felt her new album signaled a departure: she "has taken a quantum artistic leap that may mark the difference between her current musical success and mainstream stardom."
On August 28, 2001, expressing her love for her country of birth, Mexico, she released her album Con Banda: Grandes Éxitos: a "greatest hits" album, but recorded with the typical Mexican "banda" sound. "Amor a la Mexicana" banda version was released as a single. The album was nominated for a Latin Grammy for "Best Banda Album" at the 3rd Annual Latin Grammy Awards in 2002.
Her seventh studio album, self-titled Thalía, was released on May 21, 2002. It was largely written and produced by Estéfano. Buoyed by a pair of chart-topping singles ("Tú y Yo" and "No me enseñaste") and a top-ten hit ("¿A quién le importa?") (cover of Alaska y Dinarama), this album hit number one for 6 consecutive weeks on the Top Latin Albums chart, reaching number eleven on the Billboard 200 chart and 4x Multi-Platinum status with sales 800,000 copies.
It was nominated in one Latin Grammy category – "Female Pop Vocal Album", and in four Latin Billboard categories – "Pop Track Female" and "Tropical Track Female" for "No Me Enseñaste", "Your World Award", and "Female Pop Album", for Thalía, winning the last two awards. "No Me Enseñaste" is one of her biggest hits to date, receiving many Latin Billboard nominations, many other awards, as well as success. It was #1 in Billboard's Hot Latin Tracks and topped Latin airplays.
On July 8, 2003, Thalía released her eighth studio album and the first one in English, the self-titled Thalía, featuring the rapper Fat Joe in "I Want You/Me Pones Sexy". "Baby, I'm in Love/Alguien Real", "Don't Look Back" and "Cerca De Ti" were singles too.On February 10, 2004, Thalía released her first official Greatest Hits album, and "Cerca de ti" and "Acción y Reacción" were the singles from this album. In April and May, she toured USA and Mexico with her "High Voltage Tour".
In 2006, the album received a reload version, El Sexto Sentido: Re+Loaded. Thalía was the 'godmother' of Cantando Por Un Sueño, a Mexican TV reality show. It was rumored she got paid 1 million dollars to perform. Thalía recorded the title song of the show, and it was included in the album. It was released in Mexico on February 13, 2006 (U.S. June 6, Spain May 29) and features four new songs, including a duet with the group Aventura "No, No, No" which become a massive hit.
In May 2008, Thalía's single "Ten Paciencia", was premiered on the internet. Although, the single received a lukewarm response and did not perform well in the U.S. charts and Top 20 hits in Mexico, it was #1 in several countries of Latin America. Furthermore, the album Lunada, which was released on June 24, 2008, debuted at #8 in Mexico and peaked at #10 in the Billboard Top Latin Albums (U.S). Despite the poor promotions of the album, it was the last Thalía studio album by EMI .
On October 23, it was announced that Thalía was suffering from Lyme disease, which is transmitted by ticks. Fortunately, it was discovered quickly, and the singer, as well as her mother, Yolanda Miranda, were able to receive antibiotics in time. On November 18, Thalía announced the end of her collaboration with EMI Music. After 13 successful years with EMI Music, "the Mexican singer says goodbye to the music label and plans on recording her next album in English."
On July 30, 2009, Thalía recorded her first live album, Primera fila, in Miami, Florida at the BankUnited Center. This is her first project under her new record label, Sony Music. The album was released on December 1, 2009 and has gone multi-platinum since then, selling more than one million copies. Primera Fila shows Thalía's vocal potential and earned positive reception. The album has reached the number one spot quickly after the official release and remains at #1 in Mexican Top selling albums for more than 41 weeks.
Both "Enseñame a vivir" and "Estoy enamorado" were released as singles on July 6—09, 2010. The first one was released only in Argentina, Central America and Spain, and the second one was released only in Mexico, the United States and Puerto Rico. "Estoy enamorado" features the Puerto Rican singer Pedro Capó.In 2011, Thalía recorded a duet, "Mis Deseos / Feliz Navidad" with Canadian singer Michael Bublé on his 2011 album Christmas.
On December 2, 2000, Thalía married music executive Tommy Mottola in New York City at St. Patrick's Cathedral. They have two children: a daughter and a son.In September 2002, Thalía's sisters, Laura Zapata and Ernestina Sodi, were kidnapped in Mexico City. Zapata was released 18 days after her kidnapping, and her sister Ernestina was released on the 36th day.
Studio albums:
-Thalía (1990)
-Mundo de Cristal (1991)
-Love (1992)
-En éxtasis (1995)
-Amor a la Mexicana (1997)
-Arrasando (2000)
-Thalía (2002)
-Thalía (English) (2003)
-El Sexto Sentido (2005)
-Lunada (2008)
-TBA (2012)
Read more
Thalia Picture Gallery
Latest headlines