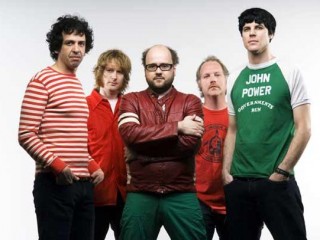 The Apples In Stereo biography
Date of birth : -
Date of death : -
Birthplace : Denver, Colorado,U.S.
Nationality : American
Category : Arts and Entertainment
Last modified : 2012-04-05
Credited as : Indie rock band , The Elephant Six Collective, Travellers in Space and Time
The Apples in Stereo, styled The Apples in stereo, is an American indie rock band associated with The Elephant Six Collective, a group of bands also including Neutral Milk Hotel and The Olivia Tremor Control. The band is largely a product of lead vocalist/guitarist Robert Schneider, who writes the majority of the band's music and lyrics. Currently, The Apples in Stereo also includes longstanding members John Hill (rhythm guitar) and Eric Allen (bass), as well as new members Bill Doss (keyboards), John Dufilho (drums) and John Ferguson (keyboards).
In the middle of the 1990s, Apples in Stereo emerged on the independent rock scene with a distinctive sound, blending the styles and sounds of 1960s pop, rock, and soul into music that honors their influences without imitating them. Produced by frontman, guitarist, and vocalist Robert Schneider, the group displays an affinity not only for the melodies of such idols as the Beach Boys, Beatles, and Kinks, but also for the textures of their arrangements and harmonies. Along with like-minded indie bands such as Neutral Milk Hotel and Olivia Tremor Control, Apples in Stereo make up part of the collective known as Elephant 6. Schneider often produces for these other groups, and members of one band often appear on another's recordings.
Elephant 6 had its roots in a group of childhood friends in rural and isolated Ruston, Louisiana. Schneider met Neutral Milk Hotel's Jeff Magnum in their second grade year, and they in turn hooked up with Olivia Tremor Control's William Cullen Hart and Bill Doss later in their school years. They spent their youth sharing each others' music collections and playing in bands. Although musical differences meant that the four of them never officially belonged to the same band, they often performed on stage with each others' groups. The close friends continued their collaborations even after their school days ended and the four of them had scattered across the United States.
Schneider wound up in Denver, where his father lived, and went to school at the University of Colorado in nearby Boulder. He immediately got involved in the local music scene. Soon after joining a band, Schneider and the band's guitarist, known only as Chris, went off on their own. They started writing songs and recording on Schneider's four-track recorder. In the meantime, Schneider had taken advantage of his daily bus ride to Boulder to meet a bassist and fellow Beach Boy fan, Jim McIntyre. Schneider promptly invited McIntyre to join the band, along with his roommate Hilarie Sidney, who played drums and would later become Schneider's girlfriend.
This foursome formed in 1992, calling themselves the Apples, but to avoid confusion with other similarly named bands, they soon became Apples in Stereo. Part of Schneider's ambition all along had been not only to write songs and perform in a band, but also to produce his band's recordings. In conjunction with his high school friends, he had already come up with idea for all of them to record their different projects for a label called the Elephant 6 Recording Co. So Schneider set about putting the Apples on record, recording them on his four-track machine, and in April of 1993 they issued a seven-inch vinyl EP with a pressing of 500 copies. At this point, according to Schneider's history of the band posted at their official web site, "Our band sounded like an artless train wreck."
In 1994 Chris left the band. They tried out several guitarists, passing over Eric Allen, who would later become a member, for John Hill, who had previously played in a group with McIntyre and Sidney. Then McIntyre left, and Apples in Stereo made do for a while without a regular bass player, at times using Schneider's longtime friend Jeff Mangum, who had relocated to Denver while working on his own projects with Neutral Milk Hotel. Around this time, the band attracted the attention of independent label spinART, who not only offered them a contract to record an album, but also gave them an eight-track to record it on. The resulting album was 1995's Fun Trick Noisemaker. They recorded at Schneider's Pet Sounds studio, named for the legendary Beach Boys album and located in a friend's house. Besides drawing on the sounds of psychedelia and pop that they grew up with, the lyrics often covered the ground of childhood popular culture, such as Saturday morning cartoons, creating a mix that reviewer Jason Ankeny called "wistfully nostalgic, but never naïve or kitschy."
Extensive touring in support of the album followed, including a trip to Japan. Fortunately, with all the traveling they had to do, they had found a permanent bass player in Eric Allen. In between gigs, Schneider's old friends' band Olivia Tremor Control came to Denver for him to produce their first album in his studio. When it came time for Apples in Stereo to record their next album, though, Schneider wasn't satisfied with the quality of the sound captured by his eight-track machine. So he took a hybrid approach, typically recording the guitar, bass, and drum tracks at a professional studio in Connecticut and then traveling back to Denver for the vocals and other instruments.
The resulting album, Tone Soul Evolution, attracted some attention in the music industry. Sire Records, a label noted for giving innovative bands their first national exposure, offered Apples in Stereo a distribution deal. The group signed on, and Sire reissued the album. But when Sire tried to sign them outright to their label, the band balked, preferring the freedom that comes with being on a smaller, independent label. Sidney told Jeff Stratton of the Denver Post,"It comes down to just being happy. On our own terms, we feel more in control and closer to the music."
The group demonstrated that control with 1999's Her Wallpaper Reverie, which was shorter than a traditional album and longer than an EP. A concept album, telling a story with songs connected by short instrumental interludes, the disc once again drew praise for the band. Sean Cameron of Spinmarveled at Apples in Stereo's ability to fuse all their various influences into their sound, calling the album, "a marriage of unlikely influences, a collision of the Pixies and Pink Floyd. . . . head-shaking psychedelia tempered by tight song structures, the brevity and naturalness of punk minus the nihilism." Although the band added a keyboard player--Chris McDuffie--for this outing, Schneider discovered that too many sounds at once buried the music's texture. He told Kyle Swenson of Guitar Player,"I'm learning that the more layers you add, the less you really hear. You just start to hear the hugeness of it all. Whereas the less stuff you add, the more your ear can pick out."
1999 was a busy year for Schneider, not just with Apples in Stereo, but also with other bands in the Elephant 6 group. He produced and performed on Neutral Milk Hotel's In the Aeroplane Over the Sea, which received some acclaim, at his home studio. Then he and Neutral Milk Hotel performed on Olivia Tremor Control's Black Foliage Volume One. This easy exchange of performances from one group to another defines some of the Elephant 6 relationship. In the midst of all their cooperation, though, some competition takes place, as each band tries to top the other. Still, the project of the moment always takes priority, even if it's for another band in the collective. Schneider told Stratton, "Whatever I'm working on, I try to make it sound better than the last thing I recorded, whatever that was."
Still, for all the collaboration, Apples in Stereo's 2000 album The Discovery of a World Inside the Moone found the band performing without any other Elephant 6 help. Besides not drawing on an outside supporting cast, the sound on this album also seemed to point in a new direction. For one thing, Schneider continued to cut back on the multi-layered production. McDuffie told Shane Brown of Excellent Online that the simpler sound gave a better impression of the band's live performances than previous albums had done. Still, Schneider double-tracked the vocals. Their musical reference points this time also incorporated a broader spectrum of 1960s pop music, drawing more on a soulful Motown sound without abandoning their other influences. Reviewer Mark Jenkins of the Washington Post wrote of the album, "The Apples reconfigure their sources with such energy and invention that none of these songs sound like museum pieces."
With a world tour planned in support of The Discovery of a World Inside the Moone and plenty of material written to put together another album, Apples in Stereo seem content with their independence to do what they see fit. Recording in their own Pet Sounds studio for spinART has satisfied them more than a string of hit records could. And they have managed to reach a diverse audience with their work, with fans ranging from young followers of indie rock to the baby boomers who came of age listening to the band's influences. Schneider told Stratton that in a sense, Apples in Stereo has it made: "Now we can finally make the records we want to make. Just being able to have the freedom to do what we want--in that sense, we're living the lives of millionaire pop stars from the Sixties."
In August 2006, longtime drummer Hilarie Sidney officially announced her departure from the band during the band's closing set at the Athens Popfest music festival in Athens, Georgia. Her replacement, John Dufilho, lead singer and principal songwriter of The Deathray Davies, was announced in October 2006. 2006 touring member Bill Doss of The Olivia Tremor Control also quietly joined the band "officially" as its new keyboardist. John Ferguson of Big Fresh and Ulysses joined the Apples in 2007, also playing keyboards, and wearing a Doctor Who-esque space suit on stage.
The result is the band's seventh album Travellers in Space and Time, released on April 20, 2010 on Simian Records. Described by Schneider as a "retro-futuristic" concept album intended as a time capsule for listeners of the future, Travellers has drawn comparisons to the style of Electric Light Orchestra. The record is the first Apples in Stereo album without Hilarie Sidney, making Schneider the last founding member remaining in the group, although John Hill joined before "in stereo" was added to the name. The band have been chosen by Jeff Mangum of Neutral Milk Hotel to perform at the All Tomorrow's Parties festival that he will curate in March 2012 in Minehead, England.
In recent years, Schneider has explored a number of experimental music projects, such as the Teletron mind-controlled synthesizer and Non-Pythagorean scale of his own invention.
Current members:
1992 to present – Robert Schneider; guitar, lead vocals
1994 to present – John Hill; guitar
1995 to present – Eric Allen; bass
2006 to present – Bill Doss; keyboards
2006 to present – John Dufilho; drums
2006 to present – John Ferguson; vocals, keyboards
Selected discography:
-Fun Trick Noisemaker (1995)
-Tone Soul Evolution (1997)
-Her Wallpaper Reverie (1999)
-The Discovery of a World Inside the Moone (2000)
-Velocity of Sound (2002)
-New Magnetic Wonder (2007)
-Travellers in Space and Time (2010)
Read more
The Apples in Stereo Picture Gallery
Latest headlines