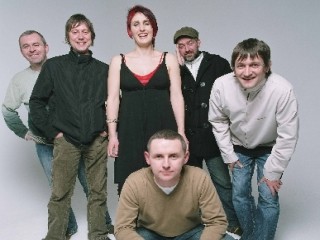 The Beautiful South biography
Date of birth : -
Date of death : -
Birthplace : Hull, England
Nationality : English
Category : Arts and Entertainment
Last modified : 2012-04-10
Credited as : alternative rock band, Blue is the Colour, Superbi album
The Beautiful South was an English alternative rock group formed at the end of the 1980s by two former members of Hull group The Housemartins, Paul Heaton and Dave Hemingway. The group also consisted of Sean Welch (bass), Dave Stead (drums) and Dave Rotheray (guitar) and a succession of female vocalists - Briana Corrigan, Jacqui Abbott and Alison Wheeler.
A band as well known for their gin-soaked cynicism as their catchy and lush pop melodies, the Beautiful South have had enormous impact in their native England, while success in America has been limited to cult status. Music critics on both shores and beyond, however, have praised the South and in particular, lyricist and singer Paul Heaton, for his cockeyed views on love, the music business, and whatever else comes up, as well as his and songwriting partner Dave Rotheray's innate ability to invent hummable tunes with irresistible pop hooks. Named for the not-so-beautiful debilitated neighborhoods of South London, their name, like their songs, is an exercise in irony. As Spin's Jonathon Bernstein observed, their music consists of "intricately constructed melodies serving as safe houses for bilious attacks on men and women--and that dumb, doomed dance they do together."
Formed from the remnants of the breakup by the Housemartins, another cynical band, albeit with a more political bent, singer/songwriter Heaton, along with Housemartin drummer Dave Hemingway started the Beautiful South in 1989 in their hometown of Hull, a gray, working- class city in the north of England. With guitarist/songwriter Rotheray, bassist Sean Welch, drummer David Stead, and vocalist Brianna Corrigan, the South presented a more expansive musical playing field than what was offered in the Housemartins. With Hemingway, now a singer not a drummer, Corrigan, and Heaton, the band was able to move seamlessly through the vocal characterizations of three quite different lead vocalists. "Their voices," Parke Puterbaugh observed in Stereo Review, "one a croon of limited range [Heaton], the other more of a sing-speak [Hemingway]--are joined by Corrigan's girlish mouse-squeak and backed by a crack three-piece band of guitar, bass, and drums."
The Beautiful South stormed out of the gate with their debut single, "Song For Whoever," a magnificently sardonic view of syrupy love songs which feature women's names as a protaganistic prop. Released in May of 1989, the song went to number two on the charts in the UK and marked a stellar introduction to the new band. The next single, "You Keep It All In," also a hit, featured all three vocalists bemoaning the stodgy, reserved tendencies of the British. Both songs appeared on their debut album, Welcome to the Beautiful South, released in October of 1989. "Make a list of qualities that define great pop music," People magazine's Michael Small suggested in his review, "and you've got a pretty fair description of the Beautiful South." The album did exceptionally well in England but received a cooler response in America, despite praise from the likes of Small and his colleagues. "They aren't yet a classic pop band," Spin's Tony Fletcher asserted, "but Welcome to the Beautiful South remains exactly that--a warm introduction to an enticing new proposition. Here's to the sequel."
The sequel turned out to be 1990's Choke, an album that cemented their reputation as biting ironists. Stereo Review's Puterbaugh describes the album as a "mix of lyrical quirks and music-hall and cabaret-influenced pop.... [which] stops just shy of being cute and charming, however, and gives the songs here a devilishly droll edge." For their part, just before the album's release in an interview with Melody Maker, Heaton and Rotheray expressed some regret to being thought of as mere cynics. "It's just the way I write. Unfortunately," Heaton offered. "I'd like to be able to write just straight in some ways.... I think there's a bit of immaturity in the way I write actually." Hemingway confessed he didn't like that people saw the band as cynical. "I don't think we are," he said. "It's just that the bubble of unreality is there and there are not many people bursting it. So we took it upon ourselves to burst a few bubbles."
It was 1992's 0898 Beautiful South that had the most bubbles bursting. With 0898 being the English equivalent of America's 1-900 sex lines, the album opened with "Old Red Eyes Is Back, a lush and airy tale of alcoholism. Labeling it a "pop album with fangs," Stereo Review's Puterbaugh also declared "Old Red Eyes Is Back" as his nominee for song of the year and commented on the song being "compassionate while noting the waste of a life. It is this kind of juxtaposition of serious themes and sunny music that makes the Beautiful South stand out from the pack, and 0898 Beautiful South contains a dozen songs that can equally be hummed, pondered, and puzzled over." Heaton, in an interview with Stuart Maconie of England's Q magazine, discussed "Old Red Eyes," asserting that it wasn't a morality tale. "It's looking at the more humorous and sad side of being drunk.... It sold respectably but the radio didn't really play it. I don't suppose they like songs about alcohol abuse."
Another song from 0898, "36D," caused even more furor. Written about England's Page 3 girls, women who appear topless on the third page of some London tabloids, Heaton and Rotheray's intention was to attack the industry that supports it, not the women themselves, but mixed messages in the song reflected otherwise. "We all agree that we should have targeted the media as sexist instead of blaming the girls for taking off their tops," Hemingway admitted to Eric Puls of the Chicago Sun-Times. "It was a case of rushing headlong into the recording of the song." Vocalist Corrigan refused to sing on the song and when she left the band after the album's release, rumors intimated that it was the sexist lyrics of "36D" that prompted her exit. Corrigan said that may have been an impetus, but not the reason. "I left really because it was the right time for me to go," she told Gary Crossing of England's The Big Issue. "My reservation about some of the lyrics became like a trigger to spur me on." Creative growth played a role as well, Corrigan admitted. "I'd always written songs for myself, but I knew there wasn't going to be an opportunity for that in the band. As a woman in this business you're always in a much stronger position if you perform your own stuff."
Following the exodus of Corrigan, the band took some time off and returned with Miaow, a 1994 album featuring new vocalist Jacqueline Abbott, whom the band discovered singing at a party. While only available as an import in America, the album didn't fare well in England despite critical praise. After hearing the album Peter Paphides of Melody Maker declared "Heaton (not the smug, flat-capped curmudgeon we'd have you believe) oozes more humanity from his tiniest cuticle than any of the lemon-faced irony-challenged Americans we blindly laud." The small reception didn't seem to bother Heaton, however, confessing to Melody Maker's Sylvia Patterson, "Sales figures certainly aren't important to me, that's a dangerous way to think.... People know what I look like, they still like me and that's more important.... I'm genuinely happy I've enough money to go into a bar, buy another gin and tonic and people have enough time to give me a smile--that seems like a fair enough agreement."
Heaton and company wouldn't have to worry about record sales much longer. In November of 1994 Carry on Up the Charts--The Best of the Beautiful South was released and became the third fastest selling UK album of all time. At the same time, Heaton was questioning how much further he could go with the band. "I was feeling a bit unconvinced about me own future in music," he told Patterson. "Because I just feel a bit old for it.... I was just thinking how I'm not sure, as a singer-songwriter in a band, how long you can go in the pop industry. There are four songwriters I can think of, and they're all better than me, who started off in bands and went solo: Paul Weller, Neil Young, Elvis Costello, and Van Morrison. If I was gonna be like that I'd have to be a lot stronger in terms of personality and security than I am now. Right now, I can't even imagine going to New York by meself. I'm just Paul Heaton, I'm not able to do it. I haven't got the confidence."
Towards the end of 1996 the band released Blue is the Colour, another album available only as an import in America. Jennifer Nine of Melody Maker described it as "charming, subversively luscious business as usual." So it seems Heaton will carry on with the Beautiful South, admitting to Patterson in 1995 that he's "starting to write really good lyrics now. I'm starting to get proud." Not that he'd ever describe himself as a good songwriter, however. "Because I'm not," he told Patterson. "Because I'm not Otis Redding and I never will be." But Heaton does confess that the Beautiful South, aside from exploring the undiscovered hooks and melodies of pop, is furthering the mission begun by The Clash, The Jam, and the Sex Pistols. "It's all a question of putting people on the right train," he told Patterson, "telling them to watch out, there's things in people and society to be angry about."
The album Quench (1998) was released with similar commercial success, again reaching number one in the UK album charts. "Perfect 10", the first single to be released from the album also provided the band with uncharacteristic singles chart success. The album is also notable for being more up tempo and being the first where Norman Cook was used in a consultancy role.
Painting It Red (2000) followed, with promotion and touring difficulties with a substantial number of the CD were faulty, and Jacqui Abbott's leaving of the band shortly afterwards. After a second Greatest Hits album Solid Bronze in 2001, the band took time off and Heaton embarked on his first solo project.
Regrouping in 2003, they recorded Gaze with yet another female vocalist, Alison Wheeler. Wheeler was still in place for 2004's Golddiggas, Headnodders and Pholk Songs, which was an album of unusually arranged cover tunes including "Livin' Thing", "You're The One That I Want", "(Don't Fear) The Reaper" and "I'm Stone In Love With You". One track from the album, "This Old Skin", was presented as a cover of a song by an obscure band known as The Heppelbaums; it was later revealed to be an original Heaton/Rotheray composition.
The band's final album Superbi was released on May 15, 2006. It was recorded at Peter Gabriel's Real World Studios, a farm in Bakewell and at producer Ian Stanley's studio in Enniskerry, County Wicklow. It was mixed by Bill Price (Sex Pistols, The Clash, Guns N' Roses). Paul Heaton's hand is recognisable in quirky song titles such as "The Rose of My Cologne", "The Cat Loves The Mouse" and "Never Lost A Chicken To A Fox". The first single, "Manchester", started off as a poem - "If rain makes Britain great, then Manchester is greater" – 'a sodden tribute' to the city in which he now lives, says Heaton. The tracks cover love and loss and all that happens in-between …"So many pop songs are written about 15-20 year olds. We've never really targeted them, or newly weds. We write about people who've lived together most of their lives."
After a band meeting on 30 January 2007, they decided to split. They released a statement on 31 January 2007, in which they joked their reasons for splitting were "musical similarities" - an ironic reference to "musical differences" which are often cited as the reason for a band's split. "The band would like to thank everyone for their 19 wonderful years in music," the statement also said.
Albums:
-Welcome to the Beautiful South (1989)
-Choke (1990)
-0898 Beautiful South (1992)
-Miaow (1994)
-Blue Is the Colour (1996)
-Quench (1998)
-Painting It Red (2000)
-Gaze (2003)
-Golddiggas, Headnodders and Pholk Songs (2004)
-Superbi (2006)
Read more
The Beautiful South Picture Gallery
Latest headlines