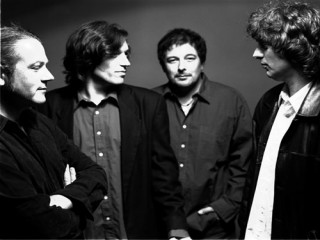 The Church (band) biography
Date of birth : -
Date of death : -
Birthplace :
Nationality : Australian
Category : Arts and Entertainment
Last modified : 2012-04-20
Credited as : Rock band, known as The Refo:mation, An Intimate Space 30th Anniversary North American Tour 2010
The Church is an Australian rock band formed in Sydney in 1980. Initially associated with new wave and the neo-psychedelic sound of the mid 1980s, their music later became more reminiscent of progressive rock, featuring long instrumental jams and complex guitar interplay. Founding members are Steve Kilbey on lead vocals and bass guitar, and Peter Koppes and Marty Willson-Piper on guitars, while Tim Powles has played on drums since 1994. Three of the members recorded material as The Refo:mation in 1997.
Critics' descriptions of the Church's sound have varied with the band's ever-changing albums, but the Church's distinctive style and ambience remain a constant. The group was formed in Sydney, Australia, in 1980 and over the years has garnered international attention. "Once upon a time," singer Steve Kilbey recalled in Raygun, "we were four young fellows starting a band in Sydney in 1980, and we all ate the same things, and looked the same way, and wore the same clothes."
Those four young fellows--Kilbey, guitarists Marty Willson-Piper and Peter Koppes, and drummer Richard Ploog--made up the Church's original lineup. The year following their formation, the band released Of Skins and Heart, their debut album on Australia's Parlophone Records, featuring the single "The Unguarded Moment." In 1982 they landed a deal in the United States with Capitol Records and released The Church, which included most of the cuts from their first Australian release plus three other songs from a double-45 single.
The Church didn't make any more records for Capitol after their self-titled U.S. debut; instead they continued to produce albums in Australia, including 1982's Blurred Crusade, with critically acclaimed tunes like "I'm Almost with You" and "Come Up and See Me," and 1983's Seance, featuring the tracks "Travel by Thought," "Fly," and "Dropping Names." Then, in 1984, the Church signed a deal with Warner Bros. and released their next album in the United States, Remote Luxury. With "Constant in Opal," the hit single and video from the album, they started developing a dedicated cult following in the States.
That same year, the band went into the studio with producer Peter Walsh to record Heyday, which landed in record stores two years later. The Church moved toward stronger and catchier melodies with songs like "Tristesse" and "Myrrh." After recording the album, guitarist Marty Willson-Piper decided to leave Australia and move to Stockholm, Sweden.
Though the Church's following had built steadily, they had yet to attain hit status or gain widespread recognition in the United States. They opted to switch record labels once again and in 1987 inked a deal with Arista. In the meantime, Kilbey, Willson-Piper, and Koppes each signed solo deals with Rykodisc and began working on their own material.
Determined to promote the Church, Arista suggested producers Greg Ladanyi and Waddy Wachtel work with them on their next album. A year later, Starfish got them the attention they were waiting for. "Starfish is the best in a long line of great Church hymnals," wrote a Rolling Stone contributor, "thanks to the band's refined studio poise and a bumper crop of jangle-and-strum jewels like 'Blood Money,' 'Reptile,' and Marty Willson-Piper's 'Spark.'" In addition, their hit single "Under the Milky Way" received significant radio airplay, and the Church made their first major tour of the United States. Arista re-released the band's entire back catalog that same year, and the band developed a whole new fan base.
After their tour, the Church went back into the studio to work on their next album, Gold Afternoon Fix. When they finished recording, they booted drummer Richard Ploog out of the band and recruited Jay Dee Daugherty to replace him. Gold Afternoon Fix, released in 1990, featured the singles "Metropolis" and "You're Still Beautiful" but failed to live up to the popularity of Starfish. However, the band's goals don't necessarily include getting the top spots on the charts. "I feel that it's really important to just write songs without worrying whether it's going to be a hit or not," Willson-Piper noted in the band's Arista Records press biography. Chris Mundy, writing in Rolling Stone, described Gold Afternoon Fix as "the Church's invitation to visit its murky, ethereal world. It's an invitation that should not be refused."
As a conceptual lyric writer, Kilbey has often been asked to define the songs on the Church's albums, and Gold Afternoon Fix stimulated the question with cuts like "Pharaoh," "Terra Nova Cain," and "Russian Autumn Heart." "Simple pleasure is the most important thing," Kilbey stated in Musician. "The sun shining on an open field on a nice day is more important than the Pythagorean [theorem of right triangles]. The sun shining on an open field means more than the collected works of Western literature over the last 10,000 years.... You don't eat pizza and then go back to the chef and say, 'But what did this pizza mean?' Do you? Why can't music be like that?"
More than any other ingredient, the chemistry existing between bandmembers sparked the Church's creative output. Kilbey, Willson-Piper, and Koppes all had their solo projects to express their individual creativity, so when the band came together, they concentrated on unifying their ideas. In 1992 they produced Priest=Aura, featuring the single "Ripple." "It was the classic, introspective, ambiguous Church album," Willson-Piper said in the Boston Phoenix. Moving away from the more commercially oriented sound of their last two albums, the Church seemed to head in a darker direction with Priest=Aura. "Set against this elegant soundscape, not so quiet storms add a glint of savagery, bringing moments of drama and beauty to stately songs," proclaimed Ira Robbins in a Rolling Stone review of the album.
The Church toured the world once again, with a last stop on their home turf in Australia. Just hours before their tour of Australia began, Koppes announced his intentions to leave the band after 13 years. He agreed to finish the tour but quit as soon as they completed their last set. Kilbey and Willson-Piper dismissed Jay Dee Daugherty not long after Koppes's departure. "We weren't sure if the band was going to exist anymore," Willson-Piper said in the band's press biography. "I figured we would just know if and when the time was right to get back into the studio."
In the middle of 1993, Willson-Piper left his home in Stockholm to join Kilbey in Australia, and the two of them started working on the next Church album. "Originally, we were worried about the chemistry being different after all that time together as a four-man band," Willson-Piper explained in their press biography. "So we just started messing about together in the studio. Once we recorded ?"Lost My Touch"?, we knew everything was going to fall into place." Sometime Anywhere--written, recorded, and mixed in two months during the summer of 1993 and released in 1994--became the first Church album produced by the two remaining members.
"Two Places at Once," the first single from the album, reflects a true collaborative effort by Willson-Piper and Kilbey. After they had cowritten the music for the song, they each penned separate lyrics. When they came back together, the members of the duo found that they had completely different concepts of what they thought the song was about. They decided to combine the two sets of lyrics--with each member singing his own version--until the end of the song, when the two blend together seamlessly. Pulse! contributor Scott Schinder considered the material on Sometime Anywhere "denser, darker territory" than the band's earlier releases, and Brian Q. Newcomb commented in a Riverfront Times review of the album: "It delivers not only impressive sounds, but also compositional substance and lyrics filled with irony, intelligence, and charm." It seems that in its new incarnation, the Church was still aiming to deliver "contemporary, intelligent rock."
Fans would not wait long again for another group release - by late 2002, a double-disc compilation called Parallel Universe hit stores. Unique among the band's catalog, the first disc, subtitled 'Mixture', featured a reshuffled, remixed version of the After Everything Now This album, the result of Tim Powles' collaboration with Sydney musicians. The second disc was an added bonus, compiled from the remaining songs of the After Everything Now This recording sessions.
In early 2009, Second Motion Records released multiple albums from Church band members in North America. Singer Steve Kilbey's record Painkiller was released on 17 February (preorders starting in mid-Jan), and Marty Willson-Piper's album Nightjar was released (on digipak) on 3 March. 2009 also proved to be a busy year for the band as a whole. In 2007, new music was recorded to soundtrack a short film based on Jeff Vandermeer's book Shriek: An Afterword; the band released Shriek: Excerpts From The Soundtrack on their own Unorthodox Records in January 2009.
In February 2010, the band announced a string of U.S. tour dates, calling it "An Intimate Space 30th Anniversary North American Tour 2010". In a unique and unusual execution, the band chose one song from each of their considerable album releases and performed them in reverse chronological order. This original show opened with a track from "Untitled #23" before embarking on a fantastic voyage through time ultimately arriving at their first Australian album, "Of Skins And Heart".
The Church was inducted into the ARIA Hall of Fame at the 2010 Aria Awards and performed two songs live onstage.
The Church celebrated their 30th Anniversary with a special show entitled "A Psychedelic Symphony" on 10 April 2011 at the Sydney Opera House. They were accompanied by George Ellis (conductor) and the Symphony Orchestra of the University of Sydney. The concert was filmed for a future release on DVD and also televised on MAX TV during October 2011.
Discography:
-Of Skins and Heart (1981)
-The Blurred Crusade (1982)
-Seance (1983)
-Remote Luxury (1984)
-Heyday (1986)
-Starfish (1988)
-Gold Afternoon Fix (1990)
-Priest=Aura (1992)
-Sometime Anywhere (1994)
-Magician Among the Spirits (1996)
-Hologram of Baal (1998)
-A Box of Birds (1999)
-After Everything Now This (2002)
-Forget Yourself (2003)
-Jammed (2004)
-El Momento Descuidado (2005)
-Back with Two Beasts (2005)
-Uninvited, Like the Clouds (2006)
-El Momento Siguiente (2007)
-Shriek: Excerpts from the Soundtrack (2008)
-Untitled #23 (2009)
Read more
The Church (band) Picture Gallery
Latest headlines