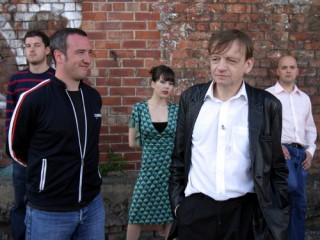 The Fall (band) biography
Date of birth : -
Date of death : -
Birthplace : Prestwich, Greater Manchester
Nationality : English
Category : Arts and Entertainment
Last modified : 2012-05-02
Credited as : punk band, Mark E. Smith, Ersatz GB album
The Fall are an English post-punk band, formed in Prestwich, Greater Manchester in 1976. Despite an ever changing line up, the group essentially consists of its founder and only constant member, Mark E. Smith, who has said "If it's me and your granny on bongos, then it's [the] Fall".
The Fall's lead singer, Mark Smith, has at some point or another heaped disapproval on every musical trend that has taken place since his own teenage years in the 1970s, including punk, which is the slot most critics choose for the band. Smith has expressed more comfort with the term "speed metal," which refers to a hybrid of heavy metal and 1970s British punk. He has also called his music "prole," invoking the proletariat, or industrial working-class, roots of his sound and politics. The one constant in an ever-changing line- up of musicians, Smith operates as the band's spokesperson and "boss," as well as its founder. Definition and personnel aside, the Fall has been producing its particular brand of music since 1977, when teenaged Smith, then a dock-worker in Manchester, northern England's industrial capitol, decided to dedicate his free time to forming a band.
Before putting together the Fall, Smith made some effort to become a part of already-working heavy metal bands. David Cavanagh, who wrote the publicity biography for Matador/Atlantic, noted that Smith had "had a few auditions for local heavy metal bands, all of which he had failed in a spectacular fashion. He was tone-deaf and they all hated him anyway." Always resourceful, Smith simply decided to create a band around himself. He gathered the musicians who would become the first incarnation of the Fall: Martin Bramah on guitar; Tony Friel on bass; Karl Burns on drums. None of them were adept with their instruments, so they had the usual punk sound of the era: loud, harsh, entirely without melody, and generally tuneless. Smith wrote lyrics during his lunch break at the docks; it was, in the long run, the originality, boldness, and social punch of those lyrics that would win the band a following.
An independent label called New Hormones funded the Fall's first demo tape, but the company decided not to produce the album; it turned out that no one else wanted to either. Smith explained to Cavanagh: "Nobody liked it.... Everywhere we went, nobody wanted to know. They wanted to make it New Wave.... It was rough and all that. Out of tune and that. It was good. Stark, sort of." A year after the recording, they finally released the Bingo Master's Breakout EP on Step Forward, another independent punk label. Step Forward would work with the Fall for two more releases: Live at the Witch Trials, also in 1978, and Dragnet in 1979.
As soon as the recording was set in 1978, the band underwent the first in a series of metamorphoses: Smith brought in Una Baines, an organist who also worked as a nurse in a mental hospital. By 1979, however, Baines and Friel were gone, replaced by two teenagers: Marc Riley on bass and Yvonne Pawlett on keyboards. The year continued with more acquisitions, including Craig Scanlon on guitar, Steve Hanley on bass, and Mike Leigh on drums. Scanlon and Hanley, unlike anyone else Smith hired, would stay with the band into the 1990s; all three appear on Dragnet. Leigh was soon supplemented with a second drummer, Paul Hanley, who was Steve's teenaged brother.
By this time Smith had established a salary system for the band, issuing equal paychecks to all musicians, including himself. When the return on shows and recordings actually exceeded those paychecks, all extra went back into the band itself, rather than into the pockets of the members. Through this method, the band became an investment that would continually employ its members, whoever they may be.
In those early years, however, The Fall was just managing to scrape by on Manchester club dates, as Smith told Cavanagh: "We were doing cabaret circuits at the time, just to earn money.... Workingmen's clubs and all that.... It toughened you up. They'd be throwing glasses--proper glasses, like--and spitting at you." Smith traces devoted cult following from those shows, stressing in particular the working-class element: miners from Wakefield and Newcastle. When the outfit relocated to London in 1978, the band's survival was guaranteed only by Smith's and Baine's jobs, which they used as subsidy.
After the first two albums with Step Forward, the band started on a pattern of moving through independent labels, sometimes leaving out of dissatisfaction, sometimes because a label died on them, as small companies were prone to do. They had one of their longer, if still far from perfect, associations with Rough Trade, with whom they first recorded Totale's Turn (It's Now Or Never) (:Live) in 1979. During this year the band also produced two singles that would eventually become Fall classics: "How I Wrote Elastic Man" and "Totally Wired." They would stay with Rough Trade for two more albums, Grotesque (After the Gramme) in 1980 and Slates in 1981.
Despite the productive pace, according to Cavanagh, "Smith was convinced" by 1981 that the band would dissolve soon. With that in mind, he produced what he expected to be "the last Fall album": Hex Enduction Hour, released in 1982. Since an hour-long LP was virtually unprecedented, it appeared to be a kind of epic, which contained, in Cavanagh's words, "everything [Smith] felt and thought" and "almost as many words as the Bible." A six-musician lineup appeared on this release, including Karl Burns's return as a second drummer. But Hex was not the swan song of the Fall, and they actually released another album in 1982, Room to Live. For both of these productions, the band took a break from Rough Trade, "starving away," as Cavanagh wrote, "on the tiny Kamera label, which soon went bust."
Hex coincided with a brief courtship from legendary U.S. label, Motown Records; the interest fizzled when the company that had opened up the record industry for African-American musical talent realized that the Fall's lyrics could sport occasional bursts of troubling racism. The band encountered similar criticisms from Rough Trade; despite its background producing punk outfits, the label was uncomfortable with the coarseness, vulgarity, and violence that permeated Smith's lyrics.
After completing Perverted By Language the match proved too difficult, and the Fall moved on. By this time, however, the band had enough of a following to be able to open record company doors fairly quickly. A kind of breakthrough occurred in the same year: the British media actually discovered the Fall, culminating in an appearance on national television.
Their sound had begun to change--becoming more melodic-- largely due to the introduction, in 1983, of an American musician named Brix into Smith's life and band. Smith and Brix met at a Fall show in Chicago; they were married soon after. By fall, Brix was playing bass in the band, at first only occasionally and then more and more regularly. She became, as Cavanagh summarized, "The Fall's arranger, key melodic song writer and (undeniably) visual attraction."
Despite growing fame, the band continued to operate on its "prole" work ethic; they put out albums on an at least annual rate, including The Wonderful and Frightening World of the Fall in 1984, two albums in 1985, and one a year through 1988.
The 1984 album also led to an unlikely collaboration with ballet-dancer Michael Clark, a Fall fan who wanted to combine their music with his dancing. The product, an operatic ballet entitled Kurious Oranji, took Clark and Smith six months to create. After an Amsterdam opening, the performance traveled to Edinburgh and finished with two weeks in London--a respectable run for such an unusual venture. A recording of the work would appear in 1988 as I Am Kurious Oranji.
Brix, Clark, and a musician named Simon Rogers all coincided to provide that growth stage that the band was going through. Cavanagh explained, for example, the freshness of Brix's style, which emphasized the former prejudices of Smith's: "It was a bit of new scene for Smith--choruses and structures and middle eights." Simon Rogers, a classically trained musician capable of handling any instrument, furthered those changes in 1985. Rogers first joined the band as a temporary, filling in on bass for Steve Hanley's six-month absence. By the time the Fall released This Nation's Saving Grace in 1985, Rogers had moved to keyboard; he stayed with the band until 1986, through the release of Bend Sinister.
These various influences appeared to be positive, contributing to their effect on audiences by 1987: "Fall now earn respect of entire music biz," declared Jon Wilde, writing for Matador. They had a further success with the single "Hit the North"; Cavanagh claimed that it "blasted the Fall forward as an unexpectedly menacing dance proposition."
Smith conducted more hirings and firings in the late 1980s, not the least of which was the very emotionally charged departure of Brix in 1989. Rogers and Paul Hanley left, on generally good terms, and were replaced by Marcia Schofield on keyboards and Simon Wolstencroft on drums, both of whom appeared on The Frenz Experiment in 1988 and the cover of a Kinks single, "Victoria." After Brix left in 1989, Martin Bramah returned to play guitar. Bramah, however, lasted only through 1990's Extricate, after which Smith fired both him and Schofield. The decision seemed odd, since the album received, as Cavanagh noted, "across-the-board rave reviews"; about those changes, Smith told Cavanagh, "I wanted to make the band more sparse.... We were a six-piece, almost a seven-piece."
By this time, Smith had a reputation as a kind of proletarian enfant terrible; the press characterized him as an eccentric willing to express an acerbic opinion on everything, particularly the politics, national and international, that he perceived to be keeping the British working class out of work. As Andrew Perry remarked in Select, "Mark relishes the opportunity to spout off in interviews." In 1990, Steven Wills declared in New Musical Express, "We like Mark because Mark is sharp and because his band have kept the flag flying for white trash music that is impolite and jagged and not ... quite ... right ... through all the bitter years of conformist poodlefakery and indie incompetence." More pointedly, Wills commented on the source of that attitude: "Mark has reinvented himself as Mark E. Smith, the working class lad with two chip shops on each shoulder who is convinced of his brilliance, wisdom and uniqueness despite (or because of) his background in an education system that told he was shit and prepared him for the role of under-achieving epsilon."
An association with Phonogram records that began with Extricate produced several more critically-acclaimed albums before crumbling in a bitter break-up after Code: Selfish in 1992. By this time, however, a resurgence of interest allowed The Fall to strike fast deals with Permanent in England and the Matador/Atlantic combination in the United States. The fresh attention was fostered in part by an evident influence surfacing in young bands, particularly American grunge rock bands, like Nirvana, that catapulted to fame in the early 1990s.
John Harris, writing for New Musical Express in 1993, raved over the slew of successful singles that preceded The Infotainment Scan, including "Why Are People Grudgeful?," "Lost in Music," and "Glam Racket." "Why Are People Grudgeful?" earned single of the week status from both NME and Select. In his review for the latter, Andrew Collins claimed that "time cannot tarnish them, age does not lessen their impact, changes of line-up (and, indeed, label) serve only to consolidate Mark E. Smith's unfathomable vision."
Paul Ashby paid similar tribute to their longevity in Pulse!, remarking particularly on the band's "dignity": "The Fall has endured (and often presaged) more changes in fashion than any other band, while never compromising its original purpose--to serve as a soapbox for Smith's satiric and mercilessly honest social/political observations." Smith, however, has the last word on that career, as he told Spin's Mark Blackwell when he expressed his "deep contempt" for over-the-hill rockers, implying that Elvis Costello, Paul McCartney, and David Bowie were making music without any purpose to it anymore; he set himself apart, saying, "When I've got nothin' else to say, I'll f--in' pack it in."
The group's output is prolific—as of November 2011 they have released 29 studio albums, and more than triple that counting live albums and other releases. They have never achieved widespread public success beyond a handful of minor hit singles in the late 1980s, but have maintained a strong cult following. The band were long associated with BBC disc jockey John Peel, who championed them from early on in their career and cited The Fall as his favourite band, famously explaining, "They are always different, they are always the same."
Studio albums:
-Live at the Witch Trials (1979)
-Dragnet (1979)
-Grotesque (After the Gramme) (1980)
-Slates (1981)
-Hex Enduction Hour (1982)
-Room to Live (Undilutable Slang Truth!) (1982)
-Perverted by Language (1983)
-The Wonderful and Frightening World of The Fall (1984)
-This Nation's Saving Grace (1985)
-Bend Sinister (1986)
-The Frenz Experiment (1988)
-I Am Kurious Oranj (1988)
-Extricate (1990)
-Shift-Work (1991)
-Code: Selfish (1992)
-The Infotainment Scan (1993)
-Middle Class Revolt (1994)
-Cerebral Caustic (1995)
-The Light User Syndrome (1996)
-Levitate (1997)
-The Marshall Suite (1999)
-The Unutterable (2000)
-Are You Are Missing Winner (2001)
-The Real New Fall LP (Formerly Country on the Click) (2003)
-Fall Heads Roll (2005)
-Reformation Post TLC (2007)
-Imperial Wax Solvent (2008)
-Your Future Our Clutter (2010)
-Ersatz GB (2011)
Read more
The Fall (band) Picture Gallery
Latest headlines