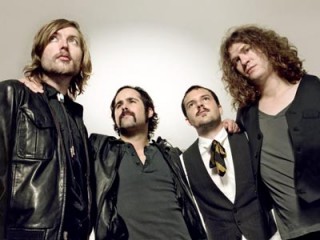 The Killers biography
Date of birth : -
Date of death : -
Birthplace : Las Vegas, Nevada
Nationality : American
Category : Arts and Entertainment
Last modified : 2012-03-27
Credited as : Rock band, Human single, Day & Age
The Killers are an American rock band that was formed in 2001, by Brandon Flowers (lead vocals, keyboards) and Dave Keuning (guitar, backing vocals). Mark Stoermer (bass, backing vocals) and Ronnie Vannucci Jr. (drums, percussion) would complete the current line-up of the band in 2002. The name The Killers comes from the bass drum of a fictional band in the music video for the New Order song "Crystal".
It was late 2002. Brandon had been dumped by his one previous group, a synth-pop outfit named Blush Response, when he refused to move with the rest of the band to L.A. Cruelly ditched, but inspired by seeing Oasis play (incredibly, the Brothers Grim had made it all the way to Vegas in one piece) he saw that his life needed more guitars. When he clocked Dave Keuning's small ad in a local paper naming that band as an influence – and what with Oasis not exactly factoring in the pasty Vegas music scene – he took it as fate that they should be together. "He was the only person to reply to my ad who wasn't a complete freak", remembers Dave, fondly. "He came over with his keyboard and we started going through song ideas straight away. I had the verse to "Mr Brightside" and he went away and wrote the chorus. That was the first song we wrote together and remains the only song that we've played at every single Killers show".
So far so romantic, then. The early core of the band was cemented and their amazingly-previously-unused moniker appropriated from a New Order video. The premise of said promo was to represent the perfect band – with the greatest song as well as model good-looks and youth on their side - to represent Barney & Co. That band was called The Killers. "It gave me the ambition that our actual band should be as perfect as their fictional band," says Flowers. And so began our heroes' journey...
After trying out a couple of different bass players and drummers, Brandon and Dave met Ronnie Vannucci, a photographer at the Little Chapel of Flowers and student of classical percussion at UNLV, and Mark Stoermer, who was making ends meet as a medical courier (blood, urine, the odd body part – all glamour). In between these couldn't-make-it-up day-jobs (Brandon, for the record, was a bellhop at the Gold Coast Hotel; whilst Dave garnered valuable training for his current all-the-ladies-love-an-axeman dilemmas whilst enjoying trysts with lady-shoppers at his Banana Republic job) the newly-complete Killers set to writing what we can assuredly state to be one of the most exciting debut albums you'll have heard in a very, very long time.
Writing in 120 degree temperatures in the garage that became their rehearsal room provided a suitably intense hot-housing effect. And when they couldn't get into the garage they'd use Ronnie's spymaster knowledge to gain mid-night access to the facilities available at his University's music school. "There was about 2000 sq ft of luxurious practice space complete with drum sets, marimbas, cymbals, pianos etc… So, for about a month or two we lugged a Marshall to sing out of, a Deville to play the axe through, a Bassman for the keyboard, a bass cabinet for Mark and I used the UNLV pep drum band set," reminisces Ronnie. "Though I'd like to make clear that no instruments were mistreated during this time as we are, and continue to be, respectful, professional and, last but not least, resourceful musicians."
It was during these pressurised sessions that The Killers began to live up to the expectations commanded by the roots of their name and wrote the bulk of the songs that were to comprise their debut album, the fittingly-titled Hot Fuss. Prolific writers, they were unearthing songs of jealousy and paranoia; tales about murderers, stalkers and Studio 54 AIDS victims; androgynous girlfriends and cuckolded boyfriends; and songs of ambition and the desire to rise above the everyday.
Word soon spread further afield about The Killers. The band came to the attention of London-based independent label Lizard King, and they made their way over to the UK for their first ever gigs outside of Las Vegas (for some of the band this was even the first time they'd needed a passport) and a limited edition release of "Mr Brightside" in September 2003. Those lucky enough to catch these first London shows came away pretty much unanimously enamoured ("A head-mashingly brilliant arsenal of tunes… Right now few bands are a safer bet than The Killers", glowed NME), while the group's subsequent appearance at New York industry fiesta CMJ in October saw a swarm-sized buzz surround the band and a worldwide (ex-UK) deal inked with Island Records.
From here, the boys set to work once more: touring the UK with British Sea Power; selling out their own headline shows, including a packed Valentines' Day extravaganza at London's ICA; playing with stellastarr** on a further support tour and, amidst all this, confidently self-producing their record, with final mixing expertise provided by the legendary Alan Moulder (U2, Smashing Pumpkins) and Mark Needham (Fleetwood Mac).
It wasn't all plain sailing, of course – there were mishaps aplenty over the three months that the recording took. The band were rocked by an earthquake that propelled Ronnie from his drum stool during the recording of "Believe Me, Natalie"; they had to battle through fires in the Simi Valley to get to the studio to record "Change Your Mind" (which appears on the U.S version of the LP); oh, and they thought they were actually going to die when their plane hit an air pocket and started free-falling while on their way back to the UK for their gigs in December 03. But somehow they made it through, and here we are, with The Killers all set to release their debut album.
Hot Fuss features eleven nuggets of reel-you-in storytelling genius and musical nectar that belie the incredible truth that, when it's released on June15th, chief songwriter and lyricist Brandon Flowers will still only be 22 years old. These eleven tracks span from the "very Vegas – like Ziggy came to town" first proper single release "Somebody Told Me" (which glided into the Top 30 in March 04); the aforementioned "Mr Brightside" - a tale of jealousy that depicts that moment in a relationship when you realise that your other half might be playing away and this thought takes up residence in your psyche feeding the worst fears and visualisations your imagination can then throw at you. You'll find two-thirds of a murder trilogy (oh yes – don't rule out the possibility of a future concept album) in "Midnight Show", which starts off harking back to "Lipgloss" before veering into far darker territory than old Jarvis would ever have flirted with, in Pulp days at least, and "Jenny". These two are connected by the story of a murder of a girl by her jealous boyfriend ("There was water involved," says Brandon, cryptically, "although he didn't drown her"). The first part of the trilogy, "Leave The Bourbon On The Shelf", will, you can be sure, make an appearance at some point in the future. It's a deliciously ambitious series that belies the band's tender years, and they've already decided they'll be calling on our favourite dark lord actor James Spader for the video…. Elsewhere, meanwhile: "On Top" celebrates where Brandon feels the band is at, while stalker's tale "Andy You're A Star" and "All These Things That I've Done," a future smash hit if ever we heard one, saw Flowers realise his dream of using a gospel choir in their recordings. This choir – "Sweet Inspirations" - are best known for their work with Elvis Presley, Jimi Hendrix, and Aretha Franklin. "It was such an amazing experience working with the choir in the studio that we decided to incorporate one into special live shows, including the the Spin Magazine show [at SXSW 04]," says Brandon
"Hot Fuss" is, to sum up, a triumph. A triumph that will see the light of day concurrently in the UK on June 7th, and June 15th in the U.S. It will be accompanied by a major touring as well as a prestigious appearance at California's Coachella festival and closely followed in the UK by an appearance at Glastonbury at the end of June.
The Killers released their debut album Hot Fuss in June 2004 in the United Kingdom on Lizard King Records and in the United States on Island Records. Extensive touring and a number of hit singles led to the album becoming a huge commercial success. Hot Fuss reached Number 1 in the UK in January 2005, seven months after its release, and has been classified 6x Platinum by the BPI. It also reached the top spot in Australia, where it was certified 3x Platinum, and has also been certified 3x Platinum in the United States and Canada. On the UK version of Hot Fuss Glamorous Indie Rock and Roll replaces Change Your Mind as track 8.
The Killers' second album, Sam's Town, was released in October 2006 under Island Def Jam Music Group. Brandon Flowers said that Sam's Town would be "one of the best albums of the past twenty years"; It received a mixed response with some praising the album and others mocking it. The album sold over 706,000 copies worldwide in the first week of release, with a number two debut on the Billboard chart. The record has been certified 4x Platinum in the United Kingdom, Platinum in the United States, and 2x Platinum in both Australia and Canada. The album produced four singles: "When You Were Young" (Platinum in the United States, Diamond in Brazil), "Bones", "Read My Mind" and "For Reasons Unknown".
The Killers' third album, Day & Age, was released on November 24, 2008 in the UK and November 25, 2008 in North America. They worked with Stuart Price who did the Thin White Duke remix of "Mr Brightside" and produced "Leave the Bourbon on the Shelf" and "Sweet Talk". The first single from the album was "Human" which was released on September 22 and has been certified Platinum by the RIAA. Day & Age became the band's third studio album to reach number one in both the UK and Ireland, it reached number six on the Billboard 200 album chart. It has also been certified 4x Platinum by the BPI.
The band began work on their fourth studio album in May 2011 at their Las Vegas studio. In a Q Magazine interview taken in June, Flowers stated that album would have "great stories told through real rock music", potential songs include a seven-minute epic titled "The Slot Tech", "Runaways" and "The Rising Tide." The band began recording the album in Nashville, Tennessee in October, with Brendan O'Brien. Both Vannucci and Flowers have stated that the album will feature a heavier use of guitars than their previous album Day & Age.
Aside from that, Flowers has said that the sound of the new album will not be drastically different from their previous work, using previous works as a template. Flowers also confirmed that they had been recording with Steve Lilywhite and mentioned that the album would include a song titled "Battle Born", which he described as a "pillar of the album". Bassist Mark Stoermer has stated that the band is hoping for a Summer 2012 release.The Killers will be headlining V Festival, Electric Picnic, and Frequency Festival in 2012, in support for their upcoming album.
Band members:
-Brandon Flowers – lead vocals, keyboards, bass guitar (2001-present)
-Dave Keuning – lead guitar, piano, backing vocals (2001-present)
-Ronnie Vannucci, Jr. – drums, percussion (2002-present)
- Mark Stoermer – bass guitar, backing vocals, guitar (2002-present)
The Killers have won four NME Awards: "Best International Band" in 2005, 2008 and 2009 and Best Video for "Bones" in 2006. They have also received two awards in the first NME Awards USA in 2008 for "Best Band" and "Best Track" for "Tranquilize". The band has also been nominated for seven Grammy Awards. In 2006, the band won the BRIT Award for "Best International Band", while the album Sam's Town went on to win "Best International Album".
Studio albums:
-Hot Fuss (2004)
-Sam's Town (2006)
-Day & Age (2008)
Read more
The Killers Picture Gallery
Latest headlines