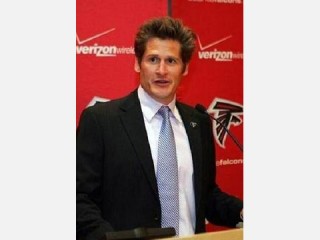 Thomas Dimitroff biography
Date of birth : -
Date of death : -
Birthplace : Barberton, Ohio
Nationality :
Category : Sports
Last modified : 2010-11-15
Credited as : General Manager for the Atlanta Falcons, ,
The 2009 Atlanta Falcons capped off its first back-to-back winning seasons in the history of the franchise with a 20-10 victory at Tampa Bay in the season finale. For long-time Falcons fans, this was quite a monumental feat. Although an impressive accomplishment in just his first two years on the job, for the architect behind the transformation of the new look Falcons, it was not enough. Thomas Dimitroff strives for so much more.
That inherent, tireless drive is one of the main reasons why the Falcons General Manager has been so successful throughout his 20-plus years in the NFL. A product of the championship producing ways in New England, Dimitroff is all about building a winner who is able to compete at the highest level each and every season.
Every move Dimitroff makes is calculated and forward-thinking with one goal in mind. Assembling the best football team he can is paramount in his daily thought process and he's aggressively determined to get the Falcons to the next level. In each season since ascending to the General Managers post in Atlanta, Dimitroff has astutely engineered key moves and deftly drafted a solid nucleus of players to augment the Falcons roster.
In 2008, Dimitroff's fi rst move was signing talented free agent running back Michael Turner from San Diego. Turner fittingly exploded onto the scene as a full-time starter for the first time in his career, finishing with 1,699 rushing yards with a club record 17 touchdowns on his way to his first Pro Bowl, while finishing second in MVP voting.
Dimitroff's initial '08 draft was a windfall, delivering franchise quarterback Matt Ryan, the consensus NFL Offensive Rookie of the Year, starting left tackle Sam Baker, starting middle linebacker and All-NFL rookie selection, Curtis Lofton, and eventual starting free safety Thomas DeCoud. His adept choices also included solid contributors in wide receiver Harry Douglas, defensive end Kroy Biermann and nickel corner Chevis Jackson.
When Dimitroff went looking for another target for Ryan and the Falcons offense to improve their efficiency, he traded for future Hall of Fame tight end Tony Gonzalez of the Kansas City Chiefs on eve of the 2009 draft. Gonzalez delivered in a big way with 83 receptions, second-best on team, and six touchdowns, including the game winner at the New York Jets on fourth down with 1:38 remaining. Gonzalez was also a positive, winning presence in the Falcons locker room and possesses the type of leadership qualities Dimitroff looks to add to the roster each season.
The momentum from the Gonzalez trade carried over a week later as Dimitroff completed the second draft of his tenure with the '09 selections of defensive tackle Peria Jerry, safety William Moore, cornerback Christopher Owens, defensive end Lawrence Sidbury, tackle Garrett Reynolds, defensive tackle Vance Walker and linebacker Spencer Adkins. Jerry's promising rookie campaign was slowed after two games, but he has worked hard to return and the Falcons are eager to see more from their number one pick from Mississippi in 2010. The same goes for Moore who the birds are anxious to see compete for time in the Falcons secondary.
Owens gained valuable starting experience in six games during his first season (playing in all 16 contests), which should aide in his development in year two. Contributions were noticed from those remaining draft picks who will be looking to grow even more this season with a year of experience under their belts. Dimitroff's belief that the NFL draft is a major building block to establish a team's foundation for years to come has been the impetus for the Falcons' winning turnaround since 2008.
His first two drafts have reaped huge benefits as 10 out of 19 picks have started at least one game and 18 rookies have been active on game day since 2008. Six rookies have started on opening day from the first two draft classes under Dimitroff. As further evidence that Dimitroff and his hard working personnel staff are continuously selecting quality NFL talent with each draft, an impressive 27 rookies who have competed at Falcons training camps from 2008-09 have ended up on NFL rosters over the last two seasons.
Part of Dimitroff's master plan also includes adding other veterans when needed to shore up his units. For example in 2009, he signed savvy pro's like linebacker Mike Peterson and cornerback Brian Williams. Peterson finished second on the team with 140 tackles, starting all 16 games, while Williams supplied punch to the secondary for the first five starts to the season before being lost with a knee injury.
When he feels he needs to make a move to bolster the roster or retain core players, the decisive Dimitroff doesn't stand idle very long. He extended the contract of veteran wide receiver Roddy White prior to the start of the '09 regular season. White responded last year with another stellar campaign that landed him in his second straight Pro Bowl with a team leading 85 catches for 1,153 yards and a career-best 11 touchdowns.
With an eye towards improving a young Falcons secondary, Dimitroff targeted and signed productive five-year veteran cornerback Dunta Robinson from the Houston Texans early this year during free agency. An Athens, Georgia native, Robinson brings a veteran presence and a stalwart reputation back home with him to his new landing spot in the NFC South.
All of those major moves prove Dimitroff will to do whatever it takes to make the Falcons roster better whenever he sees the opportunity. His timely maneuvers have helped the Falcons post a notable 20 victories over the past two seasons. The Robinson signing allowed Dimitroff important flexibility when entering his third draft. Dimitroff enjoyed another successful needs-based draft in 2010, selecting speedy, playmaking outside linebacker Sean Weatherspoon from Missouri with the 19th overall pick in the first round, which should improve the defense immediately.
Additional picks included third rounders defensive tackle Corey Peters (Kentucky) and offensive lineman Michael Johnson (Alabama), as well as offensive lineman Joe Hawley (4th round, UNLV), cornerback Dominique Franks (5th round, Oklahoma), wide receiver Kerry Meier (5th round, Kansas), and safety Shann Schillinger (6th round, Montana).
Dimitroff directs all aspects of football operations with the Falcons and working with Head Coach Mike Smith has final authority over all personnel decisions related to the signing of free agents, the selection of players in the draft, trades, and related decisions. He will also handle coordinating other football-related activities with Coach Smith. Dimitroff has earned his climb up the NFL mountain to General Manager by working his way through the scouting trails as a combine/BLESTO Scout, an Area Scout, National Scout, and College Director of Scouting.
His father was a big influence on his life. Tom Dimitroff was a high school, college, and pro coach turned NFL scout (and a former NFL quarterback for the old Boston Patriots). Other key influences that have also helped shape Dimitroff's philosophy today and aided in his rise to his current post include Kansas City Chiefs General Manager Scott Pioli and New England Patriots Head Coach Bill Belichick.
The younger Dimitroff took a genuine desire for scouting players to the ultimate level early in his life. He became the Canadian Scouting Coordinator for the Saskatchewan Roughriders of the CFL in 1990 as his first taste into the world of scouting. In 1992, he moved on to World League of American Football, where he scouted all NFL, CFL and World League rosters while tracking player transactions for the NFL's developmental league.
Dimitroff's career aspirations brought him to the NFL and the Detroit Lions where he became a College Scout in 1994. It was in his years as Scout for the Lions that he was introduced to Atlanta for the first time (living in the Virginia Highlands area) while evaluating the Southeastern part of the country. From there, Dimitroff made his way back to Cleveland in 1998 as a College Scout for the Browns for four years before landing in New England in 2002.
During his five years as the Director of College Scouting in New England (2003-07), he was responsible for overseeing area scouts who evaluate all of the nation's college prospects while scouting and tracking the development and availability of drafted players. The Patriots had a 77–17 overall record in Dimitroff's tenure and they won the Super Bowl in the 2003 (XXXVIII) and 2004 (XXXIX) seasons while making a historic march on a perfect 2007 regular season. Many of the players responsible for New England's history-making NFL-best 16–0 regular season record in 2007 were scouted, evaluated, and later drafted during Dimitroff's time. Some of those players include: cornerback Ellis Hobbs III, center Dan Koppen, guard Logan Mankins, running back Laurence Maroney, safety Brandon Merriweather, cornerback Asante Samuel, defensive end Ty Warren, tight end Ben Watson, nose tackle Vince Wilfork and cornerback Eugene Wilson.
"I think there are two ingredients in being a talent evaluator," said long-time, respected NFL personnel executive Ernie Accorsi. "You have to learn under top people, which Thomas has done from his father to a championship organization in New England. But you also need that indefinable instinct to see talent. That can't be taught. You can be a good evaluator without it, but not a great one. Thomas has that instinct."
Dimitroff captained his college team as a defensive back at the University of Guelph (Canada) from 1987–1989. He was born in Barberton, Ohio, in 1966. Thomas and his wife, Angeline, have one son, Mason, and live in Atlanta.
Read more
Latest headlines