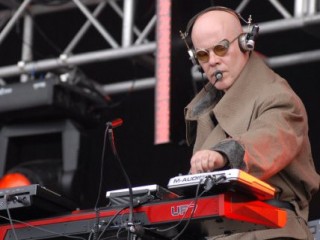 Thomas Dolby biography
Date of birth : 1958-10-14
Date of death : -
Birthplace : London,England
Nationality : English
Category : Arts and Entertainment
Last modified : 2011-11-10
Credited as : Singer, Producer, "Blinded by Science"
Thomas Dolby (born Thomas Morgan Robertson) is an English musician and producer. Best known for his 1982 hit "She Blinded Me with Science", and 1984 single "Hyperactive!", he has also worked extensively in production and as a session musician.
In his self-directed video for his 1982 Top Five hit "Blinded by Science," a white-clad Thomas Dolby explored a fictional "Institute for Deranged Science." His encounters there with an eccentric old psychiatrist and a voluptuous dark-haired woman who stared seductively at him through thick glasses--all accompanied by an irresistible synthesizer hook--provided some of the most durable images of MTV's first decade. Yet this view of Dolby as a kind of mad scientist, tinkering with musical machines--a "Nutty Professor of rock," as Stereo Review' s Mark Peel has described him--is an oversimplification. A singer, musician, songwriter, producer, and director of considerable ability, Dolby's immensely varied work, both center stage and behind the scenes, has had a significant impact on popular music of the 1980s and '90s.
Dolby's refusal to remain inside any established musical strictures has made him one of the most unpredictable of contemporary artists. From the cheerful "synth-pop" of much of his first album, The Golden Age of Wireless, to the moodiness of The Flat Earth, the hard-driving funk of Aliens Ate My Buick, to the introspection of Astronauts & Heretics, Dolby has continually redefined himself as both musician and performer. The twists and turns of his career--motivated, as he told Electronic Musician, by "a puerile sense of mischief and an incurable romance with this little planet and its inhabitants"--have bewildered fans and critics alike but have allowed him to remain true to his belief, as articulated in Musician, that "the most exciting thing is the exploration ."
Many of Dolby's musical peculiarities can be traced to his childhood experiences. Although of British heritage, he was born in Egypt, during one of his father's archeological expeditions. Throughout his youth, Dolby accompanied his father wherever his research led him--Greece, Italy, France, and the United States; as a result, Dolby never established strong ties to any one locale. He told Musician' s Morgan Roberts, "I'm a very rootless kind of guy.... The fact that I didn't have a root meant that I wasn't restricted by any musical guidelines."
Dolby's exposure to many different cultures during his youth led him to appreciate the magnificent diversity of the world in general, but it did not necessarily provide him with specific musical material. As he told Roberts, "It's not like I spent all my time in bazaars, enthralled by Algerian shenai players, or that kind of thing. I can't claim to have any ethnic authenticity simply because I've traveled a lot." In fact, Dolby grew up listening mostly to broadcasts from Europe on his HAM radio, through which he was exposed to an eclectic mixture of everything from the pop soul of Motown and rock experimentalism of Frank Zappa to easy-listening singer-songwriter Engelbert Humperdinck.
Dolby--who was born with the surname Robertson--taught himself guitar and keyboards as a young teenager. While in high school he developed a fascination for electronic gadgetry, earning from his friends the nickname "Dolby," after the laboratory that developed the Dolby noise reduction system. Dolby dropped out of school at age 16 to pursue music full-time, working in a Jamaican R&B band and playing jazz in restaurants. His first big break came when he was hired by singer Lene Lovich to join her tour as a synthesizer player; Dolby subsequently wrote the tune "New Toy" for her, and its success prompted him to concentrate on a solo career.
Dolby released solo albums in 1982 and 1984 and was then hired to compose a soundtrack for the 1985 film Fever Pitch. He became intrigued by film music, telling Musician' s Alan di Perna, "I ... love the idea of people first encountering my music in a movie theater rather than on the radio." Two more soundtracks followed--for George Lucas's Howard the Duck, in 1986, and Ken Russell's Gothic, in 1987; these projects included some of Dolby's most innovative work. Yet in the end, the experiences proved frustrating, especially in the case of Lucas's film, a disastrous commercial failure. As Dolby lamented to di Perna, the movie showed that "you ultimately have so little control of the end product in film.... You can write great music for a lousy movie that nobody sees and you've defeated your purpose entirely."
True to his sense of adventure, Dolby continued to explore new outlets for his talents. His collaboration with Joni Mitchell on her 1985 album Dog Eat Dog, which featured Dolby's trademark layering of aural effects, led to a busy schedule as producer for artists including funk godfather George Clinton and lilting English popsters Prefab Sprout. With each project he labored to maintain the integrity of the featured artist, rather than imposing a "Dolby Sound" on the recording. As he told Stereo Review, "What I try to do as a producer is bring out and enhance the artist's own objective. When I'm in the studio, I like someone there to prod me, someone who'll say, 'Well now, this isn't so good, is it?' I've tried to do the same for the artists I've worked with."
Still, in spite of his deference to the artists for whom he works, as well as his constant quest for something new in his own music, a common thread runs through nearly all of Dolby's creations: a fondness for combining a variety of apparently incongruous elements to achieve a unified feeling. "A lot of what I do is really a collage, where you have little found bits and pieces you just throw together until the whole creates the impression you want," he explained to di Perna. In "I Love You Goodbye," for example, from Dolby's 1992 solo album Astronauts & Heretics, synthesizers, a Cajun band, an acoustic piano, and the sounds of creaking boards, thunder, rain, and buzzing insects intertwine over a driving bass line vaguely similar to the one made famous in Michael Jackson's song "Thriller." When fused with Dolby's idiosyncratic, evocative lyrics, the result is a vivid and slightly spooky portrayal of a bizarre excursion into Louisiana bayou country. Not surprisingly, the album made waves on the college radio charts.
In 1987 Dolby settled in Los Angeles, the audacity, materialism, and tackiness of which he vividly captured in 1988's Aliens Ate My Buick. In June of 1988 Dolby married raven-haired actress Kathleen Beller, best known for her role as Kirby Colby on television's long-running nighttime soap Dynasty, with whom he shares a large mansion once owned by a Hollywood art director. The couple's second child, Talia Claire, was born in January of 1993, soon after the release of Astronauts & Heretics.
Following his involvement in Headspace, Dolby returned to his musical career in 2006. He performed his first solo public show in 15 years at the Red Devil Lounge in San Francisco, California on January 21, 2006, surprising the crowd who were there to see local band Notorious. He then launched an American tour, the Sole Inhabitant Tour, on April 12, comprising a string of small dates in California, a mall opening in Boulder, Colorado, and gigs across America before receptive crowds.
The United States leg of the "Sole Inhabitant Tour 2006" was captured on a "live" CD and DVD. The CD represents a recording of two gigs played by Dolby at Martyrs in Chicago, while the DVD was filmed at the Berklee Performance Center at Berklee College of Music. The DVD also includes a 30-minute interview, and a lecture by Dolby at the Berklee College Of Music. Both the CD and DVD were released in November 2006, and are distributed through CD Baby and iTunes. Dolby autographed and numbered the first 1,000 copies of the CD and DVD.
A CD + DVD set entitled The Singular Thomas Dolby has been released by EMI on May 18, 2009. As the name suggests it is a digitally remastered compilation of previously released singles. The DVD contains all the video singles which were available on the original VHS/BETA/LASERDISC release of The Golden Age Of Video, as well as the videos for the songs "Silk Pyjamas", "I Love You Goodbye", and "Close But No Cigar". These three missing videos are for the singles taken from the 1992 album Astronauts & Heretics, which received critical acclaim but which garnered unimpressive sales.
In June 2011 Dolby announced the Map Of The Floating City game, a multiplayer online game that shares a title with the full-length album release planned to follow after the game's conclusion. In Dolby's own words, "The Floating City is set against a dystopian vision of the 1940s that might have existed had WWII turned out a lot differently." Survivors explore a fictional Google map, forming tribes and trading relics amidst a bizarre sea-going barter society. As they struggle to unravel the enigma that is The Floating City, players can haggle over merchandise and music downloads — including brand new songs from A Map of the Floating City, Dolby's first album in 20 years, scheduled to be released following the climax of the game." The game was played from June through August 2011, and included elements of trading, mystery, competition, and cooperation. Players earned free song downloads, and the winning team or "tribe" was awarded a private performance from Dolby.
Selective Works:
-(Contributor) Joan Armatrading, Walk Under Ladders A&M, 1981.
-(Contributor) Foreigner, Four Atlantic, 1981.
-The Golden Age of Wireless Capitol, 1982.
-The Flat Earth Capitol, 1984.
-Aliens Ate My Buick EMI, 1988.
-Astronauts & Heretics (includes "I Love You Goodbye"), Giant, 1992.
-As producer Joni Mitchell, Dog Eat Dog Geffen, 1985.
-George Clinton, Some of My Best Jokes Are Friends Capitol, 1985.
-Prefab Sprout, Two Wheels Good Epic, 1985.
-Prefab Sprout, From Langley Park to Memphis Epic, 1988.
-Ofra Haza, Desert Wind Sire, 1989.
-Prefab Sprout, Jordan: The Comeback Epic, 1990.
-Film scores Fever Pitch 1985.
-(Contributor) Howard the Duck 1986.
-Gothic 1987.
-Aliens Ate My Buick,1988
- Astronauts & Heretics,1992
- A Map of the Floating City,2011
Read more
Latest headlines