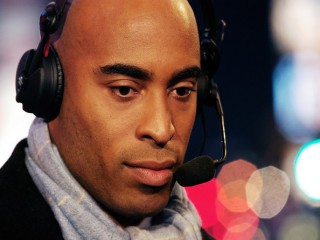 Tiki Barber biography
Date of birth : 1975-04-07
Date of death : -
Birthplace : Roanoke, Virginia, U.S.A
Nationality : American
Category : Sports
Last modified : 2011-08-25
Credited as : Football player NFL, running back, New York Giants
Atiim Kiambu Hakeem-Ah "Tiki" Barber
is an American football running back who is currently a free agent. He was drafted by the New York Giants in the second round of the 1997 NFL Draft. He played college football at Virginia. Barber has had a solid career as a player with the New York Giants. A reliable athlete and team leader, he put up career numbers a decade into his tenure with the team. Barber, whose identical twin brother, Ronde, also plays in NFL, has also written children's books with his brother and began building his post-football media career in 1999.
Barber was born seven minutes after his brother in 1975 in Roanoke, Virginia. He was named Atiim Kiambu, which means "fiery-tempered king" because he was screaming shortly after his birth. Their father, James, was a former professional football player in the World Football League who played college football at Virginia Tech. The twins suffered from seizures and lung ailments until they were four, and their mother, Geraldine, was told they would have to avoid contact sports.
Their parents divorced when the twins were four, and the boys never really saw their father. Geraldine Barber worked hard to raise her sons. She held such jobs as transcriptionist, receptionist, and inventory company tracker, and spent 20 years working at the Virginia Skyline Council of Girl Scouts, moving from office manager to assistant executive finance director. Despite the doctor's earlier warnings, the twins began playing football in elementary school. They were star athletes at Roanoke's Cave Spring High School, where Barber emerged as a dynamic football player. He was a three-time Roanoke Times and World News All-District and All-Timesland pick and was twice named Roanoke Times and World News Male Athlete of the Year.
Football was not Barber nor his brother's only sport. During high school, they also played basketball and baseball and did well in wrestling and track. Barber lettered three times in track. He was the state indoor and outdoor long jump champion twice. As a senior, Barber won the long jump and triple jump state crowns. In 1992, he was second in the long jump at the national finals in the sport.
Geraldine Barber stressed the importance of academics to her sons, and Barber was also an outstanding student in high school. He originally wanted to be an astronaut and did not believe he could have a professional football career. Barber had a 4.0 grade point average and graduated as one of Cave Spring High's valedictorians.
The siblings were recruited to play college football, but only would go to a school that would take them both. They accepted scholarships at the University of Virginia, where they were roommates. Though football was Barber's focus, he remained an outstanding student. Majoring in management information systems, Barber made the Atlantic Coast Conference (ACC) Honor Roll. He also continued to compete in track events, lettering three times with the University of Virginia track team.
The brothers shined on the football field at Virginia. While Ronde Barber was a cornerback, Barber played tailback for eight games as a freshman before moving to running back for the rest of his career. He improved greatly as a player during his time at Virginia. By the time he was a junior, he set a school record by carrying the ball 1,397 yards on 265 carries. Barber was a finalist for the Doak Walker Award as the best running back in the nation. He won the Ben Wilson Award, awarded by the Virginia team, and was named to All-ACC 1st team selection.
Barber nearly matched those numbers as a senior when he ran for 1,360 yards on 205 carries and scored 14 touchdowns. Barber was the first player in the University of Virginia history to rush for more than 1,000 yards in back-to-back seasons. By the time Barber's college career was completed, he was second on the Virginia rushing list with 3,389 on 651 carries. But because of his small size (5′10″ and only about 200 lbs.) and propensity for fumbling the ball, it was unclear if he would have a successful professional career in the NFL.
In the 1997 NFL draft, Barber was chosen in the second round by the New York Giants, while his brother was drafted in the third round by the Tampa Bay Buccaneers. This year marked the first time Barber had ever played on a different team than his brother or been apart from him for more than three days. At his first training camp with the Giants, Barber competed for a starting job, but only saw limited action for his first few seasons.
In 1997, he started six games, rushing for 511 yards and scoring three touchdowns, while also compiling 299 receiving yards for one touchdown. Barber was used primarily on kick returns for two seasons, 1998 to 2000, as well as punt returns from 1999 to 2001. He was used as a running back only on third down passes and a few selected plays.
Despite a slow start to his career, Barber continued to work hard and remained competitive and ambitious. This attitude paid off in 2000. He was a starter in the 2000 season out of training camp, and had a breakout year, rushing for 1,006 yards while also proving his worth as a receiver. That season, Barber broke the Giants record for all-purpose yards with 2,089, among other accomplishments. The only negative came when he broke his arm late in the season. The injury was not completely healed in time for Super Bowl XXXV, by which time he was considered the most valuable player on the team. The Giants lost to the Baltimore Ravens in the game.
By the end of the season, Barber was a leader for the Giants and a star in the NFL. Mike Freeman of the New York Times wrote, "If there is such a thing as a 21st-century football player, it is Barber. He is part great athlete, with a catlike burst of speed; part intellectual, who designed his own Web site and graduated from the University of Virginia; and part nice guy, who greets almost everyone with a smile. The N.F.L. wishes it had a thousand players like Barber."
After the Super Bowl appearance, Barber signed a new contract with the Giants for $25.5 million over six years. He had a difficult 2001 season, breaking his hand in the preseason, then suffering a hamstring injury which forced him to miss two games. Barber struggled as a player throughout the season. He found the Giants did not build plays around him, and the team had a poor win-loss record as well.
Barber re-emerged in 2002 with a stronger performance, one of the best of his career to that point and the first where he was considered a Pro Bowl quality player. After another slow start, Barber finally learned to be more patient on the field and made changes like adjusting his stance and better exploiting the work of his blockers. He told Buster Olney of the New York Times , "As I've gotten older in my career, the game is slower for me. I don't feel like I'm getting overwhelmed. I feel like I'm in control all the time, and that allows me to see more." Barber finished year with 1,387 rushing yards for eleven touchdowns and 597 receiving yards, the best of his career to this point. The Giants again made the playoffs.
Barber continued to shine in 2003, starting all 16 games for the Giants. He rushed for 1,216 yards and two touchdowns. Named to his first Pro Bowl in 2004, Barber began training harder in the 2004 off-season to compensate for aging. He also added to his strength training to address his propensity for fumbling the football. Barber commented to Judy Battista of the New York Times , "It's my fountain of youth, working a little harder. You have to find a way to beat Father Time. Your body breaks down over the course of the season, the intense running, the pain and bruises. Getting physically stronger was my answer to that."
The off-season training regime worked as Barber posted even better numbers in the 2004 and 2005 seasons. In the former, he started in 14 games, rushing for 1,518 yards and 13 touchdowns. He also had 578 receiving yards and two receiving touchdowns. Barber's rushing numbers were even higher in 2005. He started in all 16 games and rushed for 1,860 yards, the best of his career, for nine touchdowns.
He had three games in which he rushed for more than 200 yards. He also had 530 receiving yards for two touchdowns. In 2005, the Giants won their division and made the playoffs. Barber was also named the NFL Player of the Year by Sports Illustrated for the 2005 season. Though Barber held many records for the Giants, including being the all-time leading rusher for the team as well as the leader in receptions, he wanted to win a championship before retirement. He did not plan to retire until at least 2008.
While Barber's football career was strong, he supported numerous charities including many promoting literacy. Both Barber and his brother had enjoyed reading since childhood. With his twin, he co-captained the Read Across America campaign of the National Education Association and they were Literacy Champions. The Barber brothers also wrote two children's books inspired by their childhood and life experiences, By My Brother's Side in 2004 and Game Day in 2005.
A career in the media was in Barber's post-football plans, though not as an author. As early as 1999, he began working toward becoming a radio and television personality. Barber soon proved he had the talent and presence for such a career change. Barber began as a morning sportscaster and post-game NFL analyst for the New York station WCBS from 1999 to 2001 during the off-season. He later had a show on the cable YES network in the early 2000s. On the radio, Barber hosted shows on WFAN in New York City and ESPN Radio, including appearances since 2002 on ESPN's Thursday night football show. Barber later had a Sirius Satellite Radio show with his brother.
After numerous appearances on the Fox News Channel show Fox & Friends , Barber signed a contract with the show in 2005 to become a general contributor. In addition to working as a host and commentator on television, Barber also did some acting. He appeared in several commercials, including promotions for Super Bowl XXXV and a Visa spot with his brother. Barber even performed in a play, Women of Manhattan , in 2005.
Most observers saw Barber as an ideal studio commentator for football broadcasts. An unnamed network executive told Bob Raissman of the Daily News , "He (Barber) is smooth, there's no doubt about that. Right now, with the experience he has managed to gain, Tiki Barber is as good, or better, than some of the personalities who are fixtures on pregame shows and in broadcast booths." Barber was not commit- ted to a sports broadcasting career, but leaning toward working in mainstream media after retiring as a player. He told John Branch of the New York Times , "I like being in the eye. I like having the power of influence, and using it in the right way."
Awards:
High school honors include: Super-Prep All-American Selection;
Three time Roanoke Times and World News All-District and All-Timesland pick;
Twice named Roanoke Times and World News Male Athlete of the Year;
Two time Roanoke Times and World News All-Region pick;
Roanoke Valley Offensive Player of the Year as a sophomore and junior;
Timesland Sophomore of the Year;
Three time Top Ten Percent Award winner;
Won Knight Award as a senior.
College honors include:
Cave Spring "Knight" Award for academic, athletic and extracurricular activities at the University of Virginia;
Ben Wilson Award, University of Virginia, 1995;
Eastern College Athletic Conference Division 1-A Player of the Year, 1995.
Professional honors include:
Voted New York Giants' Most Valuable Player, 2000, 2002, 2004;
Named NFL Player of the Year, Sports Illustrated , 2005;
Selected as first team All-Pro, Associated Press, 2005;
Named First Team All-Pro by Pro Football Weekly , 2005.
Read more
Latest headlines