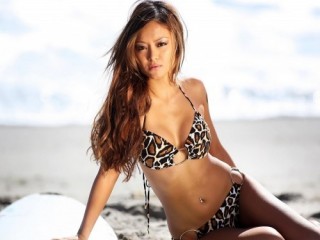 Tila Tequila biography
Date of birth : 1981-10-24
Date of death : -
Birthplace : Singapore
Nationality :
Category : Arts and Entertainment
Last modified : 2011-10-27
Credited as : Model, A Shot at Love with Tila Tequila, Playboy's Cyber Girl
Tila Nguyen, better known by her stage names Tila Tequila and Miss Tila, is a Vietnamese-American model and television personality.
She is known for her appearances in the men's magazines Stuff, Maxim, Penthouse, her role as host of the Fuse TV show featuring performance striptease, Pants-Off Dance-Off and her position as the most popular artist on MySpace (according to page views) circa April 2006, along with Jeffree Star.
She was raised in Houston, Texas, and now lives in Los Angeles, California. Her MTV reality show A Shot at Love with Tila Tequila aired for two seasons.
Nguyen was born in Singapore, where her family emigrated from Vietnam after the Vietnam War. Her mother is half French descent, while her father is full Vietnamese. Her siblings are Daniel and Terri. When she was one year old, she and her family lived in a neighborhood in Houston until they were admitted to a gated community run by a strict Buddhist temple. The family left the community when Nguyen was eight.
While in middle school, Nguyen became a tomboy and was eventually sent to a boarding school for six months for her combative behavior before transferring to another school. While in high school, she used her sister's identification card to enter nightclubs, where she began taking drugs and joined a gang. In her memoir, she would later explain that she felt "confused" and "lost" from various personal family and environmental issues and lost her virginity at 15. She turned to writing poems in an attempt to release powerful emotions, and friends outside the gang briefly helped turn her life around. However, her past caught up with her, and she fled to Queens, New York, at the age of 16. While still 16, she experienced a drive-by shooting in Houston. She reports having become pregnant and suffering a miscarriage the following year.
Nguyen graduated from Alief Hastings High School in 2000. She has cited the violent adolescence she had in Texas as her reason for becoming a model and moving to California in 2001. In a March 2003 interview, she revealed that she has taken some college classes but does not have a degree, stating, "I didn't want to go to college for an actual degree because there's nothing out there I like besides doing something that involves the entertainment industry."
Nguyen's career began at the age of 18 when she was discovered at the Sharpstown Mall by a Playboy scout and was offered a chance to model nude for the magazine. She did a test shoot, then eventually moved to Southern California and was featured as Playboy's Cyber Girl of the week on April 22, 2002, and soon thereafter she became the first Asian Cyber Girl of the Month. A few more pictorials for the magazine followed.
Nguyen gained further popularity through the import racing scene. She has been featured on the cover of Import Tuner magazine, at car shows such as Hot Import Nights, and in the video game Street Racing Syndicate. She was also the most frequent host on the first season of Fuse TV's dance show, Pants-Off Dance-Off, on which a group of contestants strip to music videos.
Nguyen was featured on the cover of the April 2006 issue of Stuff magazine; in the interview, she claimed that her nickname "Tila Tequila" came about when she experimented with alcohol at the age of thirteen. She appeared on the August 2006 Maxim UK cover, was named #88 in their Hot 100 List, and also appeared in the December 2007 issue. She was ranked #100 on the Maxim Hot 100 list in 2008.
Nguyen made an appearance as one of the 12 strangers in the first game on the April 6, 2007 episode of NBC's game show Identity. On March 4, 2007 she made a cameo appearance on the show "War At Home." She also appeared as a Hooters Girl in the 2007 film I Now Pronounce You Chuck and Larry.
Nguyen has been featured on the front page of magazines such as Penthouse, King, Blender, and most recently Steppin' Out.
In May 2007, Nguyen began filming for a reality show which first aired on MTV on October 9, 2007, as A Shot at Love with Tila Tequila. The program is a bisexual-themed dating show where 16 straight men and 16 lesbian women compete for Nguyen's affections, the twist being that the contestants were not aware of her bisexuality until the end of the first episode. The ten-episode series is produced by SallyAnn Salsano and MTV.
The show led to a heated online debate between Nguyen and conservative Christians after an article appeared on The Christian Post on September 13, 2007. After seeing the article, Nguyen wrote an impassioned response in her blog on September 28, 2007, criticizing churches for "bashing" the gay community while thanking God for saving her life.
The show premiered for a second season in April 2008 and became a popular gossip subject in Asian media, such as AsianWeek.The season finale premiered July 8, 2008, the winner being Kristy Morgan who declined her "shot at love". A new season of the series was announced. However, bisexual twin women were the bachelorettes.
Before A Shot at Love, Nguyen was a contestant on VH1's Surviving Nugent, a reality TV show where participants performed compromising tasks and stunts for rock star Ted Nugent.
In July 2001, Nguyen started up her website entitled "Tila's Hot Spot". Originally the site featured information, quotes, blog, and pictorials requiring adult verification and a monthly fee. Later, the site was revamped to feature all-ages content and information to promote her career, business ventures, personal information, and a premium membership section including videos, non-nude picture galleries, blogs, and chat sessions. In 2008 the site was transformed into a social network.
In December 2009, Nguyen partnered with Joe Francis to launch a dating site called "TilasHotSpotDating.com". The site is for people ages 18 and up. The site includes a free membership with basic access to the site, and paid membership which includes access to other areas of the site. Nguyen has taken part in webcam chats on the site.
At age 20, Nguyen acted on her interest in rock music and started looking for bands willing to let her join. She eventually assembled a band called Beyond Betty Jean, for which she was singer and songwriter. Following the breakup of Beyond Betty Jean, Nguyen started working in recording studios to sharpen her vocal skills and wrote music. Later, she became the lead singer of a band called Jealousy, which released a few songs online before breaking up. Around this time, she began to employ the stage name of "Tila Tequila".
In April 2006 during the taping of an interview with MTV's Total Request Live VJs, will.i.am announced that Nguyen had been signed to the Will.I.Am music group, a record label under A&M Records. Despite this major-label signing, Nguyen independently released her first single "I Love U" through iTunes on February 27, 2007, justifying the independent release through her desire to become famous by herself. She also shot a music video for the song.
In March 2007, Washington-based record label The Saturday Team released an EP called Sex, by Tila Tequila. On July 27, 2007, Italian website MusicBlob reported that The Saturday Team and distributor Icon Music Entertainment Services sued Nguyen over breaching her contract related to the album. However, Nguyen claimed in a MySpace bulletin that the EP was not authorized for release by her, and was removed from most retailers. The Saturday Team won a legal case, making Sex available for digital purchase.
On October 9, 2007, Nguyen released her second official single, "Stripper Friends". A video premiered via Yahoo! Music on February 26, 2008 and was released to iTunes on March 4, 2008. The single failed to chart. In April 2008, the single "Paralyze" and its accompanying music video were released via Yahoo! Music and iTunes.
In April 2010, Nguyen officially released "I Fucked The DJ", along with an edited version entitled "I Love My DJ", through iTunes. The songs were released under the name "Miss Tila".
In May 2010, Nguyen released an EP to iTunes entitled "Welcome to the Darkside". The EP includes a cover of Depeche Mode's song "Blue Dress" and Yoko Ono's song "Walking on Thin Ice". Tila began a tour supporting the new EP in 2010, and at one of her tour stops in August 2010, Nguyen appeared at the Gathering of the Juggalos, a music festival founded by hip hop duo Insane Clown Posse. She was repeatedly pelted with rocks and bottles among other objects, and she vowed to take legal action against the organizers and promoters for the event.
On December 2, 2008, Nguyen released a self-help book, Hooking Up with Tila Tequila: A Guide to Love, Fame, Happiness, Success, and Being the Life of the Party.
On September 6, 2009, Nguyen was allegedly choked and restrained by former boyfriend Shawne Merriman, who was later arrested. San Diego district attorney Bonnie Dumanis decided not to charge Merriman after her office spent three days reviewing reports from the San Diego County Sheriff's Department. On November 17, 2009, Nguyen sued Merriman for $1.5 million.Several weeks later, Merriman countersued, alleging intentional interference with contract, unfair competition, and trademark infringement. She declined to respond to his more recent actions, and a default judgment was entered in his favor for $2 million.
In November 2009, Nguyen announced on Twitter that she is a lesbian, rather than bisexual, as she had previously proclaimed herself to be.
On December 9, 2009, Nguyen stated she was engaged to heiress Casey Johnson and was photographed with a diamond ring. On January 4, 2010, Johnson, who had long suffered from Type I Diabetes, was found dead. On February 4, 2010, the Los Angeles Coroner's Office announced that Johnson "died from diabetic ketoacidosis, a life-threatening condition caused by a lack of insulin and high blood sugar". She was reported to have neglected to take her medication, and died naturally. Nguyen has arranged plans to seek legal custody of Casey Johnson's adopted daughter, Ava.
Read more
Tila Tequila Picture Gallery
Latest headlines