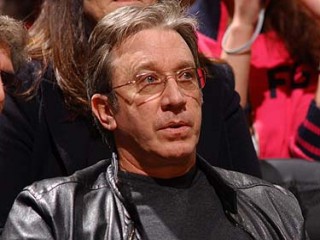 Tim Allen biography
Date of birth : 1953-06-13
Date of death : -
Birthplace : Denver, Colorado, U.S.
Nationality : American
Category : Arts and Entertainment
Last modified : 2010-09-07
Credited as : Actor and comedian, voice-over artist, role in "Toy Story" series and sitcom "Home Improvement"
Tim Allen
, born
Timothy Allen Dick
on June 13, 1953 in Denver, Colorado, U.S. is an American comedian, actor, voice-over artist, and entertainer, known for his role in the sitcom
Home Improvement
. He is also known for his film roles in several popular movies, including the
Toy Story
series,
The Santa Clause
and
Galaxy Quest.
"Sidelights"
When Tim Allen sends out his trademark primal call,
"Augh! Augh! Augh!,"
a sound akin to a gorilla's grunt, he gets attention. The ape call is part of Allen's self-molded brand of humor, which he calls "masculinist," and was first heard in his popular nightclub comedy act. Later he refined his ideas, sold them to Disney, and went on to star in the popular television comedy, Home Improvement, about a blustering handyman who hosts a cable television show and is prone to accident during his fix-up jobs. "Tim is Dagwood [a character from the comic strip Blondie] with an attitude, an aggressive goof-up whose masculine pride frequently gets him in trouble with the rest of the family," wrote Ken Tucker in Entertainment Weekly. With the help of a group of talented writers, the show shook the TV ratings charts and became a hit almost overnight. Allen became just as popular in print and on the big screen. He was able to master two creative challenges in 1994 when he wrote the best-seller, Don't Stand Too Close to a Naked Man, and starred in the Disney film The Santa Clause, which some believe is on its way to becoming a Christmas classic. Allen also was the voice of Buzz Lightyear in Disney's 1995 hit Toy Story, and in 1997 he starred in the movie For Richer For Poorer with Kirstie Alley.
But Allen's life hasn't been all laughs and successful ventures. He was born in 1953 in Denver, Colorado, one of six children in a family of five boys and one girl. (Born Timothy Allen Dick, Allen shortened his name when he entered show business. The butt of a thousand playground jokes because of his family surname, he learned that humor was the best defense to help him through tough times.) His family life laid a strong foundation for his career. "In retrospect it seems that Allen has been preparing for his alter ego since those long-ago Saturday afternoons ... spent with four brothers and his father, Gerald, a real estate salesman, poring over hardware in the Sears store near their Denver home," according to a People magazine article. Allen told Patty Lanoue Sterns in Friends that his father would "tinker with cars a lot. He'd always put dual exhaust, different manifolds on. He made the family wagon loud and fast--my kind of guy."
But Allen's life took an unexpected turn in November 1964 when his father was killed by a drunk driver who smashed into the family's car on the way home from a University of Colorado football game. Though his father had been driving home a carload of people, he was the only one killed; Allen was the only family member who hadn't gone to the game. After Gerald's death, Allen's mother, a community service worker, took her six children and moved back to the family home in Birmingham, Michigan, where she became reacquainted with a man she knew in high school. Widowed with two sons and a daughter of his own, he married Allen's mother and the families were blended.
In school, Allen reveled in his role as the class joker, and his favorite class was, of course, shop. "I loved making stuff and the smell of those places, but I hated the teachers," Allen told People. He admitted to Sterns that he didn't want to make teaching shop his career. "It's hard listening to people with no fingers," he joked. After graduating from high school, Allen attended Central Michigan University, then transferred to Western Michigan University where he earned a bachelor's degree in television production in 1976.
Bad Turn With Drugs
About this time, Allen stumbled into trouble for dealing cocaine, though he said he was never more than an occasional recreational user. He told People that he didn't know what to do with his life ("I was floundering, actually"), and the money attained by selling drugs was attractive. In 1979 Allen, along with twenty others, was arrested and charged with possession and distribution of narcotics. He spent sixty days in a county holding cell and described it in People as being a horrible "caldron of despair." He pleaded guilty at his arraignment. "I knew what I did was wrong," Allen confided to Daniel Cerone in the Los Angeles Times. "I did not drag it out in a trial. I knew I made a major mistake. I laid down. Punish me."
Before sentencing he made important choices that ultimately launched his career. Allen took a job at a sporting goods store and went on stage at a Detroit-area nightclub, the Comedy Castle. But the laughs would have to wait. Allen was sentenced in November 1980 to eight years in prison at Sandstone Federal Correctional Institution in Minnesota, a minimum security prison. "Allen found humor useful in prison," according to Richard Zoglin in Time. "He made the meanest guards laugh by putting pictures of Richard Nixon in the peephole of his cell when they made their rounds." Later he staged comedy shows for the other inmates. While he was in prison, Allen kept ties with his girlfriend, Laura Deibel, who he married in 1984, and with the owner of the Comedy Castle. With time off for good behavior, Allen was released after twenty-eight months. He told Andrew Abrahams in Ladies' Home Journal: "I'm glad I paid for it and got straightened out. (It) started this process of deciding what was important. It was like a close call with death."
After he was released, Allen took a job as creative director at a Detroit advertising agency, which he left after he became successful doing commercials for Ford, Chevrolet, and Kmart. True to form, he was also seen in some "Mr. Goodwrench" spots for General Motors. His comedy act took off as he traveled the country performing on the comedy club circuit. Allen went on to become a cable television star, and his TV special Men Are Pigs was aired on Showtime in 1990. During that time Allen honed his signature sound, "Augh, Augh, Augh," and grabbed the attention of Disney executives who would forever change his career. His leap into television and movies was ignited in 1990 when Disney Studio executives offered him roles in such projects as a TV sitcom based on the film Turner and Hooch. Allen didn't think he was suited for these projects, turned them down, and offered his own idea, which was to become Home Improvement.
Character Has Character
Tim Taylor, Allen's character in Home Improvement, is a middle-class bread winner living in the Detroit area. He has a wife, Jill, played by Patricia Richardson, and three boys, played by Zachery Ty Bryan, Jonathan Taylor Thomas, and Taran Noah Smith. "Tim Taylor is supposed to be a likable lout, and he is, and not just because Tim Allen is a smart comedian who has proven to be a sly, charming actor," according to Tucker in Entertainment Weekly. "Taylor is a vulgar character that viewers can enjoy guilt-free, because his point of view is balanced--redeemed, even--by Jill's common sense feminism." Taylor's job is hosting a cable television home improvement show called Tool Time, and his solution to every problem on the show and at home is to add more power to whatever needs fixing. While everything mechanical he touches usually blows up in his face, he usually comes to terms with his moral dilemmas with more finesse. Tim's Tool Time assistant, Al Borland, played by Richard Karn, is the real home improvement expert with all the right answers and techniques. Even though the cable television audience sees this and often applauds Al with much more vigor than Tim, Al always bows to Taylor's lesser abilities and greater charm. Still, Al manages to poke fun at Tim's antics, his catchphrase being, "I don't think so, Tim."
Another regular on the show is Wilson, played by Earl Hindman, the next door neighbor who imparts endless nuggets of wisdom from ancient sages and folklore, as well as famous and not-so-famous scribes. In developing the series, Allen envisioned Wilson as a "neighbor who is a man's soul, whom I see only from the eyes up," he told a reporter with the Washington Post TV Week. And that's just how the character is seen by the television audiences. Every time Taylor finds himself in a difficult situation with his family or friends, Wilson provides the balm with anecdotal advice. But his identity is always hidden, usually by the backyard fence, but in other scenes behind a plant in the house or some other convenient prop. Several of Wilson's views are derived from author and poet Robert Bly's examination of masculine behavior in the book Iron John. Some critics, in fact, speculate that Allen's comedy is merely Bly's wisdom in disguise. As Tucker wrote, Allen's Tim Taylor character "is a comic symbol of the media-hyped 'men's movement'...."
In an interview with Camille Paglia in Esquire magazine, Allen made some serious observations about the relationships between men and women in the 1990s. "I don't think feminism is unfair," Allen told Paglia. "I always thought it was just a celebration of what's female or an investigation of such...." He added, "Because of the women in my life, I understand their frustrations in trying to do all of these things: 'I'm supposed to be the corporate woman; I'm supposed to do this; I'm supposed to be the mother.' All the things...that are outside the sphere that I created to give myself a buffer so that I could live. You now want to get me out of that too--you really don't want me to exist. That's how I feel sometimes--you really don't want me to exist."
Tough Audience Tunes In
These male-female issues are often explored on Home Improvement, a show that plugged into a large male audience. But it's not only the men watching. In it's first season Home Improvement reached number five in the television ratings. Still, the success didn't come without some pain. The brakes were applied, temporarily, on Allen's skyrocketing success when, as the series was beginning production, rumors circulated about his jail sentence. Allen reluctantly came forward with the news by first telling Disney executives and then the world in a USA Today interview. "The audience reacted predictably," Disney's Richard Frank told TV Guide. "They said, 'OK, we buy the fact that someone can make a mistake, and that his life can change for the better.'"
Both Allen and Home Improvement have gone on to become fan favorites, winning several People's Choice Awards. Along with this success, Allen taped another cable television special of his stand-up work, Tim Allen Rewires America. Allen describes the humor in it as his rendition of feminism for men. He told TV Time: "Feminism was never intended to be antimale, so masculinism is not antifemale. It's different than chauvinism--it's a celebration of what is male. And you don't have to be macho to be a masculinist."
His introspective theories about the differences between men and women, his father's death, his family, and the time he spent in prison were the basis of his first book, Don't Stand Too Close to a Naked Man, a 1994 best-seller. It was the same year he made his debut on the big screen starring in the Disney film, The Santa Clause, about a divorced father, Scott Calvin, whose son forces him into the role of Santa when the jolly man from the North Pole falls off their roof on Christmas Eve. "This is the most playfully amusing, inventive new cinematic Christmas fable in several decades," according to Ralph Novak in People. In the film, Calvin finds a card in Santa's suit that authorizes anyone who finds it to take Santa's place and finish his rounds should Santa become incapacitated. Calvin grows a huge belly and sprouts white whiskers after learning that he's got the job for life. "Allen is likable (if you like him), and he pulls off plenty of cute bits and sarcastic one-liners," explained Jeff Giles in Newsweek.
Two years later his next book, I'm Not Really Here, hit the bookstores. In the work, Allen takes a long look at his fame and fatherhood and reveals a serious interest in spiritualism and philosophy. He also gives a not-so- serious glance at ear hair and flatulence. People's Alex Tresniowski described the work as often self-indulgent, "but Allen deserves points for daring to be dark." Allen's next career adventure was serving as the voice of Buzz Lightyear in the popular Disney cartoon, Toy Story, the first full- length film created wholly by computer. The story is about a little boy's toys who are alive and led by a cloth cowboy named Sheriff Woody, whose voice was supplied by Tom Hanks. The boy's new prize toy, space explorer Buzz Lightyear, makes the insecure Woody wonder about his standing in the boy's eyes. This leads to an adversarial relationship between Woody and Buzz until they finally join forces as uneasy partners against Sid, the toy torturer who lives next door. Critics were impressed with the film. David Ansen, writing in Newsweek, praised the "cast of voices, led by superbly expressive performances from Hanks and Allen, that brings these computer- generated fantasies to delightfully cantankerous life."
In 1997 Allen starred in Jungle2Jungle, a film produced by Disney. "Once again, he [Allen]'s an irascible guy's guy who's baffled and exasperated by the mysteries of women and children, yet eminently trainable as a decent human being," Lisa Schwarzbaum explained in Entertainment Weekly. Allen plays Michael Cromwell, a New York City commodities broker separated from his wife who is a doctor in an Amazonian village. When Cromwell goes to the jungle to get divorce papers, he learns he has a son and agrees to bring him to New York. This launches the youngster's adjustment to city life, including using a toilet. Adapting to a different lifestyle was also the theme of Allen's next movie, For Richer For Poorer, which also featured Kirstie Alley. Allen and Alley play a wealthy New York couple who get caught cheating on their taxes and flee the city. Their escape leads them to Amish country where they desperately try to impersonate an Amish couple, a task they find overwhelming.
Allen lives in the San Fernando Valley with his wife and daughter, but they frequently travel back to Michigan where they have a home in suburban Bloomfield Hills, as well as a lake house in northern Michigan right next door to his in-laws. In his free time Allen has developed a passion for reading books on physics, and he continues to play with his collection of cars, including a 1966 Ferrari and a pair of Mustangs. In fact, Allen was in a fast car in spring of 1997 when he was arrested in Bloomfield Hills for driving under the influence. He was given probation, a restricted driving license, and a $500 fine. "I have been treated fairly by the authorities in my hometown, however, my inexcusable lapse in judgment is a mistake that is embarrassing to myself, my family, and my associates," Allen said through his press agent at the time. "I have learned from this experience, and I am fortunate that my family and associates have forgiven me."
Despite the downfalls and tremendous successes as a stand-up comic, on television, as an author, and finally on the big screen, Allen's longtime friends maintain that he has stayed grounded. "He just never lost perspective," Bruce Economou, an close friend from Michigan, told Zoglin in Time magazine. "When he first went to the Home Improvement stage, where they were building the sets, and the people from Disney were walking him through, they told him, 'This is for you.' Tim looked at it and said, 'Well, if this show doesn't work, can I have the wood?'"
PERSONAL INFORMATION
Born Timothy Allen Dick, June 13, 1953, in Denver, CO; son of Gerald (a real estate salesman) and Martha (a community service worker) Dick; married Laura Deibel (his business manager), 1984; children: Katherine Dick. Education: Attended University of Detroit; Western Michigan University, B.A. (television production), 1976. Avocational Interests: Collecting high-performance automobiles and power tools, driving race cars, playing golf, bicycling, reading about the universe.
AWARDS
Cable ACE award, best performer in a comedy special, 1990, for Just for Laughs Festival; People's Choice Award, favorite male television performer, 1992-95, and 1997, for Home Improvement; Golden Globe Award nomination, best actor in a musical or comedy series, and Emmy Award nomination, best lead actor in a comedy, both 1993, both for Home Improvement; Golden Globe Award, best performance by an actor in a television series, 1995, for Home Improvement; People's Choice Award, favorite actor in a comedy motion picture, and Blockbuster Entertainment Award, favorite male newcomer, theatrical, both 1995, both for The Santa Clause; Nickelodeon Kid's Choice Awards, favorite television actor, and Kids Choice Hall of Fame, both 1996; Golden Globe nomination, best performance by an actor in a television series, 1996, for Home Improvement.
CAREER
Comedian, actor, and writer. Advertising agency creative director, Detroit; stand-up comedian, 1980, beginning 1983; Boxing Cat Productions, founder, beginning 1984. Television credits include appearances in Showtime Comedy Club All-Stars II, 1988; "Rodney Dangerfield's Opening Night at Rodney's Place," On Location, 1989; Tim Allen: Men Are Pigs, 1990; Just for Laughs Festival, 1990; Home Improvement (role of Tim Taylor), 1991-99; The Dream Is Alive: The Twentieth Anniversary Celebration of Walt Disney World, 1991; TGIF Comedy Preview (host), 1991; Back to School '92, (also known as Education First!), 1992; The 44th Annual Primetime Emmy Awards (host), 1992; The Ultimate Driving Challenge, 1993; The Olsen Twins Mother's Day Special, 1993; The 45th Annual Primetime Emmy Awards (presenter), 1993; The 19th Annual People's Choice Awards (presenter), 1993; The 14th Annual Cable ACE Awards (presenter), 1993; Comedy Club All-Stars VII (host), 1993. Film credits include appearances in Comedy's Dirtiest Dozen (as himself), 1988; The Santa Clause (as Scott Calvin), 1994; Toy Story (voice of Buzz Lightyear), 1995; Meet Wally Sparks (himself), 1997; Jungle 2 Jungle (as Michael Cromwell), 1997. Appeared in television commercials for Chevrolet, Ford, K-mart, and Mr. Goodwrench.
WRITINGS:
TELEVISION SPECIALS
* (And executive producer) Tim Allen Rewires America, Showtime, 1991.
TELEVISION SERIES
* Wrote television script for an episode of Home Improvement, ABC.
FILMS
* (Director) Crazy on the Outside, Freestyle Releasing, 2010.
BOOKS
* Don't Stand Too Close to a Naked Man, Hyperion (New York, NY), 1994.
* I'm Not Really Here, Hyperion, 1996.
Read more
Latest headlines