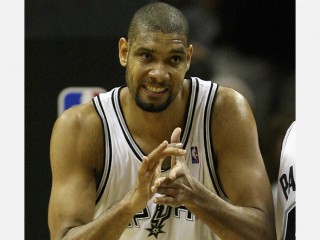 Tim Duncan biography
Date of birth : 1976-04-25
Date of death : -
Birthplace : St. Croix, U.S., Virgin Islands
Nationality : American
Category : Sports
Last modified : 2010-08-04
Credited as : Basketball player NBA, currently plays for San Antonio Spurs,
For all that Tim Duncan has accomplished in his amazing career, it's what he hasn't done that makes him truly remarkable. He didn't grow up with a basketball in his hands, dreaming about hoops stardom. He didn't have his choice of college powerhouses when the recruiters came calling. He didn't leave school early and chase after the big money. And since entering the NBA he has never been anything but an exemplary teammate and perfect role model. No, Tim is nothing like your typical superstar athlete—and are sports fans everywhere lucky he's not.
GROWING UP
Timothy Theodore Duncan
was born on April 25, 1976, in St. Croix, U.S. Virgin Islands. His mother, Ione, was a professional midwife. His father, William, was a mason. On an island with a lot of babies and a lot of building, the Duncan's did better than most. Tim was a precocious child who was usually miles ahead of his elementary school classmates. When he was eight, he was moved up a grade, and was a year younger than his class right through college.
Like his older sisters, Cheryl and Tricia, Tim had a long, supple athletic body. On St. Croix, that doesn't make you a basketball player, it makes you a swimmer. Tricia in particular was a great one. She was internationally ranked in the 100-meter and 200-meter backstroke, and competed in the 1988 Olympics in Seoul. She believed her little brother would eventually surpass her.
Tim had already decided he wanted to be an Olympic champion, and his parents fully supported the decision. Ione was at every meet, delivering an unending stream of advice, criticism and inspiration from the stands that drove Tim a little crazy. Her favorite mantra was: "Good, better, best. Never let it rest. Until your good is better, and your better is best."
Tim's specialty was the 400-meter freestyle. In his early teens, he was already known in the international swimming community. He broke several records at 12 and 13, his times were on par with the top swimmers is age in the U.S., and he was only getting longer and stronger. Think Ian Thorpe with longer legs and bigger arms and feet. Tim's physical gifts were obvious, but it was his focus and concentration that enabled him to stay at the top of his game. He had the ability to break down every stroke and analyze what he was doing right, and what he could be doing better. He was a coach's dream.
Even though the Barcelona Olympics were three years away, Tim was a lock to make the VI swimming squad in the 50, 100 and 400 meters. What he really wanted was to make the U.S. team, for which Crucians are technically eligible.
On September 17, 1989, Hurricane Hugo crashed into St. Croix and everything changed. Tim's father had been through his share of violent storms and had built his house to withstand a direct hit—which Hugo was. The rest of the island, however, lay in utter ruins. Among the casualties was the swim team's pool, which had filled with debris and needed major repair. When practices were moved to the ocean, Tim had a major problem: he had a mortal fear of sharks. Every time he entered the water, he felt like food on a platter. He started skipping practices, and eventually drifted from the team.
Tim had other things on his mind. During the summer of 1989, his mother had been diagnosed with breast cancer. She fought the good fight and urged Tim to keep swimming even though she found it harder and harder to attend his meets. She died in the spring of 1990, a day before Tim's 14th birthday. He never swam competitively again.
Fortunately, something else had caught his attention. A year earlier, Cheryl—now married and living in Columbus, Ohio—had sent down a basketball goal. Tim's father had set it up, measuring to make sure the rim was precisely ten feet from the ground. He anchored it in cement and boasted that it could withstand anything that hit the island. Well, he was right.
After Ione died, Cheryl moved back home with her husband, Ricky Lowery. Ricky had played some college ball, starting at point guard for Capital University in Columbus. Prior to Hugo, Tim had just goofed around shooting. After Ricky arrived, basketball became his new passion. Tim was tall for his age—around six feet—and Ricky figured he might top out around 6-4 or 6-5. So he began teaching the youngster the finer points of the perimeter game. Tim learned how to handle the ball, penetrate, recognize passing opportunities, come off screens, use the glass on pull-up jumpers, and finish on the break.
In the fall, he made the St. Dunstan's Episcopal High School team as a 14-year-old freshman. He figured he'd play some hoops, have some fun, and when the pain of his mother's loss subsided, he would go back to swimming. It never happened. Over the next three seasons, Tim grew nine inches and became the best player on the island—and maybe even in the entire Caribbean. Already tutored in the ways of a perimeter player, he began using his quick feet and long body to establish himself as a post-up force. He was raw, but because he had learned the game his own way, at his own pace, he was in many respects a unique talent.
Soon crazy stories began filtering into the college scouting community about a giant in St. Croix who had quit swimming to become a basketball player. Three schools—the University of Hartford, University of Delaware and Providence University—were intrigued enough to fly south for a look-see, and all three offered Tim a scholarship on the spot. A fourth school, Wake Forest, saw fit to send its head coach, Dave Odom.
Odom was looking for a big man to compliment Randolph Childress and Rodney Rogers, but because of the school's diminutive size, he was having a hard time luring the A-level player he wanted. He had already gone scouting in Africa and Europe on this quest. Now Odom headed to St. Croix on the advice of his former player, Chris King, who had scrimmaged against Tim when a group of NBA players stopped on the island and arranged an impromptu competition with the locals. According to King, Tim—just 16—had played Alonzo Mourning to a draw. Mourning had just been selected second in the NBA draft. How could Odom not check it out?
Odom was hoping to watch an organized game or scrimmage, but instead had to settle for a five-on-five pickup game on an outdoor court. He was worried that a sudden cloudburst would scatter the players, and Tim could sense it. Before the game started, he leaned over and assured Odom that, no matter what happened, he could play ball. The weather held and Tim put on a show. That evening, Odom did his best sell job. Tim liked what he heard, and assured Odom that Wake was on the top of his list. However, he said he would not make his decision until the spring of his senior year. Odom left St. Croix knowing he would spent the next several months in agony.
Tim's final year of high school ball saw him average 25 points, 12 rebounds and five blocks per game. When the year was over, he made Odom the happiest man in the ACC.
ON THE RISE
Tim arrived on campus in August of 1993, and headed for the gym. Official practices would not start for several weeks, so he shot by himself and joined some pickup games. When Childress saw him, he bolted into Odom's office and told him there was a tall kid in the gym wiping up the floor with the Demon Deacon starters. If he wasn't on the team, Odom had better get out there and recruit him!
Tim was an eye-opener for a program that historically played poor sister to powerhouse programs like Duke, Maryland and UNC. Here was a center who was putting the ball through his legs, banking balls off the glass at all angles, swishing three-pointers and going coast-to-coast in team scrimmages. Originally, Odom had considered red-shirting his 17-year-old freshman. But his breathtaking all-around game earned Tim—whom Street & Smith described as a "mystery man" in its preseason guide—a starting job when the regular season began. The Demon Deacons needed Tim. The previous year, they had reached the Sweet 16, but Rogers had bolted for the NBA and center Derrick Hicks had graduated. Left without a low-post presence, Childress was the team's only experienced scorer.
Tim's first game was against the University of Alaska in Anchorage. It was the first time time he had ever seen snow—and the first time he was held scoreless on a basketball court. The game was so much faster and complex than the one he had learned on St. Croix that he was afraid to attempt a shot. It took half a season for Tim to find his comfort level shooting against Division I defenders, but he did everything else right, and Wake got off to a strong start.
When the ACC schedule began, Tim held his own at first, but was given multiple facials by Sharone Wright in a meeting with Clemson. Odom called him into his office afterwards, and Tim entered fearing the worst. When he realized the coach was concerned that his confidence had been shattered, Tim started laughing. How much the coach had to learn about his young center!
The rest of the year was a blur—for Wake opponents. Tim seemed to unveil a new pivot move every game, and when teams gave him the outside shot, he drilled it. His bank shot, meanwhile, was almost unstoppable, making him a threat from any distance. Tim led the Demon Deacons to stunning wins over the Blue Devils and Tar Heels, and the team earned an NCAA bid with a 20-11 record. They won their first game and dropped their second, to Kansas, ending a remarkable season. Because of his slow start, Tim averaged just under 10 points a game, but he was grabbing 10-15 rebounds and swatting four or five shots a night in the second half. That summer, he was invited to play for Team USA in the Goodwill Games.
Tim continued to improve in his sophomore season at Wake, becoming a lethal scorer. As the Deacons inched up the national rankings, his name was now being mentioned in the same breath as the three other ACC super sophs: Joe Smith, Jerry Stackhouse and Rasheed Wallace. In a late-season meeting with UNC, Tim held Wallace to four points while scoring 25 himself in a 79-70 win. After the game, Jerry West suggested that Tim might be the top player in the 1995 draft if he chose to leave school. Tim assured everyone he had no intention of going pro until he graduated, even though the NBA was planning to add a rookie salary cap in 1996. He was giving up countless millions, but he was determined to stay in school.
In the ACC Tournament, Wake made it to the championship game against the Tar Heels. Tim took 'Sheed apart once again, pulling down 20 rebounds, and Childress hit a clutch jumper with four seconds left in overtime to seal the win.
In the NCAA Tournament, Wake advanced to the Sweet 16 again, where they met a brutal Oklahoma State team. In a head-to-head confrontation with Big Country Reeves, Tim grabbed 22 rebounds, swatted eight shots, and limited the ultra-physical center to 4-for-15 shooting. But a late turnover by Childress proved to be the difference n a tight game, and State won 71-66.
Tim ended his sophomore year with excellent numbers (16.8 ppg and 12.5), and was named the nation's top defender. Statistically, he was the third-best shot-blocker in NCAA history with 3.98 per game.
With Childress graduated, Tim led an inexperienced team into battle in 1995-96. The presence of sophomore guards Jerry Braswell and Tony Rutland meant Wake's opponents could drop down and double-team Tim on every possession. Rather than forcing shots, he usually zipped the ball back to the perimeter—showing uncommon confidence in his teammates. The shots they missed early in the year they began dropping when the Deacons hit the meaty portion of their ACC schedule. Wake became a tight-knit unit, thanks to a very special kind of leadership shown by Tim.
The Deacons lost only four conference games and beat Virginia, Clemson and Georgia Tech in the ACC tourney to repeat as conference champs. Tim scored 27 points and pulled down 22 rebounds in the finale against Georgia Tech, which gave Wake all it could handle in an extremely tense game.
Unfortunately, Tim came down with the flu as the NCAA Tournament started. He sucked it up and played decently in wins over Northeast Louisiana, Texas and Louisville, but just as he was feeling 100 percent, the Deacons ran into Kentucky. Rick Pitino ordered his players to triple-team Tim, and for once his teammates did not respond to the challenge. Wake's run to the Final Four came up a game short. Tim, named Defensive Player of the Year a second time, finished the year averaging 19.1 points and 12.3 boards per game
As soon as the season ended, everyone wanted to know Tim's plans. Odom called him into his office and pushed two press release across the table. One announced that he was hanging around for his senior season, the other announced that he was entering the NBA draft. Tim couldn't resist. He paused for what seemed like an eternity to Odom before smiling and assuring his coach the he planned to stay.
The 1996-97 Demon Deacons were inserted as odds-on favorites to win it all. Everyone was a year older and wiser, and 7-1 freshman Loren Woods was on the squad, giving Tim a twin tower in the paint. The team's mission was clear: Tim had passed up millions to win an NCAA title. They responded by winning their first 13 games, including victories over Utah and UNC. Wake ascended to #2 in the polls—its highest ranking in school history. Tim was showing off moves that took NBA centers years to learn, slicing through double- and triple-teams, passing out of others, and finding room for quality shots where none appeared to exist.
To Tim's frustration, the Deacons lost momentum down the stretch, and failed to win a third straight conference title. There was more than one smart coach in the ACC, and they had learned how to keep the ball out of Tim's hands. In the NCAA Tournament, Stanford. led by guard Brevin Knight, played a textbook game against Wake and shocked them 72-66.
After his final college game, Tim had an opportunity to assess what was one of the great senior seasons for a college center. His scoring rose to 20.8, though he took fewer shots, averaging 60.6% from the field. He dished out 3.2 assists per game and hauled down 14.7 rebounds to lead the nation. On defense, he shut down plays before they had a chance to develop, winning Defensive Player of the Year an unprecedented third straight season. He also earned first-team All-America honors for the second time, and was everyone's pick for college Player of the Year.
MAKING HIS MARK
Now it was a matter of seeing who got the first pick in the NBA draft. The Boston Celtics and Vancouver Grizzlies—two rebuilding clubs—had the most balls in the hooper, followed by the Spurs, who had gone 20-62 after losing David Robinson for all but six games. When San Antonio beat the odds and got the top selection, Tim was ecstatic. Robinson was back to full strength for the 1997-98 campaign, joined by guards Avery Johnson and Vinny del Negro and forwards Sean Elliott and Chuck Person. With two big-time big men in the lineup, coach Gregg Popovich spent the summer rethinking his offense.
Tim and the Admiral had it all worked out. They shared the ball on offense and complimented one another with their post games. On defense, they were even better. In an early-season contest against the Los Angeles Lakers, Shaquille O'Neal brutalized Tim, snared an offensive rebound and went back up for a monster dunk. Robinson soared across the lane and smashed the ball back into Shaq's face. With the middle clogged in likewise fashion mostnights, San Antonio's opponents resorted to outside shots, and unless they were on fire, the Spurs almost always won. They went 52-26 in Tim's rookie season—their 32-win improvement is still the best in league history. Tim averaged 21.1 points and 11.9 rebounds a game, led the league with 57 double-doubles, and was voted Rookie of the Year and first-team All-NBA.
The Spurs hoped to continue their run and sweep to an NBA title. But the supporting cast was banged up, forcing players to fill unfamiliar roles. Tim tried to do too much in the opener against the Suns and was so bad Popovich had to bench him. At halftime, Phoenix coach Danny Ainge, instructed his players not to double-team Tim anymore—he was your typical overmatched rookie. Tim finished the night with 32 points and 10 rebounds to lead the Spurs to a 102-96 victory. The Spurs won the series in four games, but lost to the Utah Jazz in the following round.
Although everyone had to sit through a protracted labor dispute to begin the 1998-99 season, Tim didn't have to wait long for his first taste of the NBA Finals. The Spurs won 37 of 50 games in the truncated campaign, with Tim going for 21.7 points and 11.4 rebounds a night and winning All-NBA and All-Defensive Team honors. The team on the floor was a year older but a year better, putting less pressure on the aging Admiral. Mario Elie, a member of the champion Rocket teams, became the Spurs' most effective bench player after coming over from Houston.
Tim faced down Minnesota's Kevin Garnett in a first-round victory over the T-Wolves, and then ran roughshod over the Lakers in a surprising four-game sweep. San Antonio also took four straight in the West finals against the Portland Trailblazers to set up a championship meeting with the overachieving Knicks. Led by Tim's dominant play, the Spurs won the first two and last two in a five-game wipeout of New York. Tim was the easy pick for MVP.
The Spurs continued to age in 1999-2000, and it was beginning to show. Tim stepped up his performance, pouring 23.2 points a game. But despite 53 wins, the team did not always have enough in the tank at the end of close games. This caught up to them in the first round of the playoffs, when the Suns beat them in four. Tim was injured and missed the entire series. Still, he was once again selected All-NBA and All-Defensive team, but he was saddened by what he felt might be a rebuilding period on the horizon.
To his delight, the Spurs played well throughout the 2000-01 campaign and finished with a league-high 58 victories. Derek Anderson, one of Pitino's Kentucky stars, joined the club as a free agent and averaged 15.5 ppg while running the offense along with Johnson, Antonio Daniels and Terry Porter. Tim put up his usual numbers and won his usual awards, and everything seemed right as the Spurs annihilated Minnesota in the first round of the playoffs. Tim was a rebounding machine in these playoffs, as San Antonio continued its run with a 4-1 victory over the Mavs. It all came crashing down against the Lakers, however, as Shaq and Kobe Bryant orchestrated a four-game sweep, turning the tables from a couple of years earlier.
The Spurs returned essentially the same team to the court in 2001-02, with veteran Steve Smith logging valuable minutes in place of Anderson, who was dealt to the Blazers for a draft pick. Also emerging as valuable players were Bruce Bowen, a defensive specialist inked over the summer, and rookie Tony Parker, who replaced Johnson at the point. Tim continued his rise toward Hall of Fame status, but Robinson was clearly in decline, and Popovich spelled him frequently with burly Malik Rose. This all added up to another 58-win season, and another showdown with the Lakers, this time in the second round of the playoffs. After splitting the first two in L.A., the Spurs dropped the next two at home and the Lakers went on to win Game 5 for a 4-1 series victory.
Tim took little consolation in his best season to date. Despite averaging 25.5 points, leading the NBA in rebounds, field goals and free throws, and winning the MVP award, he believed the Spurs had not yet achieved what they were capable of.
Robinson, meanwhile, announced that the 2002-03 campaign would be his last. He wanted one final shot at a title, and believed Tim could elevate his game to get the Spurs there. Popovich restructured his rotation to make the most of the Admiral's minutes, and gave increased playing time to Rose, Bowen, Stephen Jackson and Manu Ginobili. Parker nailed down the point guard job for good and was a pleasant surprise in the scoring department, averaging more than 15 a game. The Spurs went 60-22 and were in excellent shape for the playoffs.
As for Tim, he enjoyed a second straight MVP season, averaging 23.3 points, 12.9 rebounds and 3.9 assists. Some fans felt that New Jersey's Jason Kidd deserved the award, so it was only right that the two stars should meet in the NBA Finals. After hard-fought series wins over the Suns, Lakers and Mavericks, the Spurs met the Nets in a grinding defensive battle that saw the teams knotted after four games. Tim took over in the final two contests, keying a pair of wins, and the Spurs had their championship. Tim was a whirlwind in Game 6, swatting a record-tying eight New Jersey shots. He finished with 32 for the series, establishing a new mark. He was named MVP of the finals for the second time.
It took a year to adjust to life without the Twin Towers, but it was still a good year for the Spurs, who won their last 10 games heading into the playoffs. Tim netted 22.3 per game and finished second in the league in rebounding to Garnett, who walked away with the MVP award. Robinson's shoes were filled by Rasho Nesterovic and Robert Horry, another player with championship experience. The Spurs swept Memphis in the first round of the playoffs, but could not overcome the Lakers in the next round. Tim watched the Pistons pick apart L.A. in the finals and wondered how San Antonio would have done against Larry Brown's no-stars. He only had to wait a year to find out.
With Shaq gone to Miami and Kobe up to his eyeballs in legal woes, the Lakers were a non-factor in the West, enabling the Spurs to build a team for the playoffs. Tim got his 20 points and 10 rebounds most nights, and watched as Ginobili went from a bench guy to a big-time player. Parker continued to mature at the point, Bowen made All-Defense for the second straight season, and the Spurs got excellent contributions from Nazr Mohammad and Brent Barry. San Antonio won 59 games and were almost untouchable at home, losing just three games all year. The Spurs could out-score you, out-hustle you, out-rebound you and out-defend you. Entering the post-season, they were the team to beat.
The playoffs opened against the Nuggets, and after an early scare the Spurs hammered Denver in five games. In the second round, San Antonio beat the Sonics twice at home, and then lost two in Seattle. Tim stepped up and led his team to victories in Games 5 and 6 to close out a worrisome series.
The West finals brought on the Suns and MVP Steve Nash. This, the experts said, would be the best series of the spring. Could the San Antonio D clamp down on Phoenix, or would the Suns run them out of the building? Popovich had a surprise up his sleeve for Nash & Company, as he allowed his troops to beat the Suns at their own game. It was over in five, as the Spurs advanced against the defending champion Pistons.
The 2005 NBA Finals promised to be a bruising affair, as both teams featured grinding defenses and only Tim stood out as superstar-level scorer. Of course, he had to contend with his old college nemesis, Rasheed Wallace, and be wary of Ben Wallace, the league's premier help defender. In the first two games, in San Antonio, Tim had his way with the Detroit defense and Ginobili scored at will as the Spurs embarrassed the Pistons with two blowouts.
As millions of fans tuned away, Detroit fought their way back. They ganged up on Tim and forced him to receive the ball farther from the basket, which clogged things up at mid-range, where San Antonio had done much of its damage in the opening contests. The Pistons took the next two games to even the series, and nearly stole Game 5, but the Spurs survived in overtime to take the series back to San Antonio up a game.
Detroit showed its grit and edged the Spurs in Game 6 to force a seventh game. The Pistons built an early lead in the decider, but as the second half wore on, it became increasingly difficult for either team to score. Midway through the third quarter, Tim dug deep and found what he needed to end the stalemate, and seized control to give his team a lead they would never relinquish. The Spurs won their third championship, 81-74, and Tim was named Finals MVP.
Unlike most teams that win a basketball championship, the Spurs were not built to be torn apart. The role players are role players, the starters are solid but not superstars, and there is enough rising talent to offset any declines from age and injury. Unless, of course, Tim is the one who slows down. Barring a catastrophe, that's not likely. Tim is on top of his game, yet still a student of it. He will add dimension as goes, staying a step ahead of the defense, while continuing to patrol the paint as well as the elite centers in NBA history.
With his third Finals MVP, Tim must now be considered among the 10 greatest players in league history. Who those 10 are is a subject of endless debate. But there can be no arguing this—where Tim ends up on that list will be one of the great stories of the decade.
TIM THE PLAYER
Tim is not only a freakishly good athlete, he is a freakishly talented center. Indeed, there is very little he cannot do with a basketball in his hands. Tim is hard to strip, hard to block and hard to stop, because if you stop one move, he usually has a counter-move that follows. He has a wonderful touch around the rim, and his bankshot is one of the NBA's great old-school moves. He is also one of the best-passing big men.
It's what Tim can do when the ball is not in his hands that truly sets him apart. He is so agile and has such quick feet, that he can wait an extra beat on plays and still beat his man to a spot. This comes into play when he must jump out on a perimeter shooter—he closes out incredibly quickly for a big man, without flying past the shooter or fouling him.
He also understands how to use his body on rebounds, and his long arms and sure hands mean once a ball is in his grasp, it is likely to stay there. Oh, about those hands. Few men his size have ever had softer ones, or exhibited finer control when shooting, passing and dribbling.
Tim gets frustrated at times, but his great focus and concentration enable him to analyze and adjust smoothly when things aren't going his way. Though less vocal than his mentor, David Robinson, he is every bit the leader of the Spurs, and like the Admiral, one of the NBA's all-time great go-to guys.
EXTRA
# Tim has worn his shorts backwards in practice since his college days.
# Tim won the NBA Rookie of the Month award every single month in 1997-98.
# According to Dave Twardzik, Warrior GM at the time, had Tim come out after his sophomore year Golden State would have made him the first overall pick in the draft.
# Tim was the first rookie since Larry Bird to be named first-team All-NBA.
# Tim reached the 10,000-point 5,000-rebound mark faster than all but 12 players in NBA history.
# Tim was just the ninth player to win back-to-back MVPs.
# Tim's six straight first-team All-NBA selections from the start of his career matched Elgin Baylor, Larry Bird, George Mikan, Bob Pettit and Oscar Robertson.
# Tim's teammate like to call him "Dunc."
# Tim did not avoid tough courses in college. He took anthropology, psychology and Chinese literature during his senior year at Wake Forest.
# Tim earned a bachelor's degree from Wake in Psychology.
# Tim is playing in the right town from a culinary standpoint. He has loved Mexican food his whole life.
# Tim is a knife and sword collector. He owns several historic pieces, including an authentic samurai sword.
# Tim is fascinated by Merlin from the Camelot legend. He has a tattoo of Merlin on his arm.
# Since childhood, Tim's favorite music has been Reggae.
# Tim says reading the book, The Hurried Child (by David Elkind), was what made him stay at Wake all four years. The book discusses the perils of forcing big responsibilities on young people.
Read more
Latest headlines