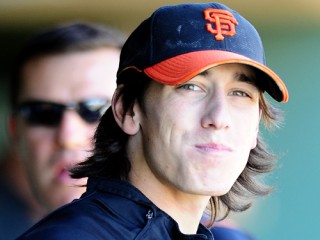 Tim Lincecum biography
Date of birth : 1984-06-15
Date of death : -
Birthplace : Bellevue, Washington
Nationality : American
Category : Science and Technology
Last modified : 2010-11-04
Credited as : Baseball player MLB, pitcher with the San Francisco Giants ,
Timothy LeRoy Lincecum was born on June 15, 1984 in Bellevue, Washington. His parents, Chris and Rebecca, welcomed their first son, Sean, four years earlier. The family was active, and the boys loved sports.
Chris and Rebecca were big music fans. The car radio was usually tuned to a rock station. Tim was enamored by the Beatles and had an amazing ear for lyrics. Today, teammates often refer to him as "the human juke box."
Chris had a technical job with Boeing. Blessed with an analytical mind, he was constantly poring over data in an attempt to build a better airplane. This practice spilled over into another obsession, throwing a baseball. A great pitcher in his younger days, Chris learned how to grip a curveball at age six. By his teens, he was thinking of a pro career, but a serious injury to his back ended his big-league aspirations. His fascination with pitching mechanics, however, only grew.
Sean was the first to benefit from his dad's knowledge. Tall and beefy, he had the frame for success in any sport. Not only did Sean excel on the mound, he was a terror on the football field.
Tim, by contrast, was much smaller and more wiry than this big brother. He would tag along with Sean and his dad during their pitching sessions and mimic everything he saw. As it turned out, Tim had the perfect body for Chris's unique windup, a series of torso turns and arm whipping action punctuated by a long stride toward the plate. In recent years, coaches, writers and broadcasters have speculated that Chris developed his signature ptiching motion by studying Sandy Koufax. He says the delivery is completely his own creation.
Chris and Rebecca worked in tandem to help push along Tim's career. His mother drove him to and from practice and games. His father focused on Tim's performance on the hill. Chris videotaped his son's games, and the two analyzed each outing together. Chris also developed a series of hand signals for Tim. During games, he would flash them to his son, letting him know when he was making mistakes in his mechanics.
While Sean's career stalled after he broke an arm, Tim continued to improve—though his coaches didn't always recognize it. Tim was normally chosen for All-Star teams as a kid, but he spent most his time watching from the bench. The problem was his size. He was so much smaller than his teammates that he rarely got a chance to play.
When Tim entered Liberty High School in Renton, he stood just 4-11 and weighed all of 85 pounds. Incredibly flexible, the teeanger was much stronger than he appeared, thanks mostly to a weight training program devised by Chris. Tim could do a back flip from a standing start and walk across the room on his hands.
Tim made the varsity for the first time as a junior. By then, he had sprouted by nearly 12 inches. Tim had a great year for the Patriots, going 4-2 with a 0.73 ERA. He struck out 86 batters in 49 innings.
Tim soon began to attract the attention of college coaches in the area. Ken Knutson, the head baseball man at the University of Washington, came to Liberty for a visit. Initially, he thought someone was pulling a fast one on him —until he saw Tim throw off the mound. Then Knutson was convinced.
Tim was lights-out for Liberty High in his senior year. Named Washington's Gatorade Player of the Year, he led the Patriots to the Class 3A state championship. Tim went 12-1 with a 0.70 ERA and 183 strikeouts in 91.2 innings. He was an easy selection as Liberty's MVP and First Team All-State.
ON THE RISE
Tim's season—and his prospects as a major leaguer—seemed to change almost instantly during one game. He had always thrown hard, but his mechanics suddenly began to click perfectly. With scouts in attendance, his velocity jumped into the 90s. The Chicago Cubs were impressed enough to spend a draft pick on him. Tim turned them down, settling instead on the Huskies. Knutson promised that he would not fiddle with Tim''s mechanics
Not that Knutson needed to. Tim was sensational in his first year with Washington, becoming the first player ever to be named Pac-10 Freshman of the Year and Pac-10 Pitcher of the Year. He led the conference in strikeouts, and only Long Beach State's Jered Weaver averaged more Ks per nine innings. Tim was dominant from the start of the season to the end. His best outing came against Loyola, as he threw one-hit ball and fanned 15 over six innings.
That summer, Tim joined the Seattle Studs, an amateur team that played in tournaments all over the country. He led the club to the National Baseball Congress World Series, where he won one game. Baseball America later named him the top prospect in the Pacific International League.
Tim continued his mastery over Pac-10 hitters during his sophomore year. An all-conference selection for the second season in a row, he allowed a measly .179 batting average against him. Over his last nine starts, he surrendered just 32 hits and 17 earned runs.
The Cleveland Indians were among the teams drooling over Tim's potential. They drafted him the 42nd round, but Tim again said no to the big leagues.
Instead, he traveled to the East Coast to pitch for the Harwich Mariners in the Cape Cod League. Used as a starter and reliever, Tim went 2-2 with seven saves and a 0.69 ERA. Again, Tim's fortunes benefited from another amazing single-inning performance. During the CCL All-Star Game, with scouts in full attendance, he registered 98 mph on the radar gun. His pro stock jumped immediately.
Tim entered his junior year with the Huskies as one of the nation's top college prospects. He proceeded to have a season for the ages, setting school records with 12 wins and 199 Ks. Tim was named National Player of the Week by Collegiate Baseball six times and made the College Baseball Foundation's weekly honor roll seven times. He was voted Pac-10 Pitcher of the Week after striking out 16 in eight innings against Oregon State. In a shutout of UCLA, he went the distance and fanned 18.
Tim consistently threw in the high 90s and was clocked at 101 mph at one point. During one stretch, he went 37 innings without giving up a run. Baseball America ranked him as the country's second-best amateur prospect, and he won the the Golden Spikes Award as the nation's best amateur baseball player.
Still, a lot of teams weren't convinced. Some scouts saw Tim's small frame and assumed he wouldn't be able to handle the rigors of pro ball. Nine clubs passed on him before the Giants selected him with the 10th pick in the 2006 draft. Even then, San Francisco GM Brian Sabean referred to him as "Tiny Tim."
Tim joined the Giants a short time later and breezed through his first two stops in the minors. In four innings for the Salem-Keizer Volcanoes in the Low-A Northern League, he whiffed 10 and gave up just one hit. That was all the Giants needed to see, as they moved him to Class-A San Jose. There, Tim went 3-0 with 58 strikeouts in 34 innings, including a great performance in the playoffs.
For the 2007 season, the Giants promoted Tim to the Fresno Grizzlies of the Pacific Coast League. He made Triple-A batters look silly. Tim surrendered a single run in 31 innings and didn't allow a hit with runners in scoring position. After five brilliant starts, he got the call from the big club. Veteran starter Russ Ortiz was hurt, and the Giants felt Tim had nothing left to prove in the minors.
MAKING HIS MARK
Tim made his debut against the Philadelphia Phillies and struck out the side in his first inning of work. The Phils later tagged him for five runs, but it was clear he had electric stuff, even by big-league standards. Tim earned his first victory in early May when he shut down the Rockies in Colorado.
Over the next six weeks, Tim took his lumps. By late June, however, he began to feel comfortable. July was his best month, as he strung together a four-game winning streak. He finished at 7-5 with a 4.00 ERA, and topped all NL rookie hurlers with 150 Ks.
Tim's first season was a great ride, save a personal tragedy. His maternal grandfather, Grandpa Asis, passed away, news that saddened Tim greatly. He spent time on the bereavement list and then returned to action. Tim was in uniform when Barry Bonds hit #756 to pass Henry Aaron and become baseball's all-time home run king.
During the winter, the Giants looked long and hard at their roster, eager to find the right mix of players to contend in the NL West. With Bonds ushered out of town, the team needed a power hitter. San Francisco considered swapping Tim for Alex Rios of the Toronto Blue Jays, but thought better of it. Instead, they kept him as the centerpiece of a talented young rotation that included Matt Cain and Jonathan Sanchez. The Giants would likely struggle to score runs, but their pitching—even with the disappointing Barry Zito—appeared solid.
Tim opened the year on a roll, winning four of his first five decisions. By the end of May, he was 7-1 and averaging more than a strikeout per inning. Hitters were helpless against him. Teammates marveled at his velocity and command. Fans loved his story, especially the faithful in San Francisco. Tim revitalized the moribund franchise. Tickets sales jumped for his starts, and the media couldn't get enough of him.
Many thought Tim would start the All-Star Game, but he pitched the weekend before and was unable to go. As it turned out, Tim didn't even make it to the National League dugout for the Mid-Summer Classic. He was felled by "flu-like" symptoms and dehydration, and spent a night in the hospital.
Tim returned to his regular spot in the rotation but struggled somewhat in July. By August, however, he was back in top form. Tim started six games during the month, won four of them and posted a 1.27 ERA. Outside of two poor outings in September, he finished strong. His final numbers—an 18-5 record, 2.62 ERA, 265 strikeouts and just 182 hits in 227 innings—were eye-popping. What made Tim's season all the more remarkable was the fact that the Giants ended the year 18 games under .500.
A bit of intrigue remained for Tim after the conclusion of the '08 campaign. The competition for the NL Cy Young was fierce, with Brandon Webb, Johan Santana and Brad Lidge among those in the running. When it came time for the voting, however, the baseball writers saw one clear candidate. Tim received 23 first-place ballots to become the first righty to claim the award since Dwight Gooden and Bret Saberhagen in 1985.
Tim was just as dominant in 2009, as batters hit 15 points lower against him than the year before. He was anointed the NL's All-Star starter and seemed destined to win 20 until the Giants stopped hitting in August and September. He finished with only 15 wins against seven losses, a league-high 261 strikeouts, and a 2.48 ERA.
When the Cy Young votes were tallied, Adam Wainwright of the Cardinals had the most first-place votes, but Tim outpointed him (by 10) and his St. Louis teammate Chris Carpenter (by 4) for his second straight award. The honor was something of a surprise. No fulltime starter had ever won the Cy Young with so few wins in anything other than a strike-shortened season.
The Giants improved by 16 wins in 2009, finishing third in the NL West and four games out of Wild Card contention. The team went into 2010 with a talented and maturing starting staff that included Tim, Cain and Sanchez and Wilson as the closer, but little else. The experts predicted that San Francisco would have trouble matching the previous year's 88 victories.
The pitchers kept the Giants within striking distance of the division-leading Padres, and as the summer unfolded manager Bruce Bochy was able to cobble together a passable offense from spare parts like Aubrey Huff, Andres Torres, Juan Uribe and Pat Burrell. The critical spark was provided by rookie Buster Posey, who hit like an All-Star and did a good enough job behind the plate to make the staff forget about Benjie Molina, who was traded away after Posey's arrival. The Giants won nine of their final 13 games to edge San Diego by one. They needed a clutch 3–0 win from Sanchez over the Padres on the final day to clinch the division.
Tim enjoyed another sparkling season. He went 16–10 and led the league in strikeouts for the third year in a row with 231. He also set a major league record for the most strikeouts in the first four years of a career. Tim's ERA jumped to 3.43 due to an August mini-slump, during which his velocity dropped and he lost five games in a row, Fans and the media questioned whether he showing the wear and tear from the innings and pitches he had piled up the last few seasons.
Working with Dave Righetti, Tim was able to correct some flaws in his delivery and regain in his mastery. But while he struggled, he learned a thing or two about pitching without his best stuff.
The Giants handed Tim the ball in Game 1 of the NLDS, as they hosted the Wild Card Atlanta Braves. He had his best stuff on this night. Having won five of his last six starts in the regular season, he mowed down the Braves inning and after inning, eventually totaling 14 strikeouts against a meager two hits in a 1–0 victory. Had Roy Halladay not no-hit the Reds the day before, the baseball world would have been buzzing. In the end it was just another ho-hum Freakish performance. Tim's win set the Giants on their way to a series win, as they beat Atlanta in four close games.
Tim followed his victory in the NLDS with a win in Game 1 of the NLCS in Philadelphia. Without his best stuff, he worked his way through seven innings, surrendering just three runs. The outing was most notable for the fact that Tim out-pitched Roy Halladay, who was coming off a no-hitter in the first postseason appearance of his career.
Tim was even better in his next outing, Game 5 in San Francisco. But this time Halladay found a way to beat him. The Phillies rallied for three run in the third inning after some shoddy defense by the Giants. That was all that Halladay needed to extend the series.
Two days later, the Giants closed out the series with a 3-2 victory. Tim entered the game in the eighth to serve as a bridge to Wilson. He didn't have his best stuff and left with one out and two runners on. The Phillies learned the meaning of "Fear the Beard," as Wilson snuffed out the threat and then threw a scoreless ninth. The Giants were going to the World Series for the first time since 2002.
San Francisco faced the Texas Rangers, a team with lots of offensive firepower and baseball's best lefty starter in Cliff Lee. Game 1 ended in a surprising 11-7 win for the Giants. Tim wasn't particularly effective, but the San Francisco bats hammered Lee. Freddy Sanchez doubled in his first three at-bats, and Juan Uribe belted a three-run homer in a six-run fifth inning.
From there, San Francisco's formidable staff did its job, and the Giants picked up one timely hit after another. Tim took the mound for the clincher in Game 5, again opposed by Lee. This time, Tim was spectacular. He went eight innings, surrendring just three hits and one run while strking out 10. Edgar Renteria provided the decisive blow with a three-run homer off Lee in the seventh. The Giants celebrated a 3-1 victory—and their first World Series title since moving to San Francisco.
As Tim's career unfolds, comparisons to the likes of Sandy Koufax and Ron Guidry are inevitable. Like them, he's a little guy with a big arm. But neither Koufax nor Guidry enjoyed the kind of success Tim has enjoyed at such a young age. In today's world of overgrown stars with over-inflated egos, Tim is proving that bigger isn't always better.
TIM THE PITCHER
Tim is tough on hitters for a number of reasons. Of course, there's his unorthodox delivery. He hides the ball well, and many big-league hitters are unaccustomed to his long arm motion. But Tim's unique wind-up overshadows an obvious fact—he has terrific stuff. His fastball is overpowering, and his curve is a classic vertical breaker. Tim also has a good slider and changeup. He relies most often on his heater, which makes his off-speed offerings all the more potent.
Because of his whirldwind delivery, Tim must be spot on with his mechanics. One key for him is keeping his left shoulder aimed at his target for as long as possible. He also takes an unusally long stride, which means the landing point for his left foot is crucial as well.
Tim also embraces a different approach to pitching away from the field. For example, he never ices his arm. Before his starts, Tim is talkative and fun—no different than his personality the day after a gem. This makes him a great teammate and a good leader.
EXTRA
* Tim was a great hitter in high school, batting nearly .400. But after he hurt his back, his coaches always used a DH for him.
* Tim also played football and basketball at Liberty High School.
* In 2004, Tim became the first freshman to lead the Pac-10 in strikeouts since Bill Bordley in 1978.
* In the summer of 2005, Tim was named a Cape Cod League all-star and pitcher of the year for the Harwich Mariners.
* Tim holds career records at Washington for wins (30), starts (51), innings (342), walks (216) and strikeouts (491). He is also the all-time strikeouts leader in the Pac-10.
* In 2007, Tim became the second quickest Giant to register 100 strikeouts at beginning of career (in 91 innings). Masanori Murakami set the mark at 100 Ks in 88.1 innings in 1964.
* In 2007, Tim joined John Montefusco (215 in 1975), Matt Cain (179 in 2006) and John D'Acquisto (167 in 1974) as only San Francisco pitchers to lead NL rookies in strikeouts.
* Tim had eight double-digit strikeouts games in 2009, including a 15-K performance against the Pittsburgh Pirates.
* im's two shutouts in 2009 tied for the NL lead.
* In 2010, Tim became the 12th pitcher to strikeouts 14 or more hitters in a postseason game. The last pitcher to do so was Roger Clemens, who fanned 15 in the 2000 ALCS against the Seattle Mariners.
* Tim was the first San Francisco pitcher to lead the NL in strikeouts in back-to-back seasons, and the first Giant since Christy Mathewson to do so. Both hurlers led the NL three straight seasons.
* Tim was the first pitcher to win the Cy Young Award in his first two full seasons. He was the NL's first back-to-back Cy Young winner since Randy Johnson, who was a teammate on the 2009 Giants.
* Tim loves the Beatles. But though he's from Washington, he doesn't like grunge rock. It's not unusual to catch Tim singing the classics.
* Tim polishes his spikes before every start.
* If Tim could spend one day with a famous person, it would be Sandy Koufax.
* Tim's favorite TV show is "Family Guy."
* Tim's parents split up in 2002.
* Tim made his high school varsity golf team even though he had played just 27 holes in his life when he tried out.
* Tim graduated from Liberty High with a 3.25 grade point average.
* Tim has a bulldog named Cy.
Read more
Latest headlines