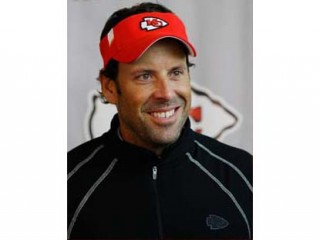 Todd Haley biography
Date of birth : 1967-02-28
Date of death : -
Birthplace : Atlanta, Georgia, U.S.
Nationality : American
Category : Sports
Last modified : 2010-09-14
Credited as : Football coach NFL, coach of Kansas City Chiefs, NFL Draft
Todd Haley
enters his second season as Head Coach of the
Kansas City Chiefs
in 2010. Haley was named to that post by Chiefs Chairman Clark Hunt on February 6, 2009.
The second-youngest head coach in franchise history at 44 years old, Haley consistently pushes his players with a passionate and demanding approach that has already paid dividends for the franchise. By consistently setting high expectations and instilling an atmosphere of accountability in the locker room, Haley has firmly put his stamp on the Chiefs heading into the 2010 campaign.
Haley enters his 16th season in the NFL in 2010 and his 14th campaign as a coach in the league after beginning his pro career as a scouting assistant with the N.Y. Jets in '95. Haley is one of six current NFL head coaches who at one time served as an assistant under Bill Parcells, working six seasons with the highly-respected coach with the N.Y. Jets ('97-99) and Dallas (2004-06).
Haley pairs with General Manager Scott Pioli to give the Chiefs organization a highly-motivated, like-minded leadership tandem vividly focused on building Kansas City into a franchise that can compete for championships on a consistent basis.
Clearly, Haley and Pioli are a duo familiar with returning organizations to pro football prominence. Haley served on the coaching staff, while Pioli was the Director of Pro Personnel for a N.Y. Jets franchise that reached the '98 AFC Championship Game after finishing 1-15 in '96.
"One of Todd's unique qualifications is the fact that he's served with a number of different organizations, four in particular that have turned their franchises around," Pioli observed. "We have a shared vision of what it takes to build a successful franchise in the National Football League."
The Chiefs made dramatic strides in all three phases of the game under Haley in 2009. The Chiefs improved in 25 different statistical categories during the season's final eight games compared the year's initial eight contests.
Kansas City led the NFL over the final eight games of the 2009 campaign, averaging 5.2 yards per carry. The Chiefs averaged 142.6 rushing ypg game during the second half of the 2009 campaign, an improvement of 44.1 ypg compared to the season's first eight games.
Under Haley's direction, the club registered 346.3 ypg of total offense in its final eight games, 86.2 more yards per game than it did in the season's first half. The Chiefs also registered four of their five return scores in the season's last eight contests. Over that final eight-game span, the Chiefs improved their third-down percentage on both offense and defense, while permitted half as many sacks.
The Chiefs ranked fifth in the league in fourth-quarter scoring with 118 points in 2009. The four clubs that had more points in the final period all qualified for the postseason (Green Bay, Minnesota, New Orleans and San Diego). In addition, Kansas City forced 19 of its 28 takeaways (67.9%) in the season's final eight games. The Chiefs also scored four of their return TDs in the second half of the 2009 campaign.
In total, Kansas City improved in 30 different statistical categories last season compared to 2008. The Chiefs led the NFL in Red Zone scoring percentage (89.5%) and joined Tennessee as the only other club not to commit a Red Zone turnover.The Chiefs finished 11th in rushing offense (120.6 ypg) in 2009. Kansas City tied for fifth in the league with four TD runs of 20+ yards after producing no rushing scores from that distance in 2008.
Defensively, the Chiefs finished eighth in the NFL in three-and-out percentage (24.4%) and 15th in third-down defense (38.1%) after ranking 31st in both of those areas just one year earlier. Kansas City allowed seven fewer rushing TDs in 2009 and tied for fifth in the league in points allowed on its initial defense possession after tying for 20th during the 2008 campaign.
Perhaps the area where Kansas City made its most substantial progress was on special teams. The Chiefs improved to 12th in 2009 from 29th in 2008 in the comprehensive NFL special teams rankings compiled by Rick Gosselin of the Dallas Morning News. In fact, only Dallas, Arizona and Miami made bigger leaps in those rankings than the Chiefs.
Kansas City was fourth in net punting (40.8) and was seventh in opponent punt return average (7.1) a year ago. The Chiefs ranked third in the NFL with eight special teams penalities after tying for 22nd with 17 penalties in the kicking game in 2008.
Haley's squad also registered three road victories in 2009, tying for the highest total by a first-year coach in franchise annals. In addition, the Chiefs also evolved into a more disciplined team, finishing eighth in the league with 84 penalties.
Haley joined the Chiefs after a two-year stint as offensive coordinator of the Arizona Cardinals (2007-08). During his tenure with the Cardinals, he helped revitalize a franchise that hadn't reached the NFL title game since '47. In just his second season in Arizona, the Cardinals enjoyed a remarkable renaissance, winning the club's first division title since '75. Arizona enjoyed a sensational postseason run, reaching Super Bowl XLIII thanks in large part to Haley's explosive offensive unit.
In addition to his tenure with the Cardinals, Haley enjoyed previous NFL coaching experience with Dallas (2004-06), Chicago (2001-03) and the N.Y. Jets ('97-00), earning playoff berths with all four of those franchises.
Under Haley, the Cardinals offense was one of the league's most explosive units in 2008. Arizona tied for third in the league, registering a franchise-record 427 points (26.7 ppg). The Cardinals were fourth in total offense, averaging 365.8 yards per game. Arizona was second in the league in passing offense (292.1 ypg) and ranked sixth in the NFL with 20.5 first downs per game.
Haley's offensive unit in Arizona featured a trio of Pro Bowl performers in 2008. QB Kurt Warner led all NFC passers and established single-season franchise records with a 96.9 rating and 30 TD passes. Warner threw for 377 yards and three TDs in Super Bowl XLIII.
Meanwhile, WRs Larry Fitzgerald and Anquan Boldin formed the league's most potent receiving tandem. Fitzgerald led all NFC receivers with 96 catches for 1,431 yards with 12 TDs. He enjoyed a seven-catch, 127-yard, two-TD performance in Super Bowl XLIII and set NFL postseason records for receptions (30), receiving yards (546), TD receptions (seven) and 100-yard games (four) during the 2008 playoffs. Boldin had 89 receptions for 1,038 yards with 11 TDs during the regular season, while WR Steve Breaston had 77 receptions for 1,006 yards, making the Cardinals just the fifth team in NFL history to boast three 1,000-yard receivers in a single season.
Arizona's offensive resurgence began when Haley joined the Cardinals as offensive coordinator in 2007. That season the Cardinals ranked fifth in the league in passing (254.1 ypg) and set a single-season franchise record with 32 TD passes. Arizona was also second in the NFL with a 94.0 Red Zone scoring percentage. The Cardinals ranked seventh in the league in scoring by averaging 25.3 ppg after ranking 19th in that category in 2006 (19.6 ppg). The Cardinals also rose to 12th in total offense (344.1 ypg) in 2007, an improvement of 31.6 ypg after ranking 18th in that category one year earlier.
He joined Ken Whisenhunt's staff in Arizona after serving a three-year stint as passing game coordinator/wide receivers coach for Dallas (2004-06). In 2006, the Cowboys offense ranked fourth in the NFL in passing (239.8 ypg) as QB Tony Romo became a Pro Bowl performer.
Haley's passing attack helped the Cowboys finish fourth in the league in scoring (26.6 ppg) and second in third-down efficiency at 48.8%. Dallas boasted a pair of 1,000-yard pass catchers in WRs Terrell Owens and Terry Glenn. In 2005, Glenn averaged 18.3 yards per catch to tie for the NFL lead and posted 1,136 receiving yards, the first 1,000-yard campaign by a member of the Cowboys since '99. In his debut with the Cowboys in 2004, WR Keyshawn Johnson recorded 70 catches for 981 yards and six TDs.
Haley joined the Cowboys after a three-year tour of duty as wide receivers coach for Chicago (2001-03). In 2001, the Bears went 13-3 and won the NFC Central for the first time since '90 as WR Marty Booker set a single-season franchise record with 100 catches. Under Haley's tutelage in 2002 Booker became just the second player in franchise annals to post back-to-back 1,000-yard campaigns, becoming Chicago's first Pro Bowl wide receiver since Dick Gordon in '71.
His initial NFL experience came as a member of the N.Y. Jets ('95-00), where he served as that club's wide receivers coach from '99-00. In his initial season in that capacity, he helped WR Keyshawn Johnson earn his second straight Pro Bowl berth as he accumulated 89 receptions for 1,170 yards and caught eight TDs in '99.
In addition to developing a lasting relationship with Pioli during his tenure with the Jets, eight current Kansas City assistant coaches were associated with that team during Haley's tenure. Haley worked as an offensive assistant/quality control coach for the Jets ('97-98), sharing a cramped office with current Chiefs offensive coordinator Charlie Weis, who held that same capacity in New York. Current Chiefs defensive coordinator Romeo Crennel was also a member of that Head Coach Bill Parcells' staff along with current Chiefs assistants Maurice Carthon and Bill Muir. Meanwhile, Richie Anderson, Bernie Parmalee, Anthony Pleasant and Otis Smith were all players on that squad.
He began his NFL tenure as an assistant in the Jets scouting department in '95, where he scouted regionally and assisted in player evaluations.
Born on February 28, 1967 in Atlanta, Georgia, Haley attended Upper St. Clair High School in Pittsburgh, where he was a multi-sport standout. He was a member of the golf squads at the University of Florida and the University of Miami and participated in the NCAA golf tournament during his time with the Gators.
Haley earned a degree in Communications from the University of North Florida in '91. He was the recipient of the University of North Florida's 2009 Distinguished Alumni Achievement Award, presented at the school's Alumni Homecoming Dinner in Jacksonville, Florida. The Distinguished Alumni Award is the most prestigious honor a UNF graduate can receive from the University of North Florida Alumni Association.
Haley and his wife, Chrissy, have four daughters: Taylor, Peyton, Kady, and Ella and one son, Richard Todd, Jr.
Read more
Latest headlines