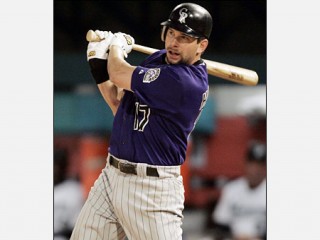 Todd Helton biography
Date of birth : 1973-08-20
Date of death : -
Birthplace : Knoxville, Tennessee
Nationality : American
Category : Sports
Last modified : 2010-10-29
Credited as : Baseball player MLB, first baseman with the Colorado Rockies ,
GROWING UP
Todd Lynn Helton
was born on August 20, 1973 in Knoxville,Tennessee. The second of Jerry and Martha Helton's three children, Todd already had an older brother, Rodney. Younger sister Melissa rounded out the family (not including the Helton's two beloved dogs, Boz and Nike).
The Helton home was an intriguing mix of brains and brawn. Martha's father, Don Ferguson, was an internationally recognized scientist who ran the Chemical Technology Division of Oak Ridge National Laboratories. He also helped develop the atomic bomb in the 1940s. Martha's apple didn't fall far from the tree. Jerry, by contrast, was the classic jock. During his teenage years, he was one of Knoxville's best athletes.
Rodney displayed real potential as a youngster, and Todd showed even more. Jerry wanted to make sure his sons utilized their talent to the fullest. Both liked baseball, so he spent countless hours throwing BP, pounding out ground balls for fielding practice and teaching them drills to increase their agility.
From a young age, Todd seemed more mature—physically and mentally—than his friends. Jerry set up a batting cage, and Todd was taking his cuts by his fifth birthday. His dad also crafted a batting tee from a washing machine hose, which Todd used in the garage. He learned to go the other way with the ball, because pulling it usually meant a dent in the family boat. Todd loved to work hard. At age six, when he suited up for his first taste of organized ball, he was easily the league's top hitter.
Baseball wasn't Todd's only game. He also played football and basketball, and grabbed his fishing pole whenever he had spare time. His favorite angling spot was a chunk of land called "Big Foot."
Todd was definitely a chip off the old block. Jerry, an All-State performer in football and baseball, chose the latter coming out of high school in 1968 and signed a deal with the Minnesota Twins. A power-hitting catcher, he rattled around for a couple years in the minors, playing next to future major leaguers Steve Brye and Ray Corbin. In 1970, when Jerry realized that pro ball wasn't in the cards, he called it quits and got a sales job to support his growing family.
Martha's influence on Todd was seen in the way the youngster attacked his schoolwork. Todd's family can remember only once when he came home with a grade lower than an A on his report card. His teachers adored him, and he got along extremeley well with his classmates.
Todd also had a great role model in Rodney. A football star at Knox Central High School, he accepted a scholarship to the University of Alabama, where he shared the field with future NFL stars Derrick Thomas and Bobby Humphrey.
By the time Todd entered Knox Central, in the fall of 1988, he suspected his future lay in sports, but he didn't know whether it would be football or baseball. On the gridiron, he starred at quarterback and defensive back for the Bobcats. On the diamond, he was the team's ace on the hill and a devastating hitter.
As a senior, Todd put together one of the greatest two-sport years in Tennessee prep history. In the fall, he piled up 2,458 yards of total offense, intercepted seven passes and scored 33 touchdowns. The following spring, he batted .655 with 10 home runs and 35 RBIs. Todd was voted Player of the Year for his region in football and baseball, and the National Football Foundation named him its Scholar Athlete of the Year. Baseball America selected him to its High-School All-America team.
The recruiting war waged over Todd was fierce, but the hometown Tennessee Volunteers held the clear advantage. Like every kid growing up in Knoxville, Todd had dreamed about donning the orange and white since he could walk.
Todd's life became much more complicated in June of 1992 when the San Diego Padres called. They took him in the second round of the draft, and then waved a signing bonus of $450,000 in front of him. It was the largest ever offered to a second-round pick at the time.
Everyone in the family advised Todd to forget the money and head to Tennessee. He ultimately agreed—though he didn't completely close the door on the Padres.
Todd's first fall at Tennessee found him second-guessing his decision. Though he was one of new coach Phillip Fulmer's top recruits, he was buried on the depth chart. After a few practices, Todd was unhappy on the football field. Without telling his parents, he called the Padres and asked about re-opening negotiations. When Jerry learned of his son's decision, he sat him down and set him straight.
Todd spent the '92 season watching from the sidelines. Heath Shuler emerged as the starting quarterback and led Tennessee to a 9-3 record and a win in the Hall of Fame Bowl. For Fulmer, the season was a major success. For Todd, it was a learning experience.
Todd's spring was far more satisfying. Coach Rob Delmonico made the freshman a regular in the batting order and also used him on the mound every now and then. Todd came through in both roles. At the plate, he hit .348 with 11 homers and finished third in the SEC with 66 RBIs. Working as a starter and reliever, he also notched six victories. At season's end, Todd was named to the All-Conference team and was a Freshman All-American.
Despite his success on the field, Todd's freshman year may have been most notable for something that happened off it. In a biology class, he met Kristi Bollman, a soccer player for the Lady Vols. Todd asked her out, she said yes, and the two were hardly ever separated after that.
Todd entered his second fall with the Vols battling Jerry Colquitt for the #2 spot behind Shuler, who was quickly gaining attention as a Heisman Trophy candidate. Though the team lost its best receiver, Cory Fleming, the running game was strong with Charlie Garner and James Stewart sharing the workload. On defense, Fulmer welcomed back six starters, which gave the unit plenty of depth.
Tennessee looked good in the regular season, winning nine games for the second year in a row. In the Citrus Bowl, however, the Vols were trounced by Penn State. Todd again had a clear view of the action from the bench, as Shuler lived up to his preseason press clippings. After finishing second in the Heisman voting to Charlie Ward, he checked out of Tennessee early for the riches of the NFL.
ON THE RISE
As a sophomore on the diamond, Todd showed the kind of talent that gets a college player noticed by big-league scouts. He won the starting job at first base, and then tore it up at the plate. Todd batted .355 and set a school record with 80 RBIs, a total that topped the SEC as well. Todd was also handed the ball more often in the late innings with the game on the line. As Tennessee's closer, he posted five wins and 11 saves against a microscopic 0.89 ERA.
Todd's sterling performance earned him a spot on Team USA during the summer of 1993, along with other future major leaguers Dustin Hermanson, Danny Graves, Todd Walker and A.J. Hinch. The squad traveled extensively, including the World University games in Buffalo and the International Cup in Italy. The Americans played particularly well on Italian soil, finishing as the runner-up to Cuba. It was the first time in five years that the U.S. had advanced to the final of a major tournament. Though Todd had to cut his tour short because of football, he still ended up fourth on the squad in hits and RBIs.
Todd began the '94 football campaign as the back-up to Colquitt. Waiting in the wings, however, was stud Peyton Manning. Todd could tell right away that the frosh was the real deal. When Colquitt hurt his knee seven plays into the opener, Fulmer turned to his junior to run the team. A short time later, Todd also suffered a knee injury, which opened the door for Manning. Once the young gun took control of the squad, he never let go. The Vols went 7-1 under Manning, including a blowout of Virginia Tech in the Gator Bowl. After the season, Todd sensed his football career was over.
That didn't seem to bother him on the baseball field. In fact, if Todd ever reached diamond perfection, it was in his junior year at Tennessee. Totally focused, he produced a season for the ages, batting .407 with20 home runs and 92 RBIs. Todd came within one hit of winning the SEC's triple crown. No one in the conference could handle him with the stick in his hands. Todd led the conference in hits, runs, doubles, RBIs and slugging percentage.
He also enjoyed another marvelous campaign on the hill. Out of the pen, Todd won four times and saved 12 games. On four occasions, Delmonico was forced to use Todd as a starter. Every time, he twirled a complete-game victory.
Thanks to Todd, Tennessee's baseball program had been reborn. For the first time in four years, the Vols made it to the College World Series.
Todd's mammoth junior season made him a hot commodity in the June draft. The Rockies tabbed him with the eighth pick in the first round, and then assigned him to the Class-A Asheville Tourists of the South Atlantic League. A manageable drive from Knoxville, Asheville had its pluses and minuses. The good news? Hitting in front of slugger Derrick Gibson, Todd saw plenty of fat pitches. The bad news? Being so close to home proved a distraction. While Todd put up decent numbers in 54 games—a .254 batting average with 11 doubles and 24 runs scored—he and the Rockies wondered whether he would develop faster farther from the creature comforts of Knoxville.
To test that theory, the club sent Todd to Hawaii over the winter, where he suited up for the Maui Stingrays. Facing a good sampling of hurlers ticketed for the majors, he batted .291.
Todd earned a promotion to the New Haven Ravens of the Eastern League in the spring of 1996. He went 3-for-4 in his debut, and never stopped hitting Doulble-A pitching. Todd's power increased, he peppered the gaps with line drives and cut down his strikeouts. He also opened eyes with his improved work on defense. Representing New Haven in the All-Star game, Todd launched a long home run that ESPN replayed again and again. A short time later, the Colorado brass bumped him to Triple-A. With the Colorado Springs Sky Sox in the Pacific Coast League, Todd continued his offensive assault, batting .352 in 21 games.
Todd entered 1997 knowing the Rockies were set at first base with Andres Galarraga—the Big Cat was coming off a year of 47 homers and 150 RBIs. Though Todd was ready for the majors, the club believed he would benefit from an everyday spot in the lineup with the Sky Sox. Todd's first few months with Colorado Springs were phenomenal. An edict was passed down to manager Paul Zuvella to teach his slugger to play left field. After a month or so, Todd felt comfortable, and the Rockies called him up. At the time, he was hitting .352 with31 doubles, 16 home runs and 99 RBIs.
In his first big-league game, against the Pirates in Pittsburgh, Todd started in left and hit fifth in the order. In his second at-bat, he singled off Francisco Cordova. A few innings later, he belted a solo homer off Marc Wilkins. Todd went deep again the following day. For the year, he hit .280 in 35 games, demonstrating beyond a doubt that he belonged in the big leagues.
The Rockies responded by letting Galarraga walk in the off-season. With Todd at first and Viny Castilla, Larry Walker, Ellis Burks and Dante Bichette also in the lineup, the team had more than enough offense. For manager Don Baylor, the problem would be pitching. The club signed Darryl Kile and backed him up with Pedro Astacio and John Thomson, but the end of the rotation was shaky and Jerry DiPoto was no sure thing as the closer. Things got worse when injuries felled Burks and Walker, which robbed Baylor of two potent bats. When the starting staff and relief corps floundered, the Rockies were done, ending the year at 77-85.
In a season of disappointment, Todd was a definite bright spot. He started slowly, hitting just .250 with no homers into May, but then worked himself into a groove. Baylor began the year platooning Todd at first with Greg Colbrunn, trying to protect Todd from tough lefties. By the end of July, it was clear the youngster could handle just about anyone in the league, and Colorado shipped Colbrunn to Atlanta.
August was Todd's best month when he hit in 24 of 29 games fora .398 average, tops in the majors. Though a sprained right wrist derailed him for a short time in September, he finished strong, leading all rookies in batting average (.315), homers (25), RBI (97), multi-hit games (49), total bases (281), slugging percentage (.530) and extra-base hits (63). Todd was particularly effective with runners in scoring position, boasting a team-best .386 average. In the closest balloting in 16 years, he was edged out by Kerry Wood in the NL Rookie of the Year race.
Key to Todd 's success was the detailed notebook he kept on pitchers. As the season wore on, he learned what to expect in most situations, and his stats reflected his growing knowledge. The Rockies were impressed enough to ink him to a new four-year deal worth $12 million.
The biggest change in Colorado heading into 1999 was in the dugout, where Jim Leyland was hired to run the team. Among the new manager's first moves was inserting Todd into the heart of the batting order with Castilla and Walker. With Darryl Hamilton now batting leadoff, the lefty was certain to have lots of RBI opportunities. Once again, Todd stumbled out of the gate, but he turned things around in May with a 10-game hitting streak.
By then, however, the season was already lost for the Rockies. The pitching staff was a mess that even Leyland couldn't figure out. Despite topping the NL in team batting, slugging and home runs, the club limped home at 72-90.
Todd had a good deal to do with Colorado's eye-popping power numbers. In June, he went on a multi-week tear that included hitting for the cycle against the Florida Marlins. Todd came to plate in his last at-bat needing a triple and hammered a ball off the right field wall to complete his magical day. After struggling through July, he heated up in August, batting .364 with eight homers and 28 RBIs.
Todd wound up the campaign as his team's top offensive weapon. At .320 with 35 HRs, 113 RBIs and 39 doubles, he beat opponents seemingly anyway he wanted. Also, for such a powerful hitter, Todd struck out surprisingly few times. In nearly 600 plate appearances, he whiffed just 77 times.
MAKING HIS MARK
The plan for the Rockies in 2000 was to give the team a facelift, starting at the top. Dan O'Dowd took over for Bob Gebhard as GM, and Buddy Bell was brought in as manager. With Todd as the team's primary building block, Colorado tried to assemble a credible supporting cast around him. On paper, it was hard to tell if the team was any better. Walker was still in right, but Tom Goodwin and Jeffrey Hammonds now filled out the outfield. In the infield, Jeff Cirillo was acquired to man the hot corner. The pitching staff was a strange collection of arms, with Astacio serving as ace.
Somehow, Bell made it work. The Rockies improved by 10 games in the win column, finishing above .500 at 82-80.
The story all season long, however, was Todd. In one of the most stirring individual performances in recent memory, he mounted a five-month assault on .400. For the first time in his career, he swung the bat well in April, opening the year with a 10-game hitting streak. He recorded another 10-gamer in May and ended the month at a scorching .421. The media attention began in earnest soonafter. Features on Todd appeared in most every newspaper and magazine nationwide. Shutting out the distraction was nearly impossible.
Oh-fers became headline news, and when Todd's average sagged halfway through June, reporters speculated that the pressure was getting to him. He remained composed and got hot again in July. He was named to the All-Star team for the first time, and then was voted NL Player of the Week later in the month.
After the break, Todd's average dipped below .400, and it seemed that his tank was running on empty. But August had always been his best month. At one point, he hit safely in 14 straight. For the month, he went 50 for 105 (.476) with seven homers and 32 RBIs. That proved to be his last hurrah.
Todd ended the campaign at .372, capturing the NL batting crown by a whopping 17 points. He posted 216 hits, 59 doubles and 147 RBIs, all three of which topped the majors, and established personal highs with 42 homers and 103 walks. Just for good measure, Todd led NL first basemen in games (160), putouts (1,326), assists (149), total chances (1,482) and double plays (143).
Todd was an easy choice as AP Player of the Year, and Baseball Digest recognized him, too. He also took home the Hank Aaron Award and Walter Fenner "Buck" Leonard Legacy Award, and was honored as Colorado's Roberto Clemente Man of Year.
The next three seasons were reasonable facsimilies of '00. In other words, Todd was fantastic, but the Rockies weren't. In 2001, Colorado sunk back to last in the NL West, despite a new emphasis on pitching and defense. Mike Hampton and Denny Neagle were signed to bolster the top of the rotation, while Juan Pierre grabbed the center field job. Bell, however, couldn't piece together a consistent club. At 73-89, the Rockies ended six full games back of fourth-place San Diego.
Todd battled for another batting crown in '01, losing to his teammate, Walker. He nearly matched his RBI total from the previous season with 146 and refined his power stroke to the tune of 49 long balls. Todd's 54 doubles made him only the seventh player in history to record 50 doubles in consecutive seasons. He did it with the glove as well—his .999 fielding percentage was highest in the majors among first basemen. That effort earned him his first Gold Glove.
One question that Todd began hearing more and more explored the "Coors Field" effect. The suggestion that he compiled all his numbers in Colorado's thin air annoyed him to no end. Without question, Todd took full advantage of his home ballpark, but he didn't exactly turn into a pumpkin on the road. For example, 22 of his 49 dingers in 2001 came in enemy ballparks.
After their disastrous finish in '01, the Rockies slashed payroll and decided to get by with cheap, unproven talent. The results were predictable. Colorado fnished with the same record as the year before.
Todd produced despite the lack of bats around him in the lineup. After a typically quiet April, he banged out a typically loud May, knocking 10 balls out of the park. In June, with his 670th start at first, he passed Galarraga on Colorado's career list for the position. Todd suffered through an uncharacteristic power outage in July, and then homered in three straight as the month was drawing to a close. He wound up with solid stats in 2002, including a .329 average, 30 homers, 107 runs, 109 RBIs and more than 300 total bases. Also added to his resume was a second Gold Glove.
The happiest news of the year for Todd was the birth of his first child, a girl named Tierney Faith, in September. He and Christy, now married, were overjoyed by the arrival.
Todd returned to form in 2003—.358 with 49 doubles, 33 homers and 117 RBIs. In turn, he matched Joe DiMaggio as the only other player in the history to deliver such lofty numbers in each of his first six full seasons.
Todd also made another run at a batting title. In the closest race in NL history, he was beaten by Albert Pujols on the season's final day. The St. Louis slugger went 2-for-5 to finish at .35871, while Todd ended at .35849. His average was amazing considering the Colorado lineup. With little protection, Todd was seeing fewer and fewer pitches to hit. In all, he was issued 21 intentional passes, the third-highest total in the league.
The Rockies, under new manager Clint Hurdle, looked to their pitching staff to keep them in games, but all too often they were working from behind in the count. With a team ERA of 5.20, Colorado was lucky to go 74-88.
Obviously, Todd didn't play in many important contests. In fact, the biggest of the year for him may have been the All-Star Game at U.S. Cellular Field in Chicago. In a match-up to determine homefield advantage in the World Series, Todd put the NL ahead in the fifth inning with a two-run homer off Shigetoshi Hasegawa. Later, a rally by the AL turned the contest around for a dramatic 6-5 victory.
Todd's '03 campaign ended with reports that the Rockies would listen to trade offers for him and slugging outfielder Preston Wilson. While Todd didn't fight the notion, he seemed eager to open the 2004 season in his familiar Rockies uniform. He got his wish and opened the year in Colorado.
After a solid start, Todd was hit by a sore back at the end of May. For the first time in his career, he missed four consecutive starts. When he returned, Todd showed no ill effects, batting .379 with 27 RBIs in June. Resurgent years from Castilla and Jeremy Burnitz, plus production at the top of the lineup from Aaron Miles, made Colorado a tough team for opposing pitchers.
Getting quality innings from the ptiching staff was entirely a different matter. The Rockies were third in the NL in runs scored, but worst in all of baseball in runs allowed. Newcomer Joe Kennedy showed promise until an injury sidelined him, while Shawn Estes and Jason Jennings were eratic. Colorado went 68-94 and was only saved by a last-place finish by the dreadful Arizona Diamondbacks.
All in all, the '04 campaign was more of the same for Todd, impressive individual statistics for an unimpressive team. He batted .347 for the year with a .469 on-base percentage and 1.088 on-base plus slugging percentage, numbers that were second in the lague only to Barry Bonds. Despite those stats, however, Todd failed to reach the 100-RBI mark for the first time since 1998. In his defense, opponents often pitched around him.
The Rockies committed fully to a rebuilding effort in 2005, bringing along young players like Brad Hawpe, Matt Holliday, Garrett Atkins and Cory Sullivan. The lineup now afforded Todd even less protection, and his numbers sank to .320 with 20 homers and 79 RBIs. Once again, he walked more than 100 times, and became the first player other than Bonds to lead the NL in on-base percentage since 2000. Nonetheless, Todd publicly endorsed the team's plan to build from within, even as reporters tried to prod him into criticizing Colorado management.
Ironically, in the topsy-turvy NL West, the '05 Rockies were probably good enough to contend for the division crown, but a rash of injuries decimated the club and Colorad0 finished in the cellar. The Padres took the title with 82 victories.
As the lone veteran on a team getting younger—but not necessarily better—Todd was in baseball limbo. The Rockies were paying him a lot of money to lose 90+ games each year, and a host of other teams, most notably the Red Sox, seemed a good fit for Todd's powerful bat and hefty salary. Todd even agreed to waive his no-trade clause if something could be worked out with Boston. His diminished numbers, however, scared off the BoSox and probably any other serious suitors. Was his back OK? Was he 100% healthy? Did he really care about winning?
The answers to these questions did not materialize in 2006, when Todd's home run total dipped to 15, his average hovered under .300 for most of the year, and his slugging average sank to .476—150 points below what it had been in 2004. That was also the last year he made the All-Star team.
He began the season red-hot, but in late April, for the second year in a row, he spent time on the DL, this time with an intestinal disorder. Upon his return, Todd never really got untracked. And once again, the Rockies languished in last place. Seemingly worse, all those young studs were now 26, 27 and 28—with relatively few signs that they were maturing into championship-caliber players.
The 2007 Rockies did not inspire much excitement among fans, but baseball insiders saw some intriguing changes on Opening Day. The team was transformed up the middle. Rookie Troy Tulowitzki was installed as the everyday shortstop, and Kaz Matsui, a converted shortstop, was stationed at second base. Fleet-footed Willy Taveras took over center field duties.
As the season unfolded, it began to look as if Todd would end up a year closer to joining that dreaded list of great players—including Joe Torre, Ernie Banks, Don Mattingly—who went their entire careers without seeing any World Series action. The Rockies fell nine games under .500 in late May. At the end of June, they embarked on a disastrous 1–9 road trip. One of their few dependable stars—closer Brian Fuentes—wasn't getting the job done. With the season was unraveling, the Rockies watched the Diamondbacks and Padres rise to the top of the division.
The team finally began to turn things around in July and August. Tulowitzki and Holliday started hitting like MVPs, Todd was driving in runs like crazy, Jeff Francis assumed the mantle of staff ace, and Manny Corpas came out of nowhere to become a lights-out closer.
Not that anyone noticed. The Rockies barely crept over .500, and only poor September performances by the New York Mets, Los angeles Dodgers and Padres gave them a glimmer of a shot at the Wild Card. Things got more interesting with just a few weeks remaining. The turning point came against the division-leading Dodgers on the 18th. Todd faced closer Takashi Saito with two out and two strikes and belted a pitch over the fence for a walk-off homer to keep the Rockies in the hunt. He celebrated like a Little Leaguer. Colorado went on towin 14 of their final 15 games to pass the Mets and catch the Padres, forcing a one-game playoff for the Wild Card spot.
The game, played at Coors Field, was a classic. In the top of the 13th inning San Diego scored a pair of runs, only to watch the Rockies score three off Trevor Hoffman in the bottom of the inning. After 1,578 games, Todd was in the playoffs!
In the NLDS against the Philadelphia Phillies, the Rockies continued their great hitting and pitching in a three-game sweep. Todd had a poor series at the plate, but Colorado prevailed behind the timely hitting of Matsui, Holliday and catcher Yorvit Torrealba. Todd was a minor contributor to the team's subsequent sweep of the iamondbacks in the NLCS. Although frustrated by his suddenly cool bat, he was proud of his teammates for picking him up. After so many years of carrying the club, it felt okay to let others bear the burden for a change.
Todd woke up against the Red Sox in the World Series, leading all of the Colorado regulars with a .333 average. Unfortuantely, the Rockies' luck finally ran out. Boston blew them out twice, and also won two tight games for a championship sweep.
With a pennant under his belt and a team of young, motivated winners around him, Todd can look forward to finishing a career that is no longer accompanied by an asterisk or question mark. He has done everything a Hall of Fame player can do on and off the field. At this point, he's playing with house money. The quintessential competitor, Todd would like to play some of those chips in the postseason again. To him, nothing short of a World Series ring is an acceptable goal.
TODD THE PLAYER
No one in baseball has a prettier swing than Todd. And few players can do as much damage at the plate. Todd uses the entire field and has the power to go deep in any ballpark. With the introduction of the humidor at Coors Field, and the encroachment of age, his ability to keep finding gaps and hitting in the clutch is remarkable given how hesitant opposing hurlers are to pitch to him.
Though Todd is a good athlete, he broke into the majors with the reputation as a sub-par defensive player. He has proven his detractors wrong. Early in his career, he demonstrated versatility with his to switch to left field. Later, Todd developed into a Gold Glover at first.
Todd's emergence defensively is partly a tribute to his tremendous work ethic. He loves every facet of baseball, including practice. Teammates marvel at the number of cuts he takes and grounders he fields, and they know he won't accept anything less from the guys he goes to battle with.
Read more
Latest headlines