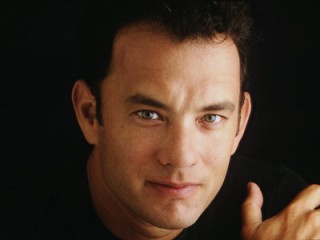 Tom Hanks biography
Date of birth : 1956-07-09
Date of death : -
Birthplace : Concord, California, USA
Nationality : American
Category : Arts and Entertainment
Last modified : 2010-07-07
Credited as : Actor and film producer, director and sreenwriter,
Tom Hanks
, also credited as
Thom Hanks, Thomas J. Hanks, Thomas Jeffrey Hanks
, born
Thomas Jeffrey Hanks
on July 9, 1956 in Concord, California, USA is an American actor, director, producer, screenwriter, songwriter, Hotel bellboy.
Born on July 9, 1956 in Concord, CA, Hanks was raised by Amos, a cook and restaurant manager, and Janet, a hospital worker. In 1960, his father took him and his siblings to Reno, NV to start a new life, later divorcing Janet. After his second marriage failed, his father picked up the family and settled in Oakland, CA, where Hanks spent his formative years. Growing up an unhappy and often confused child, Hanks sought stability wherever he could find it. At Skyline High School, he played soccer and ran track, but became a born-again Christian, joining the fundamentalist First Covenant Church of Oakland for a couple of years. Hanks' true salvation, however, came when he discovered acting. With the encouragement of high school drama teacher Rawley Farnsworth – whom he would famously thank after winning his first Oscar in 1994 – Hanks dove headfirst into the craft, performing as cross-dresser Luther Billis in a production of "South Pacific." After graduating, he attended Chabot Community College, leaving after a year to become a theater major at California State University at Sacramento in 1976.
The summer after his first year at CSU, Hanks interned at the Great Lakes Shakespeare Festival in Cleveland, OH. He quit school once again in order to spend the next two summers with the festival under the guidance of famed Irish director Vincent Dowling, earning acclaim for his performances in "The Taming of the Shrew" and "The Two Gentlemen of Verona." In 1978, Hanks sold his Volkswagen Beetle and used the money to move to New York City in order to pursue his dream of performing on Broadway. Success on the Great White Way remained elusive, however, though Hanks did manage to break into features with a small role in the low-budget horror flick, "He Knows You're Alone" (1980). Fortunately his next part cinched the deal. Hanks gained widespread exposure with a starring role in the short-lived cult sitcom, "Bosom Buddies," playing an advertising executive who moves into a low-rent female-only hotel with his ad exec buddy (Peter Scolari) on the condition that they both dress like women. Though only on for a few years, it was remembered fondly by Generation Xers, who never failed to tell the actor how much his cross-dressing gig remained a fond childhood memory for them. Something about the silly show resonated, and unlike other stars who conveniently forgot their humble beginnings, Hanks was more than happy to discuss "Bosom Buddies" in interviews years later. He also remained close friends with Scolari, despite the differences in their respective career trajectories.
After "Bosom Buddies" left the air, Hanks made a guest appearance on a 1982 episode of "Happy Days" (ABC/CBS, 1973-1984) that impressed cast member Ron Howard enough to cast him as lead in "Splash" (1984), a comic fantasy about a boyishly charming produce vendor who falls in love with an actual mermaid (Daryl Hannah). Proving a likable and engaging screen presence, Hanks seemed assured of becoming successful in romantic comedies. He obliterated the notion with a funny, but sophomoric turn in "Bachelor Party" (1984), then appeared in a string of comic misfires – "The Man with One Red Shoe" (1984), "The Money Pit" (1986) and "Dragnet" (1987) – that would have ended a less resilient actor's career. Of this early period, only "Nothing in Common" (1986) – a sentimental comedy depicting Hanks as a selfish workaholic who forges a bond with his ailing father (Jackie Gleason in his last screen appearance) – was worthy of any modicum of praise.
But in 1988, Hanks experienced a turning point with two parts that demonstrated his versatility for the first time. In "Punchline" (1998), he delivered a strong turn as a brash stand-up comedian who first mentors, then competes against a rising female comic (Sally Field). He then followed by displaying his winning charms as a 12-year-old boy trapped in the body of a 35-year-old man in "Big" (1988), a huge comedy hit from then-budding director Penny Marshall. Hanks was honored with his first of several Academy Award nominations for Best Actor. Trying hard to avoid being typecast, Hanks accepted a few projects that perhaps sounded better on paper. After the forgettable "Turner & Hooch" (1989), Hanks starred in the bizarre "Joe Versus the Volcano" (1990), playing a man who is convinced he is dying, and thus, agrees to jump into a remote island volcano in order to appease an angry god. He was grossly miscast as a Wall Street wheeler-dealer in the huge, muddled mess, "Bonfire of the Vanities" (1990). Just when "Big" had seemed to open new doors, Hanks was back where he was before.
Because of the unmitigated disaster of "Bonfire of the Vanities," Hanks reportedly lobbied Penny Marshall for the lead in "A League of Their Own" (1992), the director's sentimental look at the first all-female baseball league, which was formed during World War II. Hanks sought out the role of Jimmy Dugan, a washed up drunk and former player who rediscovers his joy of the game through managing a winning team. Though Marshall initially felt he was wrong for the part, she eventually relented, a choice that proved correct after Hanks managed to win over audiences with his endearingly gruff but equally hilarious performance. Meanwhile, Hanks found his stride once again, scoring another hit when he reunited with "Joe vs. the Volcano" co-star Meg Ryan in Nora Ephron's paean to romance, "Sleepless in Seattle" (1993). Again displaying both earnest charm and a flair for light comedy, Hanks offered glimpses into the sadness of a widower father whose son calls a radio show asking for a new mommy for Christmas, sparking a long-distance courtship. For his touching portrayal, Hanks was nominated for Best Actor – Musical or Comedy at the Golden Globe Awards.
The actor vaulted into esteemed and, at this point in his career, uncharted territory with his Oscar-winning performance in "Philadelphia" (1993), playing a homosexual lawyer who is dying of AIDS while trying to win a discrimination suit after getting fired. Despite the film being denounced by gay activists for being too soft on the issue, Hanks was nonetheless universally praised for a nuanced performance, in which he lost weight for the role. After his win at the Academy Awards, Hanks was anointed "the nicest guy in show business" and "the new Jimmy Stewart" because of his stalwart persona. His next film, "Forrest Gump" (1994), saw Hanks play a man who leads an extraordinary life taking part in many of the defining moments of the '60s, '70s and '80s despite having an I.Q. of 75. Hanks displayed the proper whimsy required for the man-child fond of comically sappy sayings like "Stupid is as stupid does" and "Mama always said life was like a box a chocolates: You never know what you're gonna get," which became part of the cultural zeitgeist. The film, meanwhile, touched a chord with moviegoers, who cheered Forrest's survival and triumph over one adversity after another, making "Gump" the year's highest-grossing film on its way to picking up six Academy Awards, including Hanks' second consecutive win for Best Actor.
Hanks tried for his third straight Academy Award win when he reunited with "Splash" director Ron Howard for "Apollo 13" (1995), a tense look at the famed ill-fated 1970 NASA mission to the moon. Playing real-life astronaut Jim Lovell – a role allegedly slated for Kevin Costner – Hanks delivered a rock steady performance as the commander trying to bring his crew back to Earth safely. Though nominated, Hanks missed out on winning a third Oscar for Best Actor. Hanks next gave voice to Woody, a toy cowboy whose status as top toy of a young boy is threatened by the razzle dazzle of Buzz Lightyear (Tim Allen) in "Toy Story" (1995), the first full-length computer animated feature. Thanks to his A-list status, Hanks had the chance to flex other creative muscles, branching out into screenwriting, producing and directing. He made his directorial debut with "That Thing You Do!" (1996), a genial sixties-era comedy/drama about a band that hits Beatles-like success off of one single. While not a blockbuster, the film demonstrated Hanks' flair for eliciting strong performances from a cast of relative unknowns.
Hanks further enhanced his resume after wearing several hats on his dream project, "From the Earth to the Moon" (HBO, 1998), a 12-part series that examined the history of the U.S. space program. In addition to serving as executive producer on the series, Hanks directed the first segment and wrote four subsequent episodes, sharing the 1998 Emmy Award for Outstanding Miniseries with co-producers Ron Howard and Brian Grazer. After nearly two years of being absent from the big screen, Hanks was cast by Steven Spielberg for his highly praised World War II epic, "Saving Private Ryan" (1998), playing an army captain leading a ragtag team of soldiers on a mission to locate a missing G.I. (Matt Damon) behind enemy lines. As Miller, the actor traded on his good guy persona, but colored the performance with hints of a dark side. While some of his co-stars were reduced to fleshing out two-dimensional stereotypes, Hanks was given a more complex role and offered one of his finest screen performances, earning his fourth Academy Award nomination for Best Actor.
Later that same year, he channeled the ghost of James Stewart when he co-starred a third time opposite Meg Ryan in Nora Ephron's "You've Got Mail" (1998), an updating of the 1940 Stewart-Margaret Sullavan classic "The Shop Around the Corner" (1940). Hanks next reunited with "Private Ryan" cohort Barry Pepper to play prison guards who become involved with a mysterious prisoner (Michael Clarke Duncan) in "The Green Mile" (1999), an adaptation of the Stephen King novel. Further stretching his acting muscles, he collaborated again with "Forrest Gump" director Robert Zemeckis on "Cast Away" (2000), taking the unusual step of interrupting filming to drop the large amount of weight he gained to play an autocratic Federal Express troubleshooter who gets trapped on a deserted island after a plane crash. His bravura performance – for nearly a third of the film Hanks was onscreen alone – brought him renewed critical acclaim and his fifth nomination for Best Actor.
After his experience portraying a veteran in "Saving Private Ryan," Hanks became active in the creation of a memorial to the men and women who fought during WWII. Both he and Spielberg joined forces to executive produce the HBO miniseries, "Band of Brothers" (2001), adapted from historian Stephen Ambrose's book, which followed the soldiers in the 506th Regiment of the 101st Airborne Division from their training in Georgia in 1942 through their participation in the invasion of Normandy. Hanks additionally directed one episode of the miniseries, for which he earned an Emmy for Outstanding Directing for a Miniseries, Movie or a Dramatic Special. The actor then took on an atypical role, portraying a 1920s Chicago gangster seeking revenge for the death of family members in "The Road to Perdition" (2002). Though Sam Mendes' film prompted mixed critical responses, Hanks' efforts were roundly praised, even if his inherent likeability served to undermine the professional killer he played.
His next film, "Catch Me If You Can" (2002), reunited him with Spielberg who cast him as Carl Hanratty, a real-life FBI fraud investigator hot on the trail of the youngest con artist ever to make the Most Wanted list, Frank Abagnale, Jr. (Leonardo DiCaprio). Equal parts downtrodden and dogged, Hanratty was one of Hanks' most distinctive onscreen creations and stood in perfect contrast to DiCaprio's glamorous, happy-go-lucky Abagnale. In fact, Hanks' likeability served his underdog character well, allowing him to convincingly convey Hanratty's more unlikable aspects. Meanwhile, Hanks the movie producer scored mega-success with the unexpectedly popular comedy "My Big Fat Greek Wedding" (2002), which Hanks' part-Greek wife Rita Wilson had discovered when it was a one-woman show created by Nia Vardalos. Hanks' next trick was a return to his wacky comedic roots – indeed, even quirkier territory than he had plumbed before – in the Coen Brothers' remake of the cult classic British film, "The Ladykillers" (2004). Hanks played the verbose, guffawing Professor Dorr, a criminal mastermind whose plan for the Heist of the Century is stymied by a stubborn old woman (Irma P. Hall).
The actor reunited with Spielberg yet again for "The Terminal" (2004), playing an Eastern European immigrant Viktor Navorski, who becomes stranded in a New York City airport terminal because of a quirk in international politics and passport law. He subsequently takes up residence and becomes involved with many of the terminal's temporary inhabitants, including a beautiful flight attendant (Catherine Zeta-Jones). Despite a strong performance and smart direction, "The Terminal" ultimately suffered from an obvious sentimental ending. Hanks teamed up again with Robert Zemeckis to appear as multiple characters in the ambitious CGI-animated adaptation of the popular children's story, "The Polar Express" (2004). Using groundbreaking performance capture technology to digitally morph his physical performances, Hanks was projected onscreen in various forms, playing The Conductor, Hero Boy, Santa Claus, the Hobo and the Boy's Father, which were subsequently woven seamlessly into the film's computer generated environments.
Hanks returned to his love of outer space to narrate the short IMAX film, "Magnificent Desolation: Walking on the Moon 3D" (2005), a stunning journey into mankind's most incredible adventure. The film showcased past, present and future space explorations, as audiences experienced the moon's surface as if they were Apollo astronauts. Returning to dramatic fare, he starred in "The Da Vinci Code" (2006), the long-anticipated adaptation of Dan Brown's monumental bestseller about a murder at the Louvre investigated by a famed symbologist, who unravels a sinister plot to keep a secret that has been protected since the time of Christ. While the script was kept a secret during filming as the fictional mystery in the story, the controversial nature of the book had kept filmmakers from shooting at key locations, including Westminster Abbey. Meanwhile, religious groups – already in a tizzy over the book – braced themselves for what was almost assured to be a blockbuster movie. Though on paper a huge success – it took in over $200 million in domestic box office – "The Da Vinci Code" was panned by most critics for failing to live up to expectations.
After providing voice cameos for "Cars" (2006) and "The Simpsons Movie" (2007), he helped narrate "The War" (PBS, 2007-08), Ken Burns' stunning and comprehensive look at ordinary Americans fighting in World War II. Hanks then starred in the critically-acclaimed political satire, "Charlie Wilson's War" (2007), adapted by Aaron Sorkin from George Crile's non-fiction novel. Hanks played "Good Time Charlie" Wilson, a U.S. congressman with a taste for hookers and blow whose deep patriotism and frustration with American foreign policy leads him to team up with the wealthiest woman in Texas (Julia Roberts) and a blue-collar CIA operative (Philip Seymour Hoffman) to fund the Mujahideen fighters after the Soviets invade Afghanistan. Once again, Hanks found himself being showered with praise for another strong performance, earning a Golden Globe nomination for Best Performance by an Actor in a Motion Picture – Musical or Comedy as well as the requisite Oscar buzz.
Turning back to the role of producer, he helped bring to life the exquisite and much-acclaimed seven-part miniseries, "John Adams" (HBO, 2008), which starred Paul Giamatti as the American Revolutionary leader and second President of the United States. Turning back to the role of producer, he helped bring to life the exquisite and much-acclaimed seven-part miniseries, "John Adams" (HBO, 2008), which starred Paul Giamatti as the American Revolutionary leader and second President of the United States. The epic series took a fresh perspective behind-the-scenes of the American Revolution, focusing on Adams' battles with Thomas Jefferson (Stephen Dillane) and Ben Franklin (Tom Wilkinson) while maintaining an often long-distance love affair with wife Abigail (Laura Linney). "John Adams" won just about every major award possible, including 13 Emmys, four Golden Globes and the Humanitas Prize. In 2009, Hanks won the Producers Guild of America Award for Producer of the Year – Longform Television. After executive producing the film adaptation of the West End musical "Mama Mia!" (2008) with his wife, Hanks co-starred with son Colin Hanks in "The Great Buck Howard" (2009), a comedy about a young aspiring magician who becomes an assistant to a renowned illusionist against his father's wishes. Meanwhile, he reprised the role of Professor Robert Langdon for the successful adaptation of Dan Brown's "Angels & Demons" (2009), after which he went back to producing with director Spike Jonze's take on "Where the Wild Things Are" (2009). Returning to his fascination for World War II, Hanks rejoined "Band of Brothers" cohort Steven Spielberg for "The Pacific" (HBO, 2010), a true-to-life fictionalization of the war between Japan and the U.S. in the Pacific theater, as told though the intertwining stories of three U.S. Marines (Joseph Mazzello, James Badge Dale and Jon Seda) who fight their way through the blood-soaked beaches of Guadalcanal, Iwo Jima and Okinawa.
Education
* Skyline High School, Oakland, CA, 1974
* California State University, Sacramento, Sacramento, CA, theater
* Chabot Junior College, Hayward, CA
Chronology
* 1978 Made professional debut as Grumio in The Taming of the Shrew at the Riverside Theater in Cleveland, OH
* 1980 Co-starred in the short-lived cult ABC sitcom, Bosom Buddies ; played an advertising trainee who pretended to be a woman in order to live cheaply at a women-only hotel
* 1980 Film acting debut, He Knows You re Alone ; was paid only $800
* 1982 First TV-movie, Rona Jaffe s Mazes and Monsters
* 1983 Had recurring role as Uncle Ned on the NBC sitcom Family Ties
* 1984 First leading role in a feature film, Splash ; directed by Ron Howard
* 1986 Offered a fine performance as a workaholic advertising executive who tries to reconcile with his ill father (Jackie Gleason) in Nothing in Common
* 1988 Delivered a strong turn as a bitter stand-up comic in Punchline ; co-starred opposite Sally Field
* 1988 Earned first Best Actor Academy Award nomination for Big ; directed by Penny Marshall
* 1990 First screen pairing with Meg Ryan (who had multiple roles) in the uneven comedy Joe Versus the Volcano
* 1990 Starred as Sherman McCoy in Brian De Palma s ill-fated screen version of The Bonfire of the Vanities
* 1992 Received a star on the Hollywood Walk of Fame
* 1992 Rejuvenated career after a string of box-office disappointments playing the character role of the boozy baseball coach in A League of Their Own ; seceond collaboration with Penny Marshall as director
* 1992 TV directorial debut, None But the Lonely Heart episode of HBO s Tales From the Crypt series
* 1993 Directed and acted in I ll Be Waiting , a segment of the Showtime series Fallen Angels
* 1993 Portrayed a gay lawyer with AIDS who sues his law firm for wrongful termination in Philadelphia ; won Best Actor Oscar
* 1993 Proved a fine romantic lead opposite Ryan in the Nora Ephron-directed Sleepless in Seattle
* 1993 With Gary Goetzman, formed the production company Clavius Base
* 1994 Received consecutive Best Actor Academy Award as Forrest Gump a slow-witted Southerner who lives an extraordinary life; first collaboration with director Robert Zemeckis
* 1995 Portrayed real-life astronaut James Lovell in Apollo 13 ; directed by Howard
* 1995 Voiced the cowboy Woody in the computer-animated feature Toy Story
* 1996 Feature screenwrting and directing debut, That Thing You Do! ; also played featured role of the band s manager amd wrote songs included in the film
* 1998 Co-executive produced the 13-part HBO series From the Earth to the Moon about the NASA space program; also acted in, scripted and directed episodes; co-produced with Ron Howard, Brian Grazer and others
* 1998 Headlined the Steven Spielberg-directed Saving Private Ryan , playing a captain leading a team of soldiers in search of the missing private; garnered Best Actor Academy Award nomination
* 1998 Third teaming with Meg Ryan, the romantic comedy You ve Got Mail ; directed by Nora Ephron; a loose remake of The Shop Around the Corner
* 1999 Reprised voice of Woody in Toy Story 2 , originally planned as a direct-to-video release, film received a theatrical distribution
* 1999 Starred as a prison guard in the period drama The Green Mile . adapted from Stephen King s novel
* 2000 Co-starred with Helen Hunt in Cast Away , directed by Zemeckis; played a man stranded on a deserted island; production was halted to allow Hanks to lose an appropriate amount of weight to reflect the character s emaciation; received Best Actor Oscar nomination
* 2001 With Spielberg, produced the HBO WWII-themed miniseries Band of Brothers ; also scripted and directed episodes
* 2002 Co-starred with Paul Newman in The Road to Perdition
* 2002 Collaborated again with director Spielberg for Catch Me if You Can playing the FBI agent pursuing Leonardo DiCaprio
* 2004 Cast as the voice of The Conductor/Hero Boy in the animated film Polar Express, directed and screenplay by Robert Zemeckis
* 2004 Starred as a southern professor who puts together a group of thieves to rob a casino in the remake of The Ladykillers ; helmed by Joel and Ethan Coen
* 2004 Starred in the romantic comedy The Terminal, as Viktor Navorski, an immigrant who becomes a resident of a New York airport terminal; directed by Steven Spielberg and starred Catherine Zeta-Jones
* 2006 Re-teamed with director Ron Howard to portray professor Robert Langdon in the film adaptation of The Da Vinci Code based on Dan Brown s bestseller
* 2007 Portrayed Democratic Texas Congressman, Charlie Wilson in Charlie Wilson s War directed by Mike Nichols, written by Aaron Sorkin, and co-starring Julia Roberts; earned a Golden Globe nomination for Best Actor in a Motion Picture Musical or Comedy
* 2008 Co-starred with son Colin in The Great Buck Howard, a comedy about a young aspiring magician (Colin) who becomes the assistant to a renowned illusionist against his father s wishes
* 2008 Executive produced (with wife Rita Wilson) the film adaptation of the West End stage musical, Mamma Mia!
* 2008 Executive produced the HBO original movie, John Adams
* 2009 Produced the live-action adaptation of Maurice Sendak s children s book, Where the Wild Things Are ; directed by Spike Jonze
* 2009 Re-teamed with Howard to play professor Robert Langdon in Angels & Demons, the film adaptation of Dan Brown s novel and sequel to The Da Vinci Code
* 2010 Re-teamed with Steven Spielberg to executive produce HBO s 10-part miniseries, The Pacific
* 2010 Reprised voice of Woody in the animated feature Toy Story 3
* Made guest appearance on ABC s Happy Days ; first met Ron Howard
Read more
Latest headlines