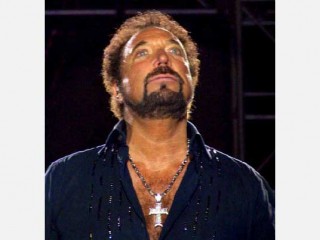 Tom Jones biography
Date of birth : 1940-06-07
Date of death : -
Birthplace : Pontypridd, South Wales, U.K.
Nationality : British
Category : Arts and Entertainment
Last modified : 2010-05-25
Credited as : Blue-eyed soul singer, , Darlin
Tom's unique weighty voice is a baritone to tenor range. He is a vocal powerhouse with the ability to give his audience every ounce of his energy, enthusiasm and concentration. If his delivery is vigorous, he invites his audience in with the vulnerability of his emotional conviction. He is a natural, a Welshman, a worker, an artist.
Tom has a fundamental interest in a wide range of musical expression. He is first and foremost a rocker with a true rhythm and blues soul. In his youth, he was a "Teddy-Boy", a rebel, with not much on his mind but music and sex. His young style and attitude was dominated by the birth of rock 'n' roll. But he had ears and a natural ability that could appreciate and understand the quickly burgeoning styles of popular music. As much time as he spent listening to American and British radio he would spend in the pubs, drinking and singing. He learned he could sing anything, and he learned he could entertain.
Tom has sustained his popularity for more than three decades. His recordings have spanned the spectrum from pop and rock to standards, rhythm and blues to rockabilly, country to dance and contemporary urban sounds.
Born
Thomas Jones Woodward
in Pontypridd, South Wales, Great Britain on June 7, 1940, his father worked the coal mines of the Rhondda Valley, while his mother tended the house and the two children. The old great Welsh traditions of poetry and song were the love of the laborers - born of their earth, the life of their gatherings, the soul of their hard lives.
Tom was singing at an early age. He sang in the church and with the choir at the Treforrest Secondary Modern School. He would ask his mother to "pull the drapes and announce me", as he sang on his "stage" in the sitting room. A more or less unsuccessful school career ended, as it did for most boys at age 16, with a wife and son to follow at age 17.
Tom brought in money for his new family from an assortment of jobs, including a builder's laborer, a glove cutter, paper miller, and door-to-door vacuum salesman. He sang in the pubs at night, working with local groups. By 1963, he had gained notoriety with his own group, Tommy Scott and the Senators, and was playing regularly in the demanding atmosphere of the working-class clubs and dance halls. Gordon Mills, a man with a solid performance background who had decided to branch into songwriting and management, went to see Tom work. As Mills recalled: "The first few bars were all I needed to hear, they convinced me that here was a voice that could make him the greatest singer in the world."
Mills became his manager, and took him to London to promote him. It was not an easy task, as record companies found him disconcerting. The vocal sound was raucous and too powerful, the performance style too forward and sexual. He sounded black and moved like Presley. The two men persisted though, and in late 1964 landed a record contract with Decca Records. The first single was not a great success, but the next choice, a new song penned by Mills called It's Not Unusual, was a huge international hit. Considered "too hot" by the established BBC Radio at the time, it was broken by the pirate off-shore station Radio Caroline. By the next year, Tom found himself opening for the Rolling Stones at London's Beat City and gigging with the Spencer Davis Group. Just some of the huge single hits to follow were What's New Pussycat, Help Yourself, Never Fall In Love Again and Without Love.
The next few years of recording success found Tom performing a remarkably varied repertoire, cultivating his natural abilities by listening and learning from his favorite artists of the time. His early performance inspiration came from Solomon Burke, Tennessee Ernie Ford, Little Richard, Jackie Wilson, Brook Benton, Big Bill Broonsy and many other Blues and R&B greats. The soul of Rock 'n' Roll he found in Jerry Lee Lewis. A long friendship with Elvis Presley was built on mutual respect and admiration. Elvis would warm up his voice to Delilah before his own performances, and when Green Green Grass of Home hit for Tom in 1966, Elvis would call radio stations repeatedly to request the song.
An avalanche of gold singles and albums were soon to follow: Delilah, Help Yourself, Love Me Tonight, and I'll Never Fall in Love Again in 1968, Funny Familiar Forgotten Feelings, and LP's Tom Jones Live, Tom Jones in Las Vegas, and This is Tom Jones in 1969. For most of the year, several of the LPs were in the Top 10 Charts in both Europe and the United States.
Continuing into the 70s gold hits came with I (Who Have Nothing), She's A Lady and Tom Jones Live at Caesars Palace. By the end of 1970 Tom had sold over 30 million discs in all categories around the world.
With this tremendous recording success, Tom was able to draw capacity audiences everywhere in concert halls and arenas worldwide. His skills as a singer developed sharply; his energy, openness and spontaneity appealed to critics and audiences alike.
Tom was offered his own television show the summer of 1969. A contract was drawn with ABC that was the largest ever between network and artist. The show's location was split between London and Los Angeles, and included an impressive roster largely suggested by Tom: Aretha Franklin, Elvis and Priscilla Presley, Stevie Wonder, June and Johnny Cash, Charlie Pride, Bob Hope, Jerry Lee Lewis, The Who, Janis Joplin, Richard Pryor, Roy Clark, Sammy Davis Jr., Paul Anka, Ray Charles, Lou Rawls, Tony Bennett, Crosby, Stills, Nash and Young, George Carlin, Little Richard, Bee Gee's, Sonny & Cher, Wilson Picket, The Hollies, Smokey Robinson, The Supremes and Joe Cocker & The Grease band were but a few of the guests involved. Tom has always been a champion of the collaboration, interested in the fusion of talents and styles.
In 1987, Tom was asked to perform a musical play with a bullfighting theme called Matador on the CBS Epic label. The single, A Boy From Nowhere, reached #2 on the British charts that summer. This prompted insistent requests for It's Not Unusual in the London clubs along with a very successful re-release of the song in the charts. A new interest in Tom Jones emerged amongst a whole new generation of fans.
Late in 1988, the British avant-garde techno-pop group The Art of Noise requested a collaboration with Tom on a cover of Prince's Kiss. The results were sensational and highly contemporary, and the record put Tom back into the Top 10 charts in Europe and the Top 40 in America. The video of Kiss was seen in strong rotation on both MTV and VH-1, winning the "Breakthrough Video" MTV Award that year. Tom Jones was once again seen in a format reaching across all demographics worldwide.
In 1991, Tom recorded an album for Chrysalis Records, U.K. The project, entitled Carrying a Torch is highlighted by a collaboration with an old friend, Van Morrison. Van wrote, produced and played four songs, while his band provided the backup. The songs were recorded live in one afternoon and although not released in America, this collaboration was acclaimed by critics and audiences as an interesting and successful blend of unique talents.
1991 also saw Tom involved in a number of high-quality projects in the U.K. including two benefits, The Simple Truth and the 30th Anniversary of Amnesty International, aired in the States on MTV. Backed at both events by members of Pink Floyd, Tom was in the company of Paul Simon, Whitney Houston, Sinead O'Connor, Gloria Estefan, Lisa Stansfield, Seal and many more. Towards the end of the year, Tom was asked to participate in The Ghosts of Oxford Street, a new Christmas production conceived and directed by legendary punk impressario Malcolm Maclaren. Tom was cast alongside Sinead O'Connor, Happy Mondays, Kirsty McColl and The Pogues. He sang two songs within the context of the story, including Nobody Knows You When You're Down And Out produced by Dave Stewart.
1992 was an exciting year for Tom. His new six-part television series, Tom Jones: THE RIGHT TIME, produced for the national independent ITV network in the U.K., aired in the summer to wide critical and commercial appeal. The six half-hour segments are music-based and designed in a way unique to television formats. Guest artists include: The Chieftains, Joe Cocker, EMF, Erasure, Bob Geldof, David Gilmore, Daryl Hall, Al Jarreau, Cyndi Lauper, Lyle Lovett, Mica Paris, Sam Moore, Shakespears Sister, Curtis Steiger and Stevie Wonder. The series aired in the U.S. on VH-1.
Following production of THE RIGHT TIME, Tom accepted an invitation to perform as the "special guest" at the Glastonbury Festival of Contemporary Performing Arts, in Somerset, England. Now in its twenty-second year, it is the largest festival in Europe, with four stages that showcase contemporary, alternative, jazz and world-music artists as well as performers of other medium. Tom stunned an audience of 75,000 at sundown, giving perhaps the watershed performance of his latter career.
In November 1992, Tom appeared as himself on the animated hit comedy show The Simpsons. As Marge temporarily finds work at the plant, her boss kidnaps Tom in a plot to seduce her. In the end, Homer makes a chivalrous stand for his wife, and Tom serenades the two of them with It's Not Unusual. Finally, the year closed with a truly special experience: participation in a live stage performance of Dylan Thomas' Under Milkwood, directed by Sir Anthony Hopkins, in aid of The Prince's Trust and performed in the presence of HRH.
Tom began 1993 with a recorded version of the Rolling Stones' classic Gimme Shelter with alternative band New Model Army, released on the independent label Food Records (EMI) in March. The song is part of a multi-record project that will benefit the national U.K. charity Shelter, which has long worked for the homeless.
Shortly after some promotional efforts in support of THE RIGHT TIME, Tom was invited by Sting and Trudie Styler to participate in an annual show at Carnegie Hall to benefit their charity, the Rainforest Foundation. In an evening of extraordinary performances, he shared the bill with James Taylor, George Michael, Sting, Bryan Adams, Herb Alpert, and Tina Turner. Tom was the surprise sensation of the evening, ripping through several songs with Sting and his band.
In 1994, Tom signed with hot upstart label Interscope Records (Atlantic/WEA), headed by multi-platinum producer Jimmy Iovine. Interscope's diverse roster includes Nine Inch Nails, Helmet, Pop Will Eat Itself, Dr. Dre, Bush and Snoop Doggy Dog. After taking a year to complete the project, Tom's new album is a stunning development of his abilities. The Lead and How to Swing It is produced by some of today's outstanding talents including Trevor Horn, Teddy Riley, Flood and Alan Moulder, Youth and Jeff Lynne. Each producer welcomed the opportunity to interpret Tom's artistry in his own way; the result is a diverse work critically acclaimed as one of the year's best. Once again Tom proves himself a unique artist - one with a history who is able to renew and reactivate himself with new music, one of the few who is able to bridge decades and genres without being forced or affected.
Also in 1994, Paddy Maloney of the seminal Irish band The Chieftains approached Tom to contribute to their new collaborative project, The Long Black Veil. The song requested was The Tennessee Waltz, which was recorded in a fun-filled afternoon at the late Frank Zappa's studio, Utility Muffin Research Kitchen on Los Angeles. Tom's full-throated Celtic version of the country great is among other contributions from Sinead O'Connor, Sting, Mick Jagger, Ry Cooder, Mark Knopfler, Van Morrison, Marianne Faithful and The Rolling Stones. The skillful musical framework provided by the Chieftains brings out the best in their singers while illustrating once again the deep ties between contemporary sounds and Celtic/American roots music.
Tom enjoys a consistent U.S. and international touring schedule throughout the year. He lives with his wife of 38 years, Melinda, in their homes in Bel Air, CA and South Wales. His son Mark, and daughter-in-law Donna, have given him a grandson Alexander John, born in 1983, and a granddaughter Emma Violet, born in 1987. His mother and sister also live in Los Angeles. Since September of 1986 when Gordon Mills suffered an untimely death, Tom has been managed by his son Mark Woodward, who traveled with him since the age of 17.
To ring in the year 2000, United States President Bill Clinton invited Jones to perform on New Year's Eve at the Millennium celebrations in Washington, D.C.
Throughout 2000, Jones garnered a number of honours for his work, including a BRIT Award for Best Male. He was also hired as the new voice of Australia's National Rugby League, singing in an advertisement to market the 2000 season.
In 2002, Jones released the album Mr. Jones, which was produced by Wyclef Jean. The album and the first single, "Tom Jones International," were top 40 hits in the U.K.
Jones received the Brit Award for Outstanding Contribution to Music in 2003. The following year, he teamed up with pianist Jools Holland and released Tom Jones & Jools Holland, a roots rock 'n' roll album. It peaked at #5 in the U.K.
On 28 May 2005, in celebration of his upcoming 65th birthday, Jones returned to his homeland to perform a concert in Ynysangharad Park, Pontypridd before a crowd of about 20,000. This was his first performance in Pontypridd since 1964. That same year, the BBC reported that Jones was Wales' wealthiest entertainer, having amassed a fortune of £175 million.
Jones collaborated with English-born Australian pop singer John Farnham in 2005 and released the live album John Farnham & Tom Jones - Together In Concert. The following year, Jones worked with Chicane and released the single Stoned in Love, which went to #7 in the U.K.
Jones, who was awarded an OBE in 1999, was knighted by Queen Elizabeth II in 2006 at Buckingham Palace for his services to music. "When you first come into showbusiness and get a hit record, it is the start of something," Jones said. "As time goes by, it just gets better. This is the best thing I have had. It's a wonderful feeling, a heady feeling."
On 1 July 2007, Jones was among the invited artists who performed at Wembley Stadium at the Concert for Diana, joined on stage by guitarist Joe Perry of Aerosmith and British soul singer Joss Stone.
Jones, a big boxing fan, has performed national anthems before a number of boxing matches. He sang "God Save the Queen", the United Kingdom's national anthem, before the Floyd Mayweather Jr.-Ricky Hatton fight in 2007, he sang "Hen Wlad Fy Nhadau", the Welsh national anthem, at the fight between fellow Welshman Joe Calzaghe and Bernard Hopkins in 2008, and he sang "God Save the Queen" before the Manny Pacquiao-Ricky Hatton fight in 2009.
In 2008, he released 24 Hours on S-Curve Records, his first album of new material to be issued in the U.S. in over 15 years. Jones, who was still performing over 200 dates a year as he approached his 70th birthday, set out on a world tour to promote the album. "The fire is still in me. Not to be an oldie, but a goodie. I want to be a contender," Jones said.
On 16 November 2008, Jones was invited to perform on BBC's Strictly Come Dancing. He performed the debut single from 24 Hours, "If He Should Ever Leave You," which was named the 9th best song of 2008 by Spinner.
In February 2009, he did an exclusive Take-Away Show with Vincent Moon, performing three songs live in front of a camera in a New York hotel room.
Jones went to the top of the U.K. Music Charts for the third time in his career thanks to a cover of "Islands in the Stream," a duet with Ruth Jones, Rob Brydon and Robin Gibb, who co-wrote the original with his brothers Barry and Maurice. The song, inspired by BBC's hit sitcom Gavin and Stacey, was released in aid of Comic Relief and reached #1 in March 2009.
On Saturday 5 June 2010 Jones has agreed to perform at Norwich City Football Club's Carrow Road stadium, two days before he celebrates his 70th birthday.
Jones has announced that his new album Praise And Blame will be released on 26 July 2010. The album, produced by Ethan Johns (who has previously worked with Kings Of Leon, Rufus Wainwright and Laura Marling), includes covers of songs by such artists as Bob Dylan, John Lee Hooker and Billy Joe Shaver and features such guest musicians as Booker T.
Tom Jones continues to both deliver and surprise. His voice has matured to perfection, his performance is as driven as it is seasoned, his persona as bold as it is witty and charming. He is completely devoted to his craft and talent, and hopes only that the quickly changing faces of popular music allow him to grow and be challenged as an artist. This incomparable voice and unique talent will be touching the minds and hearts of music lovers for many years to come.
Tom Jones' Discography
1965
Along Came Jones
What's New Pussycat
A-tom-ic Jones
It's Not Unusual
1966
From the Heart
Green, Green Grass of Home
196713 Smash Hits
1968 Delilah
1970This Is Tom Jones
1971 Tom Jones Sings She's a Lady
1972 Close Up
1973 The Body and Soul of Tom Jones
1974 Somethin' Bout You Baby I Like
1975 Memories Don't Leave Like People Do
1977What a Night
1978 The Country Side of Tom Jones
1979 Do You Take This Man
1981 Darlin'
1982 Country
1983 Don't Let Our Dreams Die Young
1984 Love Is on the Radio
1985 Tender Loving Care
1988 Move Closer
1989 At This Moment
1991 Carrying a Torch
1994 The Lead and How to Swing It
1998 From the Vaults
1999 Reload
2002 Mr. Jones
2004 Tom Jones and Jools Holland (with Jools Holland)
2008 24 Hours
Filmography
* The Special London Bridge Special, TV special, UK/USA (1972)
o A fantasy story about London Bridge being brought to America
* On Happiness Island, BBC TV special, UK (1974)
* Pleasure Cove, feature film, USA (1979)
* Fantasy Island, TV series, USA (ABC, 7 April 1984)
* The Ghosts Of Oxford Street, TV special, UK (1991)
o A TV musical celebrating the 200th anniversary of London's most renowned Oxford Street
* Fresh Prince of Bel-Air, TV series (Guest: As Himself) (1991)
* The Simpsons, TV series, Season 4 Episode 7 ("Marge Gets a Job") (1991)
* Silk n' Sabotage, feature film, USA (1994)
* Jerky Boys: The Movie, feature film, USA (1995)
* Mars Attacks!, feature film, USA (1996)
* Agnes Browne (a.k.a. The Mammy), feature film (1999)
* The Emperor's New Groove, animated film (As the Theme Song Guy) (2000)
* Duck Dodgers, opening theme and a guest appearance in episode "Talent Show A Go-Go"
Read more
Tom Jones Picture Gallery
Latest headlines